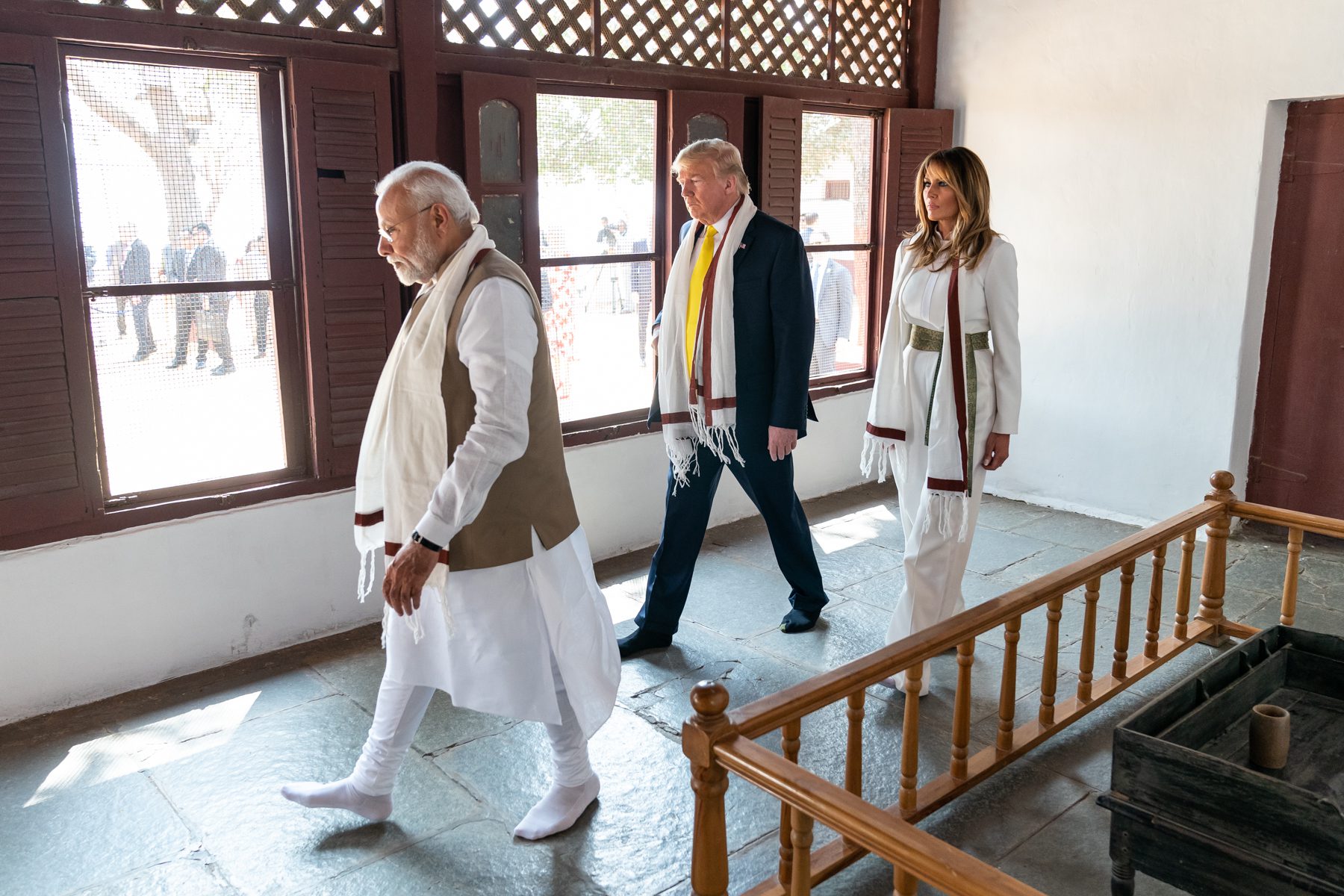 President Donald J. Trump and First Lady Melania Trump, joined by Indian Prime Minister Narendra Modi, visit the home of Mahatma Gandhi Monday, Feb. 24, 2020, at the Gandhi Ashram in Ahmedabad, India. (Official White House Photo by Andrea Hanks)
Earlier this week, US President Donald Trump traveled to India for two days. In an exclusive broadcast from Harvard Business School, the India Today News Director Rahul Kanwal discussed the potential impact of Trump's visit to India in terms of trade, economy, and electoral politics. He was joined by Professor Tarun Khanna (Jorge Paulo Lemann Professor at the Harvard Business School and Director of the Mittal Institute), Punita Kumar Sinha (Founder, Pacific Paradigm Advisors), Ashutosh Varshney (Sol Goldman Professor of International Studies and the Social Sciences at Brown University), and Vipin Narang (Associate Professor of Political Science at MIT).
The discussion analyzed the various aspects of India-US ties that were likely to be impacted by the visit. "We all know that Donald Trump is a transactional president. His immediate need is to secure some transactional benefits," remarked Khanna. "This obviously is connected to the Indian-American population, which is increasingly very important in this country when you look at how the electoral system works this year." Varshney agreed, stating that the visit was integral to Trump's reelection exercise and the need to court Indian-American voters, who largely support the Democratic party and will likely have an impact in the swing states. For the Modi government, Trump's two-day visit offered a sentimental boost as it struggles to deal with the economic slowdown and the protests over the controversial Citizenship (Amendment) Act, or CAA.
Sinha emphasized that this visit was a symbolic validation that the US is looking at India as a serious partner for trade deals. It could also help convert international business sentiments in India's favor as anti-CAA protests and an economic slowdown grip the South Asian nation. With foreign capital inflows non-aggressive, Trump's visit sends out a positive message about the investment climate in India, Sinha explained. India, she said, also stands a chance to grab the economic space that China risks losing due to the coronavirus outbreak. "I think it is even more important for India right now to be seen as an alternative source to China. This coronavirus has just raised the risk of doing business with one country," she noted.
According to Narang, Trump's India visit appeals to his "vanity." "I think, at a higher level for President Trump, this is a vanity exercise. I think he loves the idea of being adulated by the crowds," Narang said.
Both Khanna and Narang expressed that protectionism on both sides has been preventing trade negotiations. "In general, both countries are far too protectionist," said Khanna. "It is in the interest of both countries to use these few good symbolic visits to whittle away at trade barriers." Compromise holds the key to trade negotiations, Narang remarked. "But the points of friction [between India and the US] are real. I think there's a little bit of disappointment that both sides have held so firmly on what seems like tactical issues on trade rather than move the ball forward on the broader relationship. The fact that both sides have dug their heels on the protectionist ground is a little disappointing."
☆ All opinions expressed by these subjects are their own and do not reflect the views of the Mittal Institute and its staff.