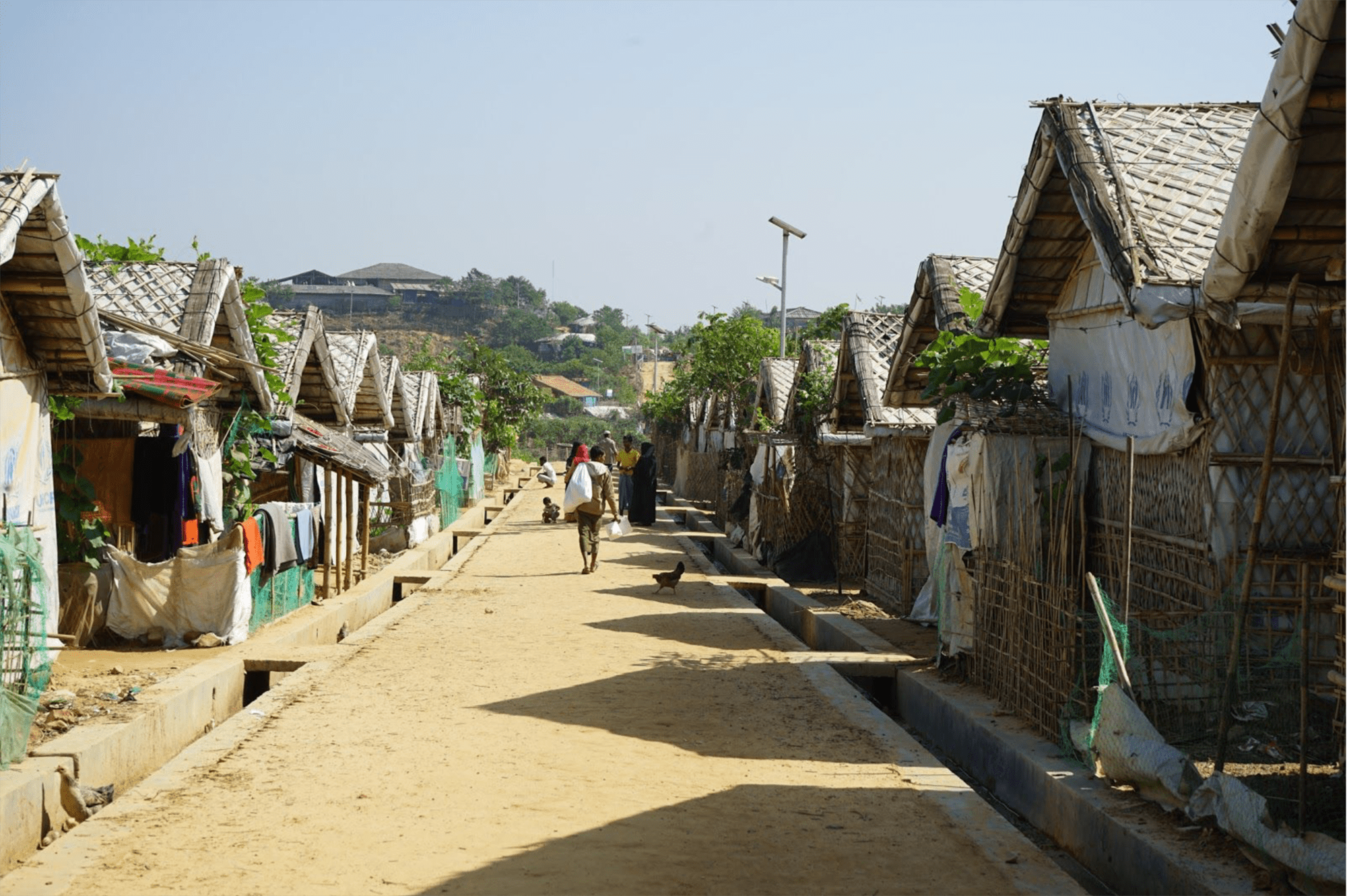 Camp 4E, Kutupalong Refugee Camp; photo taken by Nadyeli Quiroz Radaelli.
By Nadyeli Quiroz Radaelli, Master in Landscape Architecture, GSD '20; John David Wagner, Master in Architecture, GSD, '19, Irving Fellow '20
With the support of the Winter Travel Grant, I traveled through Bangladesh for over 30 days during December 2019 and January 2020. I was accompanied by my research partner, John David Wagner, an Irving Innovation Fellow at Harvard's Graduate School of Design.
During our trip, we carried out extensive field research in Bangladesh to inquire if the very nature of the spatial quality of refugee camps contributes to keeping the inhabitants of these proto-urban dwellings marginalized for many generations. By the same logic, we investigated if novel design processes, including methods of engagement, public art and intervention, and working with consideration of urban and ecological scales could help provide agency, empowerment, and social welfare to refugees.
We used the Kutupalong Refugee Camp in Bangladesh — the largest refugee camp in history — as a case study to identify the problems that arise from humanitarian emergency response and to propose design interventions and processes to integrate into the emergency response efforts. We also sought to analyze collaborative design, engagement, and intervention efforts in other areas of the country to understand their correspondent feasibility in the context of the refugee camp.
Through a future design intervention, we wanted to make the most impact possible. Therefore, we targeted our research to first focus on the women living in the camp as the point of entry into social and spatial processes. According to the UN, over 50% of the Rohingya population in the camps is female. As stated by the UN, "the crisis situation disproportionately affects women, girls, and the most vulnerable and marginalized Rohingya refugee population groups … by reinforcing, perpetuating, and exacerbating pre-existing, persistent gender inequalities, gender-based violence, and discrimination."
Women have a crucial role in society, since, culturally, they are responsible for raising the children — and, due to the conflict, there are scores of households in the camp headed by women. Therefore, providing women with opportunities for emancipation will create more possibilities for entire families within the camp, and will also create a better environment for children. Further, our research revealed that it was facilities, processes, and support programs for women that created enormous impact on the empowerment and social welfare of communities.
The field research was a trifold project composed of interviews, architectural surveys, and co-creation workshops.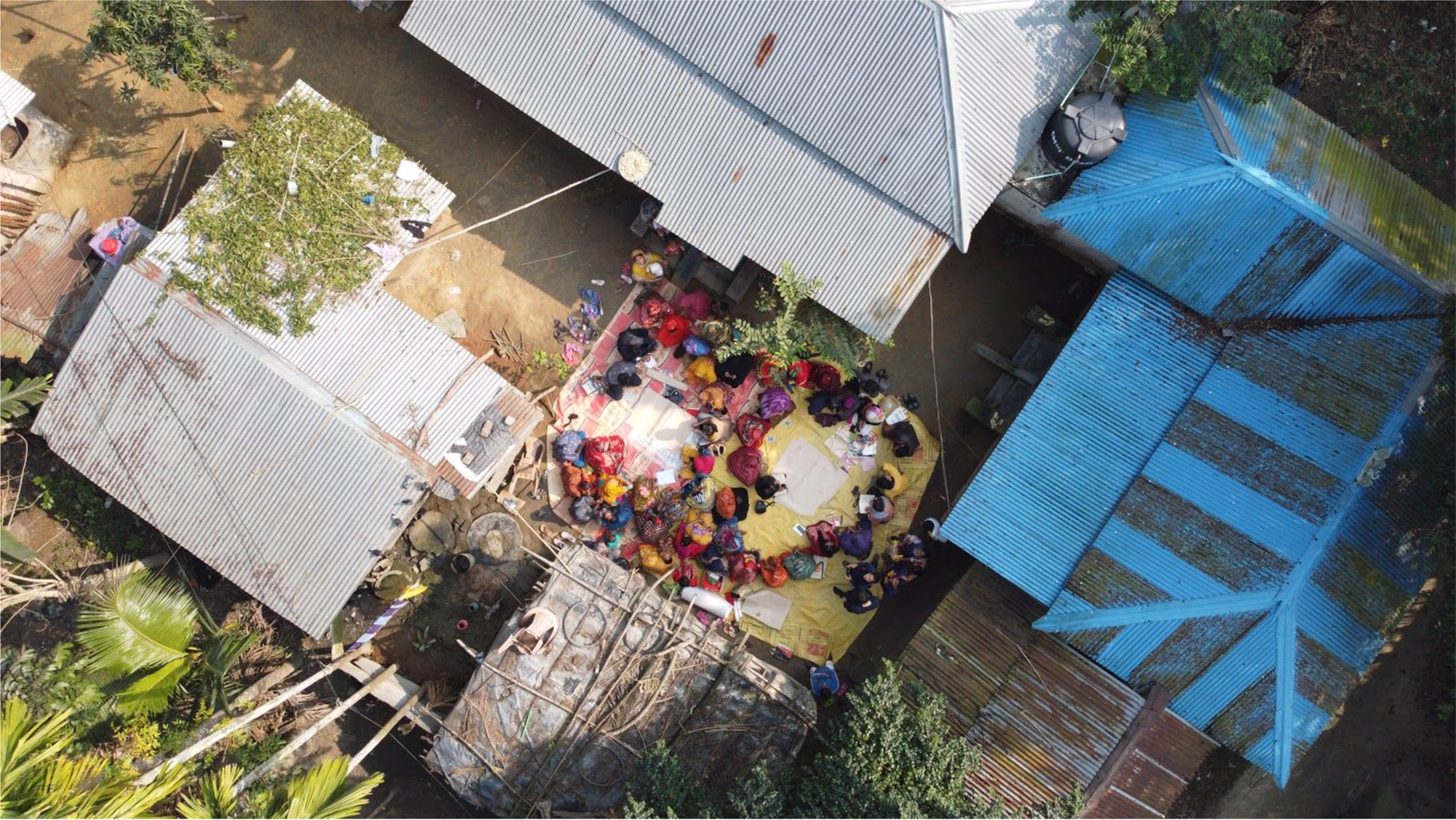 Aerial view of the collaborative design processes by Co-Create Architects, Jhendaidah; photo taken by Quiroz & Wagner.
Interviews
We interviewed officers from the United Nations, NGO directors, and architects working on the Rohingya crisis, as well as the most renowned architects and academics in the design field in Bangladesh contending with issues of informal urbanism and community empowerment.Through these interviews, we were able to synthesize information to articulate our initial inquiry: Do collaborative design processes, methods of engagement in the production of space and architecture, and working in cooperation with the ecological systems in the planning of camps contribute to providing refugees with agency and empowerment?
Architecture Survey
We surveyed public and domestic spaces in vernacular villages, low income neighborhoods, and made comparative analysis of different camps within the Kutupalong mega-camp. In the Chittagong region we surveyed a fishermen village called Charpara, an indigenous Chakma village, and a forest village in the Hill Tracts. In this urban settlement, we looked at safe spaces for women, production spaces, housing, kitchens and improvised commercial spaces such as tea stalls.
We surveyed low income neighborhoods in the town of Jhenaidah in Khulna Division, where we looked at kitchens and housing. With the logistical support of BRAC officers, we visited the Kutupalong refugee camps for eight days between January 6–17. While there, we surveyed different facilities, including women-friendly spaces, training centers, learning centers, bamboo treatment plants, community gardens, clinics, and various shelters.
Community Workshops
We had planned to carry out community workshops in the camp, yet due to regulations, we could not do so. In order to test our hypothesis, we participated in the "Co-Creation Workshop" in Jhenaidah organized by the firm Co-Creation Architects, run by Hasibul Kabir and Suheiley Farzana. In the weekend workshop, we worked with women of the community to test and prototype a community kitchen.
The results of our research revealed an enormous capacity and initiative indigenous to Bangladeshi architects and activists working to redefine the humanitarian response effort by way of lessons learned in successful community development in the host community. Most notable examples of design practitioners working in the camp in this way include the Specialist Support and Construction Team of BRAC spearheaded by the work of architects Saad Ben Mostafava and Rizvi Hassan.
Additionally, the NGO ActionAid has made headway in coordinating economic development programs to empower women through skills training and commerce with intentional design lead by their head architect, Fatmi Khwaja, and her creation of dedicated safe-spaces, reflected indigenous craft and construction to complement and multiply her organization's initiatives. Where community was deliberately involved in the process of spatial design and creation, we found there to be precipitous benefits of engagement, safety and welfare, and instances of economic empowerment.
We strongly believe that architectural design and spatial planning are critical components in the delivery of welfare, safety, and stability to communities in post-disaster and refugee conditions.