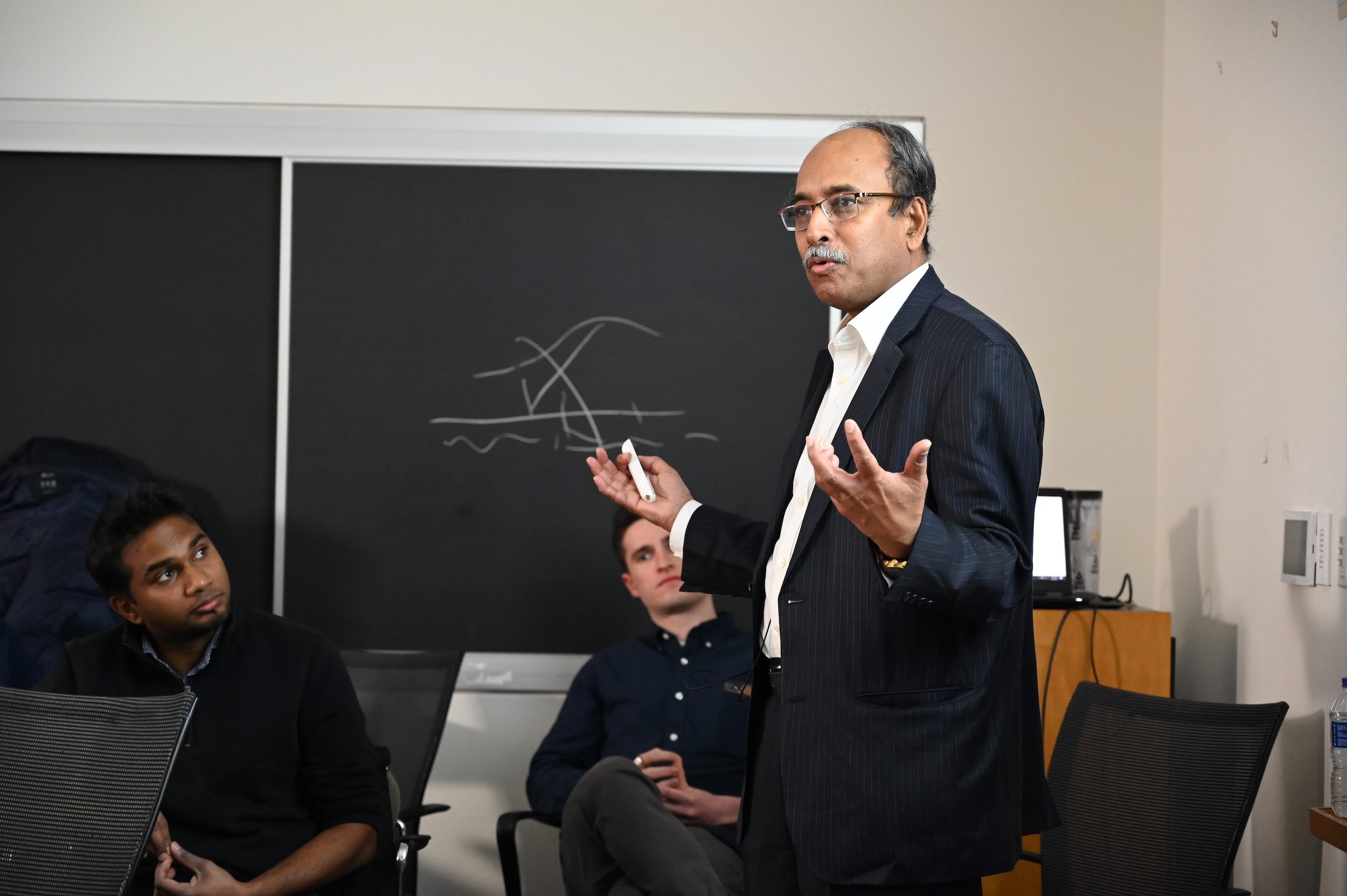 Muhammad Musa, Executive Director of BRAC International, presents to an audience at the Mittal Institute.
"The inequalities that create divisions among rich and poor are made by humans. So, change is also possible through human acts of compassion, courage, and conviction." — Sir Fazle Hasan Abed, Founder of BRAC International
For Bangladesh, the very beginning of the 1970s signified a major turning point in the nation's history, then known as East Pakistan. At the end of 1970, the Bhola cyclone hit the nation and led to the deaths of approximately 500,000 people, becoming the deadliest tropical cyclone ever recorded. The following year, West Pakistan led a military crackdown in East Pakistan, causing millions to flee the nation in search of refuge.
After the creation of Bangladesh, young professionals returned from around the world to rebuild the nation. It was during this time that Sir Fazle Hasan Abed identified the population's extreme vulnerability — a deep distress caused by destruction of homes, decimation of livestock and agricultural fields, and more — and created BRAC. The organization began by building homes, restoring farmland, and then moved on to assisting with disaster relief. Once that was accomplished, their mission turned to development, then decreasing child mortality. With BRAC's success at a local level, the organization's leaders gained the confidence to scale up other projects, taking community-level programs to the nation at large.
Last week, Muhammad Musa, Executive Director of BRAC International, visited the Mittal Institute to speak with Tarun Khanna, Director of the Mittal Institute and Jorge Paulo Lemann Professor at Harvard Business School. Together, they uncovered the effort it takes for BRAC to continue expanding on its role as the world's largest NGO.
Growing a Global Reach
"If BRAC can be a partner in the country, it must help outside of Bangladesh too — wherever people are living in poverty and distress," Musa said. With 11 country sites around the world, and the intent to grow even further, BRAC offers a "southern solution to complement northern science," Musa explained. With a southern approach to humanitarian and development sectors, the organization disrupts the normal north-south development paradigm, and focuses on innovating local solutions and bringing them to scale. Within the next five years, Musa stated that BRAC hopes to reach 16–18 nations.
Partnering with governments, CSOs, the private sector, and research groups, BRAC International impacts over 100 million people around the world, with the goal to help people take control of their own lives. "Learning is the cornerstone of BRAC. Poverty is changing, and for the first time, Brookings in 2018 noted that the number of people coming out of poverty is equal to the number of people living in poverty. We are learning that the nature of inequality and exclusion is changing. Social inequalities matter now, in addition to financial inequalities," Musa said. "We need to learn, we need to share. Collective action is very important, as is advocacy for institutional change."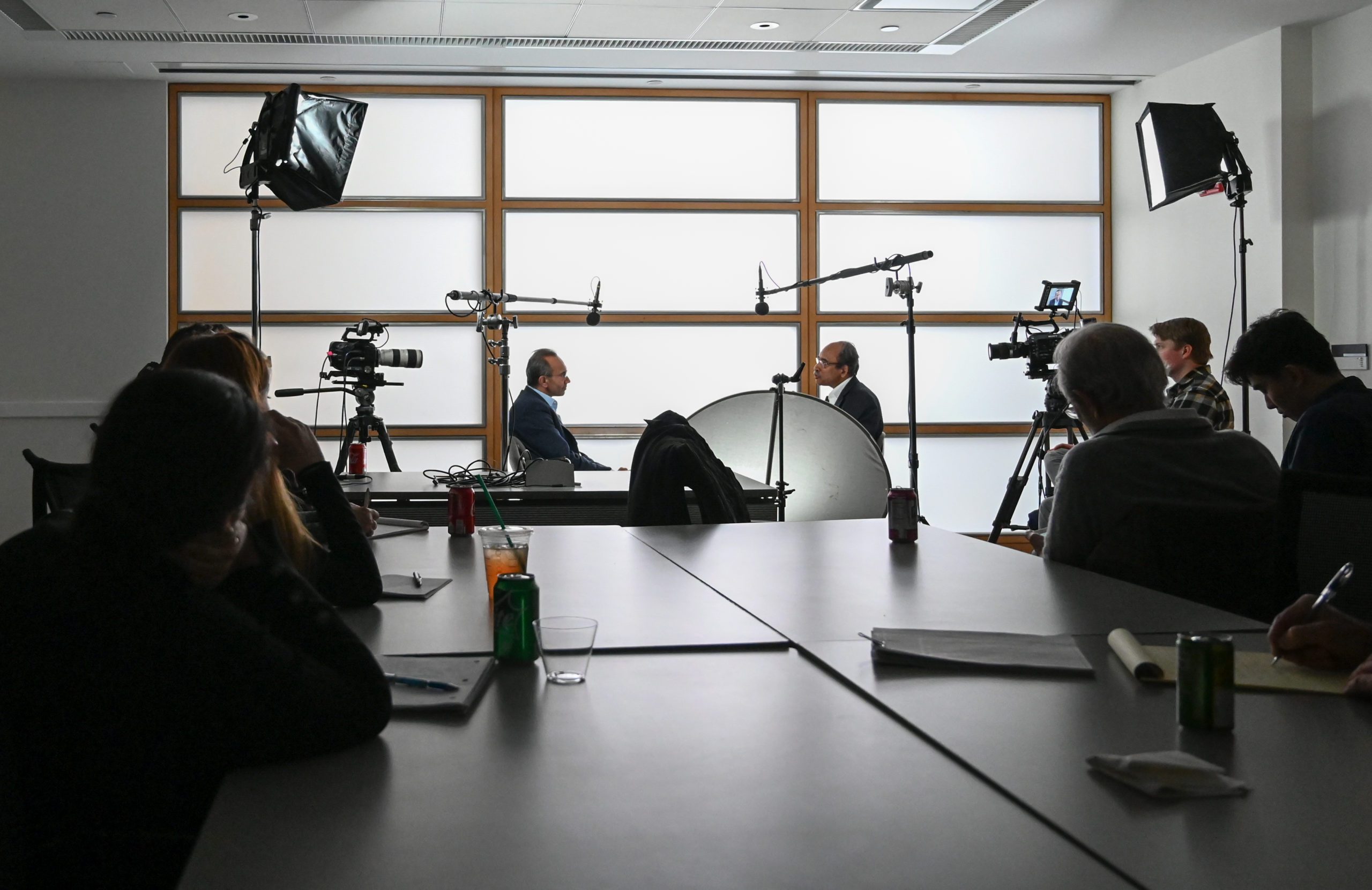 Muhammad Musa and Professor Tarun Khanna in conversation.
Scaling Up Positive Impact
"You've had a ringside view of BRAC's global expansion. In this long journey — now in numerous countries directly, and perhaps in dozens more indirectly — could you describe an instance that is particularly momentous to you?" asked Professor Khanna.
"I would say that the first breakthrough for BRAC was in 2002, when, for the first time, BRAC decided to move out of Bangladesh and engage with similar situations in Afghanistan. We know that in 2002 there was a war in Afghanistan. For the most part, it was a similar situation. There was devastation, hunger, illness, and most importantly children — girls — were out of school … If we've been able to turn around Bangladesh with certain humanitarian and development interventions, why can't we take similar interventions … to Afghanistan?" responded Musa. "Within a month, 3,000 one-classroom schools were set up. Girls came and began their education."
"Can you say a little more about the local sources of support [you encounter], as well as opposition?" asked Professor Khanna.
"We always find positive support in the community, even if on the surface you might see a lot of opposition. One of our lessons is that we've never had one homogenous negative or positive situation in a community. It's important, therefore, to identify where the sources and forces of positivity align, and how you begin your partnership there. Then, use that force to engage with those who are on the fence, and use that momentum to create critical mass," responded Musa.
What's Next for BRAC?
Toward the end of the discussion, Musa looked to the future, explaining how BRAC will work toward eradicating extreme poverty, adding to the Sustainable Development Goals movement by 2030, and focusing on climate action, gender and inclusion, global and local advocacy, and investing in and engaging with adolescents and young adults.
Through these efforts, Musa and the rest of the BRAC community hope to strengthen resilience around the world and promote the ability to deal with crises — humanitarian and otherwise.