By Sreekar Mantena, Harvard College '22
This past winter break, with the support of the Mittal Institute, my classmate Jay and I ventured on a three-week journey through India. We hopped on a 16-hour flight from JFK to Mumbai the night after our last final, excited to hit the ground running. I couldn't have imagined how enriching and fun our adventure would turn out to be.
We were traveling to South Asia to meet with engineers, clinicians, and entrepreneurs to discuss medical technology innovation. On campus, I lead the Global Alliance for Medical Innovation (GAMI). GAMI is a student-run nonprofit organization based at Harvard that partners with physicians to develop, test, and deploy low-cost medical technologies.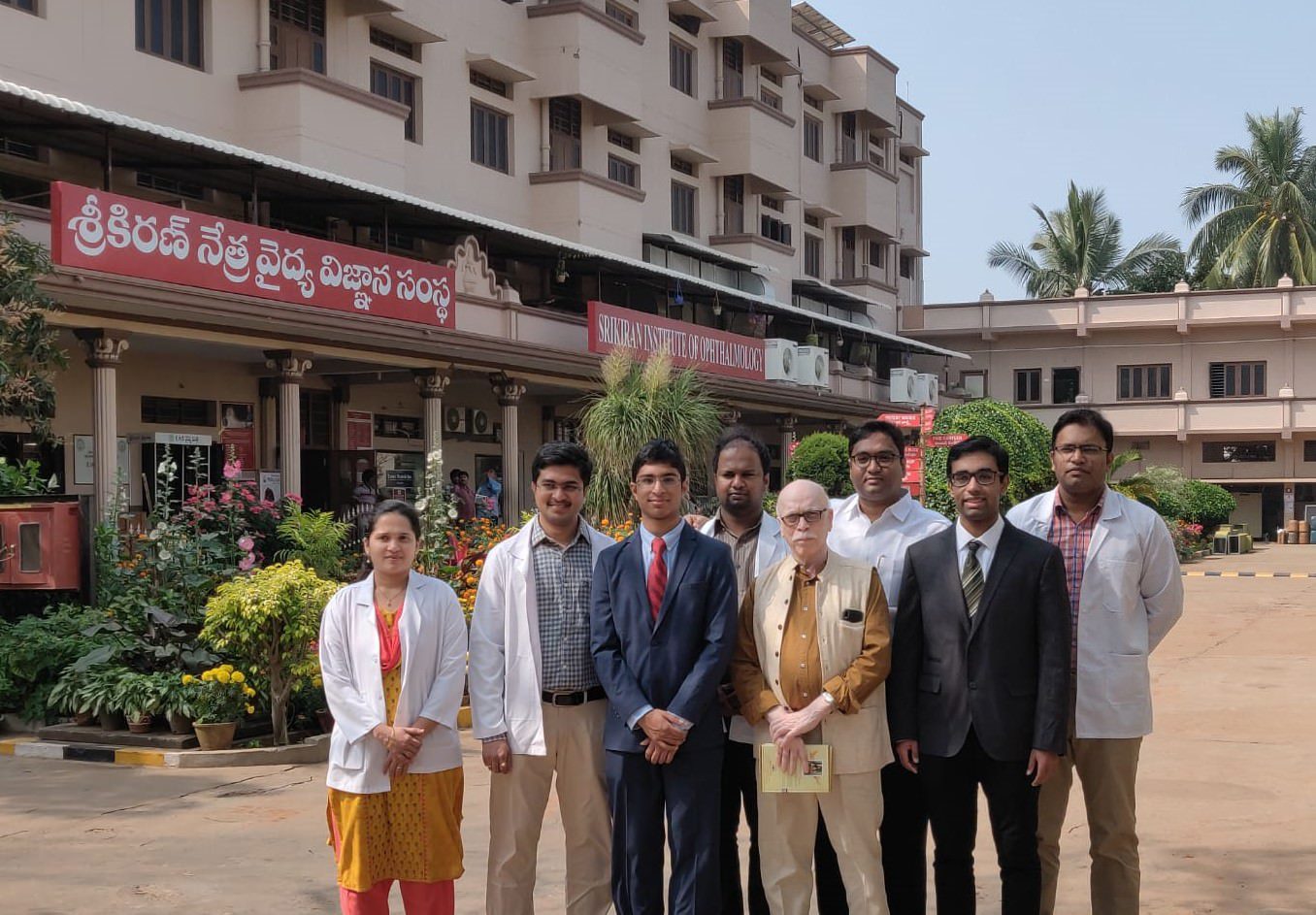 At the Sri Kiran Institute with the Founder of the Institute, Dr. Chandrashekar.
We first traveled to Kakinada, Andhra Pradesh, an idyllic beach town on the shores of the Bay of Bengal. We met with physicians at the Sri Kiran Institute of Ophthalmology, an eye care hospital which serves a population of 20 million patients in the surrounding districts. For the past year, GAMI has been working with faculty at the Sri Kiran Institute, the Massachusetts Eye and Ear Infirmary, and Harvard Medical School to develop a low-cost, smartphone-based approach to diagnose corneal endothelial dystrophies.
Sri Kiran's opthamologists organize eye screening clinics in rural villages, where they test citizens for eye disorders. The current device used to diagnose endothelial dystrophies and assess endothelial health costs over $30,000, and isn't portable, restricting opthamologists from reaching a wider population. During our time at Sri Kiran, we worked with opthamologists and clinical fellows on validating a smartphone-based imaging device developed by GAMI. It enables automated analysis of the corneal endothelium at a fraction of the cost of traditional methods. Initial results from the device are promising, and we are currently working toward funding a larger clinical trial to establish the device's efficacy. In the future, we hope this technology will be deployed in field settings and satellite clinics to increase the accessibility of preventative screenings.
I was inspired by the fact that nearly half of all the surgeries provided by the Sri Kiran Institute are done pro-bono. Sri Kiran provides 100% free care to patients who cannot afford surgery, and they are given the highest quality of care and treated with the utmost respect. While shadowing, I was able to witness patients undergoing cataract surgeries, and speak with the families of those receiving free treatment. Seeing the relief and gratitude on their faces helped me understand why Sri Kiran is truly a special place.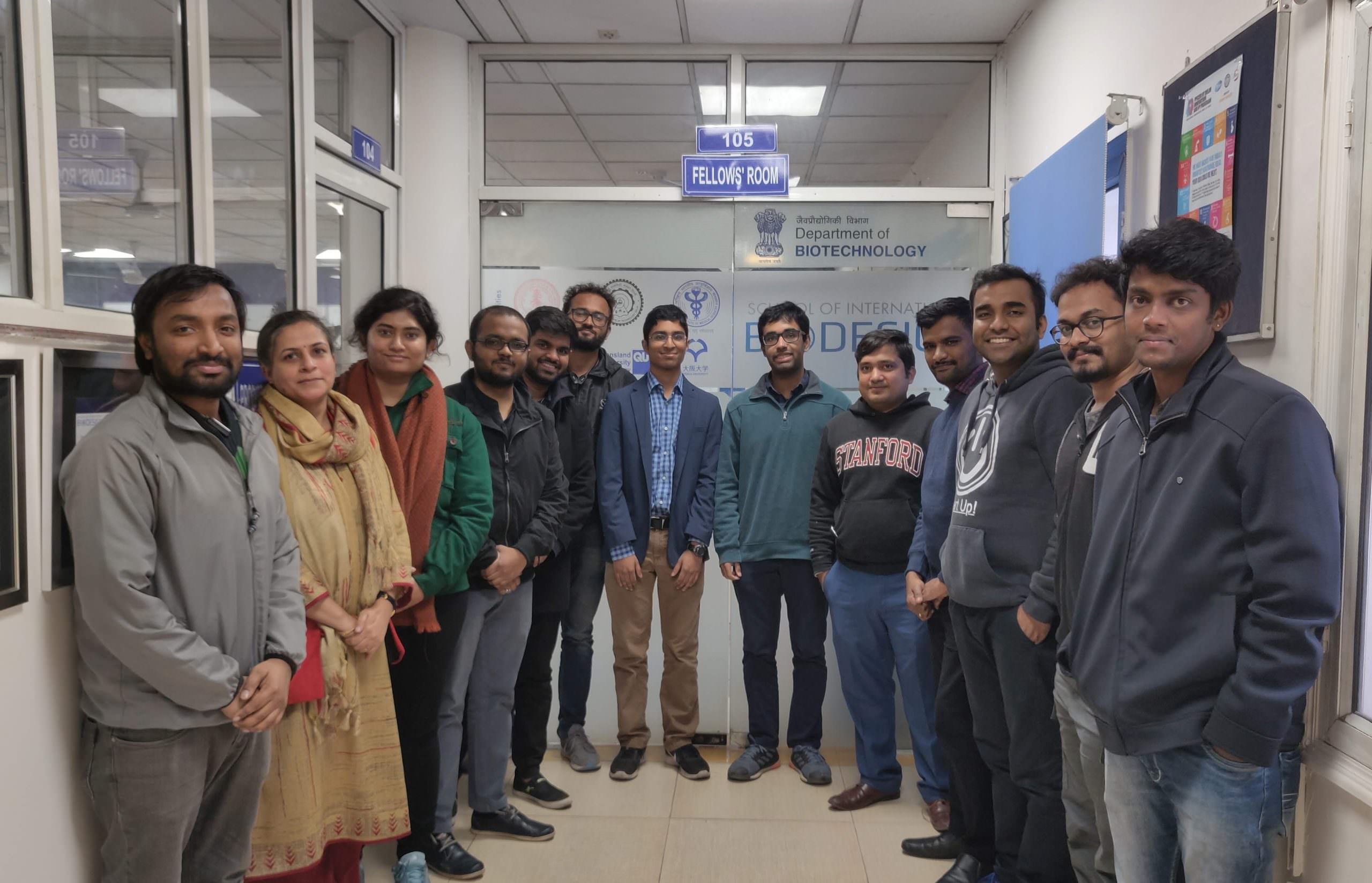 At the School of International Biodesign (SiB) in Delhi with the 2020 Fellows and the Director of the Fellowship Program, Dr. Bansal.
Continuing our journey, we visited Delhi, where we were met with unexpectedly cold weather. It was almost as chilly as Boston is in the fall, and naively, I hadn't packed any warm clothes.
In Delhi, we met with fellows at the School of International Biodesign (SiB), a joint venture between the All India Institute Of Medical Sciences (AIIMS) and the Indian Institute of Technology Delhi (IIT-D). I was fascinated by their projects, from algorithms to screen newborns for hearing loss to devices that diagnose cervical cancer. Though we are half a globe apart, it was refreshing to converse with clinician-innovators at SiB and recognize the common goals we shared. We're currently working on setting up a student exchange program where GAMI students and SiB fellows can learn from each other's work, and I'm beyond excited to continue building this collaboration.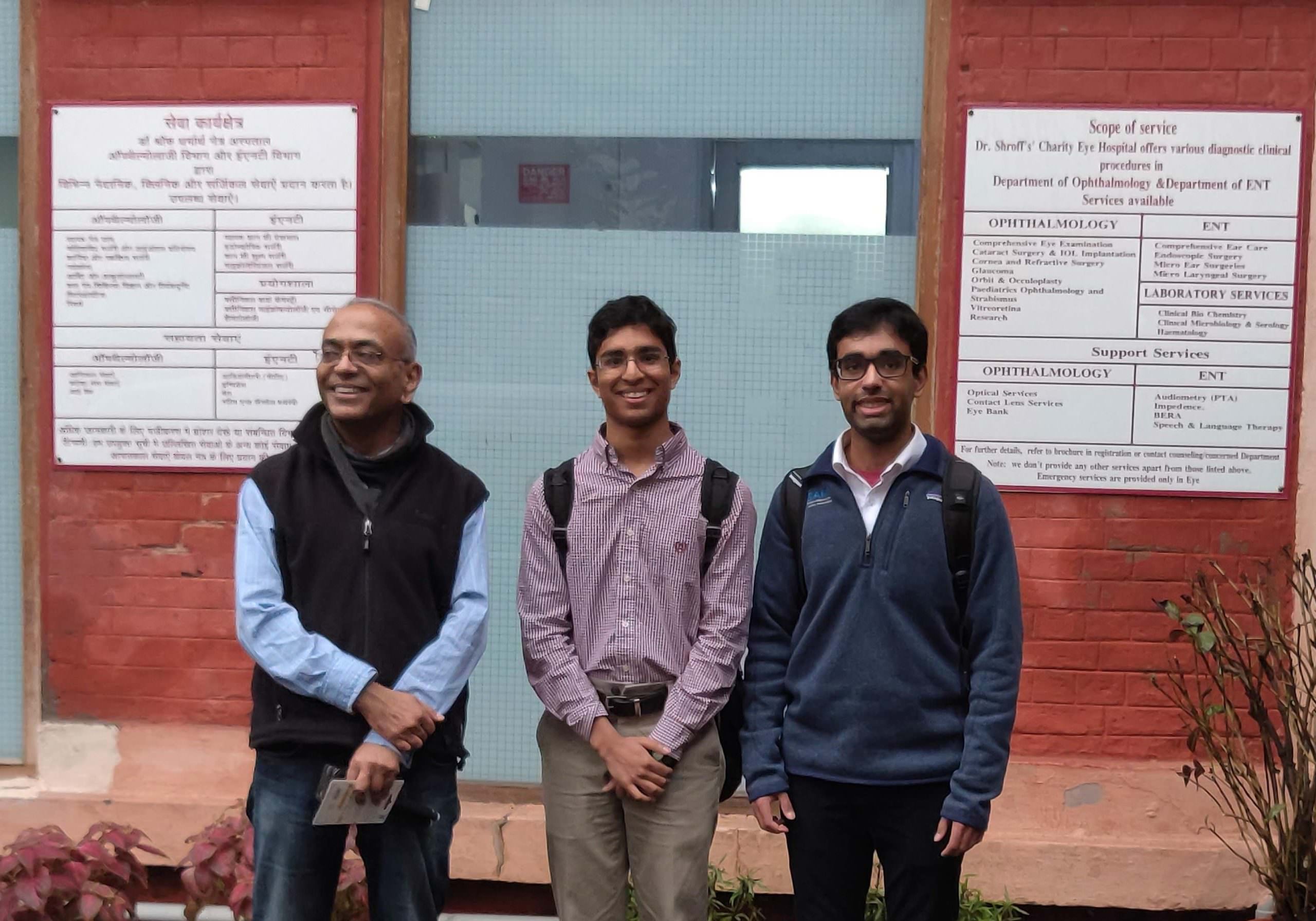 At Dr. Shroff's Charity Eye Hospital in Delhi with Project Prakash Founder and MIT Professor Dr. Pawan Sinha.
We also visited Dr. Shroff's Charity Eye Hospital, home of Project Prakash. Project Prakash is a humanitarian-research endeavor led by MIT professor Pawan Sinha. Through the program, children with curable blindness are provided free surgery, and by studying the children's outcomes, researchers are able to answer fundamental scientific questions. I got to spend the afternoon playing with several of the kids, and hearing their stories of gaining eyesight was deeply moving.
Next, we traveled to Bangalore, the "Garden City of India," which turned out to be just as exciting. There, we met with physicians at St. John's, a large teaching hospital and research institute. We had the privilege of meeting Dr. Prasanth, a clinician by profession but an engineer at heart, who just happens to build drones in his free time.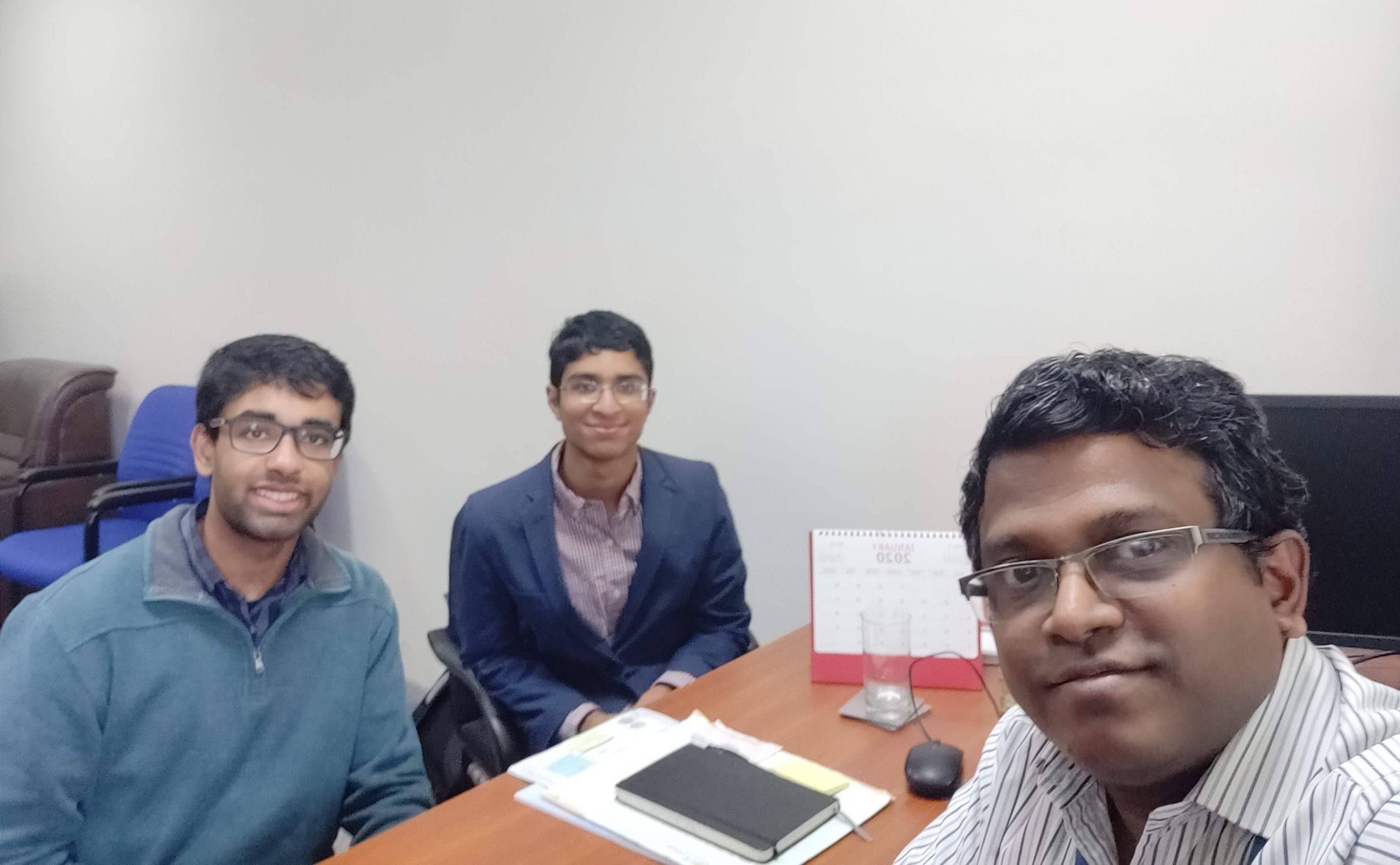 At St. John's Research Institute in Bangalore with Dr. Xavier, Vice Dean of the Medical School.
It was intriguing to learn about St. John's pioneering work in developing mobile-health interventions and low-cost sensors to improve maternal care. Their tech-driven endeavors have reached thousands of patients who live in remote areas with minimal access to healthcare. Dr. Prasanth has a special interest in creating non-invasive devices for early detection of anemia. We've partnered with St. John's, and a group of 10 GAMI members are currently working on building a spectrophotometry-based approach to address this clinical need under the guidance of our faculty advisors at Harvard Medical School.
After downing creamy (yet spicy) paneer curry, we took a late-night flight to Hyderabad, which was the last stop on our trip. In Hyderabad, we were warmly greeted by fellows at the LV Prasad Eye Institute (LVPEI). We learned about LVPEI's unique Innovation division, which rapidly prototypes novel technologies by having a tight-knit team of talented engineers and doctors. We're currently working with LVPEI on field-testing a device GAMI has developed to screen for corneal surface irregularities.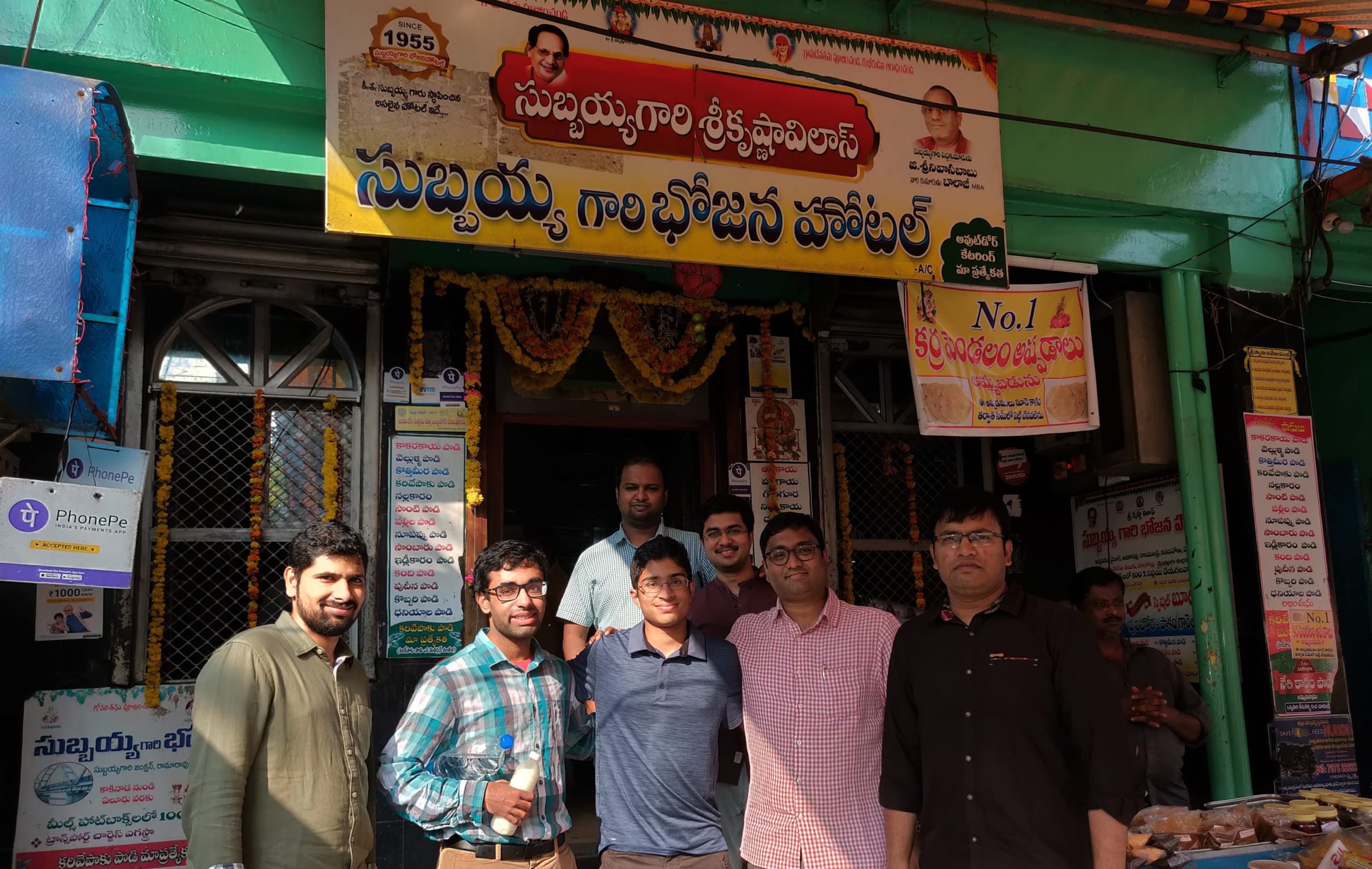 Exploring the local cuisine at Subbayya Hotel along with opthamologists from the Sri Kiran Institute.
Throughout the course of this trip, I not only traveled to new cities and experienced the incredible diversity of South Asia, but also met inspiring people and gained new perspectives. It was invigorating to converse with clinician-innovators who share the same zeal for improving patient care through medical technology development. I learned a great deal about how we can go about tackling complex clinical problems by building sustainable, scalable solutions.
I've always been inspired by the challenge of making access to the best healthcare a realistic expectation for all, not merely a luxury for a few. Interacting with doctors and patients across India has only strengthened my resolve to become a physician-innovator, providing compassionate care while translating technologies from bench to bedside.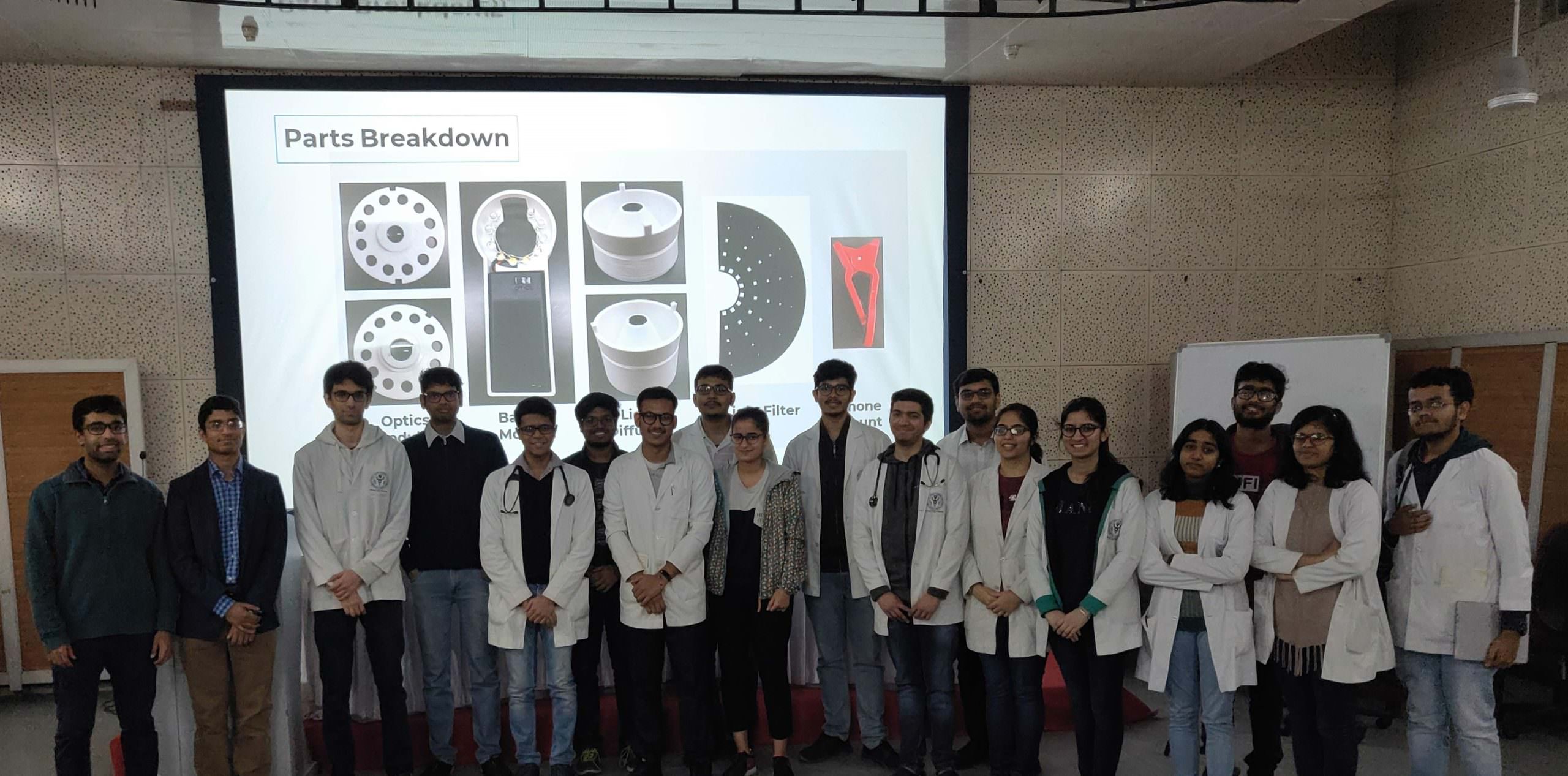 Presenting our ophthalmology projects to medical school students at the All India Institute Of Medical Sciences (AIIMS) in Delhi.
I'm immensely grateful to the Mittal Institute for making our trip possible, and I'm beyond excited to work alongside interdisciplinary teams of scientists and physicians around the globe to push the frontiers of patient care. I can't wait to see how our collaborative endeavors unfold.