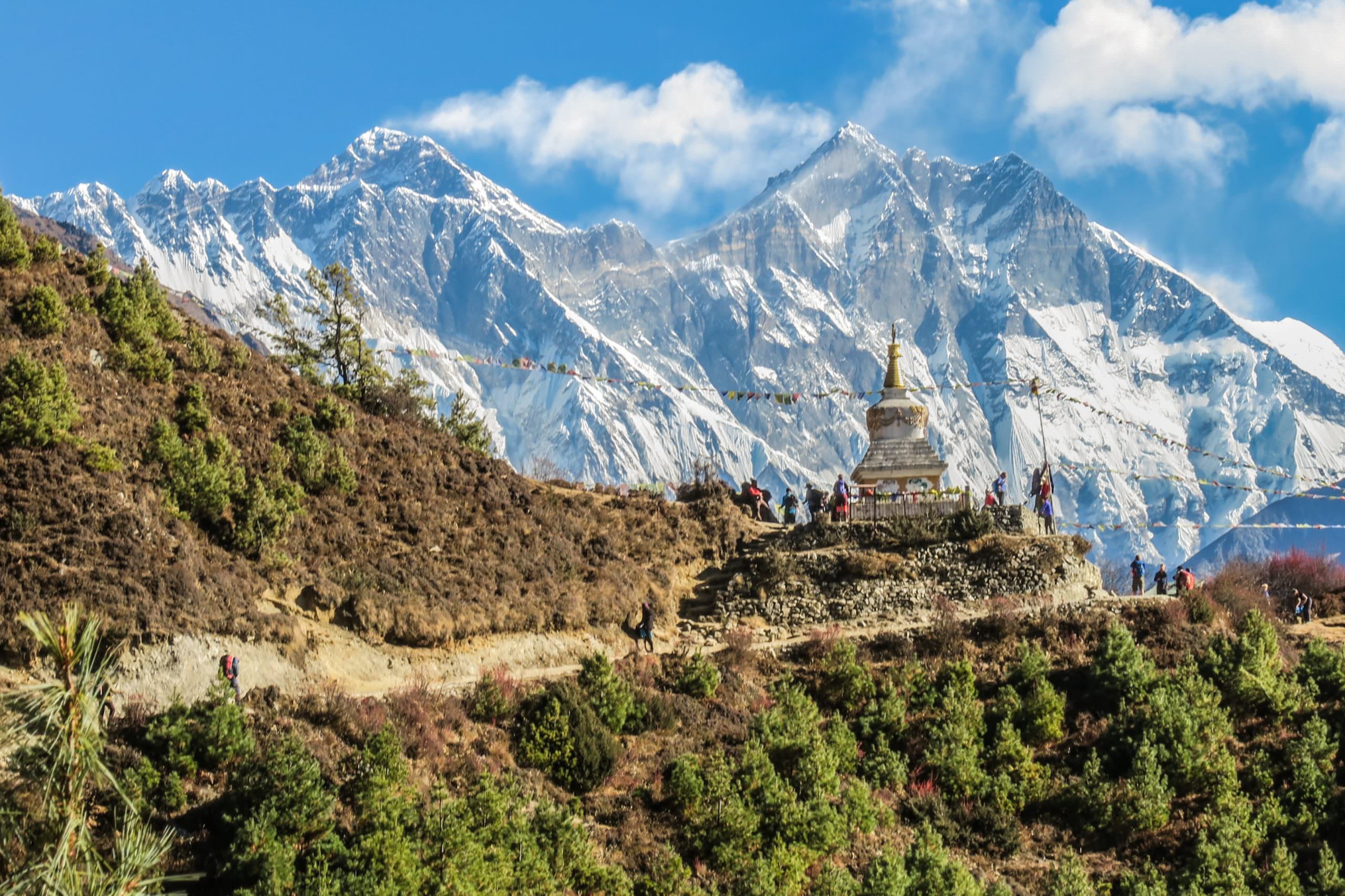 Stupa at Namche Bazaar, Nepal. Photo by Sebastian Pena Lambarri.
"The southern border of Nepal, along India, was created 150 years ago by external parties," says Sagar Chhetri, a visual artist from Nepal and a former Visiting Artist Fellow at the Mittal Institute. When that border was created, communities were cut in two. "[In Nepal], the ruling caste tried to unite all the peoples of the country to create one single Nepali identity. But in the populous open border region, Nepalis and Indians share marital ties, cultures, languages, and histories. With the promise of federalism during the decade-long civil war in Nepal came stronger rhetoric and ideology based on ethnic identity," he said.
Within this open border region lives the Madhesi community. "Like many others, [they] struggle with their identity," he said. Sagar recalled a conversation with Saroj Yadav, a Madhesi youth, who stated, "When we go to Raxaul (India), we are identified as Nepali. When we go past Simara (further north into Nepali territory) we are called Bihari (people of Bihar, India). Who are we? We are seeking our identity."
This search for identity among the Madhesi was the inspiration behind Sagar's exhibit, "Eclipse," a visual narrative told through photography that captures the people and their surroundings in the Madhesi community along the border of India and Nepal. "'Eclipse' is a process of weaving a visual narrative, based on instinct, in order to explore the core sentimental values that the Madhesi movement is based on and the hope of a more egalitarian and sustainable future," Sagar explained.
During his time at Harvard as a Visiting Artist Fellow, Sagar sought to explore the many questions that culminated in his mind during his trips to photograph the Madhesi community: How can a society traceable back to 3,000 years have its borders drawn by oppressors merely 200 years ago? Why are marginalized voices not listened to?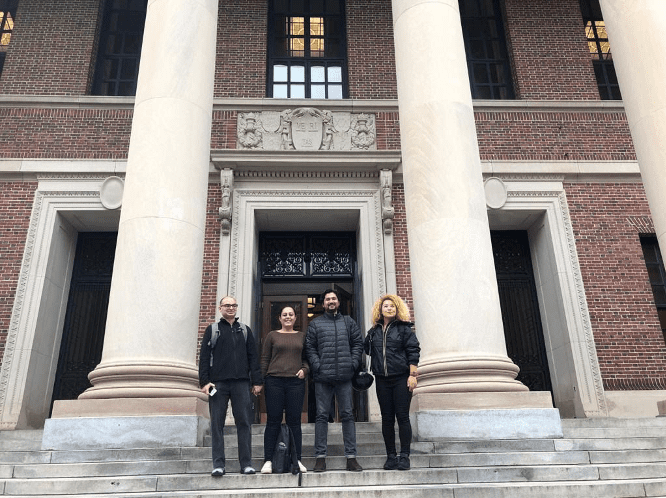 Sagar Chhetri (third from right) and the Visiting Artist Fellowship team.
In Cambridge, Sagar spent his days delving into Harvard's many resources and learning opportunities, focusing on theory to build inspiration for his future art practice. "I felt that being in the Harvard ecosystem would benefit me simply by looking into the research aspect of my practice. I audited courses, read papers, met faculty, attended seminars, presented my ideas, and so on, focusing on identity, race, marginalized voices, equality, politics, and South Asian history," he said.
New Perspectives in the Classroom
As a fellow, Sagar had the opportunity to audit courses at Harvard, one of them entitled "Critical Theory: Identity, Politics, and Representation," with Professor Houman Harouni. "Professor Harouni's class was unlike any other classroom I had ever been a part of. Alongside his teaching staff, Professor Harouni maintained a unique atmosphere where students were encouraged to speak and engage in conversation amongst each other, critically. The discussion among students went on naturally, while teachers maintained their quiet presence," he said.
"That format inside a classroom was something I had never seen before, where the learners' own experiences were valued deeply. The readings and discussions in the class amongst the students made me reflect on myself, on my doubts. The course helped me embrace my discomfort of working as an artist from the majority ruling caste community in an identity struggle of a marginalized Madhesi community. The course taught me to listen, to think, and to engage actively in critical discussions and to care for others — and most importantly, yourself."
Sagar deepened his research interests and exploration of the formation of the Indo-Nepal border by also auditing the course "Colonial and Post-Colonial Histories of South Asia," taught by Professor Sugata Bose. "His class enabled me to read many prominent historiographies and added a broad regional understanding to my limited understanding of South Asian history, which had [previously] been based on my interactions and interviews with the locals along Indo-Nepal borderlands," Sagar said.
Fellowship Extracurriculars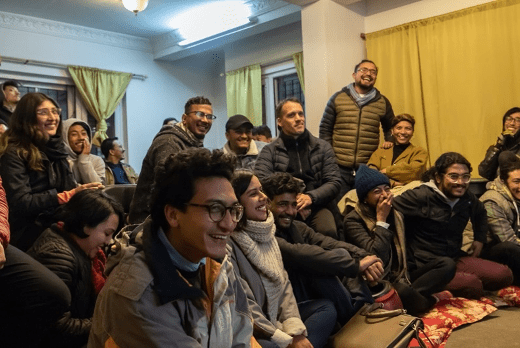 Sagar Chhetri joined a student group for a movie screening and discussion.
During his time as a fellow, Sagar had the opportunity to share his work and receive insights from a number of experts around Harvard, including Jinah Kim, Gardner Cowles Professor of History of Art and Architecture; Sugata Bose, Gardiner Professor of Oceanic History and Affairs; Teju Cole, Gore Vidal Professor of the Practice of Creative Writing; Amartya Sen, Thomas W. Lamont University Professor and Professor of Economics and Philosophy; and Mary Schneider Enriquez, Curator at the Harvard Art Museums.
Based on his research interests and the artistic path Sagar has been taking, he attended several seminars, conferences, and screenings during his time at Harvard. "There were many majorly impactful sessions that stay with me," he said.
From film screenings and exhibitions to classroom discussions and panel seminars, Sagar got the most of his experience as a fellow to learn about a wide variety of disciplines upon which to build his future art practice. During his fellowship, he attended film screenings of "Reason" and "One Child Nation," meeting filmmaker Anand Patwardhan and co-director Jialing Zhang, respectively.
From there, he participated in a conversation between students and Professor Sumantra Bose, London School of Economics, on the current events in Kashmir, and attended the exhibition "Love in a Mist: The Politics of Fertility," at the Harvard Graduate School of Design. "The exhibition explored society's quest to control both women and nature. It raised issues such as the use of synthetic hormones, historically, in women's bodies, as well as farm animals and domesticated plants," he said.
Sagar also traveled to the Center for Contemporary South Asia at Brown University to present his work and discuss his experiences as a visual artist in South Asia. "The Center curated a pop-up show by hanging a selection of 15 images from my work with a jute string at the Lobby of Hunter Psychology Lab. I had a great time talking to the audience … I was happy to find three Nepalis in the audience. One of them is a Madhesi man himself. We hung out that evening; it was drizzling, the air was cold, the light was dim. After the show, around the alleys of Brown University, we had a fruitful conversation about our lives and work," he said.
Bringing Connections Back Home
Since his return home to Nepal, Sagar has remained integrated with the Harvard community. In Kathmandu, he assisted Sneha Shrestha, the Mittal Institute's Arts Program Manager, in presenting an info session to local visual artists about the Mittal Institute's Visiting Artist Fellowship.
"I shared my overall VAF experiences [with the audience] … the event gave an opportunity to learn more about the program and possible opportunities for Nepali artists," he said, noting that the event brought together artists from the community to display the possible opportunities offered by the Visiting Artist Fellowship.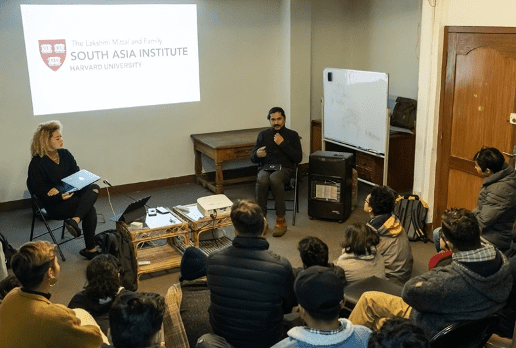 Sagar Chhetri gives a talk on his artwork at an event.
While at Harvard, Sagar met Ayaka Yamashita, a MDes Candidate '21 and Fulbright student at Harvard Graduate School of Design who works with Bhutanese refugees from Nepal as Co-Founder and Director of EDAYA with her partner Edger Banasan, a master bamboo craftsman and musician from the Philippines. "In January 2020, Ayaka and Edger called me from the airport and told me they were boarding a flight for Kathmandu," he recalled. Reconnecting with his peers from half a world away in Nepal, the three shared their work with one another. "Before they ended their week-long trip in Nepal, we made sure art students at Kathmandu University got a chance to learn a new bamboo craft," he said — bringing his experiences, knowledge, and connections all the way from Cambridge back to the students of Nepal.