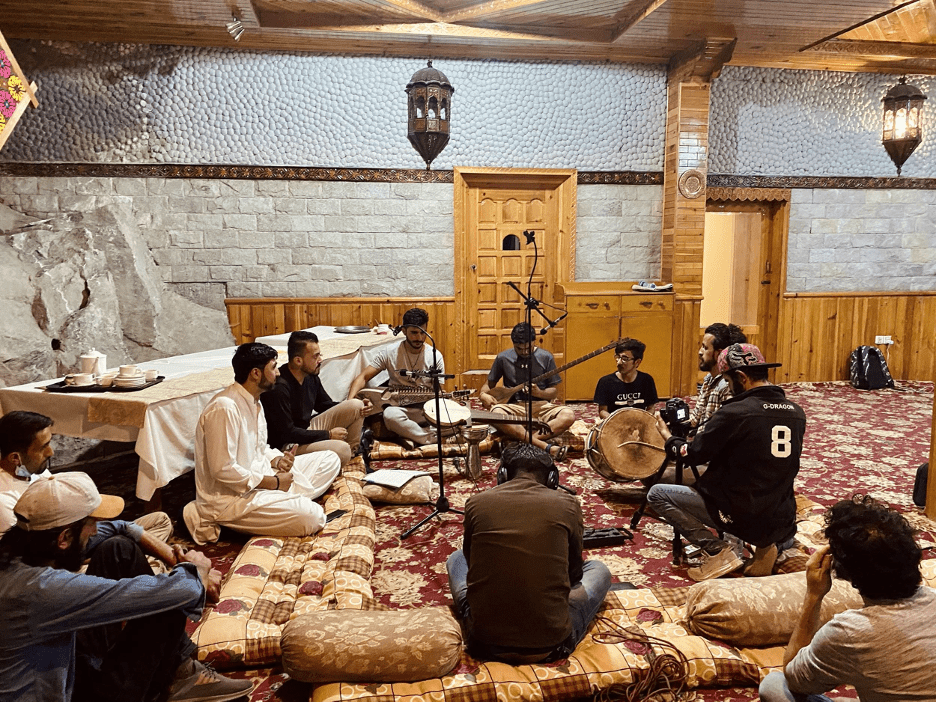 Jam session with artists and producers. Photo by Nosher Ali Khan.
By Nosher Ali Khan, Harvard College '23
Hunza is a valley located amongst the mighty mountains of the Karakoram in Pakistan. Amidst its rich history, ancient shamanistic traditions, and recent Islamic influence, poetry and music have always been an essential part of Hunzukutz's (people of Hunza) identity. As a Hunzukutz myself, I was always aware of and fascinated by the enormous influence our music has in our daily life and how it shapes our identity. To document the local music and enhance my understanding of the subject, I worked with the Mittal Institute to create a web-series of local folk music.
Initially, my idea was to interview musicians, poets, and experts and present their thoughts in a form of a documentary to introduce people to Hunza's folk music. I spent a month engaging with various artists and trying to understand the elements that constituted Hunza's folk music. Though, as I began interacting with the artists and listening to their music, I could not help but pivot my project to film the music and share it with the world.
To assist me with the project, I formed a team that was enthusiastic about the idea and brought technical expertise to the table. Looking for experts to help me, I came across Saad Ata Barcha, a folk music expert, Sohail Rumi, a music producer, and Asif Tajikee, a filmmaker. These young producers understood our vision of capturing the performance. We would regularly converse with local artists to get their perspective on the project. At one of these gatherings, a highly respected and senior musician said, "Hunza's [folk] music is not just heard, it's an experience that is felt." These words redefined how we were going to approach the project. We understood that we had to not only capture the music, but also the ambiance of the performance.
Hunza's folk music is unique in the sense that the performers merely initiate a performance. Within a few seconds into a performance, the distinction between the audience and performers fades away, and everyone equally participates in the show. This form is colloquially known as bazm. These bazms have played a significant historic role as resistance poetry to the monarchy system in Hunza, and contemporarily as revolutionary anthems in light of the lack of political representation in the region. In the last few years, bazm has emerged as the most popular music form in Hunza, owing to its energetic and passionate nature. To capture the entire set, we decided to experiment with a few music production techniques that would enable us not only to record the music, but the atmosphere during the performance as well.
For our lineup of artists, we approached the pioneer of contemporary bazms in Hunza: Azeem Hunzai. Azeem has played a crucial role in keeping the traditional poetry and music of Hunza alive in the bazmi style. Alongside him were the young and extremely talented musicians of Leif Larsen Music Center (LLMC), a music school created to conserve and foster the folk music of Hunza. After a few rehearsals, we shot our entire web-series in a single maraka (gathering).
Currently, we are in the post-production phase and will, hopefully, release the music by early October. To make our music accessible to a wider audience we are planning to add subtitles in English and Urdu and accompany the music with brief interviews about the poetry. The impact of our project is already visible, weeks before its release. We have been approached by multiple musicians in Gilgit-Baltistan and Chitral, who have expressed interest in working with us. The long-term goal of this project is to create a sustainable web-series that will capture the folk music of Northern Pakistan in its truest essence.
My experience documenting, understanding, and engaging with folk music in Hunza this summer has been a highlight of my Harvard experience. Personally, the project has been a tremendous opportunity for me to connect with my culture and musical traditions. This experience introduced me to numerous amazingly talented artists and producers in Hunza and helped me broaden my horizons about music and its impact on the community. Most importantly, it allowed me to reconnect with my cultural roots through music and helped me develop better insight into my own identity.
Behind the scenes. Photo by Nosher Ali Khan.
I would like to thank the local artists, our production team, and the Lakshmi Mittal and Family South Asia Institute for enabling me to have such an experience and giving me the opportunity to share my community's music with the wider world.