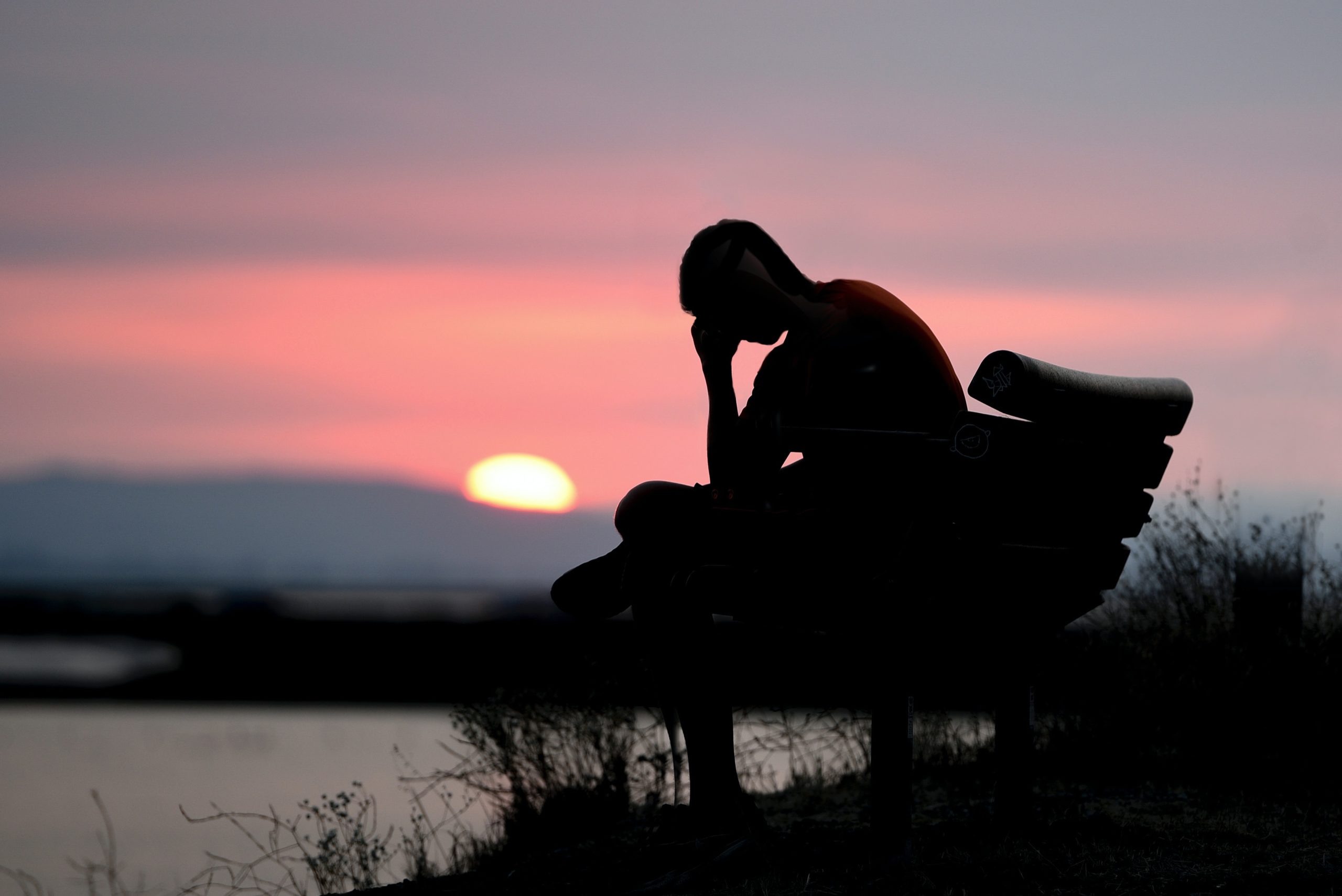 Silhouette of a person sitting on a bench at sunset. Photo by Jude Beck.
Around the world, the COVID-19 pandemic has hit communities hard, with many people suffering from the virus itself, facing unemployment, or unable to interact with family and friends. As time goes on, the effects of the pandemic are not limited to just our physical health, but have impacted our mental health, as well.
We spoke with Vikram Patel, the Pershing Square Professor of Global Health in the Department of Global Health and Social Medicine at Harvard Medical School, to learn more about the status of mental health in India and South Asia at large, both before and during the pandemic.
Professor Patel will take part in an upcoming seminar on November 9, "The Impact of COVID-19 on Mental Health in China, India, and the United States," alongside other panelists from Harvard University, Shanghai Jiao Tong University, and Central South University, to compare the current state of mental health across countries.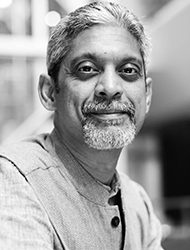 Can you tell us a little about what you are currently researching?
My main focus has been on scaling-up approaches that we have demonstrated are effective in improving access to quality mental health care — principally, the delivery of psychosocial interventions by frontline providers, such as community health workers, for the prevention and treatment of mental health problems. Much of my work is centered on translating the robust implementation science findings into real-world impact.
In general, how would you summarize the status of mental health in India? What is the prevalence of mental health issues in the region?
Even before the pandemic, we had very good data to inform our understanding of the burden of mental health problems in India, mainly from the Government of India's National Health Survey conducted about 3 years ago with a large representative sample of over 30,000 participants from around the country.
The survey showed that about 10% of India's adult population met clinical criteria for a mental health disorder. That would translate to anywhere from 70-100 million people at the time of the survey. The survey also showed that the most common problems were mood and anxiety disorders, and that very high proportions of persons affected had neither received nor sought any kind of care in the previous twelve months, approaching nearly 90% for the mood and anxiety disorders.
What are the challenges in addressing mental health disorders in India? Are there differences in the approach to mental healthcare across countries of South Asia?
I think there are a lot of similarities in the challenges and opportunities for addressing mental health problems in the different countries of South Asia. The countries share a similar social, historical, and cultural context. Of course, there are also some differences too, but I think the similarities are far greater. From my first-hand experience in India, the barriers to addressing mental health disorders can be categorized in two buckets. The first are supply-side barriers, notably the inadequate number of healthcare workers skilled to provide mental health care. The fact that there are more psychiatrists of Indian origin working in the US than in India itself gives us a sense of the enormous shortage of mental health practitioners. Even these few practitioners are located in urban areas and in the private sector, which negatively affects access to mental healthcare by rural and low-income communities.
There is also the demand-side barrier: communities are reluctant to access mental healthcare, which has been historically organized in a way that is heavily influenced by biomedical framing of "diagnoses, doctors, and drugs." For the general population, such a framing is foreign to their understanding of mental health issues. Furthermore, most psychiatric beds are located in mental hospitals, built during the colonial era and associated with coercion, removal from society, and sedative medication. This history and imagery has contributed to the stigma about seeking mental healthcare.
Have you observed differences or similarities in how mental health issues impact low-, middle-, and high-income countries?
My main research into mental health focuses on African and South Asian contexts. Based on this experience and my clinical practice in four countries, I have observed that the core phenomena that characterize broad categories of mental health disorders are remarkably similar across contexts and cultures — and, besides, there are similarities in how people respond to interventions. Thus, mental health disorders are universal health experiences with similar "core" features and responses to interventions.
That said, culture and context greatly influence the way mental health disorders are experienced, understood, and responded to, and thus mental healthcare must embrace a diversity of perspectives, experiences, and providers.
How can South Asia's governments and communities improve efforts toward addressing mental health?
We must move away from the narrow binary biomedical approach to mental health. Each and every one of us must value our own mental health, which is best understood as a dimension, as opposed to only being concerned about suffering from a mental health disorder.
The binary approach of diagnoses and disorders works well for infectious diseases, but not for mental health. If we approach our thinking about mental health across a dimension, we see that there is a range of actions each of us can engage in, from promotion and prevention to care and recovery. The need of the hour is to scale up what works.
There is robust evidence on the effective delivery of psychosocial intervention by frontline workers in community and primary care settings. For people with serious mental illnesses, like schizophrenia, healthcare workers need to think more about ways for social inclusion, and work must be done toward the elimination of coercion and involuntary treatment. And, of course, we must invest in prevention by targeting adverse environments, especially in childhood and adolescence.
You have an upcoming event in November that will delve into the impact of COVID-19 in China, the US, and India. How would you summarize the impact of COVID-19 on mental health in India?
COVID has helped bring the issue of mental health out of the shadows, which is a very welcome development. Much of this attention has been focused on mood and anxiety problems, triggered by the uncertainty and a growing sense of frustration in the face of the pandemic.
The truth is that uncertainty is affecting everyone, but its impact is disproportionate across populations. Low-income or disadvantaged communities have been much worse hit, for example, due to the potential loss of income and work. This has led to significant adverse mental health consequences, and I fear that this will lead to a steep increase in mental health problems throughout the vulnerable communities of India.
Additionally, during lockdown, many routine healthcare services shut down. People with serious mental illnesses rely on routine care. The shutdown spells disaster for people who need such continuing care. Though the impact has not yet been documented, I fear a steep increase of relapses in this vulnerable group of persons.
Have there been changes in India regarding the approach to mental health since the onset of COVID-19?
It's been a bit of a mixed picture. On one hand, there is a lot of community action that is being led by frontline workers, civil society organizations, and NGOs — India's greatest assets. These groups are working across the country, and they are sometimes the only source of support for marginalized communities.
On the other hand, it has been a sorry tale of disregard for the disproportionate impact of lockdown and the pandemic on rural, marginalized, and low-income populations. When the definitive history of the pandemic response around the world and in India is written, what will stand out is this disregard by the privileged, from politicians and bureaucrats to the wealthy and even some scientists, to the devastating impact of lockdown on the millions who are voiceless.
What are your top recommendations to care for one's own mental health during the pandemic? What are your main concerns?
I think uncertainty is the main stressor that has been affecting people everywhere — including here in the US. Uncertainty is part of the human condition, and from an evolutionary perspective, humans are geared to respond to uncertainty in ways that protect ourselves. In times like these, however, when uncertainty is chronic, pervasive, unanticipated, there is no sense of when it will end, and when every day seems to bring more bad news, combined with concerns about upcoming elections, political polarization, and climate change, these uncertainties significantly affect mental health.
So, how do we mitigate the adverse effects of these uncertainties on our mental health? We can't simply wish it away. There are certain things that can be done to help: maintain a routine and structure in your day and minimize the time reading or watching news — as the media deals with so many negatives. Be as aware of your mental health as you are of your physical health, and acknowledge distress and speak to a trusted person when you are distressed. Focus on the present; there is little to be gained by worrying about the future. Meditate, exercise, and do things that are meaningful to yourself and others around you. Right now, it's a great time to get into community action; it's something that is desperately needed and can build and enhance your well-being.
In the coming weeks and months, what is needed to avert a mental health crisis in South Asia or even around the world?
I'm extremely concerned about the global mental health crisis that we will face. Even before the pandemic, there was significant, robust data that showed worsening mental health, especially in young people, around the world, and in the US suicide mortality has increased 50% in last decade in this demographic.
The pandemic with its uncertainties and the economic recessions will likely cause this burden of mental health problems to worsen. Even before the pandemic, mental healthcare was not fit for purpose. We now have a historic and urgent opportunity to reimagine the future of mental healthcare. There is always the call for more investment, but that must be guided by the best science on what is cost effective in mental healthcare. We must also pay attention to a human rights perspective, which necessitates us to deliver healthcare in a way that always respects and protects a person's dignity. ☆
———
Join us on Monday, November 9 at 8:15 PM EST to listen to Vikram Patel and others discuss the impact of COVID-19 on mental health in China, India, and the United States.
———
☆ All opinions expressed by our interview subjects are their own and do not reflect the views of the Mittal Institute and its staff.