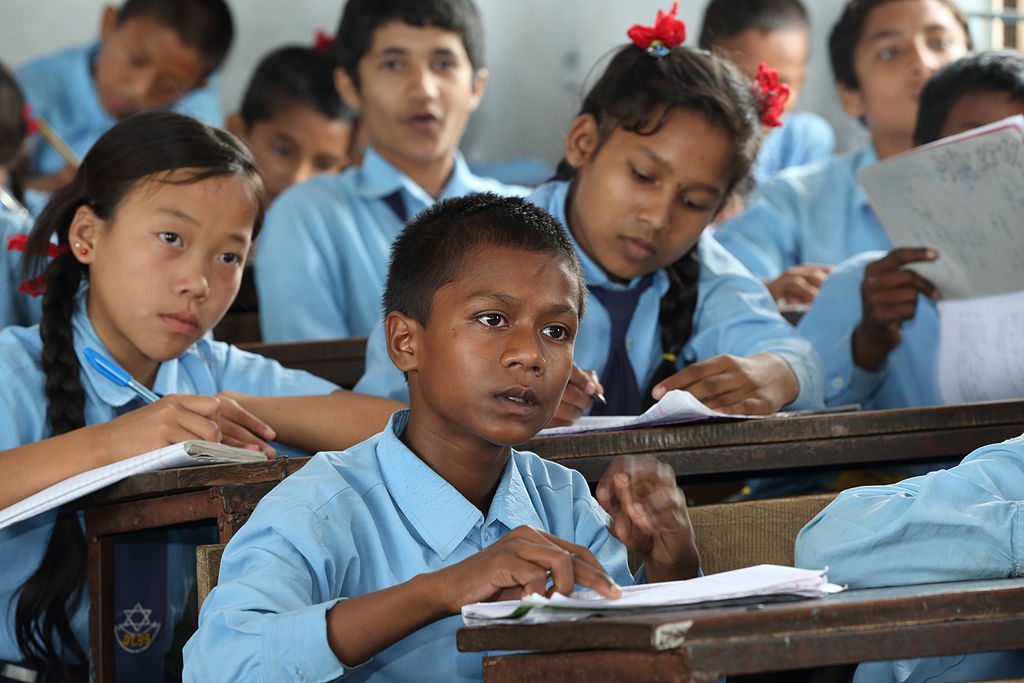 Student in a classroom at Pokhara. Photo by Jim Holmes.
Education has been hit hard by the COVID-19 pandemic, and a record number of children are not attending schools due to lockdowns and social distancing protocols in effect around the world. The crisis has also laid bare the many inequities and inadequacies in existing education systems, especially in South Asia.
We spoke with Nishant Pandey, the CEO of American India Foundation (AIF), and Rumee Singh, the Founder of Katha4Nepal — two distinguished organizations that have accomplished remarkable work in the field of education delivery during the pandemic.
Pandey and Singh will take part in our upcoming seminar on November 11, Models of Innovation: Education in South Asia, alongside other panelists from the region. Together, they'll illustrate how the shared challenge of quality and access in education can be mitigated through partnership, research, and resilience.
Nishant Pandey: Providing Education in Times of Migration in India
As the CEO of American India Foundation (AIF), Nishant Pandey has extensive knowledge on the challenges and successes of education delivery in India. Through the Learning and Migration Program (LAMP), AIF is working to address the issues that migrating families in India face when children are moved away from their homes and unable to attend school.
Can you share a little about AIF's Learning and Migration Program (LAMP)?
Despite economic growth, there are still many places in India that are home to extreme poverty. Every year, millions of people across India are forced to migrate for six to seven months a year to find work at survival wages at distant places. And, in a lot of cases, entire families migrate. This means that around 15 million children move away from their homes to hazardous worksites, like brick kilns and salt panes, and do not attend school. To address this critical issue of child migration, the AIF started the Learning and Migration Program (LAMP) in 2004.
LAMP works in eight states in India and, by definition, operates in highly underserved, very remote districts, ridden with the phenomenon of distress seasonal migration. Seasonal migration undertaken by the family has a multiplicative effect on children, as they are forced to drop out of schools in order to accompany their parents to migration sites, and therefore end up engaging in hazardous manual labor. Ensuring children go to school and complete their education is the only way to enable them to have a different future.
LAMP universalizes access, retention, and quality learning in migration-prone villages. The objective is to retain children of migrant families in the school net, ensure that they develop strong foundational learning skills at the primary stage, and enroll in and eventually complete schooling. It further aims to reduce absenteeism and drop-out in schools by preventing the migration of children through the model of "Access – Learning – Governance – Complete schooling cycle."
Riding on the Right to Education (RTE) Act, AIF strives to increase community-based advocacy and improvement in learning outcomes and ultimately influence the policy — at the state and national levels — in the favor of migrant children. As a result, the Ministry of Human Resource Development (MHRD) has built the issue into the SSA policy framework and directed all states to include interventions with migrant children into their Annual Work Plans and Budgets. State governments in LAMP project states — Odisha, Chhattisgarh, Maharashtra, Gujarat, and Andhra Pradesh — have taken serious cognizance of the issue and have done migrant surveys and support relevant interventions like seasonal hostels for migrant children.
Since its inception, LAMP has highlighted seasonal migration and its impact on children's education. What was the inspiration and process behind its creation?
In 2003, AIF initiated intensive research and identified those categories of out-of-school children that have not been effectively covered by mainstream education, and one such group comprises the children of seasonal migrant laborers. While working with a small number of children whose parents migrate for months on end from central to western Maharashtra for sugarcane harvesting, the team discovered a very high dropout rate and the very real hurdle that seasonal migration creates for schooling and education.
The experience pointed toward distress migration as an insidious promoter of child labor. LAMP started to work with children of seasonal migrants because they are a highly neglected category, essential to address for achieving the Universalization of Elementary Education goal. In order to achieve this, AIF works toward strengthening the government education system and, at the same time, establishing Learning Resource Systems (LRCs), which are community support systems for education through the use of innovative methods and materials.
What steps have you taken to re-align LAMP's overarching goals during the ongoing pandemic?
The overall goal of LAMP is that all children from marginalized and migrant communities have a better quality of education through demand- and supply-side interventions, leading to an improved public education system at the last mile. In order to achieve this, LAMP, through a combination of implementation, research, and liaising with the government at appropriate levels, raises the issue of education for children affected by seasonal distress migration pan-India. LAMP deploys strategies on the ground as well as a wider system-influencing approach, while maintaining a minimum level of implementation to build models, collect evidence of what works (and what does not), demonstrate good practices, and use the implementation sites as spaces to strengthen the capacity of stakeholders.
COVID-19 has brought the scale of the migration crisis to center stage in India. It has also highlighted the digital divide that exists in children's education. A model like LAMP has assumed greater significance and urgency in the ongoing and evolving pandemic situation. Adopting both tech and non-tech measures, leveraging social and human capital created across program geographies, LAMP is moving towards an integrated approach, covering children from pre-primary education to school completion, adolescent education and well-being, to employability skills and entrepreneurship.
The program is also embedding technology to improve access to learning, teacher preparedness for e-teaching, and effective participation of key stakeholders in school governance. LAMP is also using this opportunity to hand-hold communities and Panchayats (local self-government) to use funds available under the central and state finance commission and mobilize its own resources to provide immediate relief and medium- to long-term planning for the poorest and most vulnerable within their Panchayats.
How do you think LAMP can bring structural change to India's education system?
India's New Education Policy (NEP) 2020 focuses on universalizing access from early childhood to higher education, integrating over 20 million out-of-school children and efforts toward socio-economically disadvantaged groups. To achieve this, it talks about structural reform in the school system from the 10+2 model to the 5+3+3+4 model, with vocational education from Grade 6 onwards. In addition to this, it proposes a cluster-based approach to developing school complexes and the integration of technology to bring about the desired improvement in the quality of school education.
LAMP is completely aligned with the vision of the New Education Policy and is pivoting quickly. Its current strategy focuses on establishing linkages across multiple levels for education, from pre-primary to school completion, to life-skills and employability. Secondly, COVID-19 and the subsequent lockdown affected program delivery and field operations of the AIF's Livelihood, Education, and Health intervention, hampering the physical interface with the target beneficiaries.
However, AIF has been quick to adapt its programs to this newer situation, especially in migration-prone districts in eight states, where AIF intends to implement its "Initiative for Migrants." This intervention aims to reduce the incidence of distress migration through education (bridging the educational and digital divide), health (strengthening primary healthcare), and livelihoods (by creating access to traditional and innovative livelihoods) and institutionalize migrant issues into local, state, and national development planning.
———
Rumee Singh: Cultivating a Reading Culture in Nepal
Rumee Singh founded Katha4Nepal as a platform for children to access education through stories once schools had been closed down during the pandemic. The platform has incorporated elements of education to spread awareness regarding COVID-19 among children, and also seeks to develop a social consciousness among children in an understated manner — through oral stories on mental health awareness, gender, sexuality, and cultural differences.
Katha4Nepal evolved specifically as a response to COVID-19 and the challenges faced due to school closures. How do you use storytelling to create a diverse learning experience?
In addition to helping cultivate a reading culture, stories can be engaging learning platforms for children to fuel their curiosity and critical thinking ability. Many children in Nepal have limited access to libraries and books, and it has become more of a challenge now as they stay home during the pandemic. We launched "Katha4Nepal" in response to the challenges posed by COVID-19 with school closures as a social initiative to make stories more accessible to children in Nepal.
We envision a learning platform for children through engaging storytelling that helps them be more attentive, imaginative, and empathetic. We have people from various backgrounds who read children's stories in English, Nepali, and local dialects, thus promoting local language and culture as well. The platform has grown and adapted to be community-driven, with a number of people reading stories they have and sharing it with others. We also curate content and partner with various publishing houses and influencers to push a diverse range of stories. From mental health awareness to sexuality and cultural identity-based Read Alouds, we are focused on sharing empowering, inspiring, and engaging children's stories. We hope learning continues at home.
You've mentioned elsewhere that the idea for Katha4Nepal sprung from a personal need to bond with your children and enhance their knowledge and learning. Could you elaborate a bit on how you managed to adapt this idea to a larger, community-driven model?
As a mother of two young children, I have always relied on Read Alouds to engage and calm my kids. Storytelling has helped me give them an understanding of their emotions and introduce them to new ideas and cultures. With the onset of COVID-19 and school closures, I have found it more important to maintain a healthy bond with my kids and hence was strongly driven to bring the power of storytelling to more children. Katha4Nepal started as a simple idea: to make Read Alouds accessible to young children in Nepal and help them build their cognitive skills. It has now grown and adapted to a hybrid version of a community-driven platform as well as curated content to build representation and expose young minds to empowering and inspiring stories.
What's next for Katha4Nepal?
We are constantly looking to reach and impact a wider audience in Nepal. Beyond the immediate void that Katha4Nepal is trying to fill in, our next goals focus on creating a mobile application for easy access for schools, teachers, and students; and also venturing out to consistent storytelling through radio. We will also continue to build on our content curation to focus on representation and highlight the stories of marginalized populations.
How does the work done by Katha4Nepal revolutionize existing education policy in Nepal?
The education system in Nepal depends heavily on traditional ways of teaching. COVID-19 has challenged this existing structure, and there's been a huge need for a mindset and resource shift to digital innovation. Katha4Nepal takes a small step toward cultivating a reading culture for young children by making a diverse range of stories digitally accessible through online Read Alouds. In addition to this, we've also started interactive storytelling sessions with school students to engage them in conversations and stimulate critical thinking.
Katha4Nepal can potentially create lesson plans around stories and provide digital materials for schools in Nepal for a more structured process. We are also considering putting more resources on our platform, such as tips for adults on how to read children's books more effectively, specific resources for teachers that help them identify teaching points and lesson ideas, ways to integrate the Read Alouds with other subjects and units, and demonstrations for students on how to have accountable discussions around key ideas. Also, bringing in stories from underrepresented populations would be key in changing the prevalent narrative of the dominant society. ☆
———
Join us on Wednesday, November 11, at 9:30 AM EST to listen to Nishant Pandey, Rumee Singh, and others discuss their innovative models of education delivery in times of the pandemic across South Asia.

☆ All opinions expressed by our interview subjects are their own and do not reflect the views of the Mittal Institute and its staff.