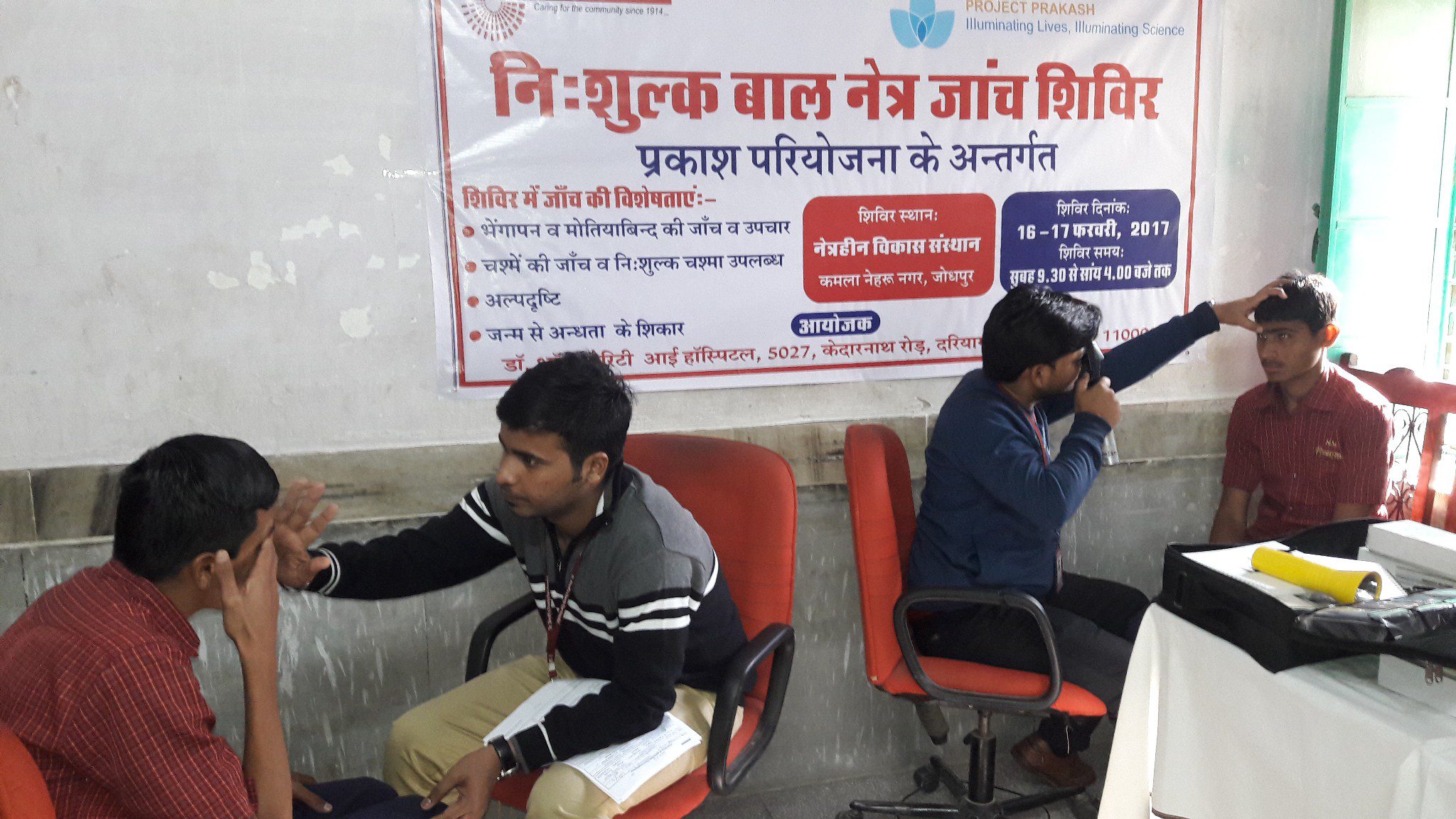 Healthcare workers perform eye exams on patients.
The COVID-19 pandemic has had a significant and negative impact on the delivery of eye health services around the world, while pushing new behaviors of both consumers and healthcare service provides. As part of the Mittal Institute's Multidisciplinary Approach to Innovative Social Enterprises supported by Tata Trusts, Project Prakash recently established two new Prakash Vision Centers (PVCs) in the villages of Brahmpur and Pali to provide access to sophisticated eye care services.
The past few months have given the project team the time and opportunity to adapt and work toward restructuring their approach to operational and outreach activities during the pandemic. The results of this can be seen in their innovative approach to providing services and their focus on a calibrated network expansion. We spoke with Ajay Chawariya, the Executive Director of Project Prakash Charitable Trust (PPCT), to understand how the team is dealing with the challenges of providing eye care during the pandemic.
2020 was a difficult year for all state and non-state healthcare providers across the world. How have you tackled the situation and ensured the safety of staff and visitors at the vision centers?
This has been an unprecedented period, and no one could have prepared for this. However, it taught us a few new things and gave us a window to reset many aspects of healthcare services. We took several measures at an intense pace, with focus on innovation and empathy to ensure the safety of healthcare staff, patients, and visitors to the vision centers. We developed a health assessment form that has questions ranging from the travel history of the individual to any symptoms that might indicate exposure to the virus. Upon each visit, the staff and visitors have to go through thermal body scanners and take our health assessment test. Social distancing protocols are strictly followed by the staff.
We have also procured some of the safety equipment recommended by the government and mentioned in the operational guidelines for vision centers. The list of safety equipment and items includes face masks, hand sanitizer, hand gloves, non-contact thermal scanners, and disinfectant solution.
What are the challenges of implementing these measures in the remote and rural districts of Brahmpur and Pali?
It is very difficult to bring an overnight change in the behavioral patterns of individuals. When trying to convince the rural population of Brahmpur and Pali to mask themselves and wash their hands regularly to prevent exposure to this life-threatening virus, we are often faced with hesitance, doubts, and disbelief. Whenever possible, we interacted with people remotely, through phone calls, and provided counseling.
What are the awareness-generation activities for eye health that the team is currently undertaking or planning to undertake?
While we were not able to resume operations for a long time after the national lockdown was announced in March 2020, we decided to use this time to conduct remote counseling and follow-up activities. Our team established remote contact (mostly over the phone) with patients who were screened at the PVCs. Since the time the centers were set up in October 2019, a total of 232 patients who had participated in our eye screening camps had been diagnosed with refractive errors and were provided with glasses.
We were able to follow up with 207 of these patients and provided them with remote counseling on the use and benefits of glasses. Some of them complained about blurry vision, discomfort, and headaches, and some others had glasses that were broken and needed repair. The team members counseled them on whether the problem required an urgent check up, or whether they could stall their visit to the PVCs until the pandemic situation improved. They were also provided with information on prevention of COVID-19 and various safety measures that should be taken to prevent exposure to the virus.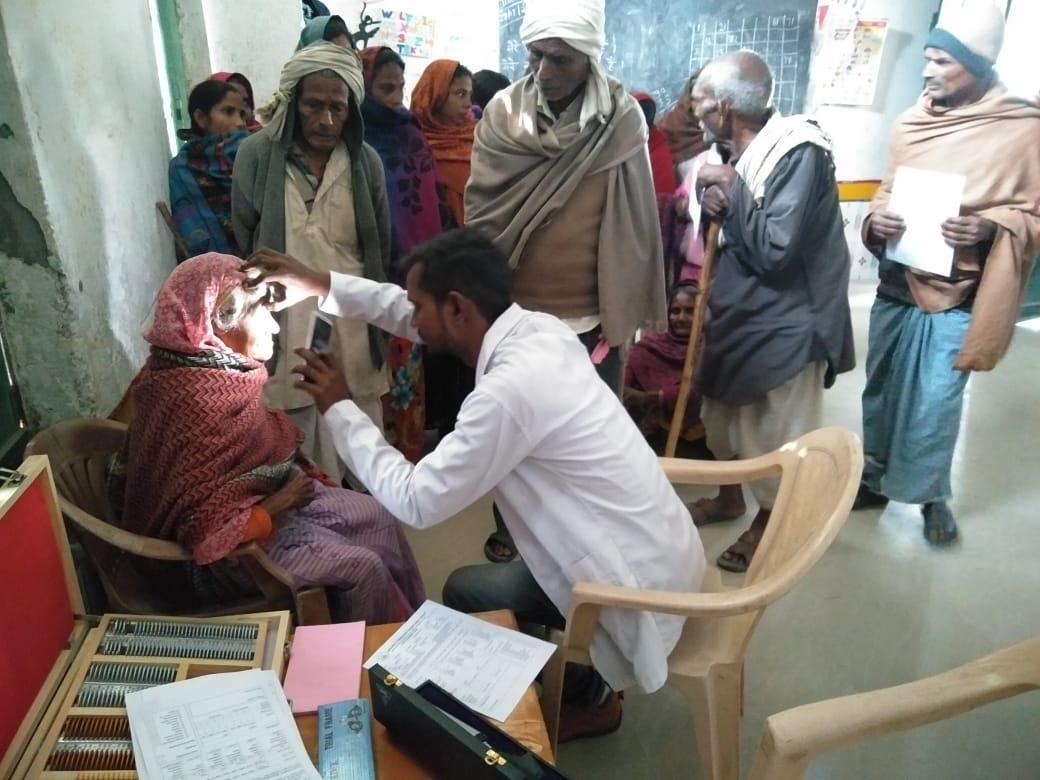 Members of the community wait for their turn to receive an eye exam from a healthcare provider.
How have you recalibrated your strategy for to provide eye care and perform outreach in rural communities?
Since we operate in rural communities, where the density of population is not as high as the urban regions, it is essential that we strategize carefully and maximize our outreach activities by gathering as much information as possible about the stakeholders, demographic data on households, and resources present in the community that we are servicing. One of the ways we tried to accomplish this was by preparing a map of the areas surrounding the two PVCs. As of now, each PVC is mainly serving the population residing within a radius of 10 kilometers. The villages located in that radius have been depicted in the map, and these maps have been displayed at both the PVCs.
We are also in the process of creating a constellation of state and non-state actors to facilitate resource-sharing between healthcare providers and level up innovation and awareness activities. Through our prior experiences, we have found the government set-ups to be helpful if we are able to effectively utilize their help and provisions. Additionally, we are working with representatives of Panchayats (local governing bodies in villages) and grassroots healthcare providers when it comes to organizing outreach and awareness programs in their respective areas.
How do you think the pandemic has affected your vision for the PVCs in the years ahead?
The world seems to have changed irreversibly in various aspects and things will surely take time to go back to normal after the vaccine is distributed. The ongoing pandemic and the implications it poses on the outreach and operational activities of the PVCs has necessitated that we reinvent our approach and work on building upon a network of reliable healthcare and service providers.
While we wait for the government's approval to resume full-fledged operations at the vision centers, instead of organizing screening camps, we are looking into providing door-to-door screening services. We are planning to send a two-member team, consisting of the optometrist and an attendant, to visit households while limiting close physical contact and observing necessary precautions. Building a network of grassroots healthcare professionals and seeking their assistance and provisions wherever necessary is another way we can ensure that our services continue to reach those who need it. ☆
———————
☆ All opinions expressed by our interview subjects are their own and do not reflect the views of the Mittal Institute and its staff.