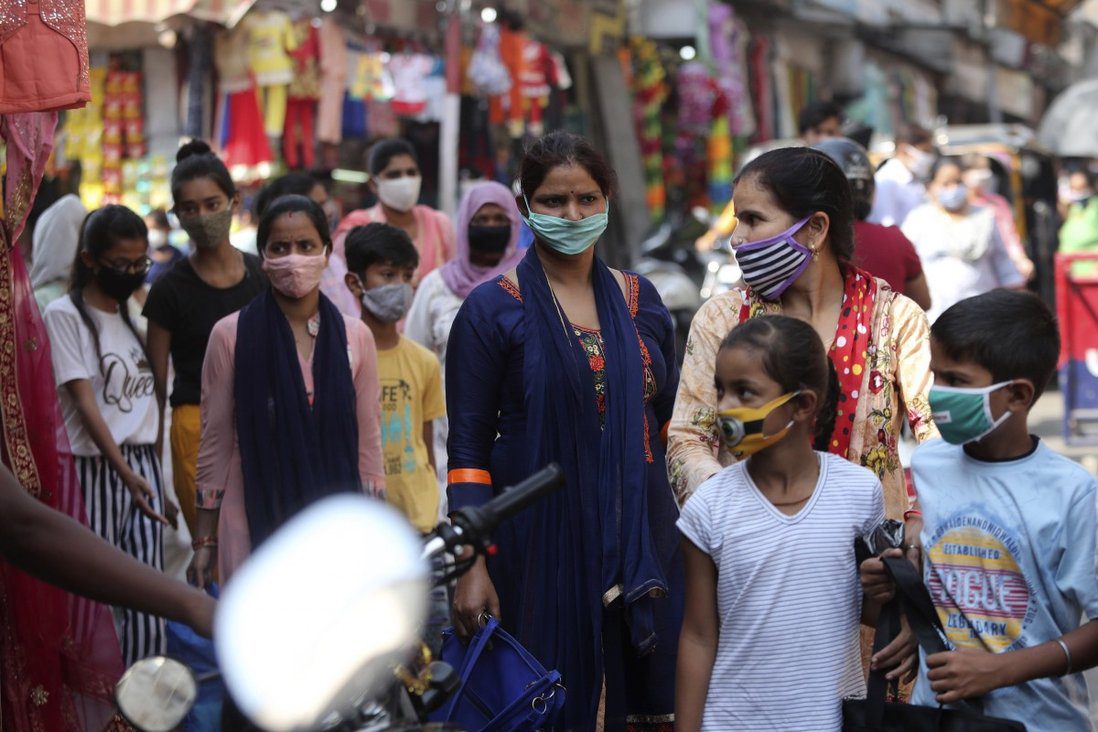 People in a market in India wear face masks as a precaution against COVID-19. Photo: AP.
Through the Mittal Institute's 2020 Seed for Change Exploratory Grant program, recipients Sahana Bail and Kanishk Mittal set out to create a preventive COVID-19 health education program in India. Their three goals are to educate students of the program about the benefits and logistics of proper mask use and hand hygiene, early recognition of COVID-19 symptoms and what to do if a child has it, and bust the myths related to the intersection of food and COVID-19. 
They carried out their program with the help of teachers and families in rural villages surrounding Chakai, Bihar, teaching schoolchildren about the realities of the virus. "Our partner organization, Sinchan, has a strong track record of educational programming in the region and facilitates a group of young teachers and community representatives who have already been actively involved in creating this program," say Bail and Mittal. Currently, Sinchan works closely in three panchayats, serving about 2,500 families.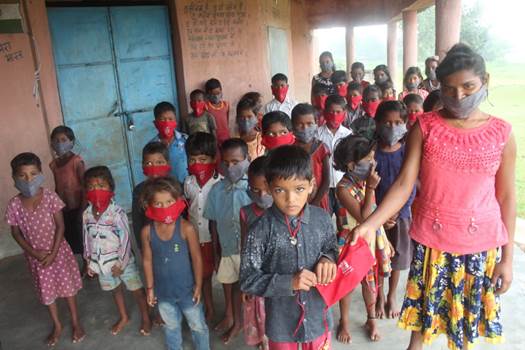 A group of students and their teacher wearing masks in Bihar.
Students learning outdoors in Bihar.
The team's three goals were developed as a direct response to the conditions that have been reported by Chakai-area community members in Zoom and WhatsApp interactions. "Misinformation is known to circulate for similar threats like Zika, Nipah, Ebola, and other coronaviruses, like SARS and MERS. Within India, fake news is a well-known and sometimes deadly phenomenon, operating both before and during the COVID-19 outbreak," say Bail and Mittal. As of February 2021, there have been more than 10.8 million confirmed cases of COVID-19 throughout India.
Over the past six months, Bail and Mittal's team of about 20–30 people from Sinchan, Lahanti Club, MGH Institute of Health Professions, Tufts University, and Harvard University has continued to collaborate on the program. "Approximately 104 students have already received three out of five modules related to how to keep themselves, their families, and their communities safe from COVID-19," they said. The team's educational materials have been used by teachers to help students learn about COVID-19 basics, mask-wearing, and hand hygiene. "In the next month, they will complete the other two portions of our curriculum, which are about nutrition and immunity myths," said Bail and Mittal.
"The teachers of the Lahanti Club have been actively involved in not just teaching the lesson plans, but also in performing the initial needs assessment, the creation of the lesson plans, and joining check-in meetings over Zoom as they teach their students," said the team. "All of the teachers have also been implementing our pre-tests and post-tests before and after teaching every lesson plan and reporting their collected data to our team."
With the 2020 Seed for Change Exploratory Grant, Bail and Mittal were able to compensate the Lahanti Club teachers, who have been operating five learning centers across Bihar since July 2020. They were also able to purchase masks for all of the students, families, and teachers involved in the program, and purchased prizes to give to students as incentives to implement and continue safe COVID-19 practices, such as wearing a mask for the entire day.
Recently, the team was approached by Seshadripuram College in Bangalore with a request to use their educational materials.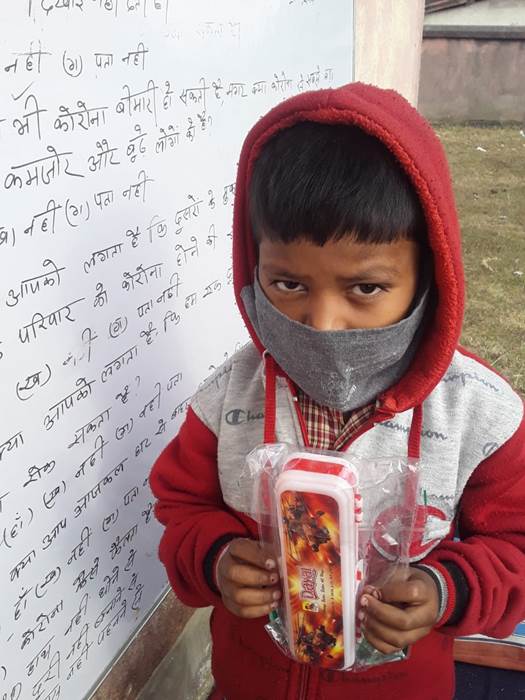 A young student wears a face mask.
"We have been helping a small team there adapt our materials for their own educational purposes and use in secondary schools in Bangalore. Their team has transformed our lesson plans into short skits, conveying the main learning goals of each plan through mime videos," said Bail and Mittal. The Bangalore team is currently finalizing the video shorts. The team expressed their excitement over the new Bangalore partnership, as it allows them to now test the efficacy of their education program in an urban environment — one very different from the learning centers in Bihar.
Once the learning centers portion of their program is complete and all feedback from their partners has been incorporated into the program, the team's materials will be made available online in both English and Hindi for public use and education.
The team would like to thank their two main partner organizations in Bihar, India that helped them carry out this project: Sinchan Education and Rural Entrepreneurship Foundation and Lahanti Club. All photos are taken by the Lahanti Club teachers in Bihar.
Posters on safe COVID-19 practices written in Hindi.
———————
The Mittal Institute's Seed for Change (SFC) competition aims to develop a vibrant ecosystem for innovation and entrepreneurship in India and Pakistan, providing grant prizes to Harvard student projects that positively impact societal, economic, and environmental issues. We are now accepting applications for the 2021 Seed for Change Competition, with a deadline of Friday, February 26, 2021. Click below to learn more and apply.