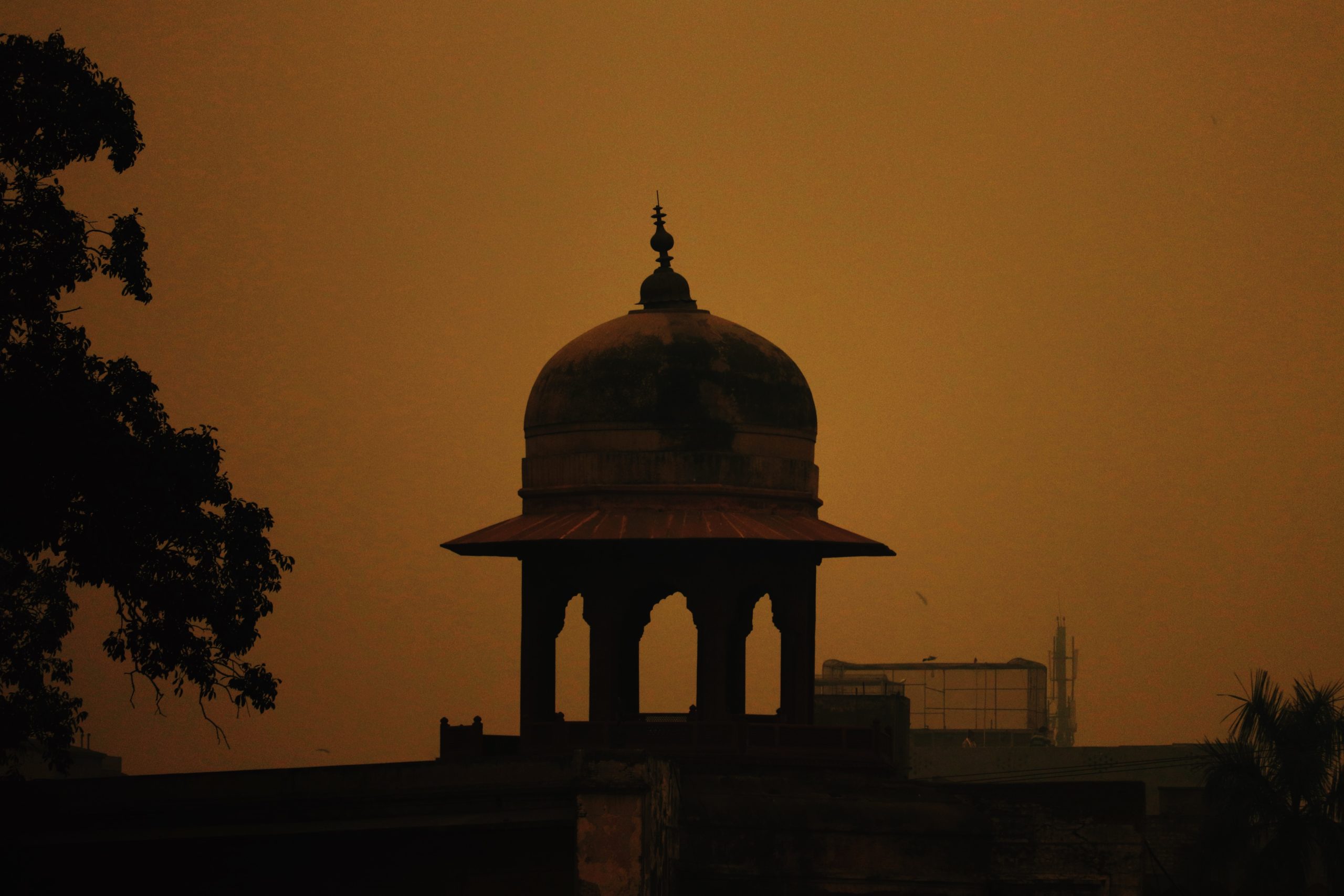 A domed building on Shalimar Bagh Road in Lahore, Pakistan. Photo by Abuzar Xheikh.
By Asmer Asrar Safi, Hamid Nawaz, Hajra Malik, and Ramsha Bilal (Harvard College '23)
Lahore is a city rife with unexplored heritage sites and cultural landmarks locked between urban developments. Yet, the unavailability of tourism services means that Lahore has been unable to fully reap the benefits of being a popular tourist destination in Pakistan. It is to bridge this gap that our team set out to create a third-party, tourism facilitation service app, "Naqsha Nigar," predicated on creating preset and customizable tour plans for the average smartphone user.
Given the onset of the second wave of COVID-19 in Pakistan during the months of November and December, we decided to use this time to remotely engage in research pertaining to tourism in Lahore. In this phase, we set out to achieve two things: a) getting a broader, more holistic understanding of the various challenges and missed opportunities in the tourism ecosystem, and b) to curate a list of locations and sites to include in our tour plans.
We thus reached out to and held meetings with various stakeholders, including Rangeela Rickshaw tours (a private tour operator focused predominantly on the Walled City of Lahore region), former bureaucrats at the Department of Archaeology and the Punjab Tourism Development Corporation, and conservation enthusiasts and researchers. With help from Taha Akbar, a researcher and private-tour guide based in Lahore, we were able to map 75 sites situated across Lahore.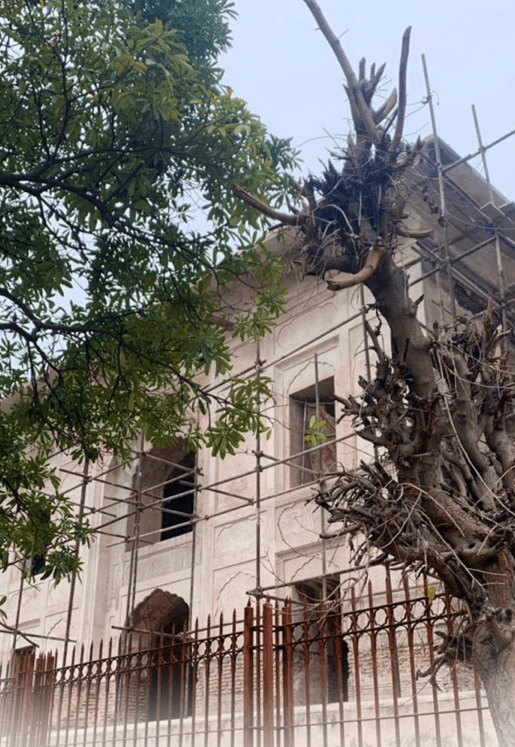 Tomb of Nadira Begum
Est. 1698. Nadira Banu Begum, wife of Prince Dara Shikoh, was brought to Lahore to be buried near the shrine of Mian Mir, who was considered a spiritual guide at the time. Image by the Naqsha Nigar team.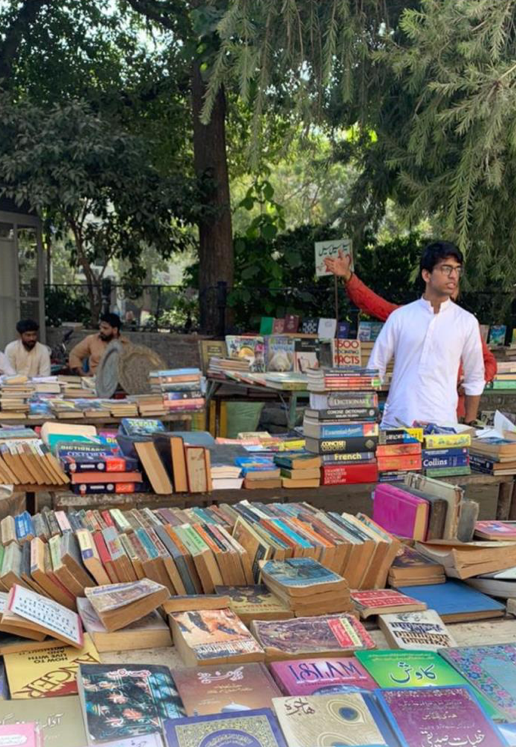 Anarkali Old Book Bazaar
A book bazaar near Pak Tea House, Mall Road, in Lahore. Image by the Naqsha Nigar team.
While most of these sites were constructed by Mughal rulers and the British Raj, we also made a concerted effort to include Hindu Temples, Sikh Gurdwaras, and Sufi Shrines for the sole purpose of emphasizing Lahore's pluralistic and inclusive past. Taha then helped us identify routes connecting various categorized locations and also assisted us in developing a rating system to grade sites on the basis of several parameters. These included: the overall condition of the site, accessibility (roads and infrastructure), proximity to public transport stations, proximity to other sites, and proximity to eateries and other recreational facilities.
Our meetings with the Department of Archaeology directed us to sites in the Begumpura, Baghbanpura, and Mughalpura regions of the city. These sites (some of which included the Tomb of Dai Anga, the shrine of Khwaja Mehmood, the Tomb of Buddu, the Tomb of Jani Khan, the Tomb of Cypress etc.) had recently been the focus of renovation efforts, and the government was particularly keen on shifting focus from the traditionally recognizable and more popular sites near the Delhi Darwaza (or Gate), near the Lahore Fort. Given the newfound ease in accessing these under-explored locations owing to the development of the Orange Line Train (the Lahore Metro), we decided to include a feature in the application that maps heritage sites within a 5-mile radius of each station.
We also used these locations for our pilot tours, to get real-time reviews of what groups of tourists, previously unexposed to these sites, felt about our plans, the sites themselves, and the overall experience of traveling through these areas. We incorporated these suggestions into our first finalized overall route (one we refer to as the "Hidden Gems of Begumpura, Mughalpura, and Baghbanpura"), complete with a list of pros and cons of visiting the sites.
Interested in bringing your entrepreneurial idea to India or Pakistan to solve environmental, societal, or economic issues? Apply to enter the 2021 Seed for Change Competition by Friday, February 26 at 11:59 PM EST.
The lack of tour-guides at these underexplored sites, however, meant that we had to rely extensively on collecting written information about the sites to be displayed on the application itself, as users went from one location to another. For other, popular sites in the Walled City, this did not become an issue. We were able to not only engage with tour guides at notable locations such as the Masjid Wazir Khan, the Shahi Hammam ("the Royal Bath"), and the Badshahi Masjid/Lahore Fort, but some of them expressed their own desire to record audio tours. One of the tour guides at the Shahi Hammam insisted on having us record a poem by the Sufi Mystic poet Sultan Bahu, which he claimed would help in increasing the level of cultural immersion our hand-held devices could allow for our users.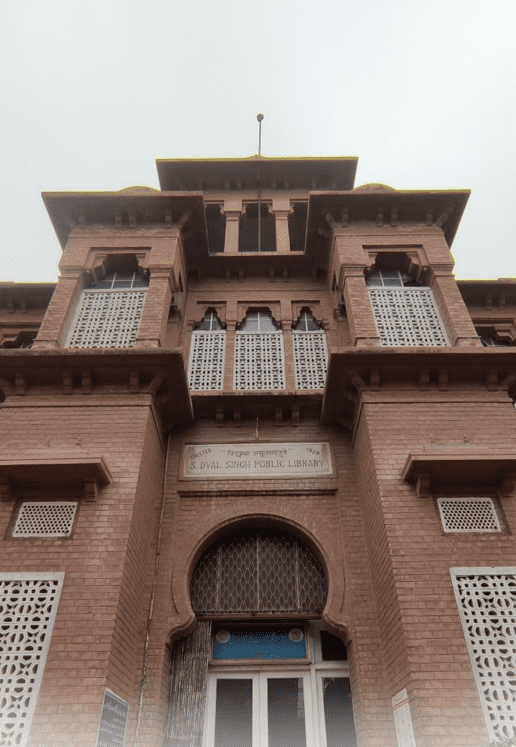 Dyal Singh Trust Library
Est. 1908. Built in pursuance of the will of Sardar Dyal Singh Majithia — a scholar and philanthropist. Image by the Naqsha Nigar team.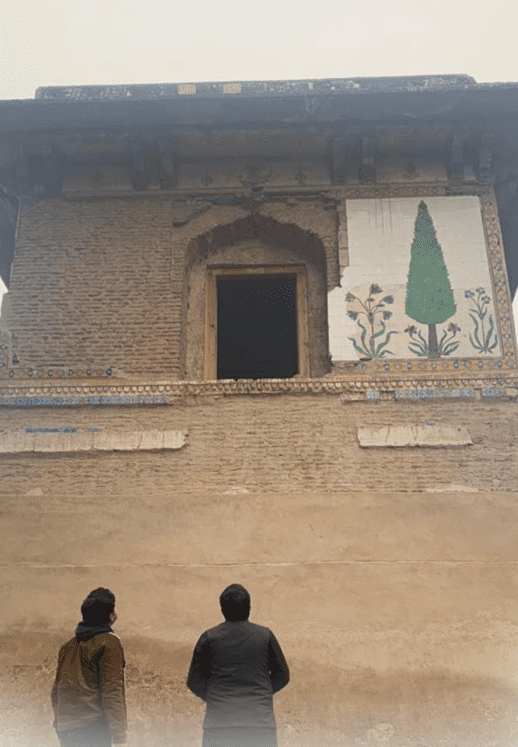 Tomb of Cypress
Est. 1740. The structure houses the tomb of Nawab Zakariya Khan, Governor of Lahore during Mughal Emperor Mujammad Shah Rangeela's reign. Image by the Naqsha Nigar team.
Currently, our application is in the process of being developed, and we hope to roll out a beta, pilot version by the beginning of March 2021. We were fortunate to work with students at the Lahore University of Management Sciences (LUMS) and the University of Management and Technology (UMT Lahore), who committed to building the application relatively early on, when we ourselves were consistently trying to incorporate the advice we were getting from various stakeholders, as well as assess the feasibility of our project with all the new features and components added to our foundational wireframe. We are simultaneously also working on an Urdu version of the application to make it more accessible for the broader population, and a social media vertical that puts out infographics about various sites and promoting the project overall.
Being able to pursue this project over the last two months has been an incredible experience for the team. It helped us experience all that our home city has to offer in a manner that we have never seen before. We were able to interact with people who shared our passion, traveled to places we did not know existed, and played our part in helping bring the lost heritage of Lahore back to the forefront. We are incredibly grateful for the government departments, the private-tour companies, and the heritage enthusiasts who helped us along the way.
———————————
Interested in bringing your entrepreneurial idea to India or Pakistan to solve environmental, societal, or economic issues? Apply to enter the 2021 Seed for Change Competition by Friday, February 26 at 11:59 PM EST.