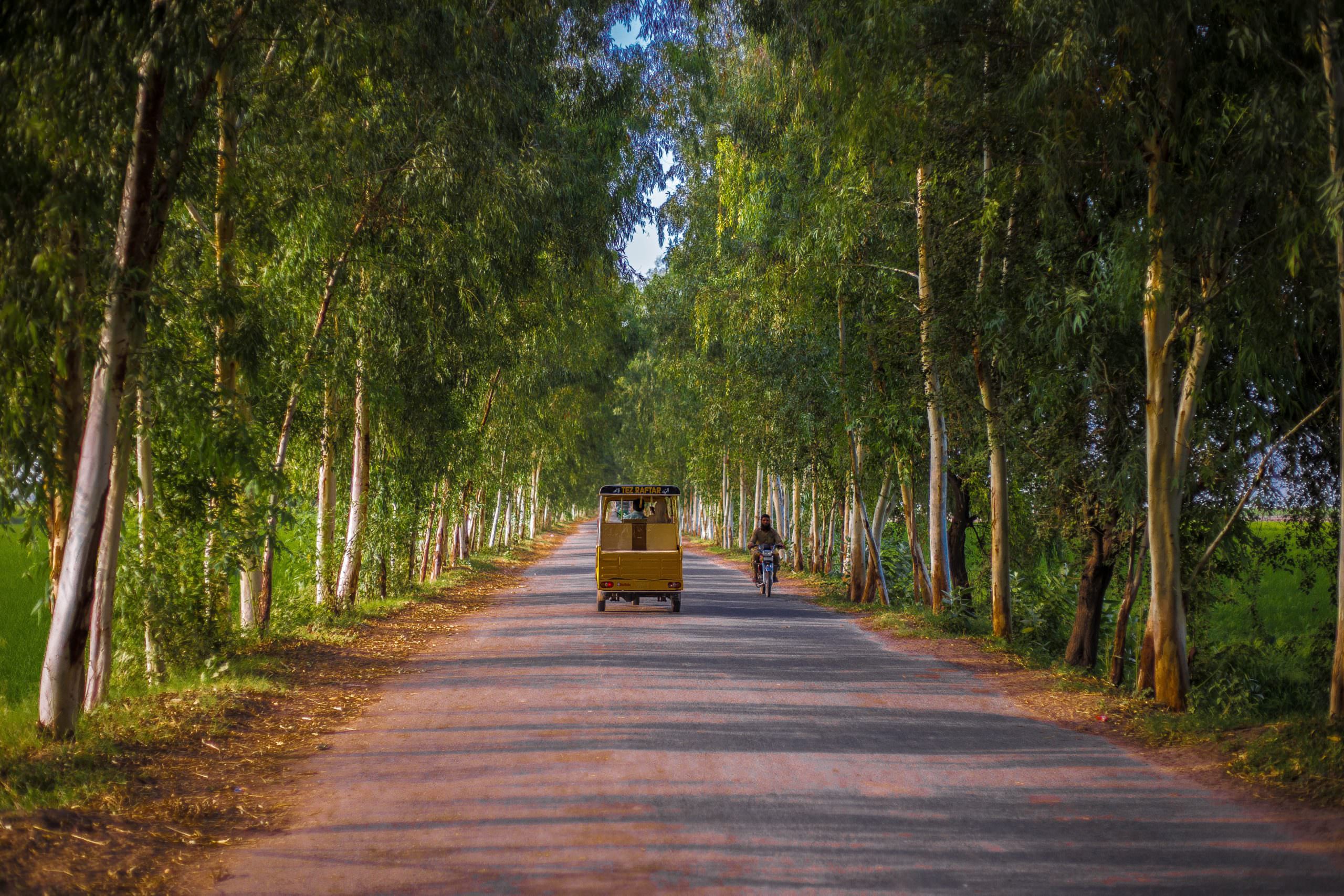 A pathway into a village in Punjab, Pakistan. Photo by Ahsanization.
The Mittal Institute's annual Seed for Change (SFC) competition aims to develop a vibrant ecosystem for innovation and entrepreneurship in India and Pakistan, offering grant prizes to interdisciplinary student projects that have the potential to positively impact societal, economic, and environmental issues in India and Pakistan.
Generously funded by KP Balaraj and Sumir Chadha, the program has grown significantly over the past five years. "What excites us about Seed for Change is the chance to give back and stay connected with Harvard University, and engage with these unbelievable students in the field. It has been amazing to understand and learn from the work that the SFC winners are doing, and think about the impact that these projects can have," says KP Balaraj.
We recently spoke with a few of our past winners of the SFC competition — the teams of Umbulizer, Gramhal, and Meet — to learn how their social enterprise initiatives in Pakistan and India have grown since winning the award.
Umbulizer: A Low-Cost, Portable Ventilator for Healthcare Settings
Umbulizer, the winner of the 2018 Seed for Change Pakistan grant, received $15,000 to further develop their reliable, low-cost, and portable device that can provide continuous ventilation to patients in resource-limited healthcare settings. Team members Shaheer Piracha and Sanchay Gupta began the project long before the COVID-19 pandemic, focusing on using the Umbulizer device to expand access to affordable ventilation.
"If you are in India or Pakistan and a family member is in respiratory stress, when you go to the hospital, there aren't enough ventilators, and family members are asked to manually ventilate the patient for days at a time until a ventilator becomes available," said Gupta. Most of these family members have never seen the ambu-bags that are used for manual ventilation — but are expected to immediately understand how to use it. Seeing this gap, the Umbulizer team created the device to address the middle market between an ambu-bag and the million-dollar ventilators used in hospitals around the world. "With this device, we've prioritized simplicity, especially for the more remote areas of India and Pakistan that have less access to trained technicians," said Gupta.
The Umbulizer team doesn't stop at simply creating and distributing the devices — they provide end-to-end support to users, and well as hands-on training and videos designed in partnership with Harvard faculty to teach healthcare technicians how to use the device. The devices are able to be remotely monitored, so the Umbulizer team can service the devices remotely, rather than going through the costly process of sending them back to the United States for repairs. Remote monitoring is used not just for maintenance of the device itself, but for doctors to check in on the status of their patients while they are in another part of the hospital.
"After winning the grant from the Seed for Change competition in 2018, we went on to partner with a hospital and got approved through a trial to show that the Umbulizer is just as safe and effective as standard ventilators. At the time that COVID broke out, we engaged with the FDA and, through the same process that Moderna and Pfizer used for vaccine creation, were able to get Emergency-Use Authorization to commercialize Umbulizer in the US and Pakistan."
The team noted that paramedics in ambulances now use the Umbulizer device in route to hospitals, and they are further used when arriving at hospitals, up to ICU-level ventilation. A partnership with the government of Pakistan has helped Umbulizer reach 110 million people, more than 800 ambulances, and has used the device in response to more than 14,000 COVID emergencies. Piracha recently met with the Federal Minister of Health in Pakistan to learn more about additional distribution methods of the Umbulizer device to scale up their coverage throughout the country. Their goal now is to continue to scale further and find new strategic partnerships.
Gramhal: Improving the Lives of Smallholder Farmers
Gramhal is a social enterprise that builds smallholder farmers' agency that increases their income by unlocking post-harvest services of storage, credit, and market linkage via a digital platform. Team members Vikas Birhma, HKS MPP'19, and Pankaj Mahalle, Tata Institute of Social Science, have been hard at work since their 2019 SFC win, further developing their enterprise during the COVID-19 pandemic and providing further assistance to smallholder farmers in India during these difficult times.
In the year following their win, the team used the funding from the competition to inaugurate their first warehouse and procurement center in Sawali village of Yavatmal district in Maharashtra, India, which serves as the one-stop solution to smallholder farmers for post-harvest services of storage, credit, and market linkages. In the last few months of 2019, over 50 farmers sold their produce, worth USD 100,000, through Gramhal, receiving a fair and higher price for their products.
"Seed for Change was the first major grant that we received for the Gramhal project, and it supported our work during the seeding portion of the project. Now, we have 12 people on the team who are working with 700 farmers throughout Uttar Pradesh and Maharashtra — we've come a long way since the award," said Birhma. Now, the team is working to enter into partnership with the Government of India to scale up across the nation. "The SFC competition has been instrumental in turning an idea into an organization," said Birhma.
Meet: Connecting Employers and Job-Seekers
Meet is an employment app for India that connects verified employers with job-seekers, providing both with trusted information, such as reviews, job openings, and profiles to support better matching. Team members Vish Srivastava, MDE'19 at Harvard Graduate School and Harvard John A. Paulson School of Engineering and Applied Sciences, and Ankit Chugh, Medha, began building their product in Lucknow, Uttar Pradesh, India, in partnership with the NGO Medha to launch a pilot of their platform.
Launched in April 2019, the app quickly amassed active users, with whom the team engages with regularly to get feedback that will help them continue to improve the platform. "Meet is similar to 'Glassdoor,' except it has been created for smaller cities and towns in India. People share their employment experiences, read company reviews, and find authentic jobs in their areas. So far, 4,000 ratings have been made for small and mid-size organizations, discussing experiences with sexual harassment, 15-hour workdays without overtime pay, and more," said Srivastava.
On the side of the job seeker, the Meet app is viewed in the vernacular language — a place where other apps written in English have fallen short. "In terms of our focus on job seekers, our goal is to reach the younger age group, starting with ages 18–24: those who are just starting out their careers and looking for their first job or an internship," said Chugh. "We have numerous employers on the app who are specifically looking for people from tech backgrounds and those who have completed their diplomas and are looking for apprenticeships.
The 2021 Seed for Change Competition
Applications are now open to apply for the 2021 Seed for Change competition, with an upcoming deadline of Friday, February 26, 2021 at 11:59 PM EST. This year, the SFC will take a unique format with a two-stage award distribution, awarding up to three winners for India-related projects, with each winner receiving up to $10,000 in grant funds. We'll also be awarding up to $10,000 in grant funds for a project focused on Pakistan. Additional second-round funding will be made available to winning teams at a later date. To learn more and apply, click below.