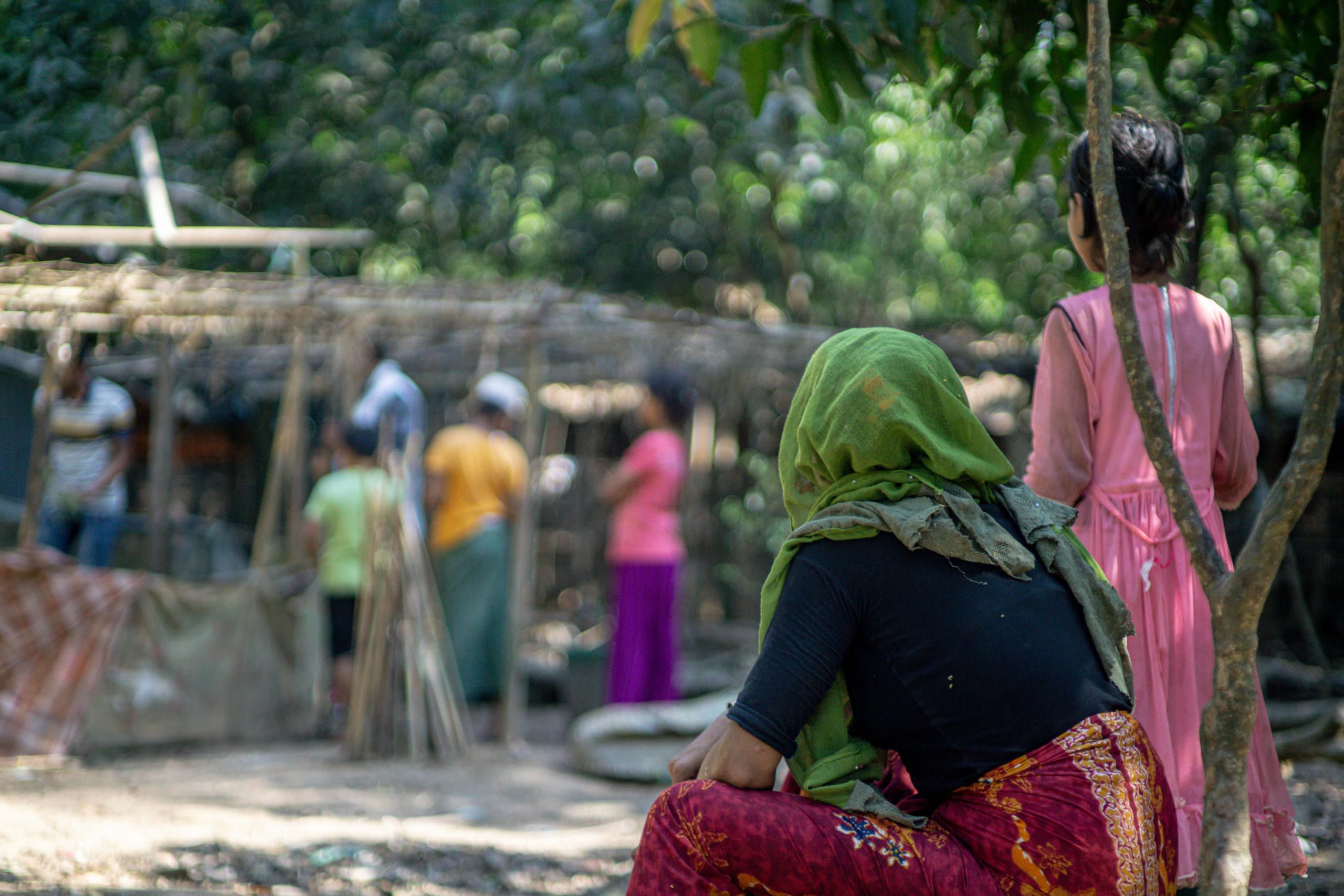 Rohingya refugee woman sits under a tree in Bangladesh. Photo by Moinak for Adobe.
In early March, the Beyond Encampment series launched with an inaugural talk on "Local & Collaborative Response: Rohingya Refugee Camp Bangladesh." Beyond Encampment is a series of conversations reflecting on efforts of design professionals who work to change the paradigm of enclosure, and who practice models of urban integration and refugee resettlement through design activism. Rather than replicate the failures of large-scale encampment and the reactionary method of policing migration, the series explores proactively reconceiving forms of settlement at the terminus of forced migration, and redesigning the spatial plan and frameworks of refuge.
In the first talk of the series, a group of architects shared the design and construction process in the Rohingya Refugee Camp. In this collaborative design practice, traditional Rohingya and Bangladeshi building techniques are often engaged. The discussion also explored the Architectural Pedagogy of BRAC University, a school focused on issues of social development and service, disaster response, and climate change through the curriculum and ethos of the Department of Architecture.
Discussants:
Dean Fuad Mallick, founder and Dean of the department of architecture of BRAC University and the author of its curriculum. He is also the founding director of the university's Post Graduate Program in Disaster Management, the first of its kind in the region. Fuad's research background is on environmental aspects of architectural design, low income and rural housing, architectural education and in the last few years disaster management and climate change mitigation.
Co.Create Architects, an architecture, landscape architecture, sustainability and spatial justice practice based in Jhenaidah, Bangladesh. Their founders Hasibul Kabir, a Professor at BRAC University, and architect Suhailey Farzana have engaged regionally across South Asia with the Community Architects Network of architects and designers supporting community-driven projects under the Asian Coalition for Community Action programme (ACCA) regarding housing, city-wide upgrading, and recovery from disasters.
Saad Ben Mostafa, Rizvi Hassan, and Fatmi Khwaja are architects who have worked in the Rohingya Refugee Camps for the past three years, serving for organizations including BRAC, OXFAM GB, IOM, and ActionAid. Their work and practice is characterised by collaborative design processes and engagement of traditional Rohingya and Bangladeshi building techniques in their work in the Kutupalong Rohingya Refugee Camp in Bangladesh.
Listen to the conversation.