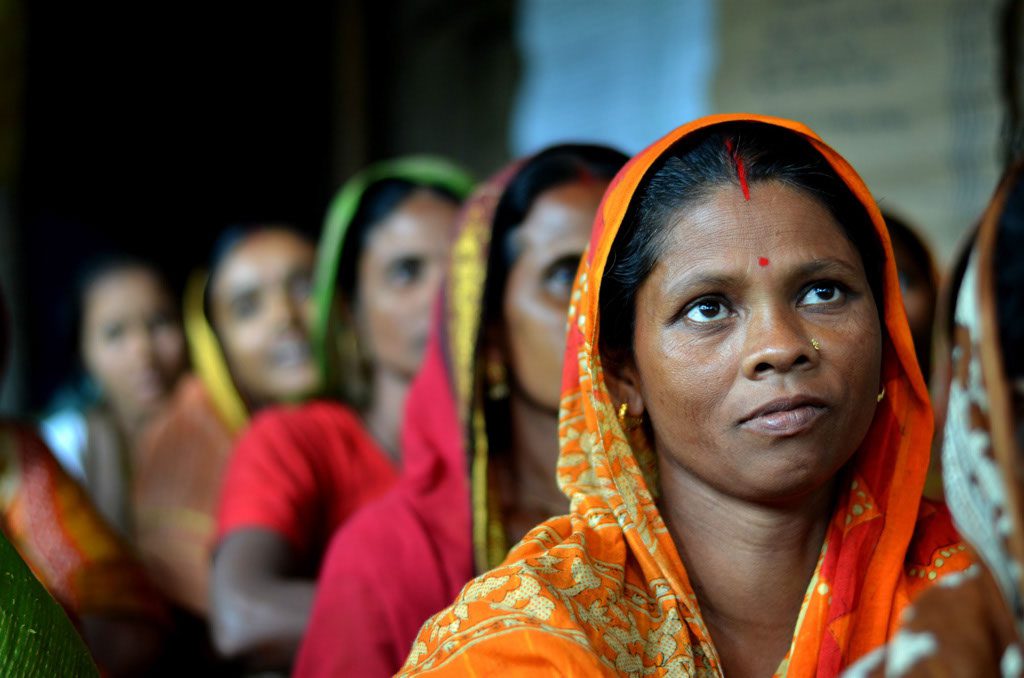 Female dairy farmers listen to a presentation in Bangladesh. Photo by Akram Ali/CARE Bangladesh, 2011.
This year, we celebrate 50 years of Bangladesh's independence. During the Mittal Institute's recent "Bangladesh at 50: Looking Back, Looking Forward" conference, more than 20 panelists explored Bangladesh's history, from the Language Movement to the present, and considered where the nation will head in the future.
Leading Bangladeshi scholars and activists discussed the rapid development of independent Bangladesh and the roles that politics, economics, and human development played in shaping Bangladesh into the nation it is today.
We spoke with one of the experts who participated in the "Economic Development: From 'Basket Case' to Emerging Economy" panel, Sajeda Amin, Senior Associate at the Population Council in New York, about her years of work with women's empowerment in Bangladesh.
Sajeda Amin conducts intervention research on empowerment programs for girls and women and writes about the role of education and work opportunities in girls' and women's lives. She has designed and implemented interventions to prevent violence and child marriage by empowering adolescent girls and has studied their outcomes in Bangladesh, India, Mali, Malawi, and Niger.
Can you tell us a little about yourself and your background, and touch on your work in or with Bangladesh?
I trained in the social sciences, starting with a Masters in Development Economics, followed by a PhD in Sociology/Demography at Princeton University. I grew up in Bangladesh and spent several summers during graduate school interning at BRAC and the Bangladesh Institute of Development Studies (BIDS). My first job in Bangladesh was at BIDS, where I spent some of the most formative years of my career in the 1990s. This was a time when Bangladesh's development successes were first coming to light, and the work of BIDS was central to developing this narrative. During these early years, I worked on themes related to women's reproductive and productive roles, with a strong focus on the contributions of proactive development interventions.
I was also involved in feminist activism with a women's group called Naripokkho. Those were exciting times! Some of my first papers on women's empowerment explored the role of family planning programs, micro-finance initiatives, and opportunities in the garment production sector for women's formal workforce engagement. Since then, my work has evolved to include a sharper focus on healthy transitions to adulthood for girls, including looking at factors affecting educational achievement, entry into the world of work/livelihoods, and child marriage.
At the Population Council, you perform intervention research on empowerment programs for girls and women. What types of interventions have you performed in Bangladesh, and what were the results?
My work at the Population Council focuses on implementing and understanding programs to identify skills that matter for young women and girls in the most disadvantaged and marginal communities. In one study that we concluded some years ago, we were able to show that community-based skills-building initiatives are an important strategy for combating child marriage. In communities where two out of three girls married before the legal age of 18, we were able to reduce child marriage by a third. We are scaling up these successful programs in collaboration with two government Ministries but with a continuing focus on girls, local mentors, and their communities. This study has been a good example of going through the lifecycle of research-to-programs-to-policy that we at the Council value and strive to achieve through our work. In another similar study, we tested approaches to reduce gender-based violence in urban slums and demonstrated the importance of outreach activities to promote awareness and access to services.
These programs benefited greatly from our contextual understanding of child marriage and gender-based violence in Bangladesh and from the Population Council's extensive program on adolescent girls' empowerment. As an organization, we have been at the forefront of generating and synthesizing a large body of evidence on adolescent girls' empowerment, education, and reproductive health. We also develop programs to empower girls and have generated toolkits and other supporting material.
What is the current status of women's empowerment in Bangladesh? What factors have contributed to the empowerment or disempowerment of women?
Gender parity in education and health has been key to women's empowerment in Bangladesh. Schooling is universal at the primary level. Girls and boys have an average of seven years of completed schooling. Women and men can expect to live 73 years on average and women outlive men by three years — life expectancy is up from less than 50 years at the time of independence. Fertility declined from over six births per woman at independence to around two births, due to improved access to family planning and primary health services. Over one in three women in national surveys report belonging to self-help groups and have access to micro-finance.
Women's labor force participation has also risen, but is still far from being at par with men. Despite the oft-cited growth of women's employment in the garment sector that employs mostly women, women's inclusion in the labor force is primarily driven by increased home-based production and mostly in the agricultural sector. This increase has possibly been facilitated by access to finance and a greater participation by women in agricultural production.
The major markers of disempowerment for women are in the persistence of child marriage and in the very high levels of gender-based violence that women continue to experience both within and outside the home. Bangladesh has by far the highest rates of child marriage prevalence in Asia, and ranks fourth in the world. Similarly, comparable data on gender-based violence across the globe shows very high rates of physical and sexual violence that women experience in their everyday life. There is also evidence that climate change disproportionately affects women and will present increasing challenges to our trajectory of development.
Where are opportunities to continue pushing for the empowerment of Bangladeshi women?
I believe the answer is in expanding opportunities for girls with an emphasis on safety and security. It is important to start early in life. There is some evidence to show that girls reach puberty earlier than boys, and are at increased risk of school dropout, sexual violence, and child marriage. Demonstrating what works to reduce violence and delay marriage and understanding why these strategies are effective would be steps toward building a body of evidence to inform programs and policies.
I think indicators such as child marriage and the fear of violence are fundamental aspects of women's disadvantage compared to men. Social and sexual insecurity that girls and women face in their everyday lives are important reasons why the sectoral achievements in health, fertility, and education have not had wider spillover effects in other domains of women's lives. For example, while the female secondary school stipend program increased schooling, it did not make a dent in child marriage even after 25 years of being in existence. Programs like that need to be supported with additional measures to make communities safer for girls. Furthermore, similar programs need to be expanded in urban areas and for specific at-risk populations, such as the Rohingya refugees.
Where do you see women's empowerment in Bangladesh heading in the next 10 years? Moving forward, what are the key challenges these initiatives face, and how should these hurdles be crossed?
Efforts at expanding safe and secure opportunities for women and girls will need to be inclusive and recognize the higher risks faced by the most marginalized groups in society. Like the Rohingya refugees, communities that face the brunt of climate change are at high risk. A vast swath of the country is in the ecologically vulnerable, low elevation coastal zone. The southwestern districts that are most vulnerable to coastal erosion and sea-level rise also have some of the highest rates of child marriage and gender-based violence.
An approach that pursues a path to development that does not recognize this is likely to be frustrated. These pockets of vulnerability will continue to present as major hurdles. I believe understanding how women's disadvantage is exacerbated by these more generalized situations of vulnerability will be critical, as well as finding community level solutions so that women and girls can be part of the solutions of transformative adaptation. ☆
————————————
☆ All opinions expressed by our interview subjects are their own and do not reflect the views of the Mittal Institute and its staff.