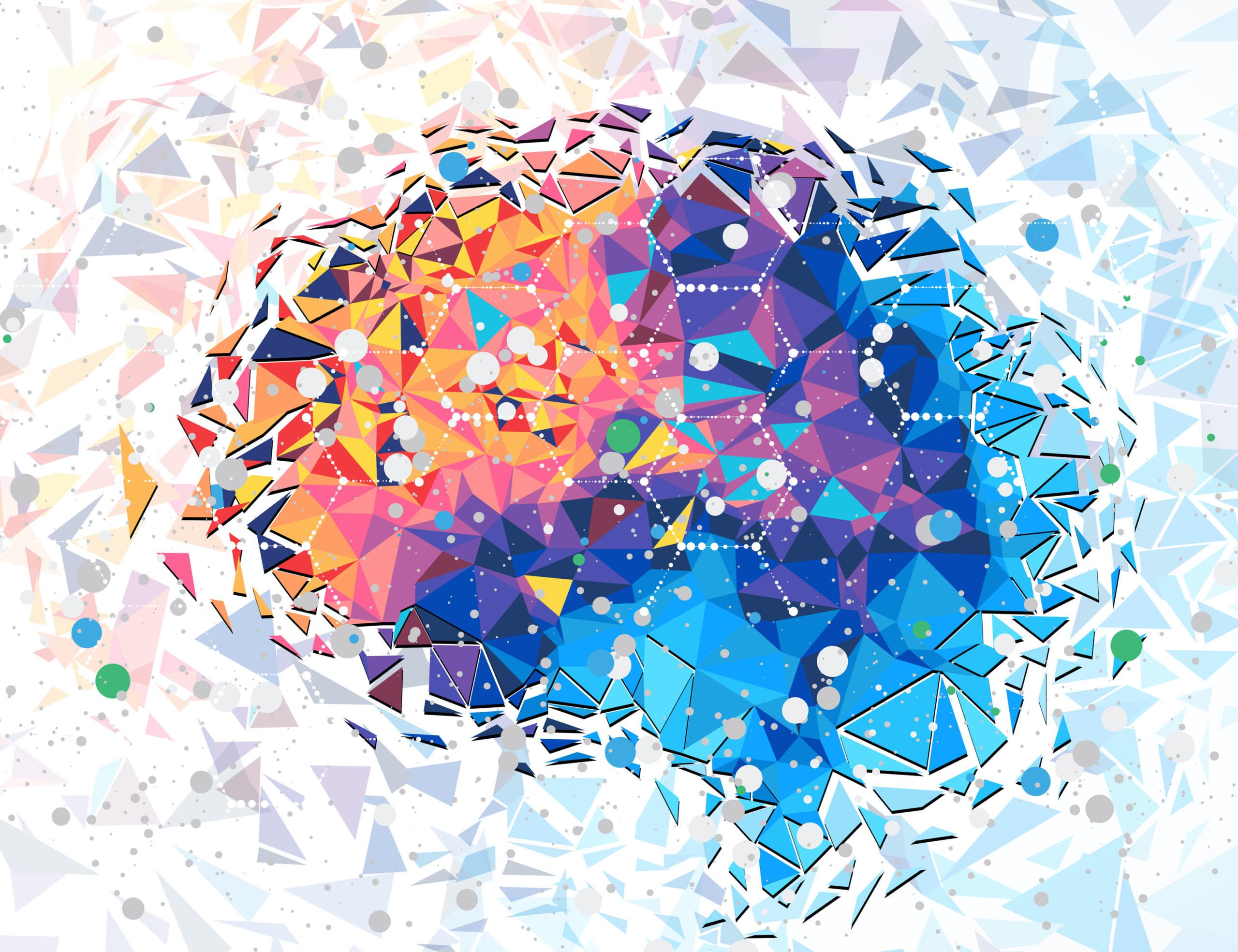 Abstract human brain. Adobe Photo.
On March 26, the Building Bharat-Boston Biosciences (B4) program held a two-session online webinar to mark the conclusion of its final phase. The B4 Program is the second iteration of the earlier Boston-Bangalore Biosciences Beginnings Program. Funded by the Department of Biotechnology of the Government of India, the B4 program is a collaboration between the Institute of Bioinformatics and Applied Biotechnology (IBAB) in Bangalore, the Harvard Global Research Support Centre India, and the Lakshmi Mittal and Family South Asia Institute at Harvard University.
The first session began with opening remarks by Professor Tarun Khanna, Jorge Paulo Lemann Professor, Harvard Business School and Director of the Mittal Institute who emphasized the importance of collaboration among academic communities to promote a culture of scientific literacy.
Professor Venkatesh Murthy, Raymond Leo Erikson Life Sciences Professor of Molecular & Cellular Biology at Harvard University, followed with a talk entitled "Neuroscience and Artificial Intelligence: An Ongoing Dialogue." He discussed the role of neuroscience in advancing the applications of artificial intelligence (AI), based on a more sophisticated understanding of brain function using large sets of neural activity data. For this session, he focused on the aspects of AI that are most relevant to the field of neuroscience, including machine learning and vision (both image recognition and machine vision).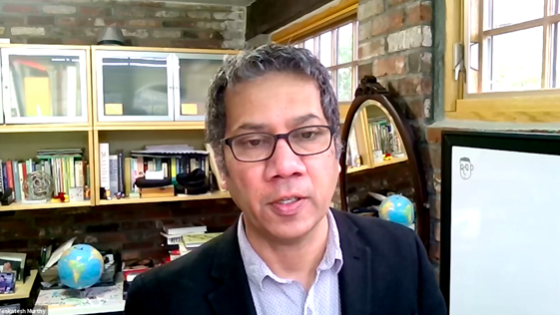 Professor Venkatesh Murthy, Raymond Leo Erikson Life Sciences Professor of Molecular & Cellular Biology at Harvard University, delivered a talk on the interplay between Neuroscience and AI.
As part of the second session, "The B4 Program: A Template for Future US-India, Public-Private Partnerships," Professor Murthy moderated a discussion between four panelists, including:
Philippe Cluzel, Professor of Molecular and Cellular Biology and Gordon McKay Professor of Applied Physics, Harvard University
Parvathi Sreekumar, B4 Fellow'17; Assistant Professor, Department of Plant Physiology, College of Horticulture, Vellanikkara, Kerala Agricultural University, Thrissur, Kerala, India
Ramya Purkanti, B4 Fellow '17; Post-doctoral Fellow with Dr. Nadine Vastenhouw, The Max Planck Institute of Molecular Cell Biology and Genetics, Dresden, Germany
Ajay Labade, B4 Fellow '21; Postdoctoral Fellow, Buenrostro Lab, Harvard University
Each panelist introduced themselves and shared their experience with the B4 program. Professor Phillippe Cluzel, who has served as a faculty mentor for the program, described "matchmaking" – matching the B4 fellows from India to a host lab and faculty mentor from Harvard and peer institutes – as the key function of the program. "You have people coming to your lab that you might not have chosen at first, because when you choose postdoc and students from the US perspective, you often choose people who are fine tuned to a project or immediate need, and unlike a good matchmaker, you don't usually see the long-term interest and investments," remarked Professor Cluzel.
The second speaker, Ramya Purkanti, a B4 fellow in the first iteration of the program, stated that the program offered scientific freedom. "While at Harvard, you're really surrounded by very good science and a wide variety of fields, so you listen to talks which are from very, very different fields. The B4 fellowship came after my Ph.D was over, so it was at a time when I was trying to think about what I really wanted for my future," said Purkanti. Through the exposure provided by the program, she became interested in transcriptional regulation. Consequently, she is now pursuing her research on transcriptional regulation in early zebrafish embryos and is a Postdoctoral Fellow with Dr. Nadine Vastenhouw at the Max Planck Institute of Molecular Cell Biology and Genetics in Dresden, Germany.
Ramya Purkanti, a B4 fellow in the first iteration of the program, was one of the four panelists in the second session.
During her time as a B4 fellow at Professor Cluzel's lab, Parvathi Sreekumar worked to extend the principal idea of optimization of gene/protein expression levels in the eukaryotic system. Today, Sreekumar is an Assistant Professor in the Department of Plant Physiology at the College of Horticulture at Kerala Agricultural University. As someone who is implementing what she learned during her time at Harvard in the academic ecosystem in India, Sreekumar spoke about the scarce funding and staffing that present limitations in expanding her work in India.
Ajay Labade, a B4 fellow at the Buenrostro Lab who researches the functional importance of Nucleoporin Nup93, a protein coding gene associated with diseases like nephrotic syndrome, congratulated the team at the Mittal Institute for helping the fellows easily adapt to life at Harvard. The fellows further discussed tips on how to write a proposal for a postdoctoral program, the importance of interdisciplinary studies in life sciences and the scope for improvement in the current B4 program template regarding future partnerships and scientific collaborations.