Detailed view of air travel to and from India. Adobe Photo.
On April 22, Professor Tarun Khanna, Jorge Paulo Lemann Professor, Harvard Business School, and Director, Lakshmi Mittal and Family South Asia Institute, Harvard University, addressed the Thirteenth Session of the Distinguished Global Indian Speaker Series (DGISS) organized by Amity University Gurgaon. This session was co-sponsored by the Mittal Institute.
The series honors distinguished academics of Indian origin who epitomize excellence in their field of expertise. Professor Khanna was felicitated by Amity University with a ceremonial citation in recognition for his achievements and contributions in the field of strategy, international business, and leadership development. The session was attended by leadership across Amity University, including vice chancellors, deans, and heads of the various institutes.
While delivering his welcome address, the Vice Chancellor of Amity University Haryana, Professor P.B. Sharma, emphasized the need for cultivating an enterprising spirit in students, to unleash the enormous potential of mass entrepreneurship in India. Professor Sharma also added that technology, transparency and trust are "the three T's" that lead to success in the present age of digital transformation.
In his keynote presentation, Tarun Khanna discussed how, in order to be successful, entrepreneurs working in the developing world must first build a basis of trust with business partners and colleagues . He recalled the words of the eighteenth century economist Adam Smith who recognized trust as "the hidden engine of economic progress." "We trust the man who seems willing to trust us," Smith wrote. According to Professor Khanna, that kind of confidence is critical to entrepreneurial success and in the developing world, entrepreneurs must establish this through their own efforts. "The entrepreneur must not just create, she must create the conditions to create," said Professor Khanna.
He cited case studies of Wondermilk in China and BRAC in Bangladesh to show how startups gain success by developing and maintaining an ecosystem of trust around their commercial operations. Professor Khanna also touched upon the need to eliminate mistrust between scientists and entrepreneurs to facilitate collaboration. "We should work on unlocking scientific potential to allow the free flow of ideas to generate creative solutions to societal problems," said Professor Khanna.
The occasion also marked three years since the publication of Professor Khanna's book, Trust: Creating the Foundation for Entrepreneurship in Emerging Countries. Budding entrepreneurs from several emerging economies, such as Bhutan, Nepal, and Sierra Leone, shared personal stories on how this book helped them in their entrepreneurial journey.
In the Q&A session, Professor Khanna answered questions from the participants relating to the role educational institutions play both in creating individual mindsets and a community ecosystem that facilitate and are vital for cultivating trust.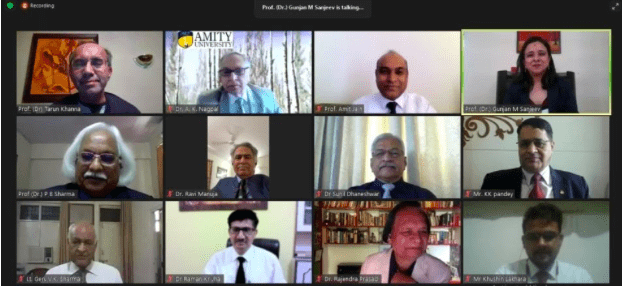 Participants at the 13th Session of Distinguished Global Indian Speaker Series.