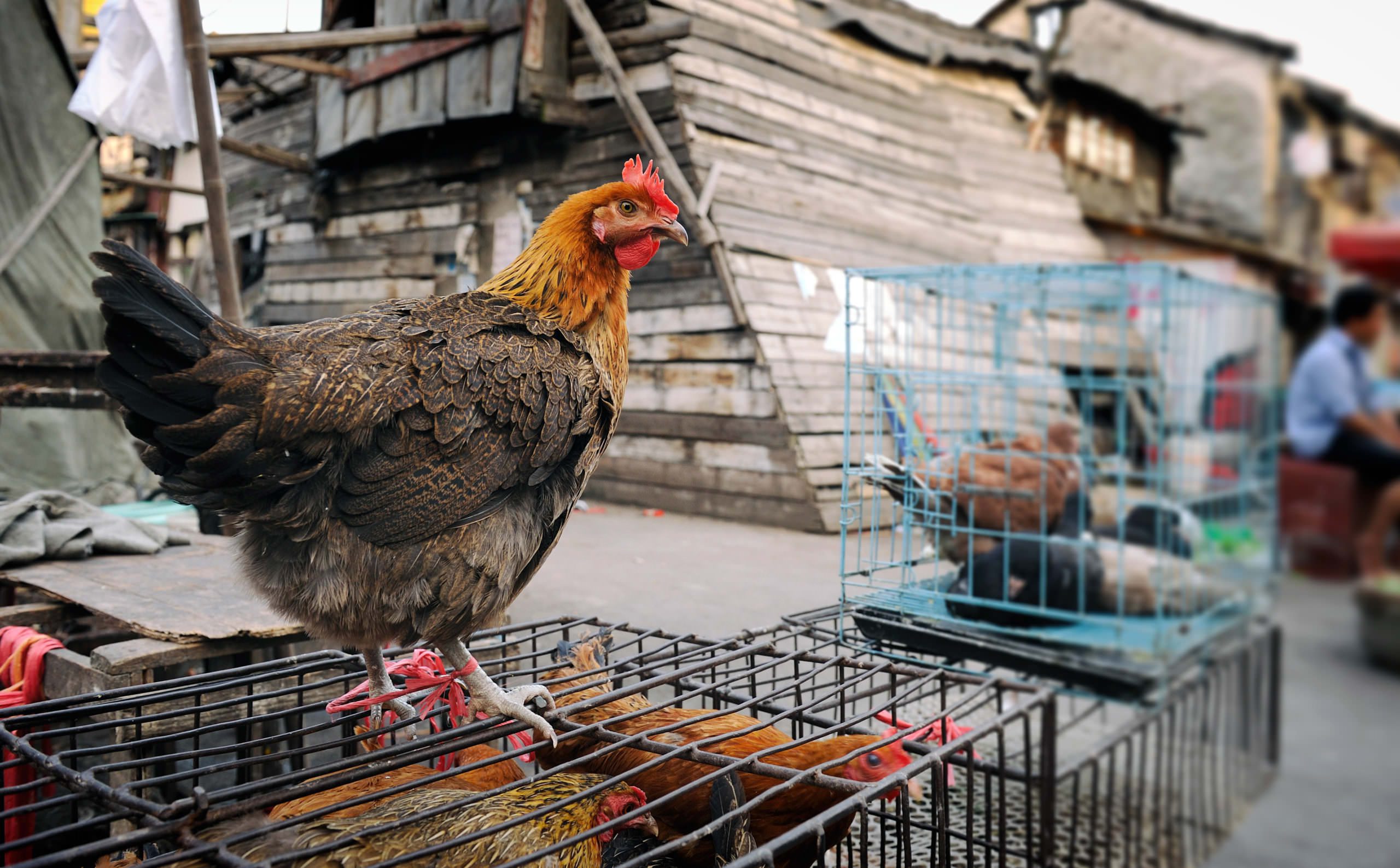 A chicken at a street market. Adobe Photo.
The Animal Law & Policy Program at Harvard Law School works to benefit the lives of animals through the legal system, including those farmed for food, animals used in biomedical research, animals affected by climate change, and those suffering a multitude of other harms. The Program is led by Faculty Director Kristen Stilt, Professor of Law at Harvard Law School, and Executive Director Chris Green. Their work examines animal cruelty and abuse worldwide, but in the following article, Research Fellow Ann Linder shares her research on animal markets, including those in South Asia.
By Ann Linder, Wildlife and Live Animal Markets Fellow, Animal Law & Policy Program at Harvard Law School
Three in four emerging infectious diseases are spread to humans from animals. Yet, the nature of our relationship with animals and the forces that drive this risk are only now beginning to come into focus. Our research, led by the Animal Law & Policy Program at Harvard Law School, operates at the intersection of public health, conservation, and animal welfare to better understand these connections and what can be done to prevent future outbreaks.
Many of the world's most devastating diseases—including COVID-19, SARS, HIV, Avian Influenza, and Ebola–are believed to be zoonotic in nature, originating in species such as bats, great apes, and rodents. As the global death toll from COVID-19 inches towards 3.5 million, understanding how and where diseases spread from animals to humans is of paramount importance on both nationally and internationally.
Our research focuses on markets that sell live animals, meat, or other animal parts and products, as these places have been identified as important sites in facilitating disease transmission. Animal markets and the supply chains that support them exist throughout the world in many forms. Where they do, they often present a significant, sustained risk of infection––due in part to the variety of species housed in close confinement and the intimate nature of human-animal interactions that take place. Our research explores what qualities of markets make them particularly dangerous and what can be done by policymakers to help mitigate these risks.
This research initiative seeks to analyze the global trade in wild and domestic animals, documenting animal markets in a range of countries from America to Angola to Australia. We are investigating questions such as: What forms do animal markets take in this region? How are the animals captured, housed, transported, prepared and processed? What drives the demand for animals and animal products? To what extent do these markets operate outside the law? And what can be done to regulate the public health risks they pose to humans?
The mission of the Harvard Law School's Animal Law & Policy Program is to analyze and improve the treatment of animals through the legal system. Our Program is partnering with local collaborators from six continents in fourteen countries to better understand the factors that drive these risks and how policy can be used as prevention. Through this research, we hope to provide a platform for these local experts and explore culturally competent solutions to complex questions.
In South Asia, we worked with a team led by Vivek Mukherjee and Jayasimha Nuggehalli and others from the Animal Law Center at NALSAR University of Law. India's country report includes significant population demands on animal markets, comprised of a complex, vast domestic livestock food system and a thriving wildlife trade, as well as a major import/export traffic. Another key sector in India is the pet shop trade. India illustrates the striking contradiction present in several such mass markets, wherein a sophisticated regulatory and legal structure is challenged by issues such as economic exigencies driving illegal trade, corruption, enforcement bandwidth, and geography. Here, animal trade of all types intersects at many market sites, where domestic livestock and wild animals mix. The team assessed zoonotic risks at a massive live poultry market at Ghazipur as well as those that specialized in the trading of live birds, such as owls, and turtles.
Like the United States, India boasts a flourishing illegal wildlife trade and while regulations exist, the team notes that "arrests and seizures are rare." While more stringent enforcement protects certain species such as rhinos and big cats, the hunting of pangolins, civets, mongoose, jackals, and dolphins for meat and medicinal uses persists throughout much of India. Research suggests that despite a robust regulatory infrastructure, the live animal market trade in India continues to be plagued by myriad issues in enforcement, a lack of national uniformity for some laws, and a dearth of traceability power––providing the opportunity for further concrete regulatory reform and improvement.
Through continued research and analysis drawing from this global effort, we hope to put forth thoughtful policy proposals with an eye towards both human and animal health. In order to protect ourselves against future outbreaks, we must address these risks and identify their root causes.