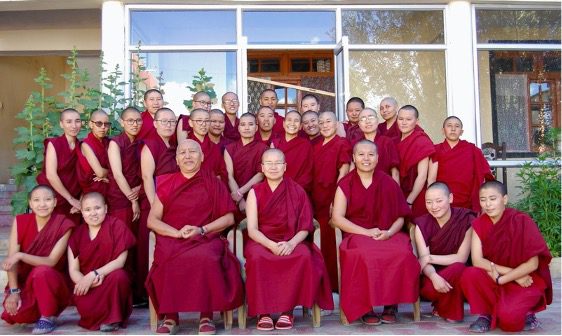 The LNA nuns of Thubten Choskor Ling, in Leh, Ladakh (photo taken pre-COVID-19). Photo courtesy of Emma Lewis.
Emma Lewis, Master in Design Studies student in Critical Conservation at the Harvard Graduate School of Design, Harvard University, was awarded a Winter 2020 Student Grant from the Mittal Institute. Her project, "Buddhist Nuns and Biodiversity: Ladakh Nuns Association Digital Sustainability Project," collaborated with the Ladakh Nuns Association on an ecological and cultural documentation project to create a record of plants and their medicinal uses, while recording and digitally archiving the experiences of nuns working at the intersection of conservation and healthcare. She performed her research through virtual interviews and obtained photos taken by the nuns in a three-week collaboration. Lewis will use the photos and videos of the medicinal plants harvested by the nuns to develop the foundation for a digital archive that can document Ladakh's endangered medicinal plants and their uses, providing an evolving record of the education, healthcare, and conservation leadership of Tibetan Buddhist nuns. The following is a report on her research, in her own words. 
---
With the support of the Lakshmi Mittal and Family South Asia Institute, I carried out three weeks of remote research with the Ladakh Nuns Association (LNA) in Leh, Ladakh. My core intention was to begin recording the experiences of Tibetan Buddhist nuns working at the intersection of healthcare, conservation, and climate change response in Ladakh. This initial research period provided a critical foundation for the ongoing ecological and cultural documentation project which I will continue to pursue in collaboration with nuns from LNA.
In recent years, Ladakh has suffered the effects of climate change; receding glaciers and decreasing snowfalls have resulted in water shortages in Ladakh's cities, and failing crops in its villages. Ladakh is also experiencing loss of mountain biodiversity – a loss that bears cultural and health impacts. There is a close link between Ladakh's ecology and practices of herbal Tibetan Medicine in Ladakh. These centuries-old practices rely on the use of plant materials.
Since 2003, the Ladakh Nuns Association (LNA) in Leh, Ladakh, has trained Buddhist nuns in Tibetan medicinal practice. With the guidance of LNA Director Dr. Tsering Palmo, nuns regularly travel into Ladakh's mountain regions to sustainably collect medicinal plants, and to educate villagers about environmental protection. When they return to their nunneries, they use the plants to produce medicine that is administered to an average of 3,000 local people in nunnery clinics annually. Dr. Palmo reports that the presence of medicinal plants in the mountains has decreased significantly in the past twenty years. Currently, the LNA nuns are engaged both in conservation education projects in remote villages of Ladakh, and are also using their medical knowledge to provide support and education to villagers during COVID-19.
Using WhatsApp messages, email, and phone calls, I interviewed six nuns, ages 18 to 35, at the Ladakh Nuns Association central nunnery Thubten Choskor Ling, in Leh, Ladakh, as well as LNA Director Dr. Tsering Palmo. These interviews touched on topics including LNA's COVID-19 response program, the nuns' ecological protection efforts, and the ways in which the nuns are organizing to respond to climate change in their communities. Through daily WhatsApp conversations and ongoing interviews with LNA students, I increased my understanding of the nuns' ecological and healthcare work, and began documenting their leadership in these fields.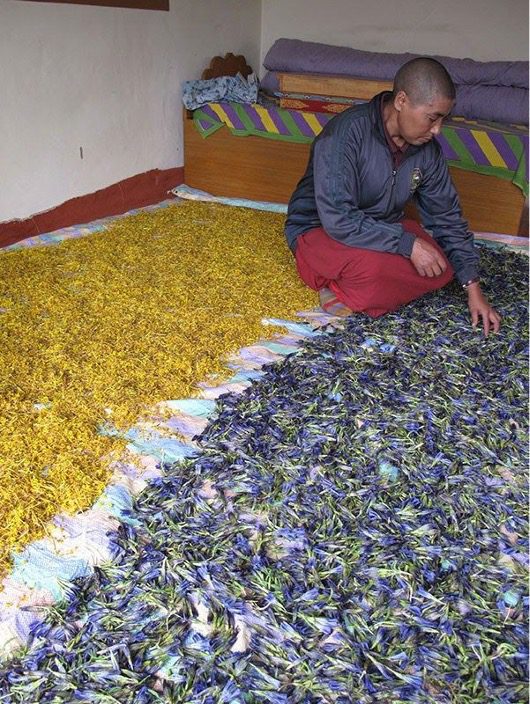 One of the LNA nuns sorted through herbs to crush into medicine for the nunnery clinic. Photo courtesy Emma Lewis.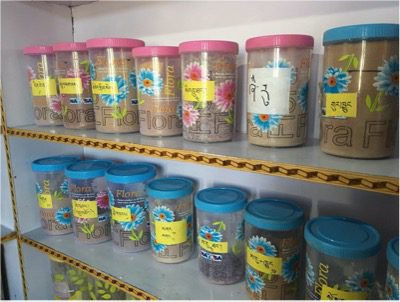 Herbal medicines collected by nuns from the mountains, labeled and organized by LNA nuns. Photo courtesy Emma Lewis.
In support of my ongoing research, I also carried out interviews with monks directing the Ladakh Medical Aid Society (LMAS), a Buddhist organization providing healthcare and medical suppliers to villagers in Ladakh. LMAS is a partner organization of LNA, and they often collaborate on medical initiatives and emergency response. In addition to my research with LNA, I collected photos of LMAS COVID-19 response trips, which I have included in a photo annex.
My next steps for this research are to continue expanding the number of nuns I have interviewed, and to begin developing the archive which will contain the images of the plants they collect in Ladakh's remote villages to ensure the digital sustainability of the nuns' ecological and medical knowledge. However, the research I have carried out with the support of the Mittal Institute has also impressed upon me that the COVID-19 response of the Ladakh Nuns Association is worthy of documentation, and with this in mind, I am expanding the scope of my project to include stories of the nuns' work in response to the spread of COVID-19 in Ladakh. I hope for the archive I create in the coming months with LNA nuns to reflect their experience of the current moment, including their stories of their daily lives and healthcare work during the pandemic.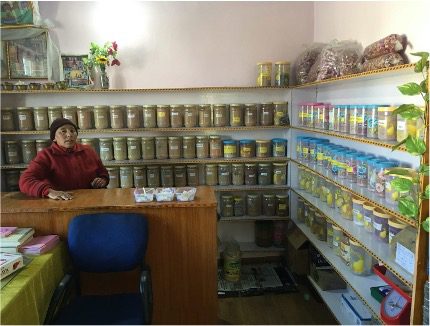 One of the LNA nuns who is trained as a doctor staffing the medical clinic in Leh, Ladakh. Photo courtesy Emma Lewis.
I am grateful to the Lakshmi Mittal and Family South Asia Institute for making this research possible. I hope that this work can contribute to cultural preservation in Ladakh, and can help center the narrative of monastic women in Ladakh as leaders and inspirational figures. Even during the pandemic, LNA nuns have provided 3,000 annual free medical consultations to local people, and many nuns are learning to drive so that they can directly deliver medical care to people who cannot physically travel to the nunnery medical clinics. The nuns are receiving modern education alongside Buddhist training, and have clear aspirations for their futures. One of the nuns I am interviewing recently wrote to me, "In addition to receiving training as a doctor, I want to become a social worker, because I want to help people who are suffering and in need." Thank you to the Mittal Institute for providing me the chance to document this aspiration. I look forward to developing the digital archive in collaboration with LNA nuns and to building upon this research in the next months of my program and the next years of my professional life.