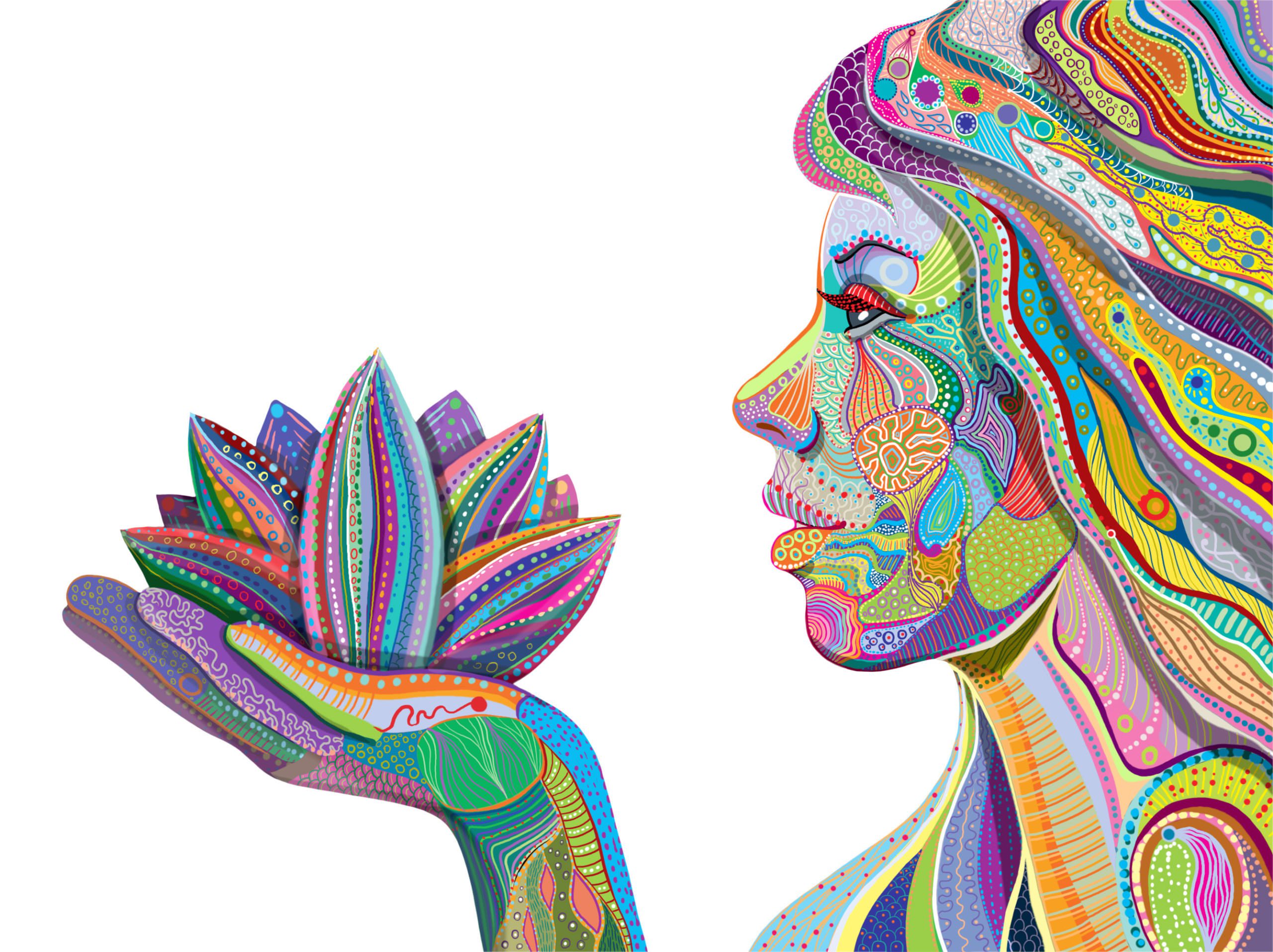 An abstract image of Mother Nature. Adobe Photo.
Twenty-Five years of Harvard India Poetry
On May 17, 1997, a group of a hundred people from the Indian community mingled at Harvard University's Science Center to celebrate the 50th Anniversary of India's independence. They marked the occasion with the recitation of freedom songs in various languages from the Indian subcontinent. These readings and recitations continued, and its core membership of poets grew, until 2008 when the group formally organized itself into South Asian Poets of New England (SAPNE). Chandu Shah, a Gujarati poet and entrepreneur, joined Bijoy Misra, Associate, Department of Sanskrit and Indian Studies at Harvard University as a co-convener of the meetings and the organization. In 2017, the poets' group South Asian Poets of New England formally merged with the newly formed India Discovery Center, a non-profit initiative to create educational material for the South Asian youth and help educate the general public about South Asian culture.
The 25th Annual Harvard India Poetry Meeting is scheduled for Sunday, May 16 with the theme of "Mother Nature" प्रकृति माता. Thirty-five poets from around the world will present original poems in Sanskrit, Hindi, English, Urdu, Bengali, Gujarati, Punjabi, Kannada, Odia and Tamil. You can join the program by sending an e-mail to idcinboston@gmail.com.
Adapted from material from Bijoy Misra
The Mittal Institute had the honor of speaking with one of SAPNE's poets and core committee members, Sajed Kamal. Sajed, from Bangladesh, writes in Bengali and English and will present his poem "Time Out for Humans" at the 25th Annual Meeting.
Mittal Institute: This Sunday, May 16 marks the 25th Annual Harvard India Poetry Meeting. How long have you been involved?
Sajed Kamal: I have been involved for over twenty years. The overarching impetus behind this event is to cultivate as well as present to the larger community of poets and poetry lovers the rich and diverse talents of the SAPNE members as poets and translators in a wide range of South Asian languages, as well as in English.
Mittal Institute: How many poets are involved in these annual meetings, and can you share a bit about your community – do you collaborate or share work with each other regularly?
Sajed Kamal: About 25 readers plus an audience of around 75-100 poets and poetry lovers. The Zoom presentation of the event this year—necessitated by the coronavirus pandemic—will likely increase the size of the audience from both different parts of the country and the world. SAPNE's quarterly reading events, each with a special topic and welcoming both veteran and fledgling poets, are community builders. These events are special occasions where we share our works with each other. The events have also facilitated informal communication and literary exchanges among some of the members.
Mittal Institute: Sajed, you are from Bangladesh and write in Bengali and English. Can you tell me a bit about your background as a poet, and what themes your works encompass?
Sajed Kamal: A bilingual poet, artist, literary translator, educational consultant and renewable energy educator, I was born in Bardhaman in West Bengal, India, and grew up in what is now Bangladesh until coming to The Loomis School in Connecticut in 1963. I received my undergraduate and graduate degrees in Economics and Education from Northeastern University and my doctorate in Humanistic Studies from Boston University. I have taught at Boston University, Northeastern University, Brandeis University and Antioch New England Graduate School.
I have authored more than a dozen books and many articles on different subjects. My books of poetry include Polimateer Goon (Virtues of Alluvial Soil), Chharai Bhara Bashundhara (World Full of Rhymes), People City: After the Snowstorm (poetry and photographs), and Sundarban: Poems and Photographs of an Enchanting Journey [a full list of Sajed's publications can be found here]. Many themes run through my poetry, including Nature, the environment, social issues, liberation, justice, love, peace.
Mittal Institute: What are the motivating factors for your involvement in this long-running event?
Sajed Kamal: I am interested in literatures from around the world, including an interest in the cultivation of poetry within the New England South Asian community. I enjoy being a participant and a contributor to its dynamic evolution. I am also interested in building bridges among the richly diverse South Asian literary community, as well as between the South Asian poetry of New England and world literature.
Mittal Institute: Would you be willing to share any of your original work with us?
Sajed Kamal: Please see the below poem: "Time Out for Humans." It is one of my original poems in English. I chose this poem especially because the theme of the May 16 event is "Mother Nature." The poem is my reflection on the coronavirus pandemic as Mother Nature's warning, as well as a compassionate second chance to humankind to live with humility and in harmony with Nature, instead of arrogantly trying to "conquer" Nature, as the tendency has been, with devastating consequences. I'll read this poem at the event.
Time Out for Humans
Dedicated to everyone, everywhere, who courageously speaks the truth and acts on one's own and together to make the world a more just, livable and peaceable shared home for all, now and in the future.
"I give you a time out!" Says Mother Nature.
"I love you, I care for you, and my heart bleeds.
I gave you everything you need
to be who you are, to be who you can be,
to be what you can be to each other,
to be content, to be happy, to be peaceful.
But, look what you have done to yourselves,
to each other, to all species, and to me.
I give you a time out.
I gave you a home—for all of you—with everything
to fulfill everyone's need,
but you have turned that into insatiable greed.
I gave you a home—for all of you—
for all its inhabitants—for all its species
to share, to care for, to be its stewards
so you can sustain.
But you go on plundering it, ravaging it, depleting it
extracting from my body what I need to sustain—
and, in turn, what I need to sustain you.
I am your Sustainer
I am your Mother
I am your ultimate resource
I am the source of all your power.
But, instead of compassion, gratitude, humility,
you claim to 'Conquer Nature.'
How dare you!
I give you a time out.
I gave you a natural greenhouse
to shield you from excessive heat from the Sun
to keep you warm and comfortable.
But with your reckless denuding of my body's green blanket
and by uncontrolled burning of fuel for sustenance and need
to fuel your insatiable appetite for over-consumption and greed
you turn the natural greenhouse into a scorching furnace
and greeneries into an ever-expanding inferno of fire.
Billions of thriving species, who have nothing to do with it,
trapped and desperately running for shelters nowhere to be found,
turn to skeletal remains
and smoldering debris and piles of ashes.
I give you a time out.
I gave you snow-capped mountains
and wintry landscapes to cool the Earth to balance
then, heralding the spring, slowly melting
to water that replenishes the Earth and renews its bounty.
But by heating up the Earth in your delusional march for 'Progress'
by disrupting the natural cycle and fueling climate change
you cause storms, cyclones, tornados, typhoons and floods of Biblical proportions
that reduce all your hard-earned achievements
and your vanities built up over years and centuries
instantly to a pile of rubble and a wasteland.
I give you a time out.
I gave you fertile earth, tender soil—but you poison it
and turn it into a barren drought land and toxic dumpsite,
I gave you water aplenty—but you waste it, contaminate it, making it undrinkable,
I gave you clean air, your natural ventilator—but you pollute it, making it unbreathable.
I give you a time out.
I gave you the Earth—one Earth—undivided and unbroken
to be one with each other, to co-exist
celebrating unity, celebrating diversity, celebrating equality
in friendship, in harmony, in peace.
But you build walls—to shield yourselves in—and keep others out,
legalize a system of justice of barbaric inequalities
soaked in the blood, sweat and tears of the mass
and exploiter wealthy elites with masks of success and benevolence.
You invade, conquer, massacre, colonize, loot,
"civilize," dominate, dehumanize, enslave, discriminate,
inflict torture, suffering and death
on all inhabitants—even the innocents.
I give you a time out.
You build bombs
to annihilate your manufactured 'enemies,'
and bigger bombs with an ever-expanding radius of annihilation
that eventually engulfs all—including yourselves.
I give you a time out.
I love you, I care for you, and my heart bleeds.
But, with all that I have said,
with all the warnings you have received,
with all the omens before you,
together, you don't seem to listen, you don't seem to learn,
you keep denying, you keep subverting the truth—even
ignoring or discrediting or punishing or murdering
the ones who courageously speak the truth.
Still, I love you, I care for you, and my heart bleeds:
so, I want you to think, I want you to feel, I want you to reflect,
I want you to wake up, I want you to act—
and time is of the essence.
I love you, I care for you, and my heart bleeds—
for this, too, comes with a price, but you leave me no choice—
I give you a time out."
Sajed Kamal
April 25, 2020
I joined the SAPNE Harvard meeting in May 2014 and ever since attended most of the meetings. Led by Mr. Bijoy Misra, Mr. Chandu Shah, and many other poets of different South Asian Languages, it is a great platform for immigrant poets to express themselves! I enjoyed all the poetry meets and learned a lot of new things about Poetry and life. It has provided a new voice to my Punjabi Poems to reach an audience from many different languages and cultures. I am honored to be part of this diverse group.
– Amandeep Singh, Punjabi Poet
SAPNE works at the confluence of dreams, imagination, expression, and action. Envisioning a rostrum for poets from South Asia is no easy task due to the inherent complexity of various languages, cultural traditions, religious identities, philosophical notions, and diverse sociopolitical factors. Despite the challenges, SAPNE has been doing a stellar job in bringing various poets together and presenting the collective wisdom for America to experience the essence of South Asia's rich legacy. The 2021 annual meeting is aptly themed on Mother Nature, at a time when virtual living as the new normal is providing a brief window of opportunity for Nature to recuperate from the unabated human onslaught for many decades. With SAPNE as the conduit, let myriad views of poets earnestly recapitulate interconnectedness – the quintessential learning from Mother Nature.
– Sivaram Subramnanian, graduate student from Jain University in Bangaluru, India
My name is Neena Wahi. I worked as a Science Teacher at Umass Boston and taught Hindi at Boston University. I do write poems in Hindi and do stand up comedy. After coming to Boston in 2008 I was looking for my Indian community with whom I could share my talent and I found Sapne. It has been a pleasure to share my poems with Sapne. Sapne does poetry sessions twice a year and folk music once a year. The poems are always based on a selected theme, which becomes a challenge sometimes but it is enjoyable. The best part is that we can write and share our poems in any regional language from India. I write in Hindi but get to enjoy other languages also. I love to be an active member of Sapne.
– Neena Wahi, Hindi Poet