Meena Sonea Hewett, Executive Director of the Lakshmi Mittal and Family South Asia Institute at Harvard University (MI) has spent the past decade growing and cultivating the work and impact of the Mittal Institute, both at Harvard and across South Asia.
Now, as Meena departs the University this coming September to pursue other endeavors, we spoke with her about these past 10 years of achievements, new initiatives, challenges, and future opportunities she anticipates for the Mittal Institute.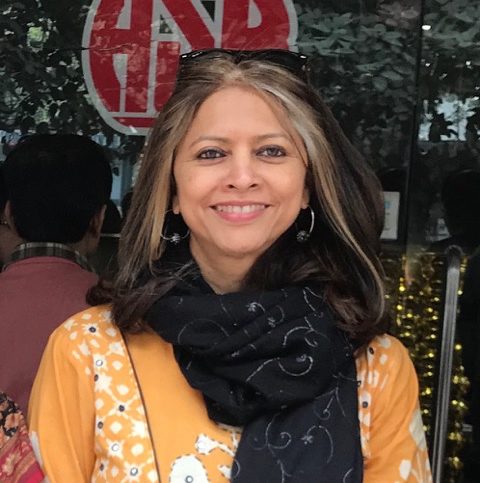 Mittal Institute: Meena, you have been the Executive Director of the Mittal Institute (MI) since 2010 and have shepherded it through various changes and adjustments. What are some of the initiatives you've implemented over the past decade that you are most proud of?
Meena Sonea Hewett: The Mittal Institute has matured significantly over the last decade. When Tarun Khanna was appointed the Faculty Director in 2010, and he hired me, we set out to build a future for the 'South Asia Initiative' with the help of a staff assistant and guided by a steering committee of twelve faculty. Our mandate was to engage in activities that would encourage faculty, students, and the community to build University-wide capacities in South Asia studies.
We opened our doors to all. We were fortunate to attract faculty with interests that included art and architecture, global health, life sciences, social enterprise, urban issues, climate change, and more. I was drawn to the arts and architecture of South Asia's ancient civilization as objects and sites tell us stories of the past and help us understand our origins, ways of life, habits, and inform our behavior. With the help of donors who formed the Arts Council, we initiated the Visiting Artists Fellowship bringing young artists from South Asia to Harvard for short stints to engage with Harvard's intellectual resources and contribute to Harvard's community. I am pleased to have shepherded the program and see it expand to include a multi-year effort on conservation science, training, and research in partnership with the Harvard Art Museums and CSMVS Museum, in India. Additionally, this year we will launch two new initiatives as part of the Arts program. A Distinguished Artist Fellowship award will bring a contemporary artist from South Asia to Harvard for a short period and a bi-annual conference on the art and architecture of South Asia.  
Mittal Institute: Likewise, you have had to react to various challenges, including the COVID-19 pandemic. How has that or other challenges shifted the focus of the Mittal Institute?
Meena Sonea Hewett: In the early years, our challenge was twofold. 1) Letting people know that a 'big-tent' research Institute on South Asia exists at Harvard with a burgeoning presence in Bangladesh, India, Nepal, and Pakistan. 2) As we opened our doors to welcome the community of faculty, students, and scholars, we needed to raise funds to support their research and activities and build the Institute's administrative infrastructure in Cambridge and South Asia. I believe we have successfully overcome these earlier constraints. Thanks to the energy of our staff and faculty and the Institute's supporters, along with the Mittal Family, we have been able to secure the Institute's presence in perpetuity at Harvard.
COVID brought its challenge for which none of us were prepared. We had to think on our feet of not losing the momentum we had built over the last ten years while keeping everyone safe in a short period. I remember March 15, 2020, the day Harvard sent a message across the University on a brief period of shut down while we get more information on the severity of the pandemic. We were planning our flagship annual symposium and Board meeting that was weeks away. Soon after, Harvard announced a work from home policy until further notice. Our team quickly redesigned our working style and got back on its feet to a "new normal" mode of operation. Some of us were figuring out the Zoom features for hosting virtual meetings, while others communicated with faculty from the Steering Committee and the Board, informing them that the annual meeting was still on but with some modifications. We had to adjust the annual event from its usual two full days of in-person meetings to two hours, virtually, on one day. The outcome was unexpected. We had the largest attendance of donors and faculty that we've ever had for the annual event! The donors were keen to connect with us, as were we, eager to see them, and whether we could pull off a high-profile virtual meeting that would keep the audience engaged. 
Keeping the vision of being a catalyst for developing South Asia's scholarship and being agile, pivoting to confront the need of the times has proven essential and served us well over the years.
Mittal Institute: You have long been interested in forming collaborative partnerships between various groups: faculty, researchers, NGOs, business leaders, etc. Can you speak a little about why forming such connections has been necessary to you?
Meena Sonea Hewett: When I was interviewing for the Executive Director's position, it was stated that Harvard is complex and a large institution. From the outset, I knew I had to walk across Harvard campus, on both sides of the river, the Longwood campus, and travel to South Asia to meet as many people as possible to let them know we exist and ask how we can work together? I quickly learned that you have to give more than you ask, and that will draw people to the Institute.
When you read about our work, you see the convergence of disciplines addressing complex issues led by teams of faculty, students, and scholars from Harvard, peer institutions, and the region. Forming alliances with individuals at home and abroad helped to strengthen the Institute's capacity to build intellectual resources in and on South Asia. This also helped make the Mittal Institute available as a 'global good,' making our work meaningful.
Mittal Institute: As the Mittal Institute grows over the next ten years, what do you hope and anticipate the focus will be?
Meena Sonea Hewett: South Asia is home to a quarter of the world's population. Issues of any significance in the world can be found in South Asia, and it provides us an opportunity to alter the way we think. I hope the Mittal Institute can open the aperture of our engagement with the region even more. MI's vibrant presence on campus and a strong foundation in India with bases in Bangladesh, Nepal, and Pakistan are well-prepared to serve the field of South Asian studies at Harvard.
Mittal Institute: What has been the most satisfying aspect of working at the Mittal Institute, and what will you miss the most about your tenure at Harvard?
Meena Sonea Hewett: The opportunity to work with incredible people deeply committed to making the world a better place by working on issues that matter has been rewarding beyond measure.
Working alongside Tarun Khanna, the MI's Faculty Director has been one of the most fulfilling experiences. He has been a steadfast mentor and friend. He was never short of new ideas. The bigger, the better. At any opportunity, he would introduce me to interesting people he met and asked to see how we can engage them with MI.
The Mittal Institute's success today and in the years to come will be the outcome of the relationships we develop with individuals and the ways we serve their intellectual needs at Harvard and beyond. What I'll miss the most is the opportunities I found in bringing people together under the Mittal Institute umbrella to create something bigger together than what any one person could do individually.