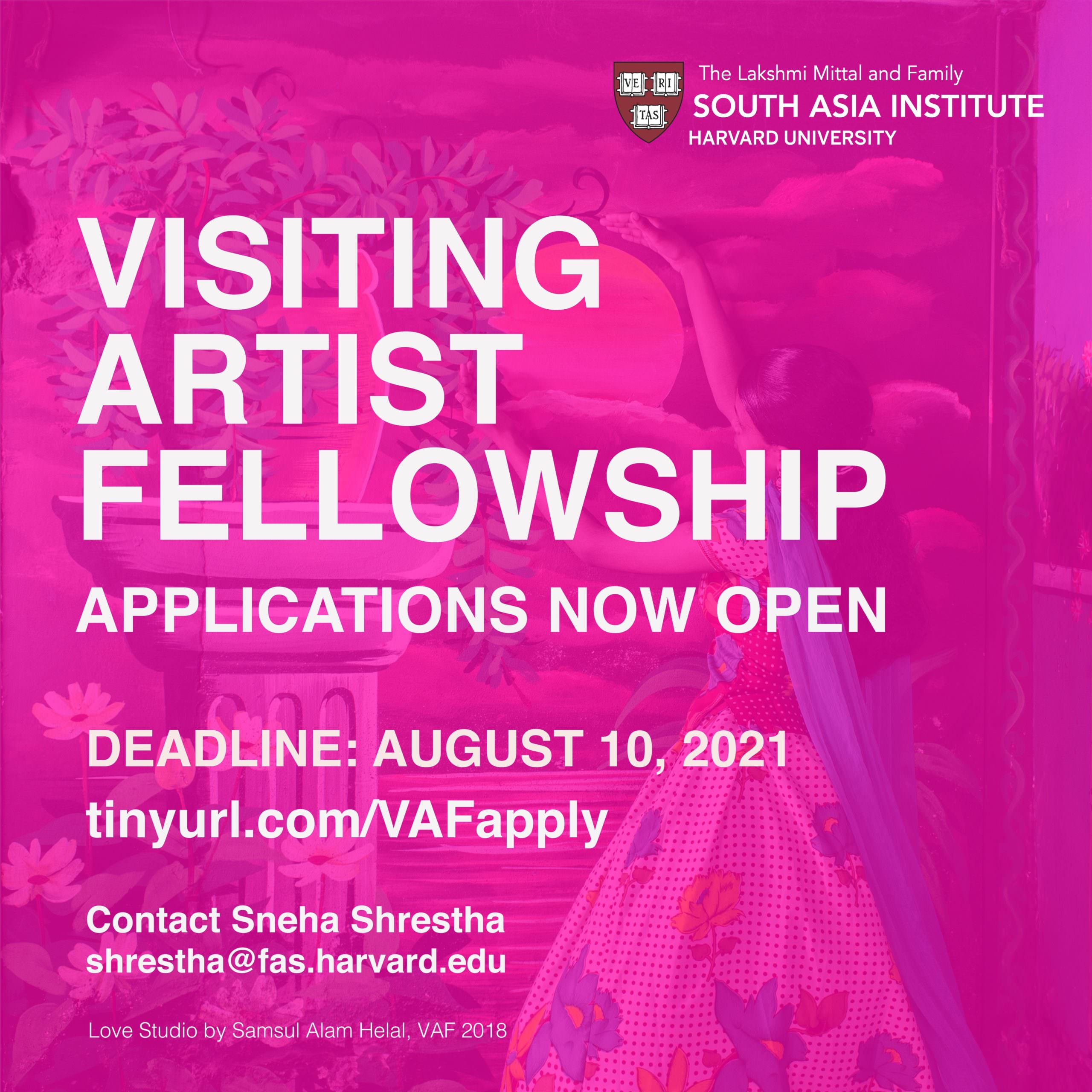 Visiting Artist Fellowships
Applications Due August 10, 2021
Art is a lifeblood of society, and its place at the Mittal Institute is stewarded through an Arts Program that offers such programming as the annual Visiting Artist Fellowship (VAF). This eight-week research fellowship at Harvard connects artists from South Asia with Harvard's intellectual resources. The Fellowship provides a platform for four mid-career artists to conduct independent research that explores critical issues in South Asia through the lens of art and design. Interested applicants can now apply to join the Spring 2022 cohort – applications are due on Tuesday, August 10, 2021.
Since its inception, 23  artists – including photographers, sculptors, videographers, and mixed media artists – have visited Cambridge for collaboration and coursework. This year, due to COVID-19 limitations, the program shifted to a virtual forum, with 13 of the top applicants from India, Bangladesh, Pakistan, and Nepal participating in a series of four online seminars curated to support the artists' long-term practice. The program aims to resume an in-person rotation for the Spring 2022 season.
To culminate their experience, the artists contribute to a Mittal Institute-produced publication, VAF Magazine, which showcases select artwork from each fellow, and explores the inspiration behind their career; what they hope to learn during their time as a Visiting Artist Fellow; and their thoughts and ruminations on the piece they have each presented in the magazine.
"The Mittal Institute's Arts Program builds bridges between South Asia's prolific artists and Harvard faculty and students, cultivating research that builds our understanding of the region's social, political, cultural, and economic issues through the lens of art and design," says Jinah Kim, Gardner Cowles Professor of History of Art and Architecture, Harvard University and Faculty Director of the Mittal Institute Arts Program.
For more on the VAF and other Arts Programs at the Mittal Institute, visit this page.