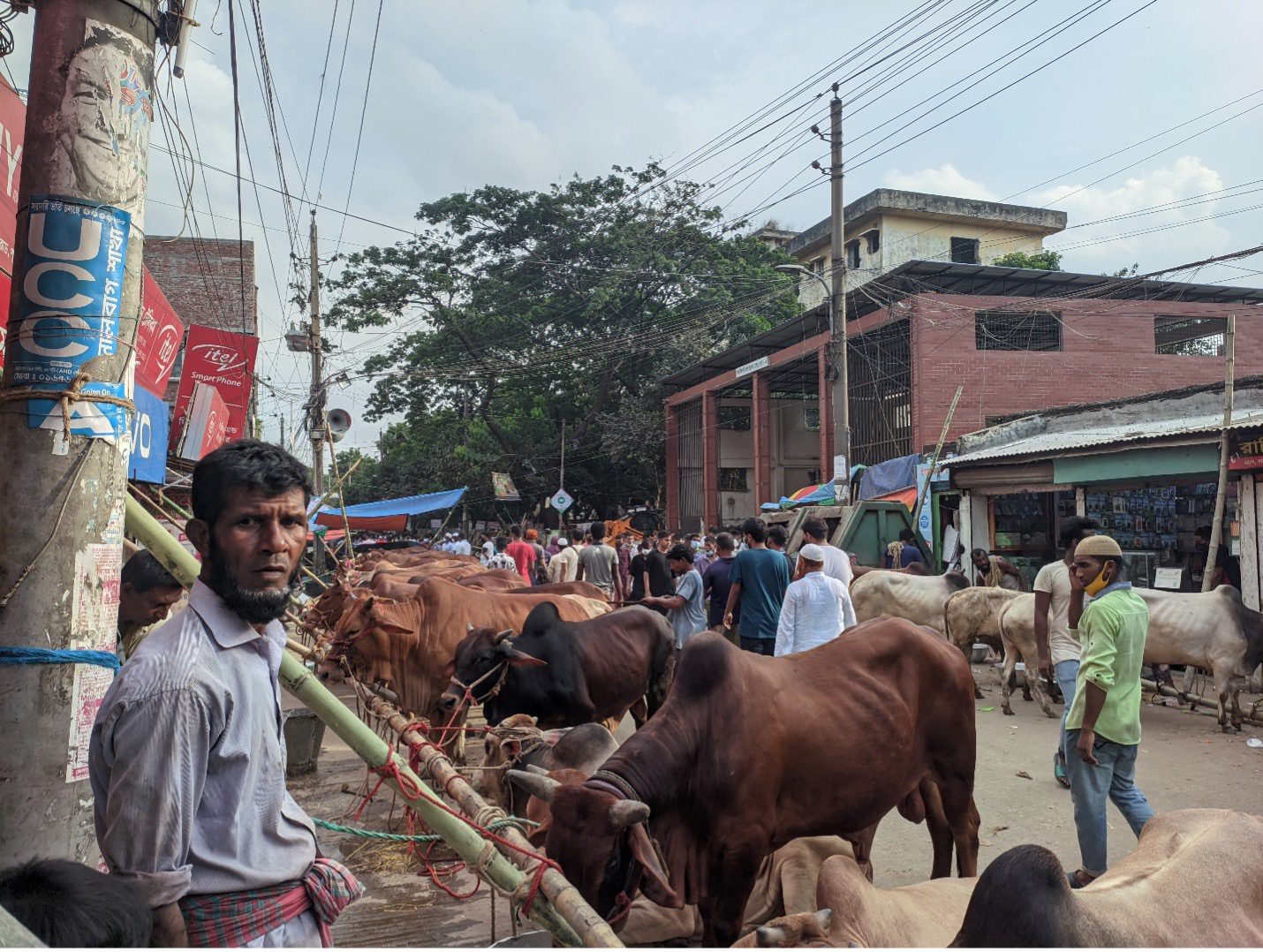 Street-side makeshift cattle markets emerge at several areas in the city during Eid. Image courtes: Md Jarif Alam.
Nusrat Jahan Mim, a Harvard D.Des candidate, was a recipient of a Mittal Institute Summer 2021 Research Grant, and she shared her findings in the account below. As a part of her Doctor of Design thesis, she investigated and collected spatial data from the largest annual makeshift cattle marketplaces in Dhaka, Bangladesh during Eid ul Adha (July 19-23, 2021). With COVID travel restrictions, Nusrat hired in-country photographers and researchers and conducted the data collection remotely.
For my Doctor of Design thesis at the Harvard Graduate School of Design, I am studying Urban Modernity, Religion, and Urban Informalities of the Global South. I am studying the religious spirits in urban Bangladesh and their manifestations through the temporal city spaces; different forms of mobilities; and complex networks of informal economic activities. I am exploring how religious practices in urban Bangladesh interact with the city's existing physical, social, and political infrastructures – yet seldom get attention in the discourse of urban spatial studies and therefore often get overlooked in city planning and land-use regulations. My study further investigates how religion, as an instrument, orchestrates between the formalities of the state and informalities of the market forces at a temporal scale during a festival. Finally, my research includes how, during a religious festival, subaltern groups, migrants, and other marginalized communities create spatial narratives that may challenge the modernist ways of understanding the notion of urban development.
Badal Mia (pseudonym), a 45-year-old cattle farmer, was cooking lunch for himself and his cousin beside the bamboo poles, where his cows were tied up. It was a weekday afternoon under Dhaka's scorching summer sun. The temporary cattle market around him was not yet crowded with customers yet. Badal Mia had been staying at this market for the last three nights. He brought four cows to Dhaka from his farm, located in a village in Sirajganj, about 130.5 km northwest of this megacity. Badal Mia and his cousin hired a van to bring their cows to sell in Dhaka, for people to purchase for the Eid ul Adha sacrificial ritual. With them, they brought cooking utensils, sleeping mattresses, and pillows, since it was not safe to leave their cows in the market and sleep somewhere else at night. They planned to stay in this market until Eid, which would be celebrated in four days. A temporary food stall in the market was selling Khichuri (a local dish made with rice and lentils), 60 TK (0.89 USD) per plate. Since it was quite expensive for Badal Mia, he was cooking his own rice and vegetables for lunch. He planned to give his cows a quick bath right after lunch. He sent his cousin to fetch some water from the tap near the temporary toilets of the market. He had to prepare his cows before the customers started flooding in. He wanted to get a reasonable price for his cows. After selling all four of his cows, he would go back to his village and celebrate the Eid festival with his family.
Cattle Study Background
Every year thousands of rural farmers like Badal Mia come to Dhaka, Bangladesh to sell cows, goats, sheep, and buffalos to the urban population during Eid ul Adha, the "Feast of Sacrifice" for Muslim communities. To accommodate the cattle sellers and their cattle, the city of Dhaka arranges several makeshift cattle marketplaces at the selected open urban spaces. These marketplaces actively interact with the city's existing physical, social, and political infrastructures at a sptio-temporal level. Such interactions generate narratives, which on one hand, help us to understand how religion (as an instrument) influences the formalities of the state and informalities of the market forces during a festival. On the other hand, they comprehend the performance "anomalies" of a South Asian city that go beyond the conventions of urban modernities. To document such narratives, I spent the Summer of 2021 collecting data from Dhaka during Eid ul Adha with the support from the Mittal South Asia Institute. Due to the COVID-19 travel restrictions, I had to conduct my study remotely. A group of three enthusiastic Bangladeshi researchers and photographers helped me to collect data from the sites: Muhammad Bin Monsur (architect, Studio Roudh), Noufel Sharif Sojol (Consultant photographer, BRAC), and Md Mahmudur Rahman (Graduate student, MLA+U, Illinois institute of technology).
Initially, my research team and I planned to collect data from four designated cattle marketplaces (chosen based on location, road network, supply and demand scenarios) and three illegal marketplaces that emerge randomly around the city during Eid. Unfortunately, our study was hampered by the city area-wide COVID lockdowns. Therefore, we collected data from two designated, makeshift cattle marketplaces out of our original four. Additionally, we collected data from three street-side markets. 
Data Collection Process
Our first site was located at North Shahjahanpur, in the Dhaka South City Corporation (DSCC) area. Almost every year, DSCC picks this open space in the middle of a housing area to hold one of the city's busiest cattle markets. This location is particularly popular among those cattle sellers who bring their cattle by railway or roads. After DSCC leased this space, the leaseholder started transforming the open space into a cattle market two weeks ahead of Eid. We started documenting the transformations as local contractors built temporary bamboo structures; rural cattle sellers started arriving; and the market gradually became busy with urban customers and rural sellers. We also documented the temporal changes of this market throughout the day. We mapped the spatial and infrastructural arrangements done by the leaseholder's volunteers and adjustments by the cattle sellers to accommodate the maximum number of cattle/sacrificial animals in a limited space. We documented the circulation patterns both inside and outside this temporary market. For two weeks, we observed and documented the changes in the surrounding neighborhoods to accommodate this very "rural" environment in an urban area. We developed a series of photo stories to explain the selling process of a sacrificial animal and other informal economic activities around this market. Walk-through video documentation helped us record functional arrangements, ambience, and acoustics of the market area.    
Similarly, we documented our second cattle market, Eastern Housing Cattle Market at Mirpur 6. This site was located on the bank of the Turag River in the Dhaka North City Corporation area and was popular among the cattle sellers who brought their animals through the waterway. We documented the temporal changes, spatial and infrastructural arrangements, photo stories, circulation patterns, changes in the surrounding neighborhoods, and activities of the cattle sellers, buyers, and other visitors. Apart from these two major makeshift cattle markets, we documented unlisted makeshift cattle markets from Tinsho feet road, Aftabnagar, and Rahmatganj. To understand the differences between Dhaka city's markets and suburban markets, we also documented the Mymensing Circuit House makeshift cattle market, located in Mymensing (112.2 km north from Dhaka). 
Study Results
In total, our study produced 3,520 photographs, 80 hours of observation, more than 250 pages of observational field notes, and 18 hours of video footage. I am now analyzing this data with my thesis advisers: Professor Rahul Mehrotra and Professor Eve Blau, with Professor Martha Chen as my thesis committee member. I believe the collected data will contribute to developing theoretical lenses around the urban spatial and design politics in the cities of South Asia. 
I am also grateful to Tousif Eram, Md Jarif Alam, and Sadik Saleh Prottoy, who are undergraduate students from the School of Architecture, BUET, for their support in the documentation process. Imtiaz Rahman Ifti (undergraduate student, CBST) covered the Mymensing Circuit House cattle market outside Dhaka. I am also thankful to Halim bhai, who was with our team to support logistics and helped navigate these bustling markets. All members of our team were extremely careful about health and safety measures, as instructed by local authorities.  
Photo Gallery