Last week, the Harvard community had the opportunity to virtually meet the Mittal Institute's two newest Visiting Artist Fellows – Bunu Dhungana and Pragati Jain – through their Virtual Art Exhibition: Women in South Asia: Expectations, Burdens and Obligations. Both artists shared their motivations, their craft, and their creations in moving, personal reflections (the full event video is above). As VAFs, these two mid-career artists from South Asia are spending the semester at Harvard, engaging with faculty and students, participating in art exhibitions, and completing research projects. The VAF Program is coordinated by faculty director Jinah Kim, George P. Bickford Professor of Indian and South Asian Art, Harvard University, and Sneha Shrestha, Arts Program Manager at the Lakshmi Mittal and Family South Asia Institute.
In an interview about the VAF's exhibition launch, Shrestha had this to say: "The artists did a good job speaking about their work and being so vulnerable and courageous in sharing work that is so personal to them."
The Mittal Institute checked in with Pragati Jain, who is based in Bangalore, India, to learn how her experience at Harvard is transpiring and what projects she is working on. An interview with Bunu Dhungana is forthcoming in December.
Mittal Institute: Thank you, Pragati, for participating in the Mittal Institute's exhibition! Why did you initially decide to apply to the VAF program? What do you hope to take home with you from this experience?
Pragati Jain: Living in India for 37 years now, I have become familiar with people's engagement with social and political culture, as well as capitalism and its effect. There is beauty in India's diversity, where people communicate easily in more than three languages and the overlap of various traditions is remarkable – in fact, the coexistence of different ideologies is striking.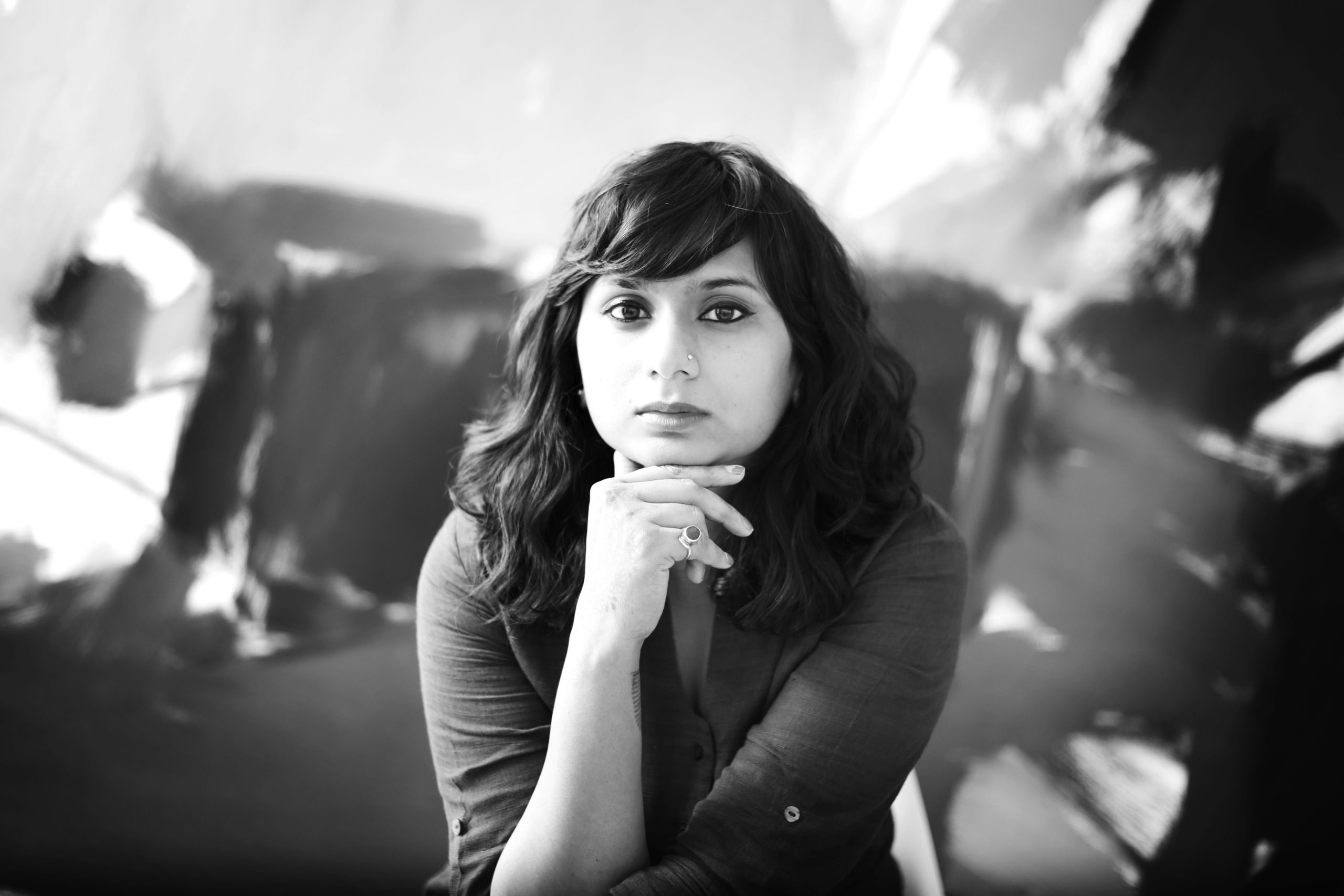 However, with such a dense population there are also challenges surrounding supply and demand. The inequality inside and outside various sections and communities of society is persistent; to balance that out in today's fast-paced urbanization is difficult. For instance, when a middle-class woman and mother aspires to work or to be ambitious, she is judged for her commitment towards her motherly duties; whereas a woman from a lower class is forced to take any job as a food seller, house cleaner, or nanny and leave her kids behind in order to support the family. Though the outlook can be subjective in both the cases, the lack of choices for a woman is disturbing. And at the end of the day, both of them feel deprived of the basic freedom to shape their life with their own will, without judgement. This contrast is difficult to process and adapt to on a daily basis.
When I chose to apply for this program, I had been developing my work in the direction that addresses these common yet distressing issues. Questions such as: "Where to draw the line?" "What is acceptable and what is not?" and "Who decides it?" have been an ongoing conflict with the series of works I have done so far.
The Mittal Institute has done incredible work in creating the bridge to connect, converse openly, and provide a fantastic opportunity for mid-career artists to share their stories on such matters across continents. Maybe we all have more or less similar confrontations to manage, but need cohesive action to resolve them. I was inclined to be a part of the program and explore the culture here, and to learn and observe how things function here. More than any other country, America has witnessed and experienced in depth all four waves of feminism, and seen its positive impact over the lives of thousands of women. And with the help of online communication portals, recent movements have a strong support that is capable of traveling farther than its origin.
Along with the intense academic learning and access to Harvard's resources, I believe I am going to take enough courage with me to express fearlessly, and expand and intensify my work in new ways.
Along with the intense academic learning and access to Harvard's resources, I believe I am going to take enough courage with me to express fearlessly and expand and intensify my work in new ways.
Mittal Institute: What have been some highlights of your experience at Harvard thus far? And how are you finding it, being so far from home?
Pragati Jain: My journey from India has been surprisingly warm and welcoming. I have never seen such a huge spread of a multi-ethnic crowd anywhere, which makes me wonder if "Not one race but sum of all" is the new "race" that reflects our time. I haven't walked down the street in Cambridge only to see one type of cuisine or everything named in an identical format; instead, I look around and I see all the colors. Small gestures such as people greeting you on daily walks, or waiting for you to cross the road adds so much to basic human values.
Maybe this is too early for me to capture the essence of air here and I also don't want to be blind in denying the unspoken struggle around the identity crisis, but I strongly feel that there is a change that is happening in the way people see each other. They might not see a person wholly, but at least she/he is not invisible anymore.
I have two young kids, a six-year-old girl and a three-year-old boy back home in India, so it's a little challenging to be away from them. But I keep reminding myself that down the road my experience will add a significant role in their upbringing and whatever I have been witnessing and learning will change me as a mother and artist.
Mittal Institute: As a Visiting Artist Fellow, you are currently working on a research project. Can you tell our community about your project, and how it is coming along? How can we view the finished product?
Pragati Jain: I am a performance artist and I'm currently researching the writings of American poets-photographers, such as Adrienne Rich, Cynthia Rich, Roni Horn and Indian poet Amrita Pritam – artists who have approached women's rights through respective mediums to explore practices, values or traditions to be kept, modified, or discarded. I am also reading about women's movements and how they have influenced public performances.
I have been logging and living the experiences in parallel; that is, unlayering the cultural differences in spoken languages, behaviors, needs, and also the shared similarities among people/women here. I will eventually try to stitch it together to form a cohesive narrative either in a series of visuals, performance or audio recording, or maybe incorporate all three. The direction I am moving in is more towards understanding the reality that everyone needs each other, despite the contrast in gender, ideologies and nationality.
The finished product can be seen on Vimeo, Instagram or my website.
Mittal Institute: As an artist, you must be completely dedicated to your craft. What do you hope your artwork inspires in people/society – what legacy do you hope to have?
In India, art is still seen as a luxury and not a necessity. And this is a difficult situation to deal with as there has to be a change in how people look at art. My intention with doing performances or creating art in public places is to break this wall of assumptions/prejudices.
Pragati Jain: In India, art is still seen as a luxury and not a necessity. And this is a difficult situation to deal with as there has to be a change in how people look at art. My intention with doing performances or creating art in public places is to break this wall of assumptions and prejudices. Especially in these current times, where unspoken personal and political issues surrounding mental health, gender discrimination, systemic racism, and unequal rights have become key concerns, I believe art has a potential to initiate refreshing dialogue, and influence people's thought process to be more adaptive, empathetic and fearless.
Mittal Institute: What are the biggest challenges and opportunities of a career in the arts? What advice would you give someone contemplating a career path like yours?
Pragati Jain: Depending on what kind of challenges we are talking about, some of the genuine concerns are around the visibility of the art/artist; the psychological struggle/creative hurdles to narrow down to an idea; an idea's sustenance; and there are other practical challenges that include the cost/production of the art work. Each artist comes across above these challenges sometime or another, and each of them has various levels of complexities. These might include lack of resources, funds and mentorship. And while Art is subjective, measuring its parameters to evaluate if it's developing in the right direction or not is one of the struggles I have often faced. And thus I feel the need for the space/people for brainstorming. Additionally, there are sometimes limited platforms to showcase art works or the right place that can further influence and enhance the overall magnitude of the art piece.
I believe that  we become like the kind of job we do. I mean, eventually,  people knowingly or unknowingly start to think, behave, evaluate, process, negotiate, and express in the language they use in their profession. Because most time of the day is spent at the workplace. Hence I feel that in being an artist, I can form my own language and that keeps me close to how I am as a person. My work influences me and gives me a unique identity. It's like the famous quote 'I AM MY OWN FREQUENCY' – I see this as the biggest opportunity that gives me freedom to define myself in a way I want, especially in today's time when we are dealing with national and racial identity. 
My advice would be if you are passionate about the process of creation, and are courageous to take risks, be an artist. Art is medicine and society needs it now more than ever.  
Pragati Jain's Exhibition Work