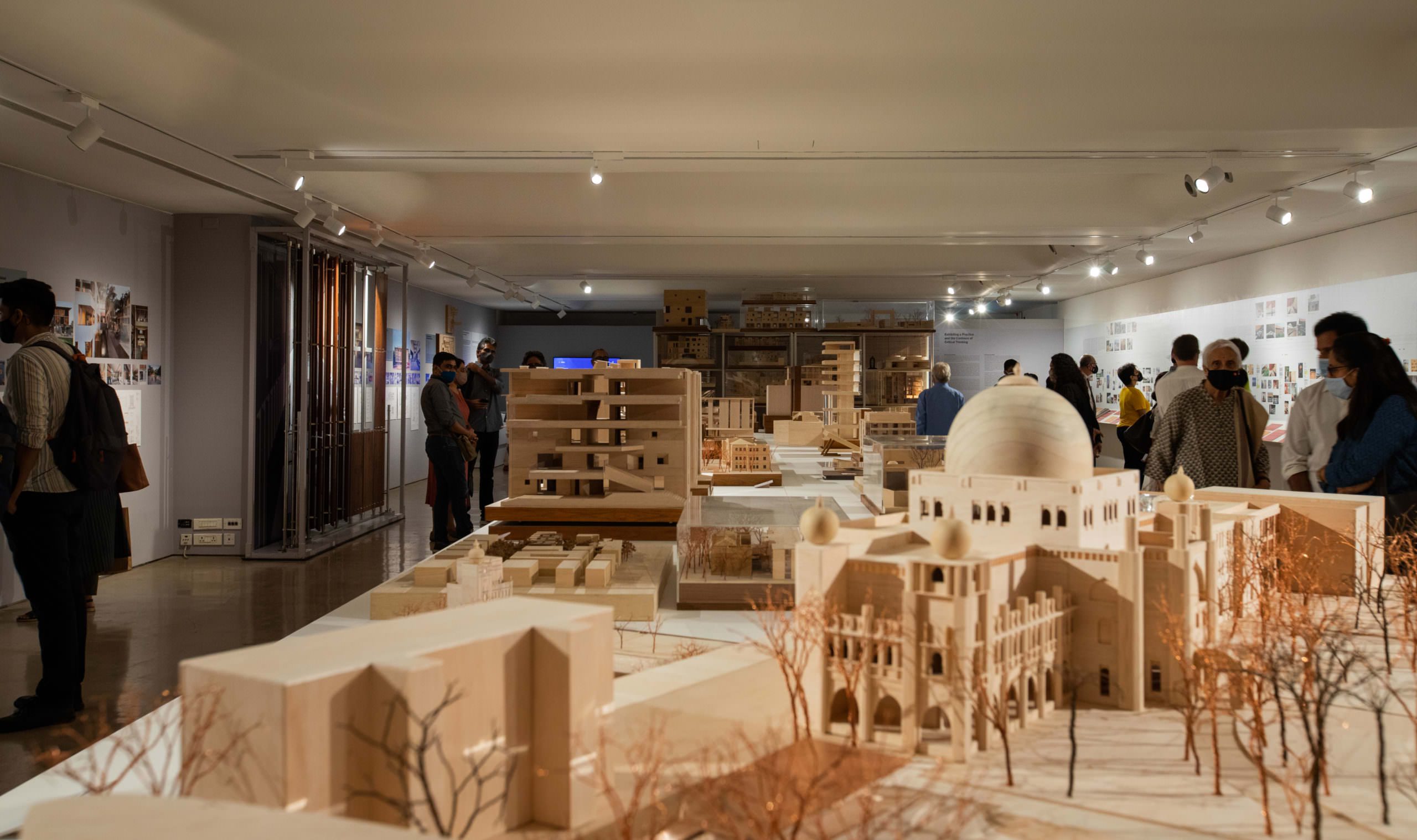 RMA Architects 1990-2020 exhibition | Photo by Tina Nandi.
RMA Architects 1990-2020
Curated by Kaiwan Mehta
A project produced by Goethe-Institut / Max Mueller Bhavan and the Architecture Foundation.
The exhibition will show at Gallery MMB, Goethe-Institut / Max Mueller Bhavan Mumbai from 27 October to 31 December, 2021. Monday to Saturday, 11:00 am to 7 pm.
The last 30 years mark a crucial history for India, as well as the world in many ways. Changing face of economic policies, new dynamics emerging in the cultural and social world of people and communities in India, dramatic shifts in urban environments and the rising concern with identity politics on one hand, to debates on heritage, belonging, and cosmopolitanism, on the other, with our digital lives shaking the ground beneath the solid physical place that mattered solely at one point, have been moulding our recent experiences. While new debates and formulations have emerged across the world these have played out in India in specific areas of public as well as private life.
RMA Architects, established in 1990, recently completed 30 years of a robust practice that has designed and built architectural projects across India as well as a few important projects abroad. It has also been a practice very involved in various research projects in areas such as architectural conservation, urban development, policy formulation for the built environment, etc. Rahul Mehrotra, who founded and leads RMA Architects has himself been a figure in contemporary India's architectural scenario playing multiple roles besides running an architecture practice – a public figure running or being involved in various public institutions, platforms and projects, he is also an academic and a historian with an impressive repertoire of research projects and publications.
We often wonder, in what ways does the practice and work of an architectural studio play a role in dynamic times such as the last 30 years we have witnessed. How does one understand what is the practice of architecture? What makes practices within a generation similar and yet how does a significant practice establish its own routes of work and ideas? Rahul Mehrotra set up his architecture studio in the 1990s one of the most tumultuous decades in India and Mumbai's history… as a researcher, critic, and academic he has written as much as his studio has built… what does his practice signify, and more importantly what does his practice tell us about our contemporary history? We discuss the idea of architecture practice in contemporary India, while we think along with buildings that 30 years of RMA Architects have designed and built, with a special focus on six recent projects.
The exhibition proposes three registers or reading the work and journey of RMA Architects:
Annotated Chronology: 30 years of the studio's work is drawn up in detail and annotated with special notes and studies by the curator
Bench of Models: A curated collection of models showing different stages of the design process in the life of a building project are brought into the exhibition to discuss the studio's design process
We review in detail six recent projects, in fact two currently in stages of construction, as a way of entering into the larger concerns and ideologies of the studio in their approach to architecture, city, profession, and the practice of an architect.
The projects include three contemporary interventions at the Chhatrapati Shivaji Maharaj Vastu Sangrahalaya, Mumbai; Lab for the Future at Basel Switzerland, Lilavati Lalbhai Library at CEPT University; School for Arts and Sciences at Ahmedabad University; JSW School of Public Policy, at IIM Ahmedabad and Mata Ramabai Ambedkar Worli Smashan Bhumi, Mumbai
This exhibition is also contextualized, and book-ended between two recent publications – Working in Mumbai (2020) and Kinetic City and Other Essays (2021). Besides these two publications, the exhibition also displays a large collection of books on RMA projects as well as those authored or edited by Rahul Mehrotra.
Rahul Mehrotra
Rahul Mehrotra is the founder principal of RMA Architects. He divides his time between working in Mumbai and Boston and teaching at the Graduate School of Design at Harvard University where he is Professor of Urban Design and Planning and the John T. Dunlop Professor in Housing and Urbanization. In 2012-2015, he led a Harvard University-wide research project with Professor Diana Eck, called The Kumbh Mela: Mapping the Ephemeral Mega City. This work was published as a book in 2014 and extended in 2017 in the form of a book titled Does Permanence Matter? Mehrotra's also co – authored a book is titled Taj Mahal : Multiple Narratives which was published in Dec 2017. His most recent book is titled Working in Mumbai (2020) and is a reflection on his practice evolved through its association with the city of Bombay/Mumbai.
RMA Architects
RMA Architects is an architectural practice with studios in Mumbai and Boston. From a studio established in Mumbai by Rahul Mehrotra in 1990, the practice was re-formed as RMA Architects in 2010.
Led by four Principal Architects , Robert Stephens ,Payal Patel , Nondita Correa Mehrotra and Rahul Mehrotra, and a core group of Design Associates, the studio works actively with local craftspeople and contractors to develop and refine construction details and methods of building that are relevant, sustainable, and founded on local knowledge. By working with varied constituencies, and through a multiplicity of modes of engagement with practice, RMA Architects endeavors to develop and evolve culturally specific design solutions for each unique context.
Kaiwan Mehta is a theorist and critic in the fields of visual culture, architecture, and city studies. Mehta has studied Architecture (B. Arch), Literature (MA), Indian Aesthetics (PGDip) and Cultural Studies (PhD). In 2017 he completed his doctoral studies at the Centre for the Study of Culture and Society, Bengaluru, under the aegis of Manipal University. Since March 2012 he has been the Managing Editor of Domus India (Spenta Multimedia). He is also Professor and Programme Chair of the Doctoral Programme at the Faculty of Architecture, CEPT, Ahmedabad since 2017; and contributes to the CEPT University Press and Research. He was the Charles Correa Chair professor at the Goa College of Architecture under the aegis of the Department of Art and Culture, Government of Goa for the academic year 2017-2018. He authored Alice in Bhuleshwar: Navigating a Mumbai Neighbourhood (Yoda Press. New Delhi, 2009) and The Architecture of I M Kadri (Niyogi. New Delhi, 2016). He has delivered keynote lectures and seminars at Cornell University, Centre Pompidou, Paris, besides other Indian and international universities, institutions, museums, and organisations; and has also contributed a section on Modern and Contemporary architecture in India and South-Asia for the recent and updated edition of Bannister Fletcher's "A History of World Architecture". He is currently working on other architecture biographies – the works of Architect Sen Kapadia, as well as Architect Jeetendra Mistry.
Mehta co-curated with Rahul Mehrotra and Ranjit Hoskote the national exhibition on architecture – "The State of Architecture: Practices and Processes in India" (UDRI. 2016) at the National Gallery Modern Art, Mumbai and 'State of Housing – Aspirations, Imaginaries, and Realities in India' (UDRI. 2018). Both these exhibitions resulted in a two-volume edited publication each. He has been elected as the Jury Chairman for two consecutive terms (2015–17 and 2017–2019) for the international artists' residency programme across 13 disciplines at the Akademie Schloss Solitude in Stuttgart, Germany. He has been curating the Urban Design and Architecture section of the Kala Ghoda Arts Festival, Mumbai since 2016.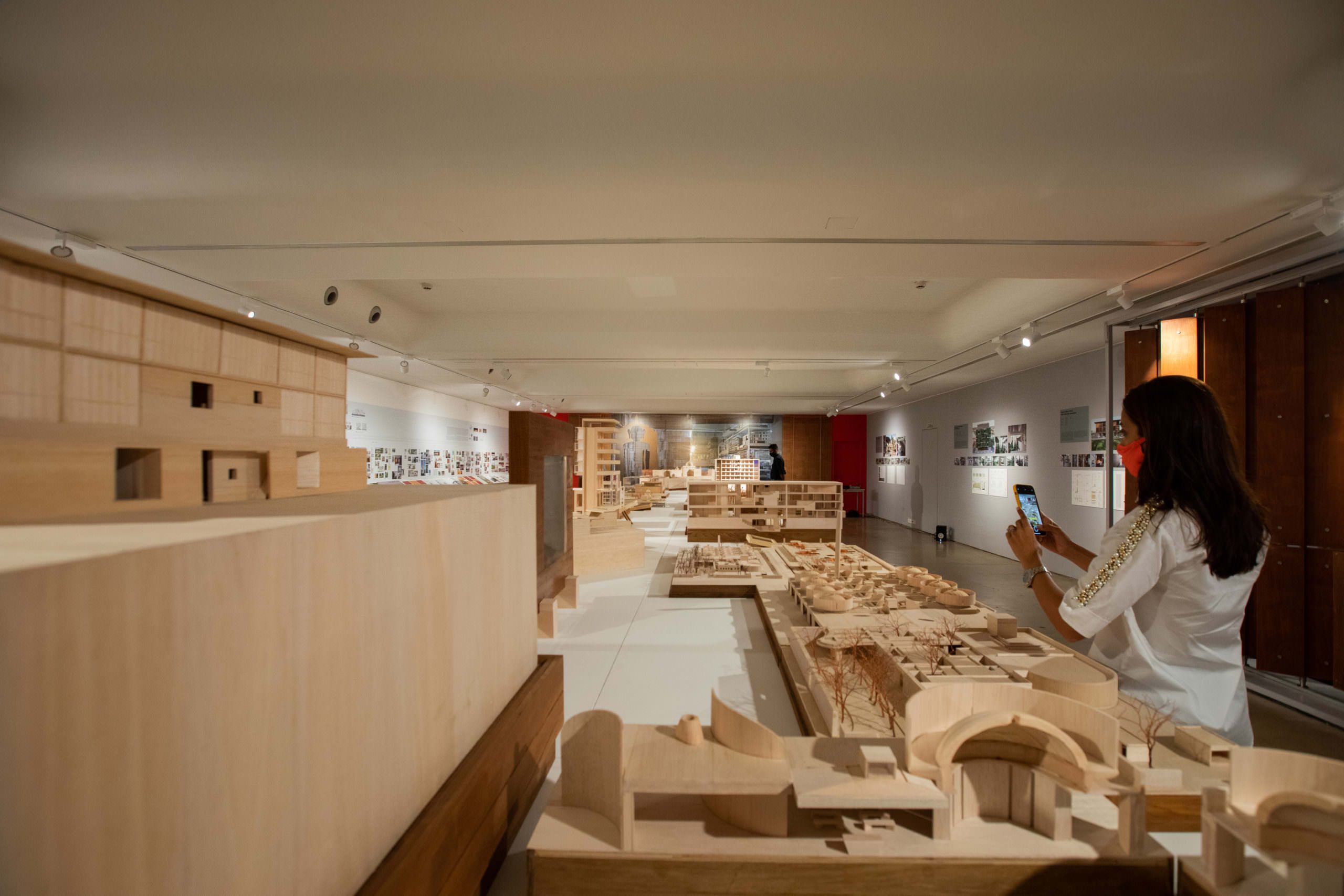 RMA Architects 1990-2020 exhibition | Photo by Tina Nandi.