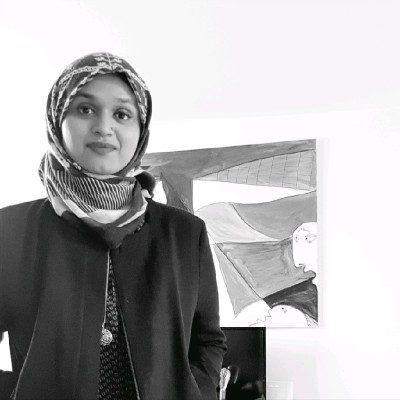 Mehwish Abid, a Lahore, Pakistan-based visual artist, recently traveled to Cambridge to begin her Visiting Artist Fellowship through the Mittal Institute. Mehwish is the principal architect at the Studio of Architecture, Research, and Design (S A R D). She is a trans-disciplinary academic and visual artist heading the School of Architecture, Design and Urbanism (SADU) at the Institute for Art and Culture, Lahore. She has received distinctions for both her graduate and postgraduate dissertations at Commission on Science and Technology for Sustainable Development in the South (COMSATS) University Islamabad and the University of Liverpool in the UK. She explores the formation of new methods of immersion through material culture and experiments with the medium of sound, text, image, and objects. Her practice is research-based that roots itself in decolonial notions of investigation.
Visiting Artist Fellows spend eight weeks at Harvard on research fellowships. The program connects artists from South Asia with Harvard's intellectual resources, and allows a platform for mid-career artists to conduct independent research that explores critical issues in South Asia through the lens of art and design. Learn more about the program here. We caught up with Mehwish to learn more about her artwork and what she plans to focus on while at Harvard.
Mittal Institute: Welcome, Mehwish! What are your first impressions of Harvard – what has surprised or excited you so far?
Mehwish Abid: Thank you so much for the warm welcome by Mittal Institute and Harvard at large. It has been a fulfilling and rich experience so far. It has only been a week since the initiation of my residency; however, it has been around 20 days since I reached Cambridge from Lahore, Pakistan. I wanted to give myself some time before the start of the residency to absorb my environment, get over the jetlag, sort out my accommodation, figure out my way around the city so and so forth. To be honest, my first impressions were all over the place; I was mesmerized at first, just with the thought that I am at Harvard, and then later adjusting to the celebrated accommodation at Peabody Terrace, and being surrounded by historic and contemporary architecture by world-famous architects – I was just so taken by and still am.
The Harvard campus and access to its resources is a treat, especially being an architect/academic with a visual art practice. I am thrilled by the opportunities that are unfolding every day in front of me through this program for my project Decolonising home through objects (DHTO). The opportunities are in the form of being able to attend classes of highly esteemed scholars, having the prospect of one-on-one discussions with them, taking guided tours of museums, or exploring Le Corbusier's special collection archives at the Graduate School of Design. Lastly, to be able to see the relevance of my academic and art practice in conversations that I am having with various scholars, or in talks by professors and curators, has been most moving and uplifting for me. 
Examples of Mehwish's "Decolonising Home Through Object (DHTO)" series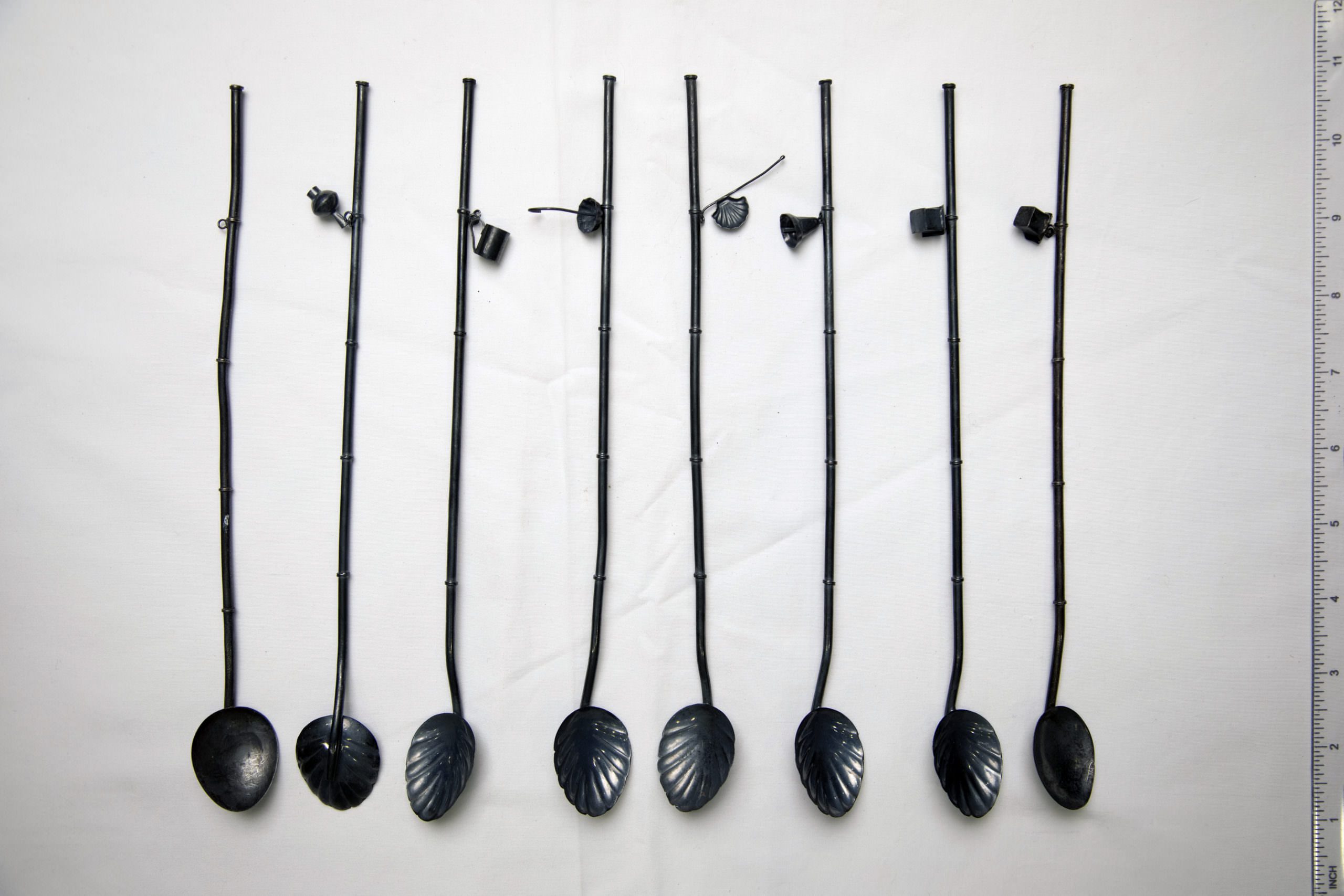 The sky is falling, You leave from…What you call home, What do you take? To the place, you will call, home again…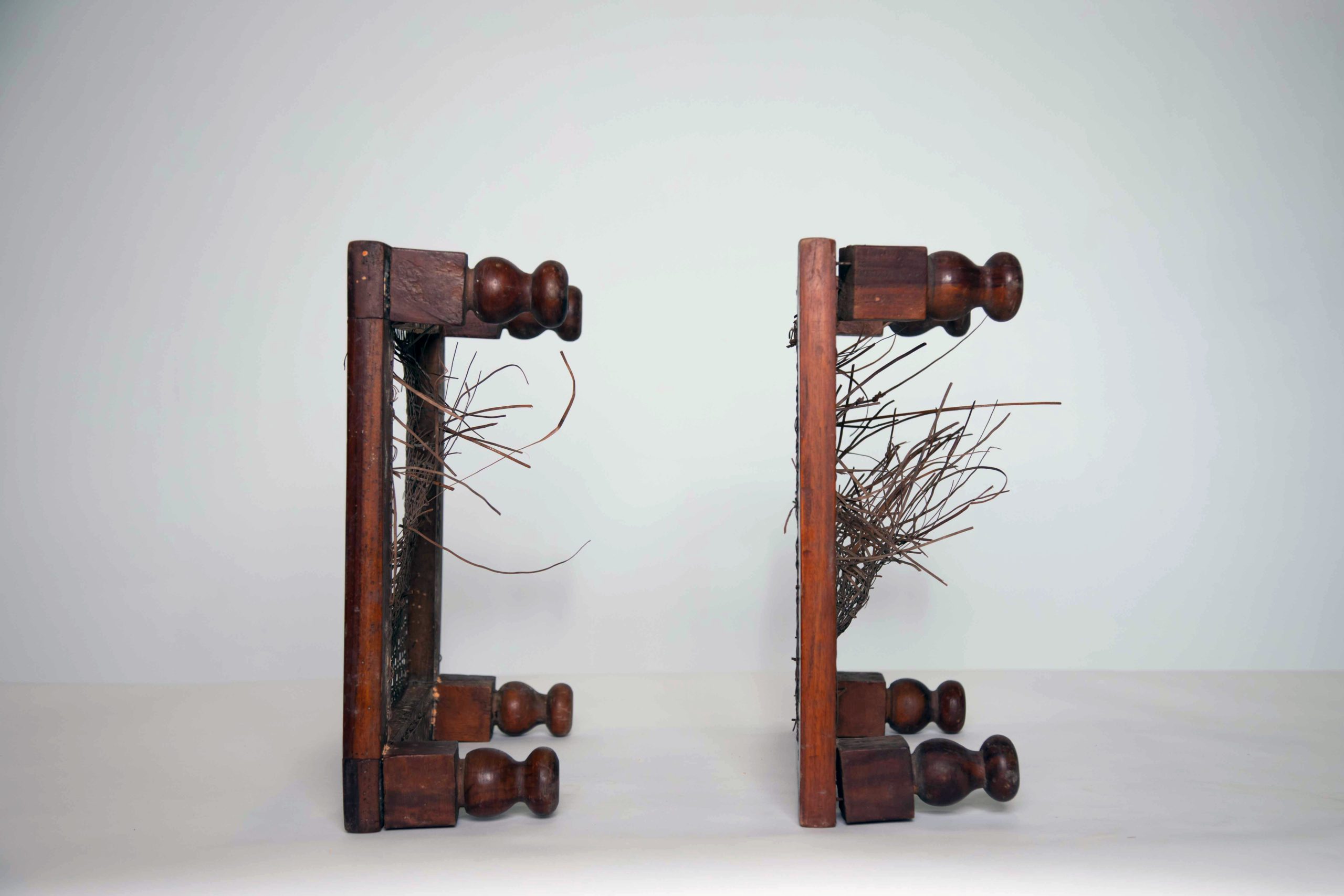 A couple of Peeray (Kitchen Seating) as part of dowry of Asghari Begum.
Mittal Institute: How did you get started as an artist – when did you know you wanted to pursue a career in the arts?
Mehwish Abid: I have consistently been fascinated with the impact of the prevailing socio-cultural and political mindset on spatiality and design and how the former symbiotically reflects itself in built spaces, expressing power dynamics within the built environment and dictating the terms of association and interaction externally. From an early age, I was exposed to all kinds of art, be it photography, music, drawing, poetry, or storytelling. Being the youngest daughter, I have been extremely fortunate to have parents who have supported my choice of opting for architecture for my undergraduate studies rather than pushing me for the most common choices in Pakistan i.e., engineering, law, or medicine.
I feel it was my undergraduate studies and exposure to artistic mediums that enhanced my interest in art as a field and in the medium of photography. During my postgraduate studies at the Liverpool School of Architecture, University of Liverpool, I elected subjects such as critiques and communication in the visual arts and architecture and current themes in architectural research. I strongly feel it was such exposures where I found myself comfortable and yet inquisitive at the same time about the interdisciplinarity of art and architecture. Later, when I went back home, I founded my studio, in which I practiced as an architect and an artist. Very soon, I started teaching and my work positioned itself at the crossroads between art, architecture, and the methods through which it may create dialogue and engagement.
I hope that through this opportunity and experience there will be a creation of space for inter/trans-disciplinary individuals in the Pakistani art world and Pakistani academia.
Mittal Institute: Why did you decide to apply to the Visiting Artist Fellowship program? What do you hope to gain from this experience?
Mehwish Abid: The Visiting Artist Fellowship at the Mittal Institute focuses on exposing artists to a wide array of resources to facilitate them to build research for their projects and their practice, in a vicinity full of diverse and rich academic reserves. It is an opportunity for any creative soul to find their momentum and direction, especially if their practice is research based. I hope that through this opportunity and experience there will be a creation of space for inter/trans-disciplinary individuals in the Pakistani art world and Pakistani academia. I also hope to bring attention to the importance of archiving, object photography, and storytelling as a method to practice visual art and hence, the creation of dialogue between the artist and the observer positioned at the crossroads between art, architecture, and the methods through which it may create dialogue and engagement.
Mittal Institute: VAF artists are given the opportunity to attend classes and receive mentorship from faculty. Additionally, they conduct independent research. Can you tell us more about your research project that you'll be working on while at Harvard?
Mehwish Abid: I am looking forward to attending a couple of classes at Harvard for which I have been accepted by two scholars: Professor Jinah Kim for her class on Himalayan art and Professor K. Michael Hays for his class on Modernism and its counter-narratives. I am also looking forward to having one-to-one discussions with Professor Jinah Kim, as I seek her expertise in exploring the medium of archival photography of objects as an interactive installation for engendering narratives from people encountering the proposed exhibit at Mittal Institute. The ongoing Mittal Institute project on the Partition of British India will benefit my proposed work as well, especially with the collected oral histories through the portal of crowdsourcing memories. Many opportunities may arise in unfolding the decolonization of homes through objects for which Professor Jennifer Leaning and Professor Tarun Khanna will be my go-to academics, though I still have to approach them for my project. The project is rooted in the understanding of appropriation of spatiality through objects; hence the research unit of "Cities and Settlements" led by Professor Rahul Mehrotra will be beneficial for discussion on an aspect of altered spaces post-Partition. I will hopefully get to have a very enlightening conversation with these scholars and would be deeply interested in receiving mentorship from them.
For my Ph.D proposal, I am looking into the decolonization of post-conflict residential architecture that shaped housing for the capital of Punjab, Lahore. For chalking out the methodologies of the mentioned research, I arrived at archiving material culture as one of the primary research methods. As a visual art practitioner, Decolonising home through objects (DHTO) is conceptualized on the peripheries of the disciplines of art and architecture and theoretical frameworks of material culture, post-colonialism, and decolonisation. Simultaneously, deeply drawn towards the history of what shaped homes in Lahore post-conflict, I started collecting dilapidated furniture pieces and objects that my family possessed that either migrated from India or were created post-Partition. After the trauma of conflict and colonial supremacy, the people of Lahore built their homes or appropriated their occupied spaces according to their own identity and sense of familiarity. This project envisions to create a public archive built with the help of the community through people's historical narrative and a participative approach that can turn into a living digital museum of visual and tactile memory, which influenced the architecture and spatiality of homes that prevailed after the creation of Pakistan. The hope is to uncover the process of decolonization of home through material culture.
Mittal Institute: What is most important characteristic that an artist must possess – and what advice would you give to someone interested in a career in the arts?
Mehwish Abid: Perseverance is one quality that all artists must possess. The continued effort to do or achieve something despite difficulties is what I feel guarantees creative fulfilment. I also feel it is very important for artists to approach art with research-based methods to create a 21st-century understanding of this discipline, in which nuanced tactics and tools can be experimented with to engage and discuss issues relevant to this time. My advice to artists is to be authentic with their work and their own growth. It is a long process. To be able to produce authentic work, one must have an extra source of income so one isn't forced to rush the process and I strongly feel that academics make impactful artists.
Mittal Institute: What do you hope your artwork inspires in people/society – what legacy do you hope to have?
Mehwish Abid: In Pakistan, the art world is closely knit, and though throughout the world the boundaries are blurred between artists and architects, we still have them back at home. In regard to Pakistan, I hope to create a space for future trans-disciplinary practitioners. The region of South Asia has a tumultuous history of colonialism and mass migration. With the recent Kabul take-over by the Taliban, it has become crucial to create peacebuilding linkages with India. DHTO ensures cross-border research for mutually unfolding the narratives from Partition related to socio-economic and spatial altered realities, which can create an impactful ripple of discourse generated across borders through the medium of art.
Mittal Institute: How can our community follow your work? Can you share your social media handles?
Mehwish Abid: My talk at the Mittal Institute on March 29 at 5:30pm will be moderated by Professor Jinah Kim. In this talk I will briefly speak about my practice and in-depth on my current research on decolonizing homes and material culture. This will also be the opening of my solo show at the Mittal Institute.
Simultaneously, my work will be exhibited in New Delhi in another show called Kitchen to Kacheri curated by Ishita Shah. It is part of 'this will keep you warm' ,12 curated exhibitions by the Curatorial Intensive South Asia (CISA) 2021 Fellows organized by Khoj and Goethe-Institut / Max Mueller Bhavan, New Delhi, in collaboration with India International Centre. The exhibitions open at 6:30 pm, on the 15th of March 2022 at the Kamaladevi Art Gallery — India International Centre, New Delhi. I will be posting details on my social media for this. 
My social media handles are below. I write extensively on my work and findings of my research have published in various prestigious journals nationally and internationally. My research papers can be accessed from Academia and Research gate by full name. Lastly, I am the editor of an art and architecture blog, Notebook: Read. This blog is the outcome of the course I teach on art and architectural journalism and can be accessed easily.
A Selection of Mehwish's Work