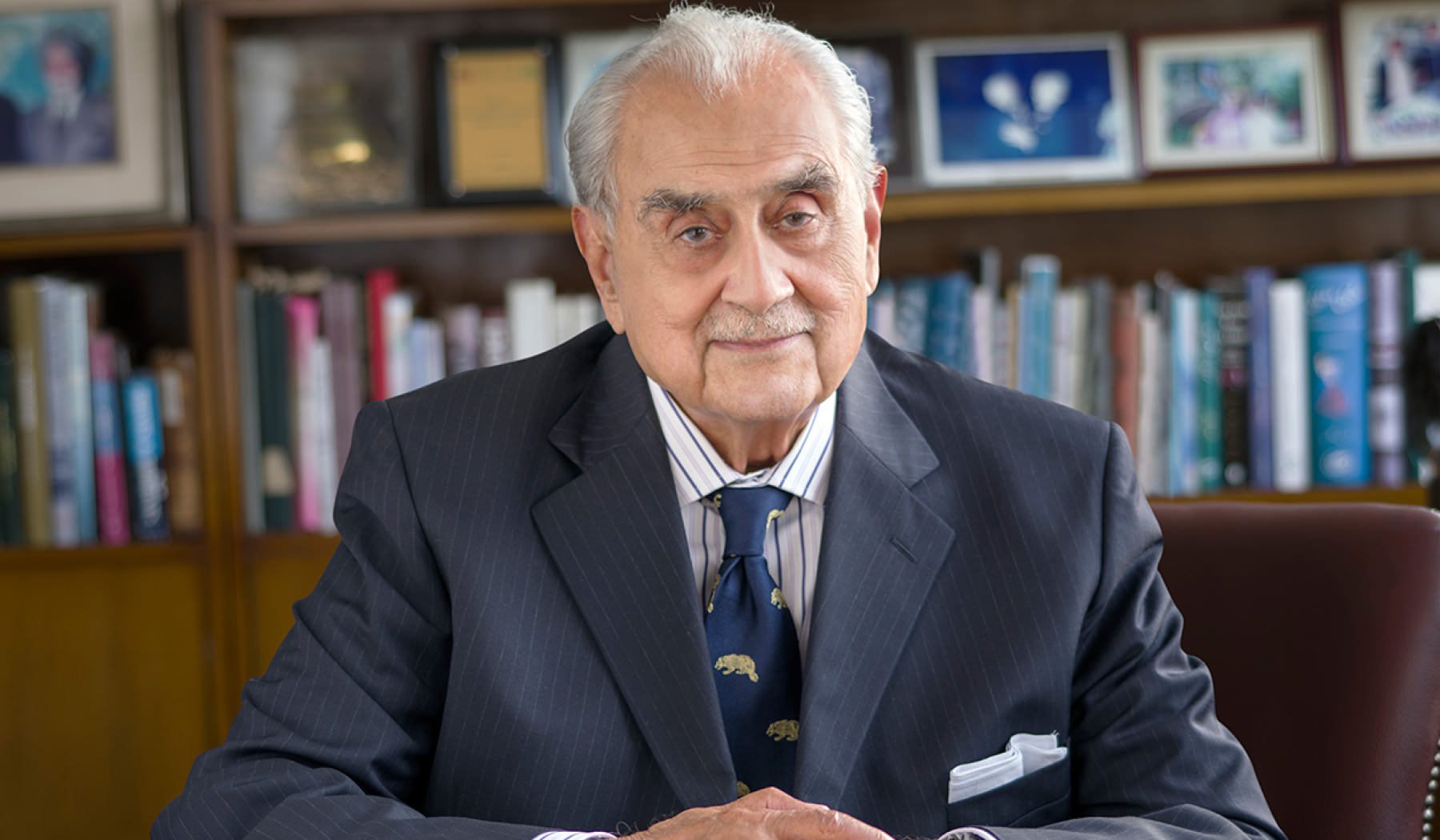 Syed Babar Ali, former Minister of Finance of Pakistan, businessman, philanthropist and founder of Pakistan's leading institution of higher learning, Lahore University of Management Sciences (LUMS).
"It is too early in the life of any country to celebrate its 75th birthday. At that age, people grow old; nations, however, begin to discover their human potential and find their place in the international community.
My country Pakistan became alive on 14 August 1947. Until then I was like millions of others a citizen of the Indian subcontinent.
I happened to be in the Unites States at the time, studying at the University of Michigan at Ann Arbor. Some sixty of us decided that we would jointly celebrate the creation of India and Pakistan. Divisions would be born later.
Those who were now Indian used the tricolour flag of the Congress party. They sewed Asoka's chakra in its centre.
As there was no equivalent Pakistani flag – its design was announced some days before 14 August – I asked a fellow student Kamla Choudhray to stitch a green and white flag for me. Even though our now discrete countries were created overnight and our cultural heritage halved, nevertheless we students jointly celebrated our independence from the British with a common shared fervour. Our two flags flew proudly side by side. Such was the spirit in those early days.
After completing my studies in the United States, I returned to Lahore to discover that most of my school and college friends – almost all of them Sikhs and Hindus – had migrated to India. I remained in touch with them, visiting them frequently as they crossed the new border to visit us. I am in my 96th year, and even though many of those friends have passed away, my connections with India and other South Asian neighbours has never waned.
I have been an active member of the Track Two effort under the umbrella of the Balusa group which met to promote and improve relations between countries in political and economic areas.
The United Nations helped set up the South Asia Centre for Economic Policy, to which I contributed for almost fifteen years. Initially based in New Delhi and later in Dhaka, it shifted to Kathmandu. Mr. Muchkund Dubey (the former Foreign Secretary of India) and I served as co-chairs for over ten years.
I have been similarly closely associated with the activities of the Lakshmi Mittal and Family South Asia Institute at Harvard University. Its mission – 'to actively address issues of equity, sustainability, and livability' are as timeless as they are urgent today.
I know I speak for every citizen of each South Asian country when I say that we need to celebrate our independence – as we did 75 years ago – but also our interdependence. We have so much to learn from each other and to share in our pursuit for the well-being and happiness of our communities.
I laud the efforts made over the years by the Mittal Centre to achieve these goals in a spirit of collaboration and brotherhood."
– Syed Babar Ali
Former Minister of Finance of Pakistan, businessman, philanthropist and founder of Pakistan's leading institution of higher learning, Lahore University of Management Sciences (LUMS)