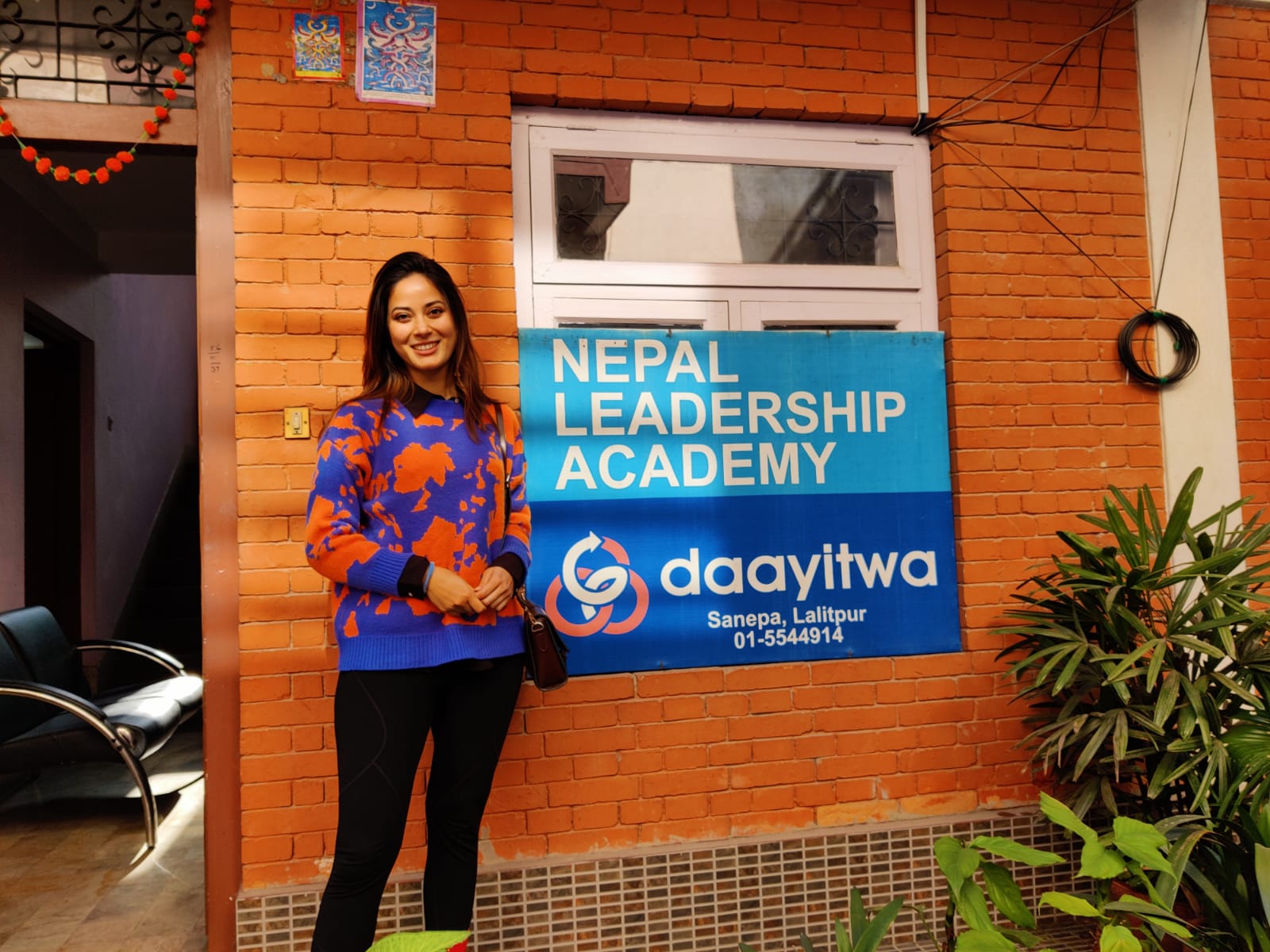 Shrinkhala Khatiwada, a Harvard Graduate School of Design student, earned an LMSAI student grant to study urban greenery and open spaces in Nepal. 
Shrinkhala Khatiwada, a Master of Urban Planning candidate at the Harvard Graduate School of Design, earned an LMSAI student grant to study urban planning in Nepal. She spent a three-week internship at Daayitwa Nepal Public Policy Fellowship, a program that fosters collaboration on economic policy research between young professionals and the Nepalese government. During her internship, Shrinkhala worked with the Nepal National Planning Commission to explore the potential for mandating a dedicated Urban Green Infrastructure department in every major metropolitan city in Nepal. She explains her work, in her own words.
Applications are due by October 14 for LMSAI Winter

Student

Grant

s. Harvard graduate and undergraduate
student

s looking to fund their research, internship, or language study in South Asia are invited to apply. Learn more.
"I had the opportunity to go back to Kathmandu, Nepal, my hometown, for a month-long research internship with Daayitwa, Nepal to research urban greenery and open spaces (UGOS) in Nepal.
Kathmandu Valley, with a population of 2.5 million people, is one of the fastest-growing cities in South Asia, with a current growth rate of 4.32% per annum (UN Data). It is also the first region in Nepal to face the challenges of rapid urbanization at a metropolitan scale. Unplanned urban development has led to uncontrolled sprawl, resulting in loss of open space, and greenery in the city, resulting in decreased livability in most parts of the valley.
Before coming to Harvard, I was involved in a non-profit that offered volunteer service to the local governments to design and construct urban parks in Kathmandu Valley. After more than a year of work in the field, I never understood whose responsibility parks and greenery fall under. There were multiple stakeholders with overlapping roles and responsibilities, which created a lot of tension—and ultimately causing the work to be delayed or even cancelled. My research internship aimed to understand and document the framework of government organizations responsible for UGOS in Nepal, and proposed changes/addition where the responsibilities overlapped or collided. I extend my sincere thanks to the Mittal Institute for making it possible.
Kathmandu Valley | Wikipedia.
Nepal is still adjusting to the new federal structure, which makes data on government organizations and relationships hard to find. Every ministry and local government has a fixed organizational structure which was easily available; however, it wasn't the case when I tried to draw relationships among multiple government stakeholders. Hence, I based my research extensively on stakeholder interviews, which span across local and national governments. For the local level, I interviewed the mayor of Lalitpur metropolitan city, the vice-mayor of Hetauda sub-metropolitan municipality, and an urban planner of Kathmandu City Planning Commission. For the national government, I rooted my research on the Ministry of Urban Development (MoUD) and interviewed the former Secretary of MoUD, current Vice-Secretary of MoUD, and the Director-General of the Department of Urban Development and Building Construction (DUDBC). For case studies, I chose the city of Boston and the city of London.
Local Government: Strengths & Challenges
The local government turned out to be the key player for UGOS. The local government Operation Act of 2017 has provided fiscal autonomy to local governments that run on a municipal assembly model. This structure provides an opportunity to "get work done" with the least resistance from other governmental stakeholders. However, it came with its own set of challenges. Due to a lack of a national plan or guidance on UGOS, development in each municipality was fragmented and disconnected from the rest of the region. Furthermore, local governments did not have the required technical manpower on UGOS (except for Kathmandu city, who has Urban Planners under the City Planning Commission). In fact, civil engineers or architecture interns were seen taking the lead in the design and construction of UGOS. As a result, ongoing projects lacked sensitivity to the socio-cultural dimension and disregarded global knowledge of UGOS. Many believe that parks are just for "aesthetic" and fail to understand the many advantages of UGOS; this was reflected in the budget for UGOS, which is low by any standard.
The existing manpower in the local government seemed overburdened by day-to-day work, leaving no space for creative thinking or planning. Kathmandu city came out as an exception. Kathmandu city has created a City Planning Commission (CPC) as a "think-tank," comprised of a diverse team of professionals chosen by the mayor. CPC could have a huge potential if only it was well recognized by the national government; without which, its impact has been heavily limited. Kathmandu city demonstrates a need for CPC in every municipality in Nepal.
National Government: Strengths & Challenges
In terms of the national government, there are multiple ministries tied to UGOS: the Ministry of Urban Development; the Ministry of Federal Affairs and General Administration; the Ministry of Physical Infrastructure and Transport; and Ministry of Land Management Cooperatives and Poverty Alleviation. Despite all of these ministries, the Ministry of Health and Population has not recognized UGOS in its jurisdiction yet. There are also constraints to some Ministry's power. For example, the Ministry of Federal Affairs and General Administration is involved in the administrative and personnel management functions of the local government, but it has no mandate to assist in the preparation of the physical development plans of municipalities. And there are multiple ministries that oversee the care of water supply roads, building codes, zoning, etc; yet many of the functions overlap with each other and the state and local governments.
The strongest tension was seen between the Kathmandu Valley Development Authority and local governments in Kathmandu Valley. Kathmandu Valley Development Authority and its urban planning approach and activities are prone to opposition, as their legitimacy is often challenged by the elected local governments. For example, Kathmandu Valley Development Authority supersedes and undermines the rights and autonomy of the Municipalities if it comes under the development of large infrastructures in the respective municipalities in Kathmandu Valley. Many plans—including those of smart cities, highways, and ring roads in Kathmandu Valley—were developed without considering the role of local municipalities. Now there are several resistances rom the local governments against the proposed infrastructures. An official claimed the need to abolish the Kathmandu Valley Development Authority; "Time to trust the kids (local government). They are grown up now. Disseminate more powers to local bodies".
My Urban

Planning

Solutions
I conclude my investigation with an understanding that there is a strong need to "let go." Many old systems are in place as remnants of the pre-federalism era, when the local body was inactive for more than a century. This has created unnecessary duality in responsibilities and work areas. I, with Daayitwa, have proposed the following as a solution to the problem of "too many cooks in the kitchen":
Local Government: Create a new municipal department for open spaces, parks, and recreation. This new department will be responsible for city parks, playgrounds and athletic fields, golf courses, squares, fountains, game courts, historic land, active cemeteries, urban wilds, government school athletic fields, trees, urban forests, and street trees (this follows Boston's model). There are a number of positives in choosing the local government to administer this new department: it has more independent power and the processes are much faster and easier compared to the federal structure. Local government is semi-judicial hence, their decisions are quick. Example: Easier land acquisition. "With the will of mayor and approval of the municipal assembly, this new department can be formed in a matter of a day!" The municipal department would then have the right to draft ordinances, policies and guidelines; the power to guide the Mayor; the ability to create long-term goals (similarly to Boston's Green New Deal); and the responsibility of preserving historic resources.
National Government: Create a separate Open Space Department under the Ministry of Urban Development. I have proposed a step-by-step guide that details the process of adding a new department to the ministry. The process is more tedious than the local level, but would have a greater impact on the national urban environment, especially helping smaller municipalities who wouldn't have the fiscal capacity to create their planning commission.
Likewise, there is a strong need for a national masterplan on UGOS. Every city should have a green infrastructure strategy and actionable plan guided by a national masterplan. The Ministry of Urban Development should guide and take the lead in creating a national strategy for UGOS.
I concluded my research internship with a presentation of my work to the Daayitwa team. I am thankful for the fellowship that allowed me to understand something I had been curious about for years. I plan on publishing my findings online for many students/practitioners to understand how multiple scales of governments work (or do not work). Since the problem for UGOS is not unique, and almost every field of government is facing a duality and overlapping of responsibility, I am confident that this research will be useful to many other fields as well. Finally, I plan on building upon my research findings, and hope to present them to the Ministry of Urban Development in the future."