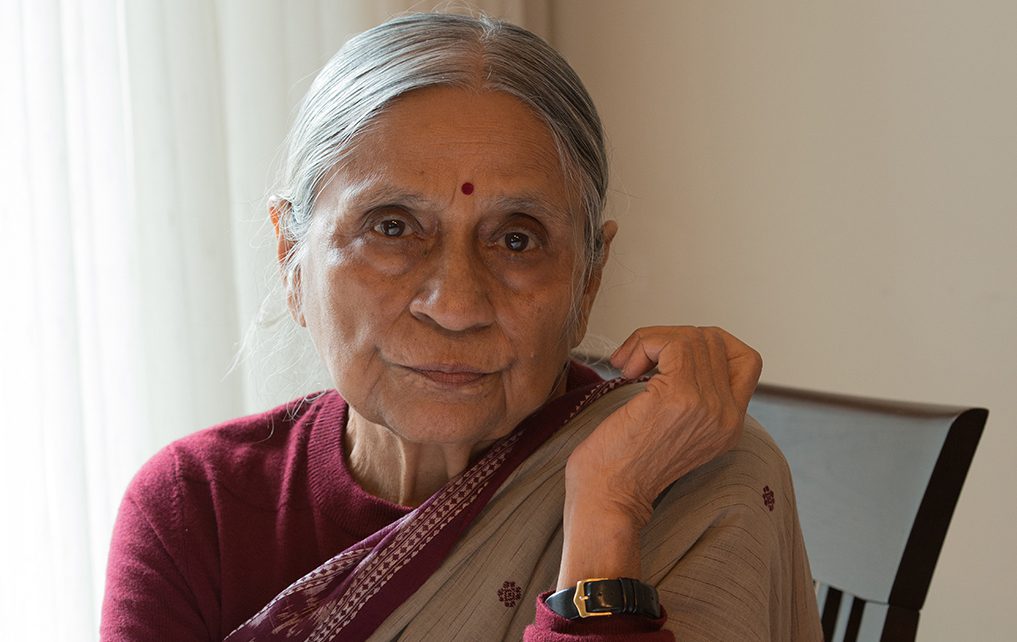 Ela Bhatt (September 1933 – November 2022).
Ela Bhatt, founder of the Self-Employed Women's Association of India (SEWA) in 1972 and dedicated women's rights activist, passed away at age 89. Often called a "gentle revolutionary" for her Gandhian practitice of non-violence, Bhatt championed the lives of marginalized women across the world through SEWA. With a membership of over 2.1 million, SEWA is the largest Central Trade union, comprised of self-employed women workers across 18 states of India. SEWA works to improve their livelihoods through technical training, microfinance, market linkages, technology, and more. Bhatt is the recipient of a host of honors, including an Honorary Doctorate degree from Harvard University, a Radcliffe Medal, and the civilian honour of Padma Shri by the Government of India.
Our Mittal Institute community remembers Bhatt and her lasting legacy in the remembrances below.
Ela Ramesh Bhatt: The Gentle Revolutionary
Ela Ramesh Bhatt, the founder of the Self-Employed Women's Association (SEWA) of India, passed away on November 2, 2022. Known as the "gentle revolutionary", Ela-ben (as she is affectionately known) is recognized around the world for her Gandhian values, visionary ideals, pioneering work, and quiet centered humanity. Established in 1972, SEWA is the largest trade union in India and the largest union of informal workers in the world with over two million women members from multiple trades. It is also a sisterhood of institutions including a cooperative bank, an insurance cooperative, and over 100 producer and service cooperatives. It is world-renowned for its unique and effective blend of trade union activism and development interventions with, as its core function, the building of institutions owned and managed by working poor women.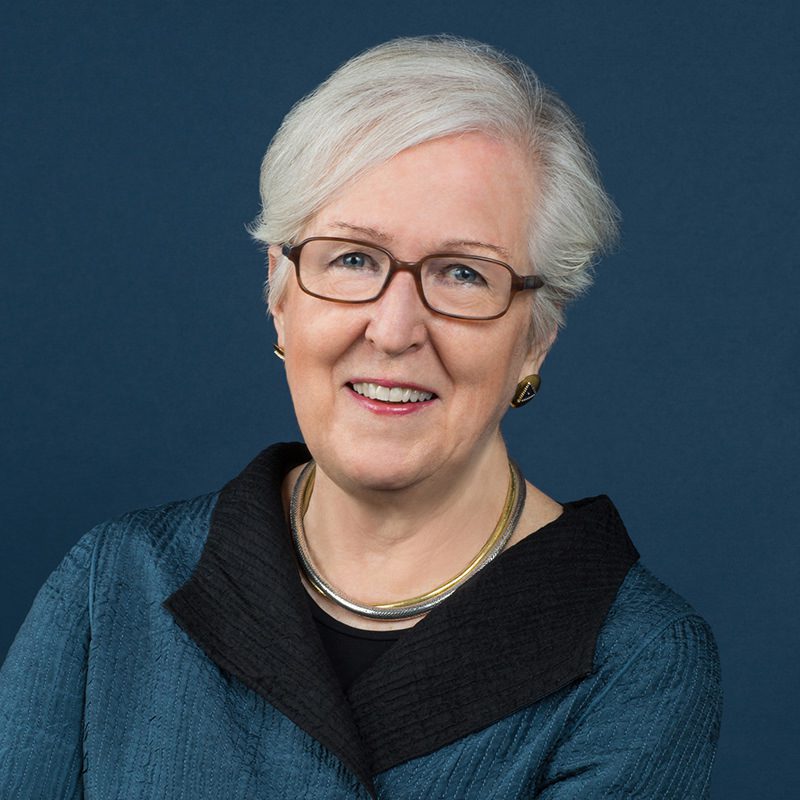 Marty Chen, Lecturer in Urban Planning and Design, Harvard Graduate School of Design, and LMSAI Steering Committee Member.
Ela Bhatt was a member of the Indian Parliament and subsequently the Indian Planning Commission. She was a Member of the Elders and served as a trustee of the Rockefeller Foundation. She co-founded and served as chair of two global networks: Women's World Banking and Women in Informal Employment: Globalizing and Organizing (WIEGO). She was a pioneering leader of – and abiding inspiration to – four global movements: the women's movement, the micro-finance movement, the labor movement and the movement of informal workers. She received many awards, including the Ramon Magsaysay Award and the Right Livelihoods Award, as well as honorary degrees from Harvard University, the University of KwaZulu Natal, Yale University, and other academic institutions.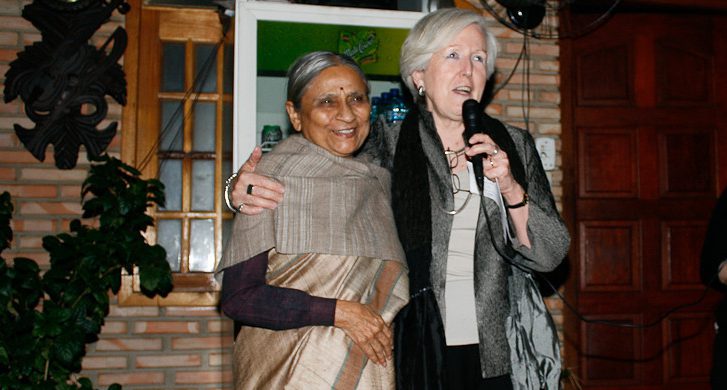 Marty Chen and Ela Bhatt.
I had the deep privilege and joy of working closely with Ela-ben for 46 years. She was my mentor, intellectual companion and comrade sister in the struggle for economic justice for the working poor in the informal economy – and the dearest of friends. She was the moral compass – the North Star – of the global network WIEGO that we co-founded in 1997. I cannot imagine SEWA, WIEGO, my life – or the world – without her gentle moral presence.
Marty Chen
Senior Advisor, WIEGO
Lecturer in Urban Planning and Design, Harvard Graduate School of Design
Anubandh – The SEWA Way
Gandhiji's favorite prayer begins with the line, "Vaishnav jan to tene kahiye, je peed parayi jaane re" – A true follower of Vishnu is she who knows the suffering of others. What does it then mean to truly know the suffering of others? As a physician, I am trained to cultivate detached empathy – where I must recognize the pain of others, but not let it so consume me that I cannot function. Paul Farmer of course would disagree. He thought this approach was wholly insufficient, and that it was important, instead, to "accompany" patients in their journey – to understand what their lived experience felt like, and what their suffering entailed – to walk with them, to go beyond medical interventions, in order to help address root causes of ill health. Community organizers, social workers, activists, human rights advocates, humanitarian workers, all strive to do this – by accompaniment, by bearing witness. And some immerse themselves so wholly in the lives of others, intolerant of injustice, agitating for change, and constantly restless with the status quo. Inaction is never an option. The suffering of others becomes their own, because they see that the world is more beautiful when we recognize that we are one. "Hum sab ek hai" is the Self Employed Women's Association's (SEWA's) rallying cry.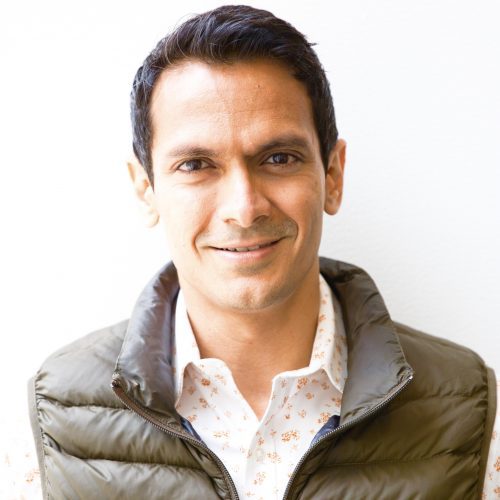 Satchit Balsari. Assistant Professor in Emergency Medicine, and LMSAI Steering Committee Member.
There was no discordance between the world view Elaben Bhatt aspired for and the life she herself lived. She believed, as she writes in Anubandh, that we acknowledge the interconnectedness of the world by the choices we make. "We do it in a way that the food we eat, the clothes we wear and the objects we surround ourselves with in our daily lives not only reflect our own values, but also activate the values of our society." She lived by her words.
Her proposition for 100-mile communities of villages and towns that produced most of what they need in order to provide six essentials – food, clothing, shelter, education, health and financial services – seems even more urgent as the world flails to re-imagine our societies as our climates change and economic arrangements fail. Lofty economic theories are forced to reckon with the everyday lives of the people from Kheda to Ghana, who can no longer eat what they grow, or grow what they eat. "An agricultural system that commoditizes food distorts our relationship with it," an observation Elaben made, manifests itself with the malnutrition pandemic that has engulfed the rich and poor worlds alike. Today SEWA sisters are at the forefront of demonstrating alternatives to monocultures, promoting mixed crops where some could weather extreme heat, and some extreme rainfall; installing solar panels and harvesting rainwater, optimizing what nature offers and living in harmony with the land.
Elaben's guiding principles are ones that seem poignant in today's climate of anger and hatred, even here in the United States. Women, she concluded in the 1950s while working as a lawyer for the Textile Labour Association in Ahmedabad, needed to come together not against anyone, but for themselves. She recognized that "organizing" was the bedrock of creating self-reliant communities. Fifty years later, the two-million-plus SEWA membership boasts of proud, empowered women, who may still have few material resources, but have the tools to navigate the deprivation, exploitation, inequality and injustice that infuses village life, as Elabennoted. "Organizing, the basis of SEWA, is the process by which women come together in solidarity with one another… it strengthens each woman, releases her from her fears and creates bonds of sisterhood across castes, religions, districts, states and even countries," observed Elaben. Her ideals and actions underscored what she described as "the importance of an outlook that considers every living person not only worthy of an equitable share of resources, but also fully capable of generating new resources." Those of us that have had the good fortune to visit SEWA meetings, see these attributes play out day in and day out – these principles are hardly ossified commandments on the wall – but the living reality of women who continue to show that another way, another world, is possible.
Satchit Balsari
Assistant Professor in Emergency Medicine
Harvard Medical School & Beth Israel Deaconess Medical Center
In the loving memory of Elaben Bhatt, Founder of SEWA and an inspiration to millions!
I remember meeting Elaben in 2000 in Delhi, when we had organized a meeting with Gujarati women vendors in Jehangirpuri, one of the slums in Delhi. It was for the first time that I heard her speak with SEWA members and realized power and appeal in her words. With her simple yet powerful words, she was able to communicate the importance of being organized for poor women workers and how organizing would strengthen their voice.
After that meeting, organizing became easier for us, as the members got truly charged up. I started going to Gujarat to attend the Annual General Meeting (AGM) of SEWA, and I would always eagerly await hearing Elaben. Many international activists and development professionals also used to attend the AGM to witness the progress SEWA was making each year, and of course, to meet Elaben in person.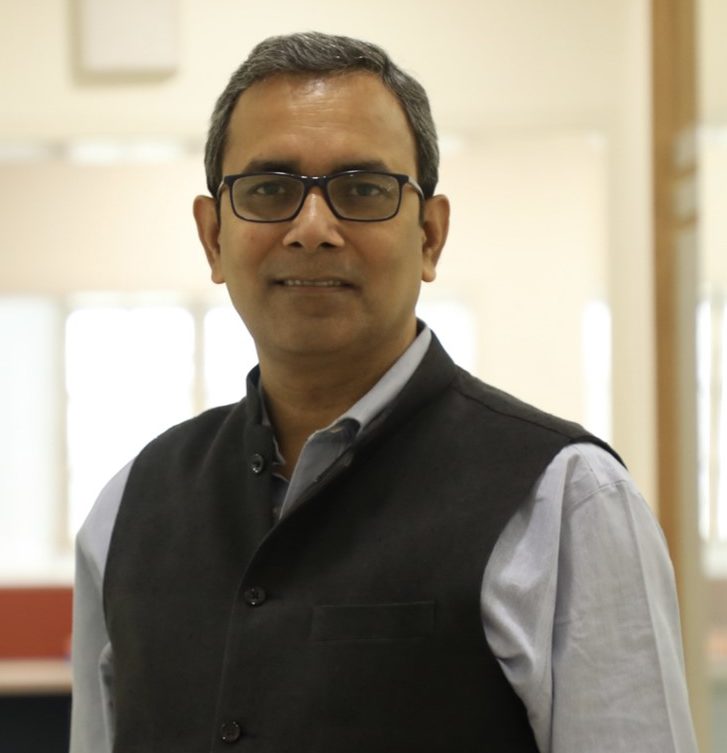 Sanjay Kumar, Former India Country Director, LMSAI.
Listening to her speeches was always a delight. Her thoughts would always charge SEWA members. It was her vision to build and expand SEWA nationally so that women workers from all over the country could demand their rights. She was a strong believer of strength in collectivization of women workers, and therefore she gave a unique approach to SEWA – a joint strategy of struggle and development.
For struggle, SEWA adopted the route of unionizing, and for development, SEWA promoted women co-operatives and federations. Her vision to build SEWA Bank, where women could come together and save small amounts and borrow loans helped women get out of the clutches of moneylenders. Whatever she envisioned through SEWA became a model for organizations in many parts of the world. Activists and development professionals used to travel from all over the world to Gujarat to visit SEWA and to meet her.
Also, she was truly a practicing Gandhian. She lived a very simple and frugal life. I found her very approachable and supportive and especially remember a few moments. During one of the trips to Bihar together, I proposed to Elaben and Renanaben (President, SEWA Bharat) to invite Mr. Nitish Kumar, Chief Minister of Bihar, to an event on International Women's Day and put forward a demand to set up a Commission to understand the condition of women workers in Bihar. We organized a very big conference with over 5,000 women from all over the state. On March 8, I was frantically calling the Chief Minister's (CM) office to confirm his participation. She understood that I was disturbed. She asked me "What happened Sanjay bhai? Is everything okay?" I told her that the CM's assistant is not picking up the phone and I am not sure if he will come. She said to me very calmly "don't worry, he will come and if he doesn't come, it will be his loss." The CM not only came but he stayed there for about 90 minutes and offered all his support to SEWA. He acknowledged that it was fortune of the state that Elaben herself visited here and took interest in the issues related to poor women workers.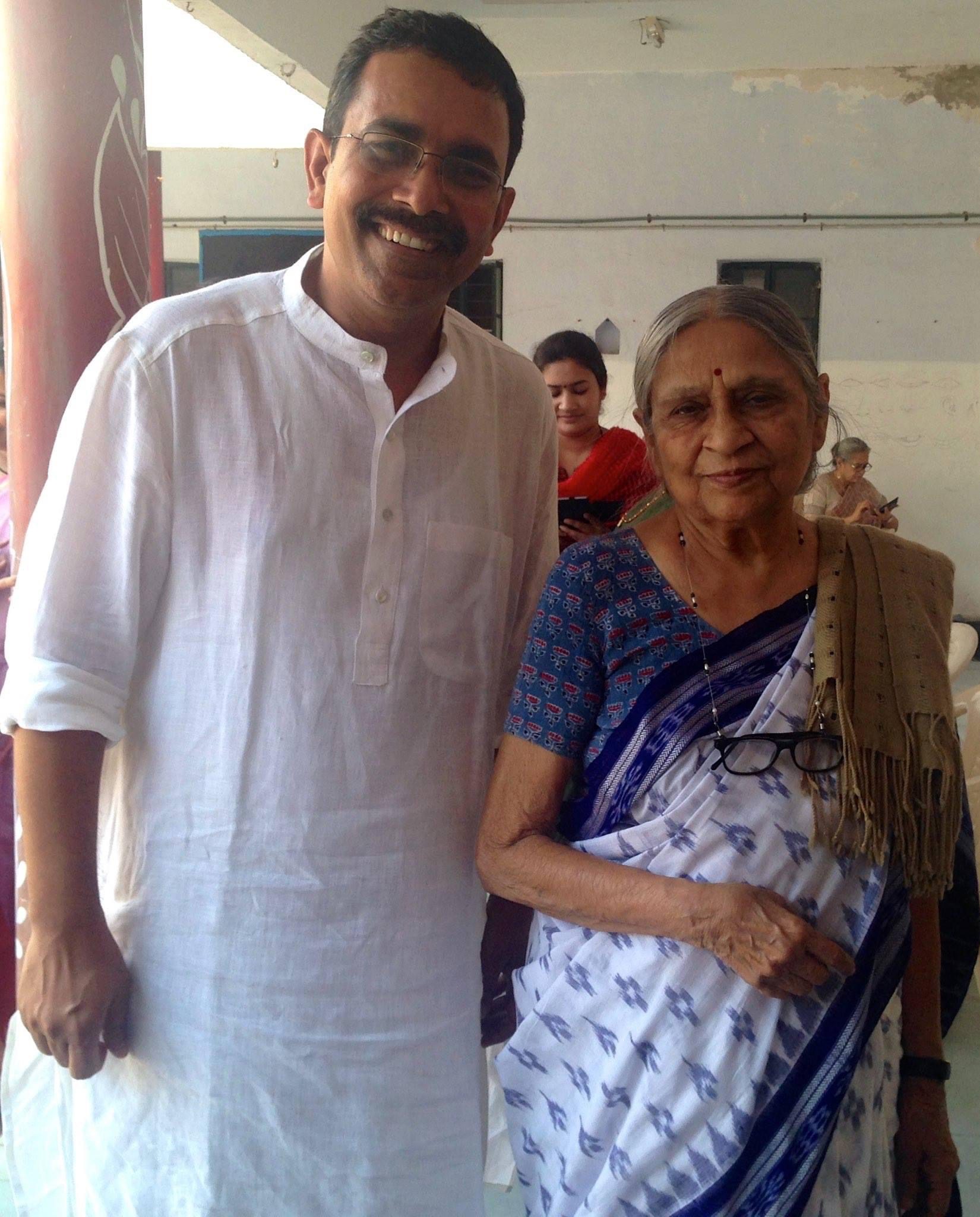 Sanjay Kumar with Ela Bhatt.
I also had the opportunity to capture the lives of women members of SEWA through photography, and I compiled a book and organized several exhibitions. She wrote the "Foreword" in the photo book, and when she visited the exhibition in both Delhi and in Ahmedabad, her comments in the visitor book were very touching. She wrote, "Bhai Sanjay- we all sisters of SEWA are proud of you." Her words made me so happy.
I left SEWA Bharat in 2016 and joined the Mittal Institute but I always stayed in touch with her. We always exchanged greetings during the festivals, and I would always share my op-eds with her. She would always give her comments. Last year, I reached out to her as we were publishing a journal by the Harvard Club of India, and she happily contributed a chapter on "Seeking Visibility and Voice." She was a great champion and advocate of women's visibility and voice. She left behind a huge legacy – a grassroots SEWA movement that operates in many parts of the country. She will always be fondly remembered by SEWA members, researchers, policy makers and practitioners all over the world.
I sent her birthday greetings on September 7, and she thanked me. She didn't reply to my greetings during Dussehra and Diwali, as she was not keeping well. Between my first interaction in 2000 and exchange of messages during her last days, she always remained a very special person in my life.
We all would miss you Elaben!
Sanjay Kumar
President, Harvard Club of India
Former India Country Director, The Mittal Institute, Harvard University