Experts, including three Mittal Institute faculty, embark on ambitious interdisciplinary projects as recipients of Salata grants
South Asia, home to two billion of the world's population, is often called "ground zero" for climate change. In the last decade, more than 700 million people in South Asia have been affected by at least one climate-related disaster – sea level rise in critical regions, such as Bangladesh; heat waves in Karachi; melting snow in the Himalayas, which reduce fresh water supplies. And the people experiencing this withering drought, relentless heat waves, and record-breaking floods are often some of the most vulnerable, in some of the most densely populated cities in the world.
Now, an interdisciplinary team from the Mittal Institute has banded together to design specific climate mitigation strategies through the project, "Climate Adaptation and Climate-Driven Migration in South Asia: Building an International Research Network for Long-Term impact." And Harvard University has just awarded the team one of the inaugural "Climate Clusters" grants from Harvard's Salata Institute for Climate and Sustainability.
The grants to five research clusters will provide more than $8.1 million over three years to projects that bring together 30 faculty members from disciplines spanning Harvard University. The Mittal South Asia Institute and the Harvard University Center for the Environment are hosts to the cluster on adaptation and climate-driven migration in South Asia, allowing the team to leverage their rich network of regional and domain experts and bring to the Salata Institute the scholars, practitioners, and ideas beyond that of the immediate cluster members.
"Climate change is one of the pressing challenges of the modern era, and it is crucial that all disciplines band together to address this intractable problem," explains Tarun Khanna, Director of the Mittal Institute and one of the cluster members. "The Mittal Institute is deeply focused on this issue, and the Salata's generous support will markedly expand our work in South Asia, a region which is bearing the brunt of climate-related challenges."
The Mittal Institute is deeply focused on climate change, and the Salata's generous support will markedly expand our work in South Asia, a region which is bearing the brunt of climate-related challenges.
Jim Stock, Harvard's vice provost for climate and sustainability and the director of the Salata Institute, said the five research clusters represent Salata's mission to tackle climate change head-on and to focus on projects that will have meaningful impact.
"It is really exciting to see these teams come together across Harvard Schools to work on important, applied climate problems," said Stock, who is also the Harold Hitchings Burbank Professor of Political Economy and a professor of public policy. "Ultimately, the mission of the Salata Institute is to make meaningful progress on urgent climate challenges — reducing tons of emissions and saving lives, if you will. Nearly every big climate problem spans School boundaries and this program provides Harvard scholars a chance to cross those boundaries as they work to have a major practical impact."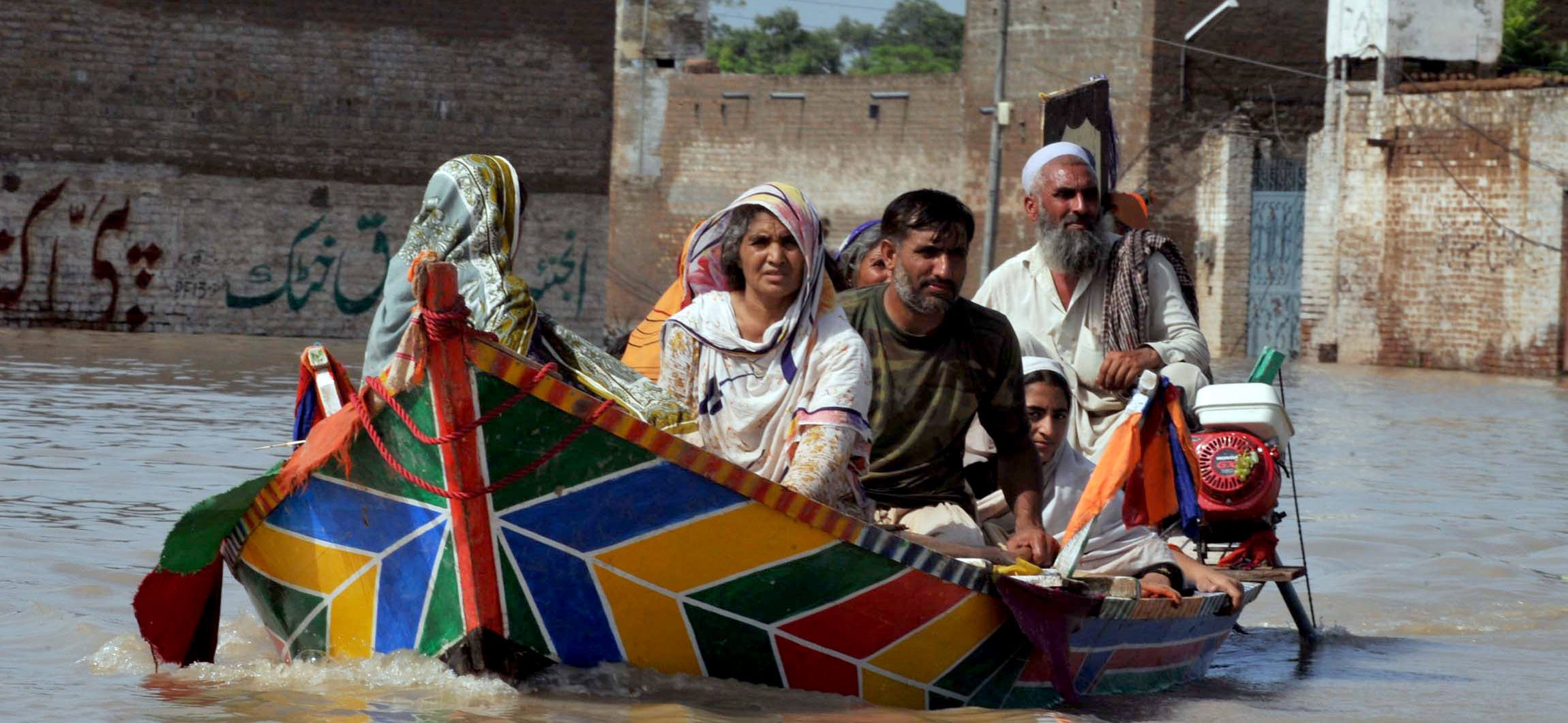 A family tries to escape the floods in northwestern Pakistan | By Abdul Majeed Goraya / IRIN.
Preparing for Climate Mitigation in South Asia
Working with partners in India and Bangladesh, including the world's largest non-governmental organization, Bangladesh-based BRAC, and the world's largest union of informal sector workers, the India-based Self-Employed Women's Association, as well as government agencies, policy research institutes, and social entrepreneurs, the cluster on adaptation and climate-driven migration in South Asia will identify, test, and deploy adaptation strategies using financial, policy, educational, and technological interventions.
The cluster is led by Caroline Buckee, a professor of epidemiology at the Harvard Chan School and a Mittal Institute partner for climate-related research, and co-investigator Satchit Balsari, Mittal Institute Steering Committee member and a Harvard assistant professor of emergency medicine and of global health and population. The interdisciplinary team also includes Tarun Khanna, LMSAI Director and the Jorge Paulo Lemann Professor, Harvard Business School, and Jennifer Leaning, LMSAI Steering Committee member and senior research fellow, FXB Center for Health and Human Rights. The cluster will take advantage of expertise from the Business School, Faculty of rts and Sciences, the Kennedy School, School of Engineering and Applied Sciences, and the Medical School, as well as UC Berkeley, the James P. Grant School of Public Health at BRAC University, and the All India Disaster Mitigation Institute.
"What struck me is how much the impact of these erratic weather events is not necessarily foremost in either public consciousness or the consciousness of policymakers," Balsari said. "And as you think about all that needs to be done, you begin to recognize the vastness of the scope of policy changes that one will need to influence in order to mitigate the impact of these extreme weather events on vulnerable populations. You have to first generate the evidence to show that these interventions work, and then figure out what the theory of change is to empower the communities to advocate for policy change to institutionalize these changes."
During a recent visit to India, Balsari witnessed both severe heat waves and seasonal rains that damaged growing crops. He was struck by how such events might not register in the official consciousness but can be devastating to individual growers. And current strategies like crop insurance can be inadequate, as policies tend to cover drought but not excessive or out-of-season rain, which could become more frequent as rainfall patterns shift.
Listening will be an important part of the project, Buckee said, as farmers and others on the ground may have solutions that could be models elsewhere.
"In Bangladesh, where there have been cyclones and floods for decades, simple advances in storm shelters and evacuation patterns have significantly decreased mortality," she said. "We should be leveraging these indigenous innovations across the global South."
Extreme weather "will likely increase in frequency and severity for the foreseeable future," she added. "We are interested in the Global South and in low-income settings because those are going to be the most vulnerable to the impacts of extreme weather events."
Parts of this text were excerpted from an article by Al Powell for the Harvard Gazette.