Harvard Law Review has elected second-year student Apsara Iyer as its 137th President. Founded in 1887, the Harvard Law Review is among the oldest student-run legal scholarship publications. We spoke with Apsara about the position, and what she envisions for her tenure.​
Mittal Institute: Congratulations, Apsara! You are the first Indian-American woman in the history of the publication to be named President. What does that distinction mean to you?  
Apsara Iyer: I'm incredibly humbled and honored to have been elected the President of the Law Review. Coming into the role, I'm humbled knowing that I am here following the work of countless pioneers who have previously held the position. And I am honored when I think of the inimitable leadership and dedication of the outgoing president, Prisicila Coronado. 
Mittal Institute: Have you always been drawn to the legal field? What led you to apply to Harvard Law School?
Apsara Iyer: My unexpected journey to law school began in 2013 in a small village in Rajasthan, thousands of miles from Boston. An undergraduate student at Yale University researching the trafficking of Indian artifacts, I had travelled outside of Udaipur to a temple that had experienced a theft of several mother goddesses. As I met with local witnesses in the village who remembered the statues, one witness asked me when the "matas" [mothers] would be coming home. I realized I didn't have an answer, but I wanted to do more than just my research. This conviction led me to begin working at the Manhattan District Attorney's Office's Antiquities Trafficking Unit (ATU), a task force dedicated to investigating stolen art and returning it to its lawful owner. (In 2022, I worked with the ATU to successfully repatriate to India one of the goddesses which had been stolen from the site I had visited nine years prior).
Being at the ATU, I was surrounded daily with different legal tools and questions – questions of criminal law, international property law, and art law. This setting motivated me to apply to Harvard Law School, so I could continue my work on cultural heritage protection with a more informed legal perspective.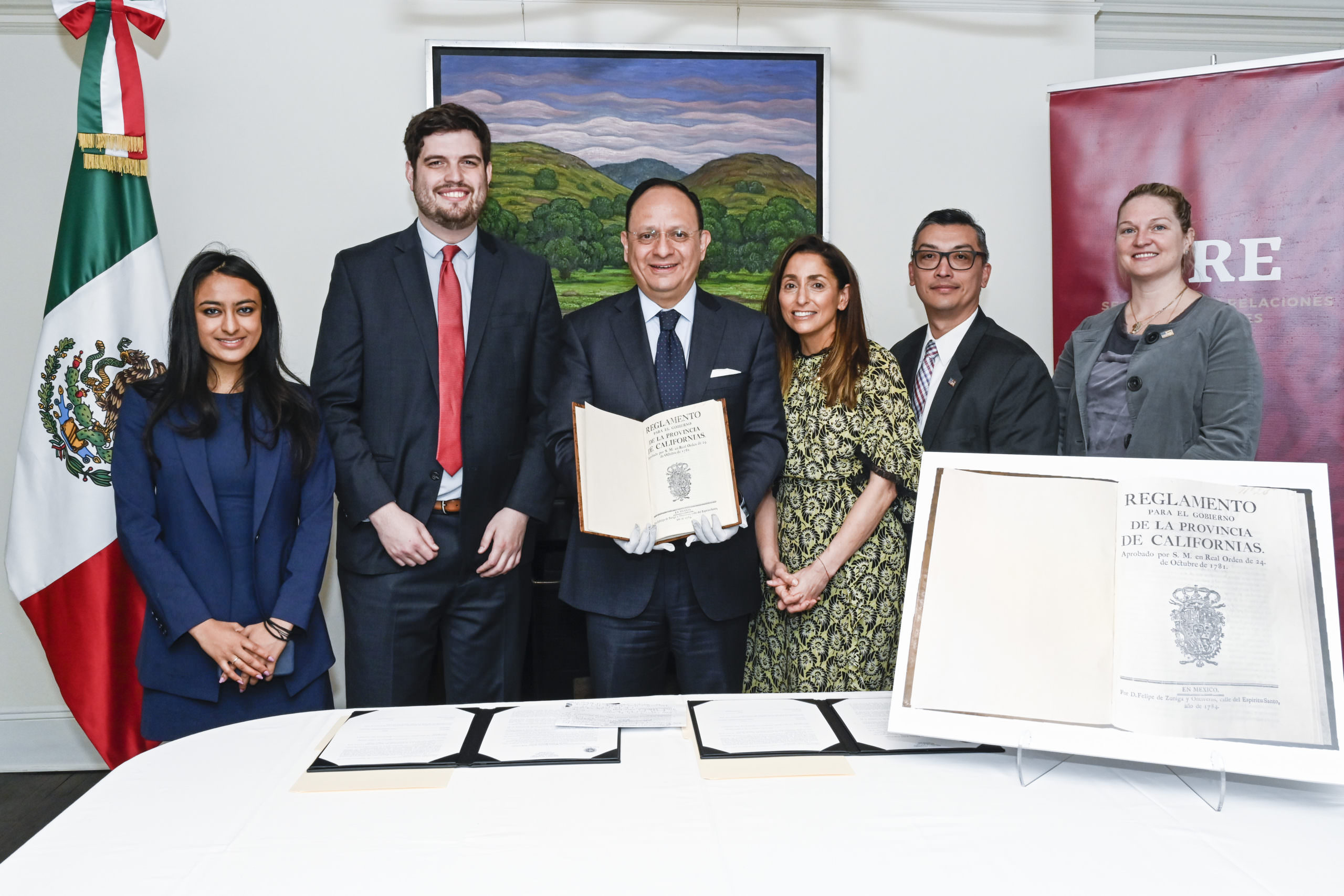 Apsara (left) at a ceremony to repatriate to Mexico a manuscript that had been stolen from the Archivo General de la Nacion (AGN) .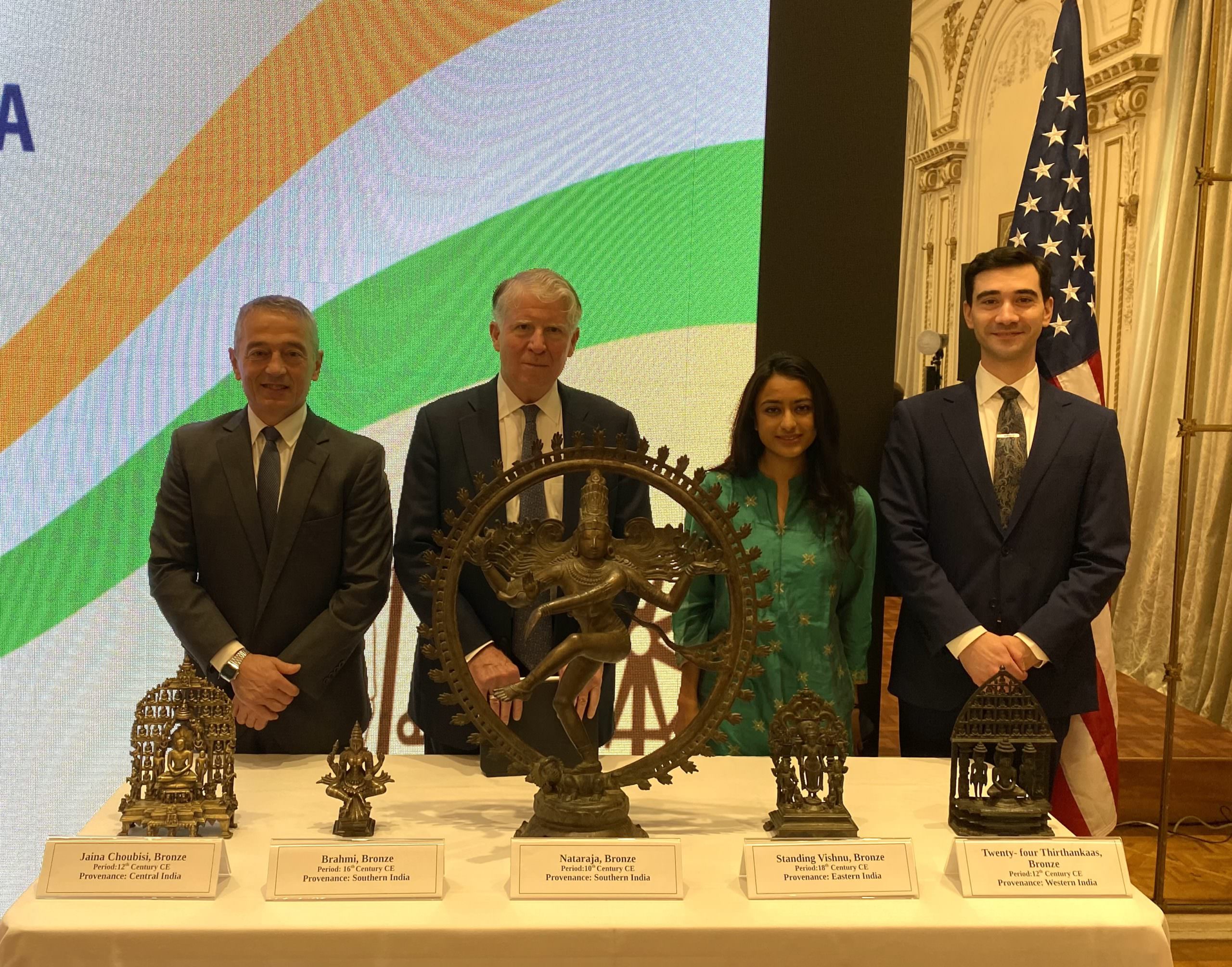 Apsara at a ceremony for the repatriation of Indian antiquities at the consulate in New York.
Mittal Institute: What type of law would you like to focus on, and why?
Apsara Iyer: Although I came to law school with a keen interest in art law, I've only become more aware of the various, exciting areas of the law by being at Harvard Law School. Specifically, I have become fascinated by property law, constitutional law, and international law. All this is to say, law school has broadened my horizons and I hope to work in the future in some intersection of the three areas.
Mittal Institute: How did you become involved in Harvard Law Review, and can you talk about the election process for President?
Apsara Iyer: I joined the Harvard Law Review prior to starting my second year of law school (generally, student editors serve on the Law Review for two years over their second and third years). Every year, elections are held at or around the beginning of the Spring Semester. I am grateful to have run alongside so many other talented candidates, and honored that my fellow editors entrusted me with the role.
Mittal Institute: As President, what will your new role entail, and what do you hope to bring to the position?
Apsara Iyer: As President, I am responsible for the editorial, community, and management aspect of the Law Review. More practically, this means working with our 98-member body to produce eight issues a year while building and supporting our community. Part of what excited me about running for President – and that I hope to bring to the role – is a commitment to community and intellectual curiosity.
Mittal Institute: What is the best thing about your involvement with the publication?
Apsara Iyer: For me, the Law Review has provided exposure to new areas of the law and extremely talented peers. As someone who took time off from law school to work (I returned to the Manhattan DA's Office from 2021–22 on a leave of absence from Harvard), the Law Review has been an incredible way to meet other people and work together on a common project.
Mittal Institute: Post-Harvard, what are your career plans?
Apsara Iyer: While I am still figuring out what I plan to do post law school, I hope that it will be meaningful work at the intersection of law and policy.