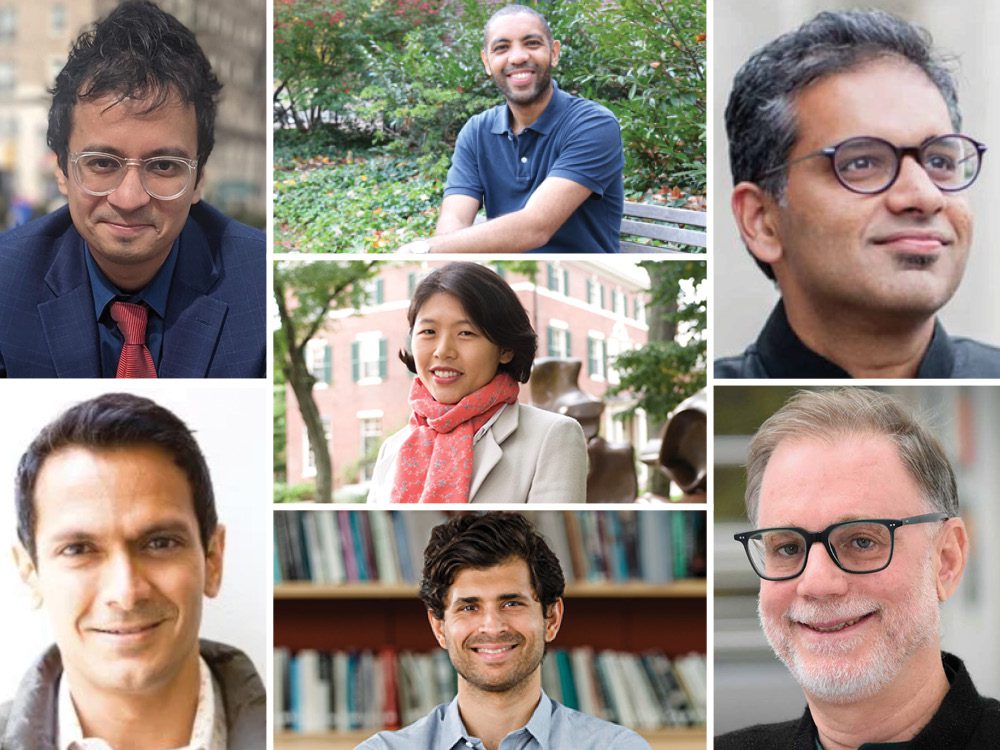 LMSAI Faculty Research Grant Recipients (clockwise, left to right): Vikrant Dadawala, Emmerich Davies, Teren Sevea, Richard Wolf, Jinah Kim, Adaner Usmani, Satchit Balsari.
2023-2024 Award Winners
The Mittal Institute annually supports faculty research projects that unite scholars from different fields and regions whose research relates to South Asia. Interdisciplinary scholarship, as well as projects that catalyze connectivity between scholars at Harvard and those in South Asia, are a funding priority. We are pleased to announce this year's grant recipients—earning some of the highest individual funding amounts in Mittal Institute history—and their research initiatives below.
Cambridge Based Projects
The Decades of Disillusionment: India and the Cold War
Principal Investigator: Vikrant Dadawala, Lecturer, History and Literature, Harvard College
The Impact of Jio on Electoral Politics
Principal Investigator: Emmerich Davies, Assistant Professor of Education, Harvard Graduate School of Education

Exilic Journeys and Lives: The Transregional Paths of Saints, Soldiers and Rebels from North India, 1850s-1940s
Principal Investigator: Teren Sevea, Prince Alwaleed Bin Talal Assistant Professor of Islamic Studies, Harvard Divinity School
Pots of Millet, Faces of Gold (a film)
Principal Investigator: Richard Wolf, Professor of Music, Professor of of South Asian Studies, Harvard University Department of Music

India Based Projects
Women Workers Negotiating the Pandemic in India: An Online Archive
Principal Investigator: Satchit Balsari, Assistant Professor in Emergency Medicine at Harvard Medical School and Beth Israel Deaconess Medical Center
Mapping Color in History [MCH] Mobile Heritage Lab: Towards Collaborative On-Site Pigment Research in South Asia
Principal Investigator: Jinah Kim, George P. Bickford Professor of Indian and South Asian Art, Department of History of Art & Architecture

History of Punishment in India
Principal Investigator: Adaner Usmani, Assistant Professor of Sociology and Social Studies, Department of Sociology