This past January, Pranav Moudgalya, Harvard College 2026, set off for Bengaluru, India for two weeks of service. He spent his winter term as an intern at non-profit The Akshaya Patra Foundation, the worlds largest school meal program that feeds 1.76 million children across India. As an intern at Akshay Patra, Pranav hoped to learn how an NGO of such size and scale is able to sustain its impact on decreasing food insecurity. 
Pranav's project was funded through the Mittal Institute's winter student grants program. LMSAI annually awards winter and summer funding for Harvard undergraduates to participate in research, language studies or internships across South Asia. What follows is Pranav's experience, in his own words. 
As she walks to the steel vessel, steam emanating from the rich and savory pulao and sambar that were prepared freshly that same morning, Anjali knows that the food she will collect in her plate is not just her lunch. Indeed, it is the only meal of nutrition and sustenance that she, her mother and her father will have that day. Because of Akshaya Patra, today, and every day, Anjali will not go hungry, and when Anjali brings food offered by Akshaya Patra home, neither will her parents.
When I first heard Anjali's story from Vivek Sathyamurthy, a media and PR manager at Akshaya Patra, I was deeply moved. I had read about Akshaya Patra years ago. Its impactful social impact work had made headlines in global news outlets and was featured in the Harvard Business Review––I knew that the organization existed and was doing incredible work in the fields of food insecurity, education, and sustainability. What online reading failed to convey, however, was the life-changing power of one hot, nutritious meal.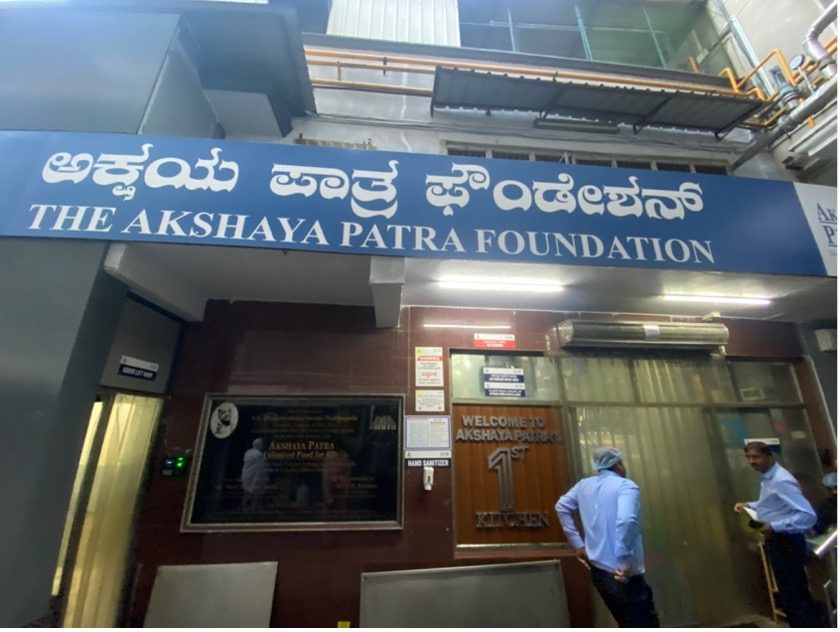 Akshaya Patra kitchen in Bengaluru, India | By Pranav Moudgalya.
In January 2023, I had the incredible opportunity to spend two weeks as an intern at The Akshaya Patra Foundation (TAPF), headquartered in Bengaluru, India. The organization hardly needs any introduction. A quick Google search reveals that TAPF has distributed nearly three billion midday meals to school children across India and serves two million odd students daily. My mission was to understand what makes Akshaya Patra, a non-profit of arguably unmatched scale and manpower, operate in the effective and impactful way it does.
On my first day as an intern, I toured a TAPF kitchen. Kitchens operated by Akshaya Patra follow both centralized and decentralized models, and with 65 fully equipped kitchens across the Indian subcontinent, the processes and operations of these kitchens are incredibly streamlined and methodical. I observed large vats cooking thousands of kilos of rice and sambar (a South Indian stew made with lentils and mixed vegetables). The layout of the kitchen was meticulous, with gravity flow being used to carry thousands of liters of sambar into sterilized stainless-steel containers to be shipped off to hundreds of schools in the state of Karnataka. Every moving piece–the cooks working in perfect synchrony to stir and transport the rice, the machines designed to cook thousands of kilos of fresh vegetables, and various floors designated for chopping, boiling, and packing–was something to marvel at.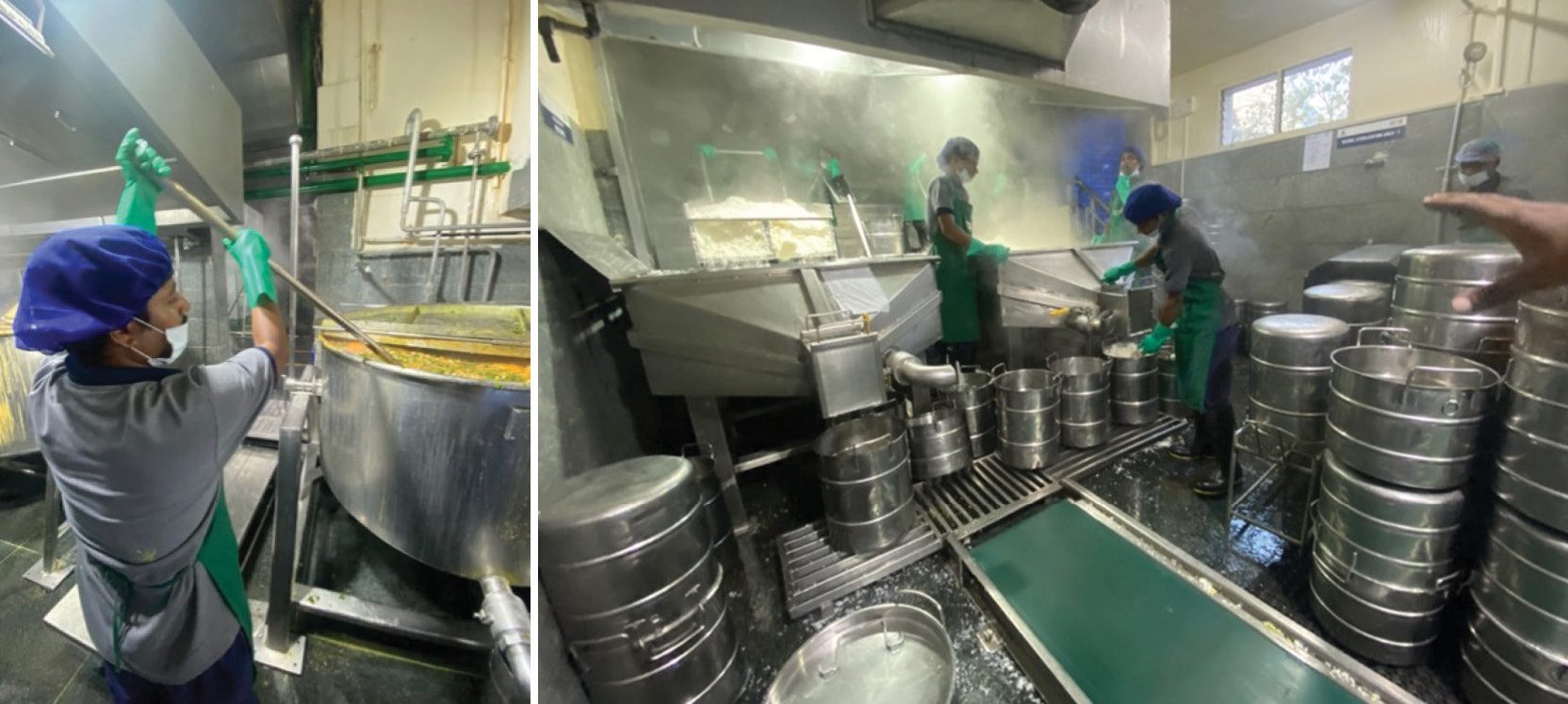 Cooking of sambar and rice for school meal distribution | By Pranav Moudgalya.
I asked my tour guide, "what makes this kitchen run so smoothly?" His response was simple, endearing, and delivered with a charming smile: "Every worker is united by a shared passion for ending child hunger."
Touring the kitchen was only the start of my engagement with Akshaya Patra. Soon, I had the opportunity to go to a primary school to witness firsthand hundreds of students consuming the scrumptious food that an Akshaya Patra kitchen had made that morning, with preparations starting at midnight.
Santhe Beedhi Government School in Bengaluru was the destination of my visit. Upon visiting, I visited two classrooms of tenth graders. It was there that I learned that not only was Akshaya Patra committed to providing students with hot, nutritious meals, but they were also actively engaged in fulfilling the educational dreams of Indian students. TAPF recently launched a program to provide post-secondary education scholarships for high achieving tenth graders. As I shared this program's details with the students, I couldn't help but notice their eyes light up, eager to attain a highly sought-after college education.
"What's your favorite part of school?" I asked, anticipating a wide array of academic interests to percolate the classroom that I was now leading. To my surprise, and delight, dozens of hands shot up, proclaiming lunch to be the most treasured aspect of their high school experience.
"The bisibele bath [a spicy rice porridge] is my favorite meal, it comes on Wednesdays," one student told me, his eyes beaming with excitement.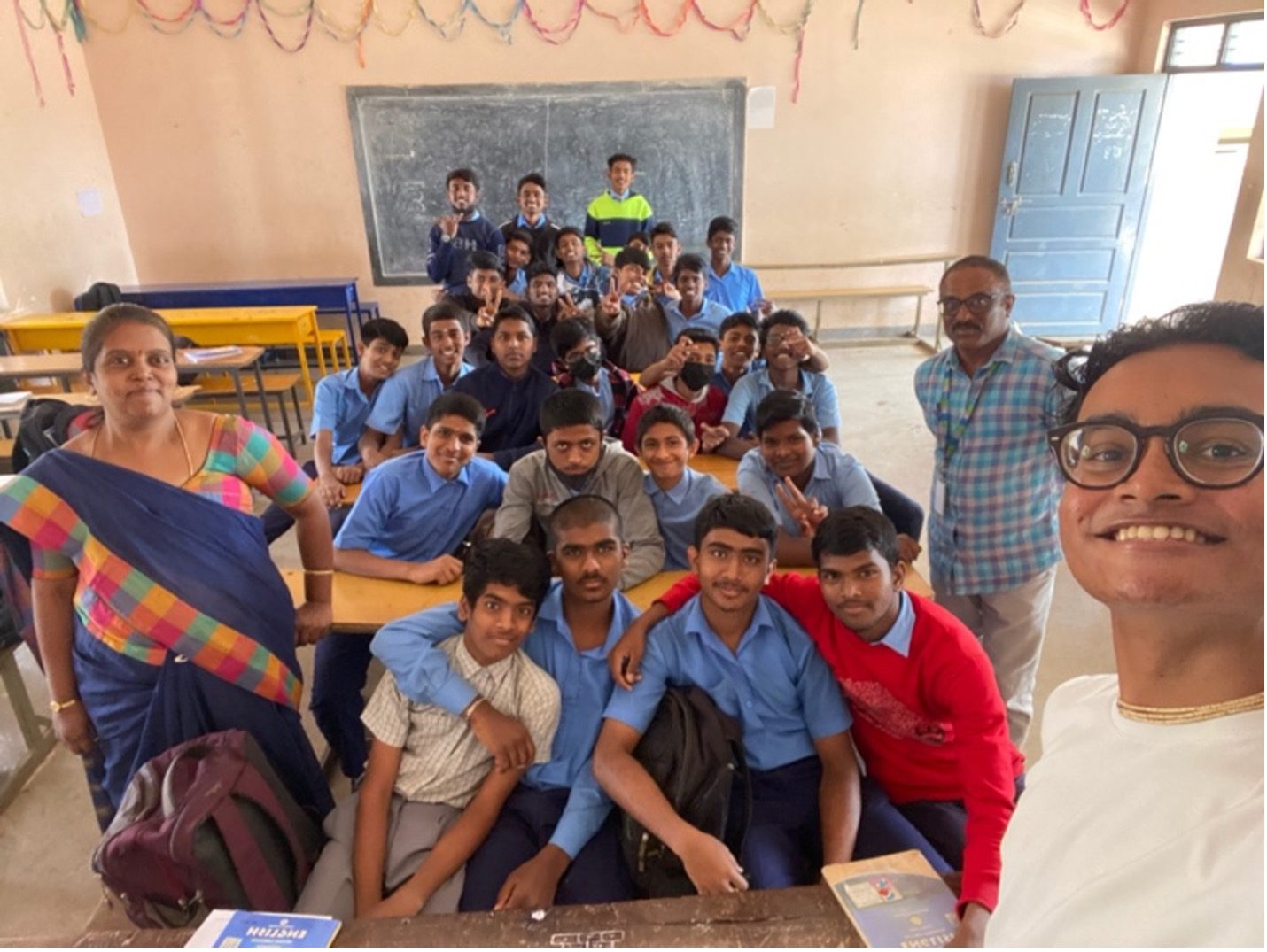 10th grade students at Santhe Beedhi Government School | By Pranav Moudgalya.
Every student I met had a dream. Some wanted to be doctors, and others businessmen. Two girls stated their desire to be school teachers, and follow in the footsteps of the educators who stood proudly in the classroom. The power of a meal was starting to become clearer. It enabled these students, whom I had now bonded with, to focus on their loftiest ambitions and make them a reality. With nutritious food in their stomachs, school became a place to learn, but importantly, a place to look forward to coming to.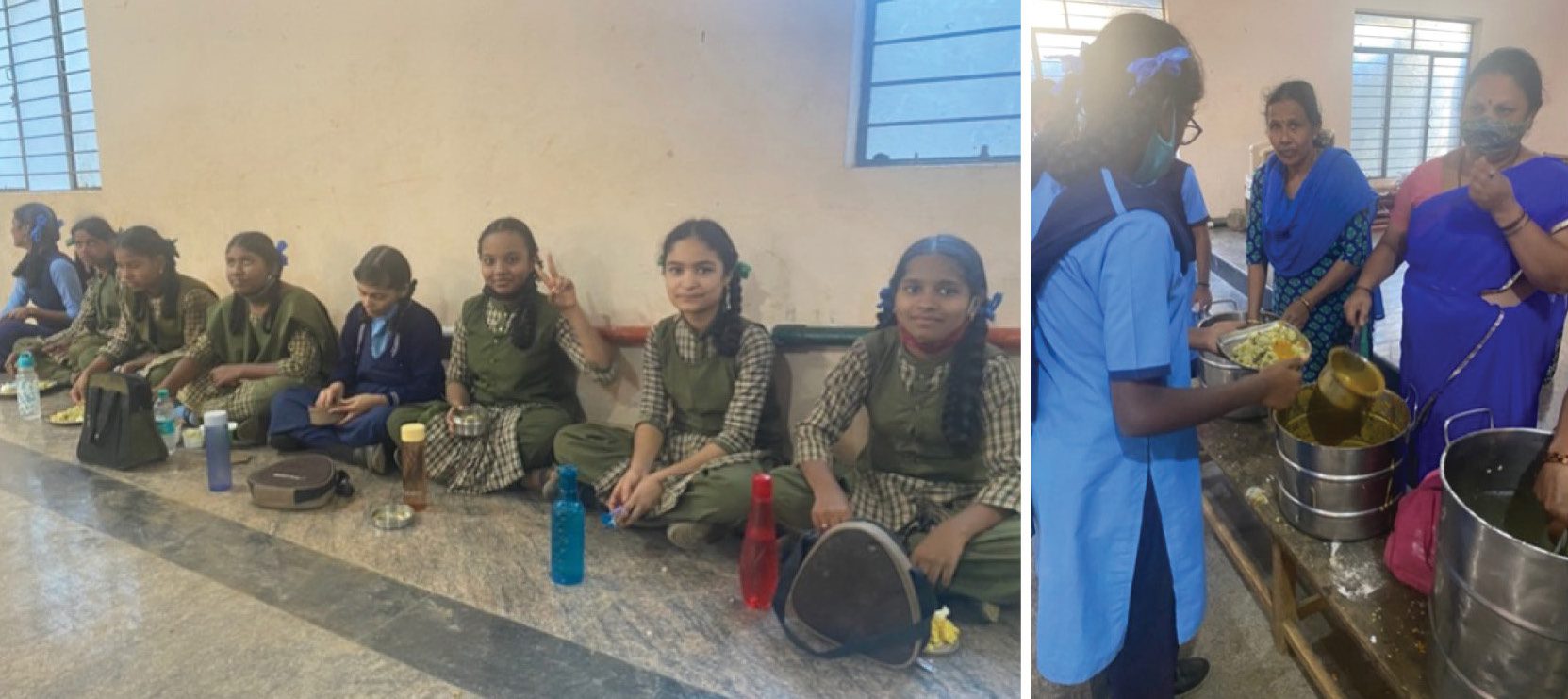 Food from Akshaya Patra being served by teachers to students | By Pranav Moudgalya.
My internship was filled with poignant stories of Akshaya Patra's midday meal involvement supporting countless students and their dreams. Something that stood out to me was that even in the corporate office of TAPF, a place I spent three days at, every employee shared the same beaming passion for TAPF's vision, that no child in India should be deprived of education due to hunger. Subhag Raj, one of my supervisors, mentioned that in his many years of experience working in the development sector, Akshaya Patra's impact was second to none. He shared with me his encounters of food insecurity in his home state of Kerala, and that his eyewitness accounts led him to be unwaveringly resolved in his conviction to work for Akshaya Patra. Mr. Raj was just one of many such employees I met, who's lived experiences and passion for equity drove them to work at Akshaya Patra.
By the end of my internship, the answer to my question–how does an NGO the size and scale of TAPF operate–became clear. Though Akshaya Patra has an incredible staff, responsibly and transparently manages their budget, and operates on the confluence of corporates and missionaries devoted to ending childhood hunger, every piece of Akshaya Patra is committed to its mission. The secret to Akshaya Patra's success is the pervasive attitude of 'our work is important and just' that manifests itself in all corners of the organization's operations. The cooks, the drivers, the students, and the administrative staff alike irrevocably believe in the good that one hot, nutritious meal can do for children.
Non-profits in the U.S, and globally, have much to learn from Akshaya Patra's model. I was immensely impressed by the deep public-private-partnership that TAPF has cultivated. Their funding is diverse and involves various stakeholders including multinational corporations, small and medium enterprises and individual donors. Their workforce is formidable, consisting of talented engineers, social workers, business heads, and HR staff. And most of all, their mission is clear and driving. Suffice it to say, Akshaya Patra is a gold standard of public service work, and I am thankful that I got a taste.
­­I would like to extend my warmest thanks and gratitude to the Mittal Institute for providing with the funding to embark on a once-in-a-lifetime opportunity of education, experience, and excitement. Thanks to the Institute's funding, I have reaffirmed my passions for service and have connected more intimately with my South Asian heritage.