Scienspur, a program that offers free STEM courses to economically disadvantaged college students across India, is built on the philosophy of igniting scientific curiosity. All courses are free, and all instructors volunteer their time – something that its students explain is particularly unique. "Very few programs have an interest in helping others with their career, without any profit…it has inspired my classmates and I to give back to others' education, when our own time comes," says Ebinesh S, a photonics major from the University of Madras, India. "It was an honor to be a part of an organization that works to elevate scientists from every corner of the globe."
This inspiring initiative is the brainchild of Nagaraju Dhanyasi, a postdoctoral researcher in the Department of Molecular and Cellular Biology at Harvard, and Jacob Vinay Vikas Konakondla, a biotech professional, positioned under the leadership of Venkatesh Murthy, Raymond Leo Erikson Life Sciences Professor of Molecular and Cellular Biology and a member of LMSAI's steering committee. Dhanyasi and Vikas joined forces in the fall of 2021 when they received a Mittal Institute faculty grant to bring the program to 60 students. Now, their numbers have skyrocketed, and they have reached more than 250 students across India's publicly funded colleges and universities.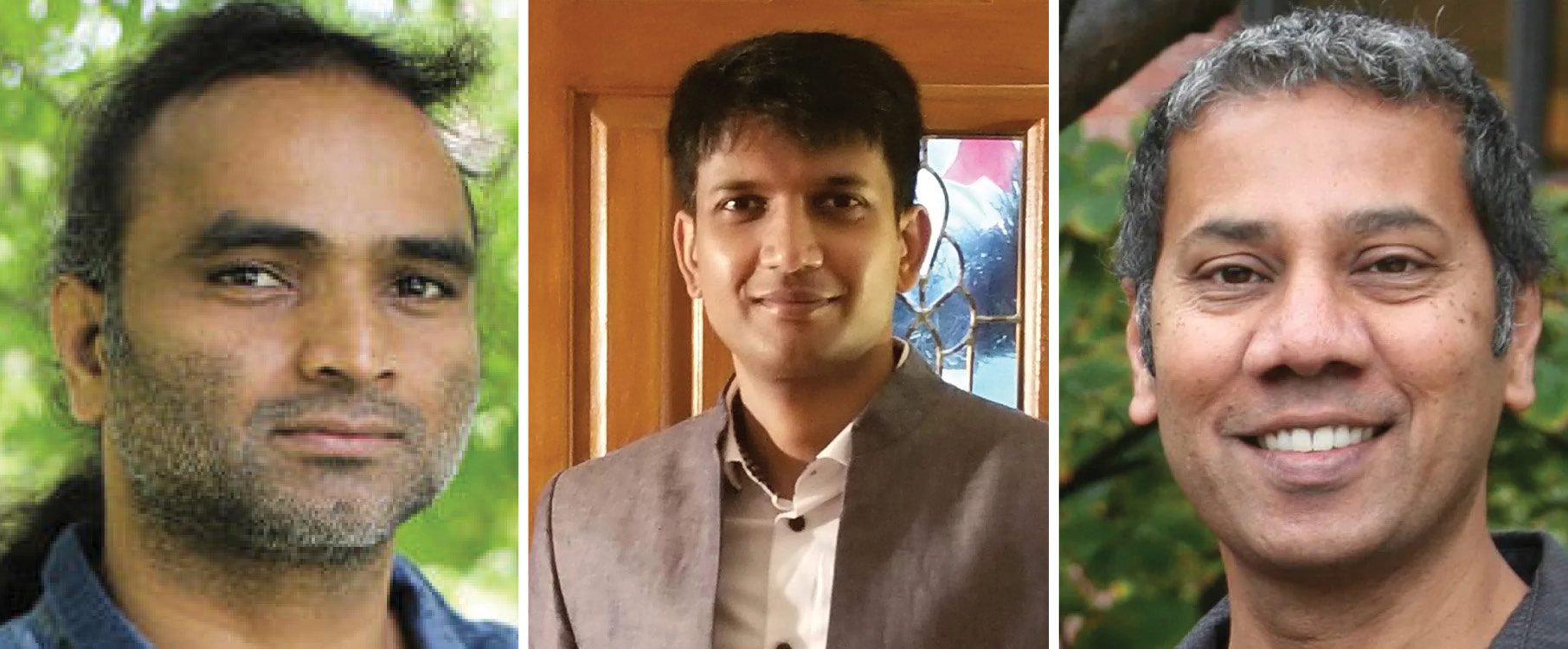 Scienspur founders (left to right) Nagaraju Dhanyasi, postdoctoral researcher in Harvard's Department of Molecular and Cellular Biology;  Jacob Vinay Vikas Konakondla, a biotech professional; and Prof. Venkatesh Murthy, LMSAI steering committee member.
Building Blocks of the Program
In India, a quality education is expensive, and limited to certain metro areas, explain Dhanyasi and Vikas. "Not everyone has the same kind of access – there is economic disparity, a lack of awareness and guidance, limited resources and exposure in public education. We want to close these gaps in higher education, by providing quality education beyond the regular academic activities."
The courses run three times a week, for 12-15 week sessions. They are held on Zoom, to connect as many students as possible to the coursework. And although most of the sessions are focused on scientific concepts in the field of biology and life sciences, they also include practical guidance like communicating science effectively; proposing a hypothesis; and best practices for research. The goal, say Dhanyasi and Vikas, is that this kind of teaching will instill scientific curiosity in students.
"The program taught me to speak up and ask questions," explains Sumoyee Ghosh, a human physiology major from the University of Calcutta. "From writing a good statement of purpose to making attractive presentations, Scienspur covers it all, aiding in the all-around development of a student, and helping us to think like a researcher." Ghosh, a two-time participant in Scienspur's cell biology and developmental biology courses, says that her interest in neurodegeneration was cultivated through her coursework. She has since applied to numerous summer schools, based on the guidance from her course mentors. 
Sumoyee Ghosh, University of Calcutta student, speaks about the impact of Scienspur's instructors on her experience.
A Legacy of Mentorship
As the number of enrolled students has climbed, so have the number of instructors. "We have grown from 20 postdocs in the fall of 2021 to 40 postdocs currently," explains Vikas. The team has recruited their network of volunteer instructors from world-class institutions across the United States, Europe and India, including here at Harvard University. "The instructors are the real strength of this program," says Dhanyasi. "They carve out time from their busy schedules to teach and mentor the students, and their commitment resonates with the core idea of Scienspur – to give back to others." 
The network of academic and industry professionals not only educate the students in scientific topics, they also continuously mentor them as they decide on their particular career paths. 
"We believe it's always helpful to have a mentor who can guide students at key times during their academic career. All of us were fortunate to have excellent mentors as we navigated the journey towards our current positions," say Dhanyasi and Vikas.
And it is the influence of the mentors that has the most indelible impact on the students. "The mentors were the heart of the course. Students are blessed with a friendly mentor-student relationship, making them live up to their full potential. And these dedicated researchers are still supportive, even after the completion of the class, to encourage successful careers for their students," says Ebinesh S., University of Madras photonics major.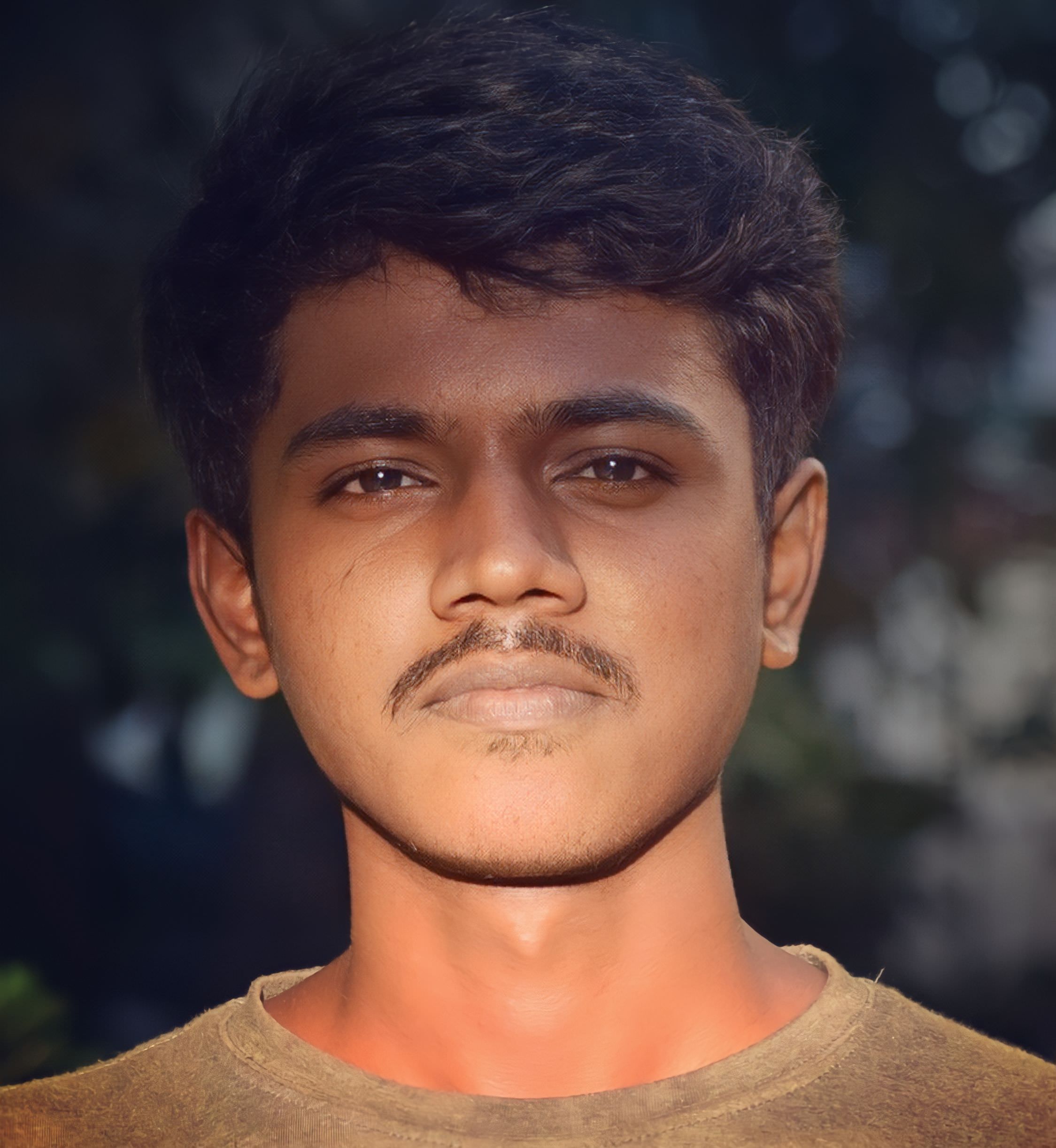 Ebinesh S., University of Madras student and Scienspur alumnus.
Women in STEM
Sciespur has also focused efforts on recruiting young women to join the program, expanding their competitiveness in the world of STEM. "We have encouraged women to participate in our program  because in the job market—or even in higher education—the drought among women in the field, particularly in South Asia, is high," remarks Vikas. 
The first semester began with a smaller number of female enrollees; now, one cohort has a majority of women. And often these alumni come back to the program to participate as teaching assistants and instructors. "These women have been flag bearers for science, and have encouraged other women in STEM to climb the ladder with them," say Dhanyasi and Vikas.
Gopu Chamundeshwari Devi, a microbiology student from Central University of Tamil Nadu, India, is graduating this year and says that her experience with Scienspur has helped in her career prospects as a woman in STEM. "I am keen on pursuing a career in research and was looking for opportunities to get trained in the best way possible to develop my interest in science," explains Devi. "I was excited to learn from the instructors, who are volunteering their free time to teach and nourish motivated students … I believe the mentoring I received from Scienspur will aid in securing and shaping me as a better researcher."
Gopu Chamundeshwari Devi shares what she gained from her Scienspur experience.
Next on the Horizon
As the program looks to the future, Vikas and Dhanyasi are already planning for sustained growth. "As part of our expansion, we are thinking about growing to 100 instructors, to be able to accommodate a larger number of students," they explain. "But we have a high quality of teaching and mentorship that we currently provide, and we want to make sure to always give it our best, and take every opportunity to help our students move successfully to the next step."
The team would also welcome a pivot from virtual courses to in-person lessons. "We would love to go on-the-ground and run these sessions for two weeks, so we can have interaction with students in person," they explain. "That component is something we have been dreaming about since the beginning." This was the intended format of the program, but the pandemic forced the team to shift to a virtual format. The silver-lining of the format allowed more students across a wider swath of the country to participate in the program.
As Scienspur begins planning for its fall 2023 offerings, Vikas and Dhanyasi say they hope the program can find sustained philanthropic funding to continue to make a difference, long into the future. "We ultimately hope and wish to sustain this initiative for the next 3 years…the next 5 years…and well beyond that."
This article was written by Kellie Nault, Writer/Editor at the Mittal Institute.