In the wake of India's G20 presidency, Sunita Nadhamuni believes there is a major opportunity, an "openness" toward technology in government programs, particularly health, that could pave the way for major transformations. Ahead of her panel discussion on "Building for a Billion: Experiments in Digital Health," we spoke with the social entrepreneur about some of her biggest digital achievements, lessons learned along the way, and what advice she would give budding entrepreneurs.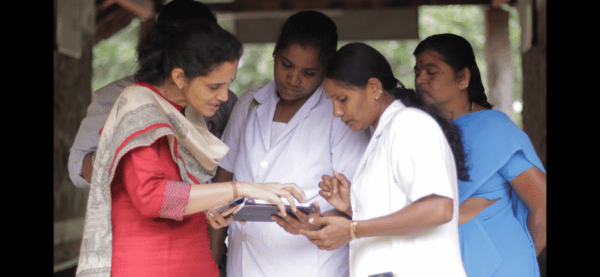 At Dell, you were Global Head of Social Innovation, where you founded Digital LifeCare, the technology system used by India's National Non-Communicable Disease (NCD) program, the world's largest NCD screening and management program. What were some of the biggest challenges along the way?
I can group the challenges into three buckets: technology, adoption and ecosystem coordination. All of these are manageable when serving up to a million or two people, but at nation scale of 500 million people, they
balloon to unimaginable proportions.
First, the design and development of technology involves complexity on multiple fronts. For instance, how do you make it attractive for overburdened health workers with limited digital literacy who feel forced into using an app? How do you ensure that the platform can perform consistently well under pressure from 32 states with different languages and administrative needs?
Second, adoption of the technology by users was led by our partner, Tata Trusts working with State governments and included training and supporting of more than 100,000 health staff. Multiple states ran NCD screening campaigns simultaneously, and they needed daily reports and trouble-shooting of issues faced on the field generating immense pressure for fast response.
And lastly, it was a high-pressure, dynamic environment with diverse stakeholders and perspectives. Working directly with the National Health Ministry of a program of significant importance to the country meant that there was high-visibility and therefore a need to be very agile and quick to respond to changes.
What were some of the lessons learned from working on this initiative over the last five years?
The first thing we learned was to build the software incrementally, both in terms of functionality and features, as well as the scale. We designed for scale but didn't directly build for 500 million people. We added on features and enhanced the performance progressively as the program matured and new demands arose.
Another lesson was to adopt a program-first approach. Though we were the technology partner, the goal was always the program's success, and we went the extra mile to do whatever was required to achieve it. We worked with the Ministry to modify the program design for improving usage by doctors and gave inputs into technology policy issues like data management. Participating in state reviews and hearing their honest feedback helped us collaborate and find ways to address their needs.
Also, we deepened our understanding of the public health domain and health systems. Without this interdisciplinary approach, it would have been hard to create something of relevance for the program.
Finally, we invested significant time and effort in ecosystem partnerships – the Ministry of Health and Family Welfare and all its institutional partners – incorporating varying perspectives and ensuring that everyone was aligned on the technology direction.
You have said that the environment in India is "highly conducive" to digital health. Could you talk more about the reasons for that and what needs to happen to take better advantage of this environment?
There are several. India is leading the Digital Public Infrastructure (DPI) space now and there are very exciting developments over the last few years. DPI is a network of open, interoperable platforms that enable countries to safely and efficiently deliver economic opportunities and social services to all residents.
The digital payments story and India's stunning performance of 80% financial inclusion achieved in six years has captured the global imagination. Along these lines, the Ayushman Bharat Digital Mission (ABDM) was envisioned as the DPI for health and was designed to address the problems of fragmentation with scores of rigid, monolithic IT systems in use. Though it's still early, ABDM holds a lot of promise for the health sector with its modular building block approach, standardized interfaces, and citizen-centricity in how consent is managed and data is shared.
With India's presidency of the G20, there is an openness and proactive push towards using technology within government programs, and we see that in the health sector. Understanding of technology and an appreciation of its potential is now fairly common among health-sector decision makers and leaders. The health-tech ecosystem has expanded; it's easier to find talent and expertise across the country.
What your best piece of advice for budding social entrepreneurs?
Develop depth in the domain you're interested in. Build an interdisciplinary team. Design for scale.
You are now the chairperson at Arghyam, which is focused on water security through community-based interventions. What continues to drive you to take on some of society's most intractable challenges?
The world faces seemingly insurmountable challenges today, and social-political or climate change upheavals seem to be commonplace, threatening to further increase the divide and marginalize the vulnerable. I believe it is urgent now more than ever to work on strengthening government systems and build capacities at the frontline so that our rural communities are not only protected but thrive.
But this is also an exciting time in India for those in the social impact space. For me personally, seeing my two worlds come together so naturally has been extremely fulfilling. My technology professional experience is enabling and empowering my passion and work in the social sector (health and water).