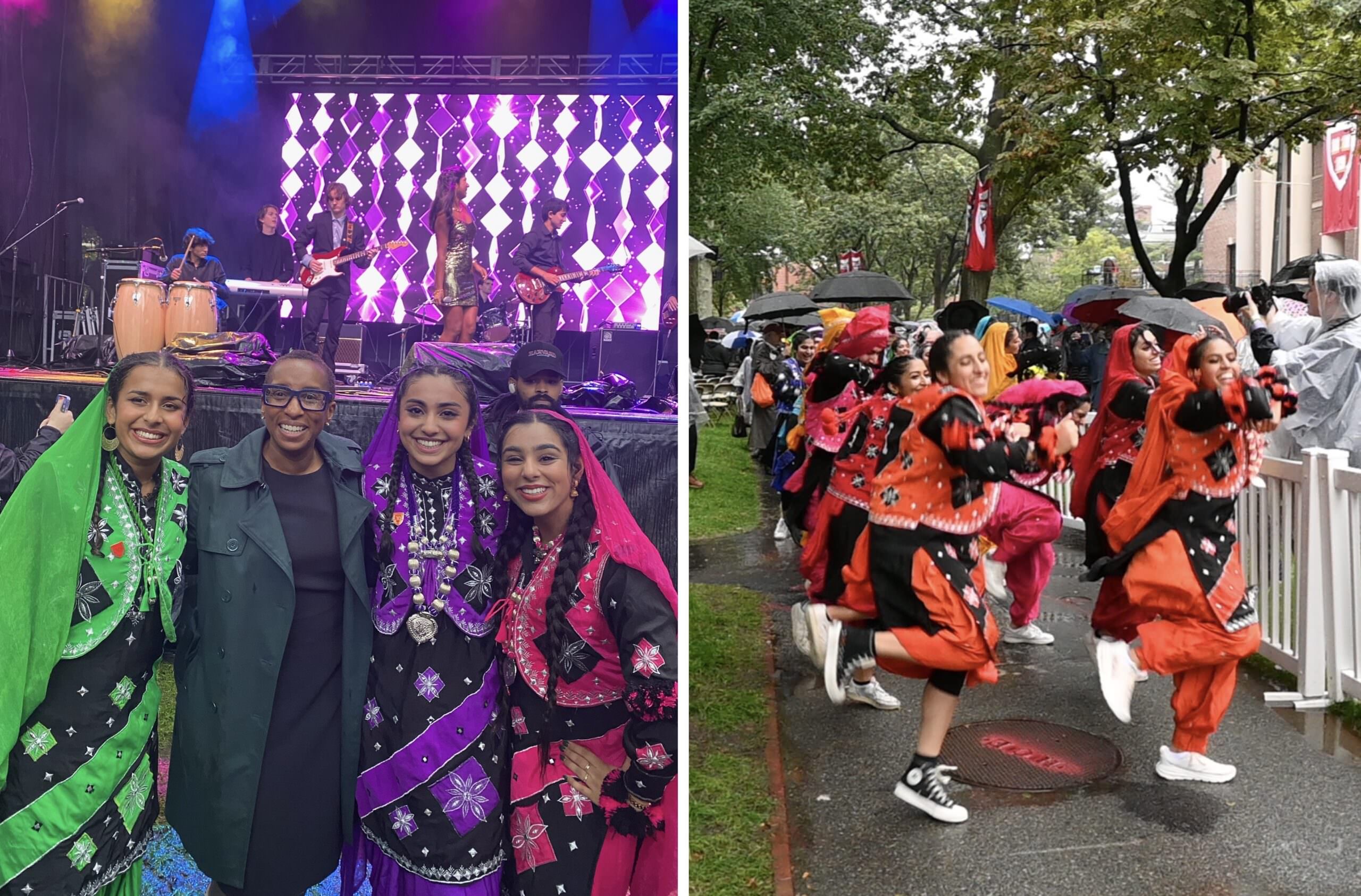 Harvard President Claudine Gay with members of the Bhangra dance team.
The inauguration of Harvard's 30th president, Claudine Gay, was a time to of celebration, marked by invocations, musical dedications, and greetings from students, faculty, staff and alumni. But it was a special performance by Harvard's Bhangra dance team that electrified the procession to Tercentenary Theatre, energizing the crowd huddled under rain-soaked umbrellas. Bhangra, a high-energy type of folk dance from the Punjab region of the subcontinent, is practiced at the University by the Harvard Undergraduate Bhangra team. The team is led by Sneha Shenoy '25 (History of Science and Economics); Jasleen Kaur '25 (Physics and Math) and Sanjna Kedia '25 (Applied Math and Computer Science). We spoke with Sneha to get the backstory on the inauguration invitation. 
Mittal Institute: Sneha, your performance at President Gay's inauguration was inspiring. Can you tell us about when and how you got the invitation to perform?
Sneha Shenoy: In mid-July, Jason Meier and Anne Marie Sousa (Co-chair of the Inauguration Celebration Committee and Co-chair of the Inauguration Ceremony Working Group) reached out to our team and asked if we would be interested in leading the recessional for President Gay's Inauguration. Of course, we were absolutely honored that President Gay requested Harvard Undergraduate Bhangra to be a part of such a monumental event, and accepted the invitation with open arms. Jason, Anne Marie, and the rest of the Inauguration committee worked with us for over two months to put this vision into play and we were truly grateful for the opportunity to share the beautiful art form of Bhangra with the Harvard community.
Mittal Institute: For someone new to watching Bhangra dance, what should they recognize and appreciate about the dance style?
Sneha Shenoy: Bhangra is an energetic style of dance, music, and art that originates from the agrarian practices of the Punjab region, but is now performed on a global scale. A typical Bhangra set has several components: dancing with props (called Saaps and Khunde), high intensity elements, and stylistic choreography. We celebrate Bhangra in fusion with hip-hop, rap, and other forms of South Asian music. Although each region in South Asia has its own unique traditions, culture, language, and history, through Bhangra, we're able to collectively overcome tremendous cultural and language barriers, while finding strength in unity, resilience, love, and joy. This energy and joy is hopefully evident to any person watching us perform.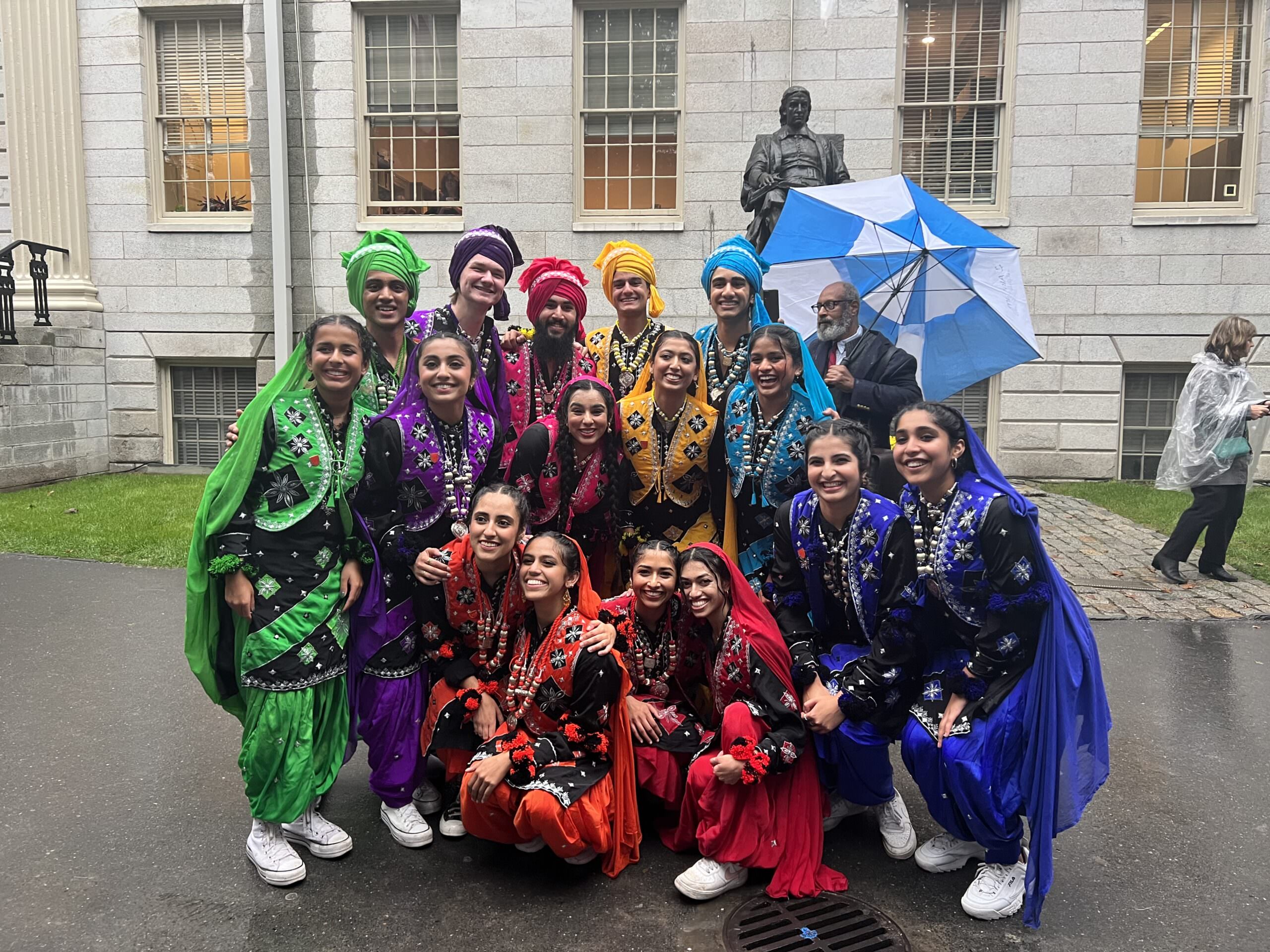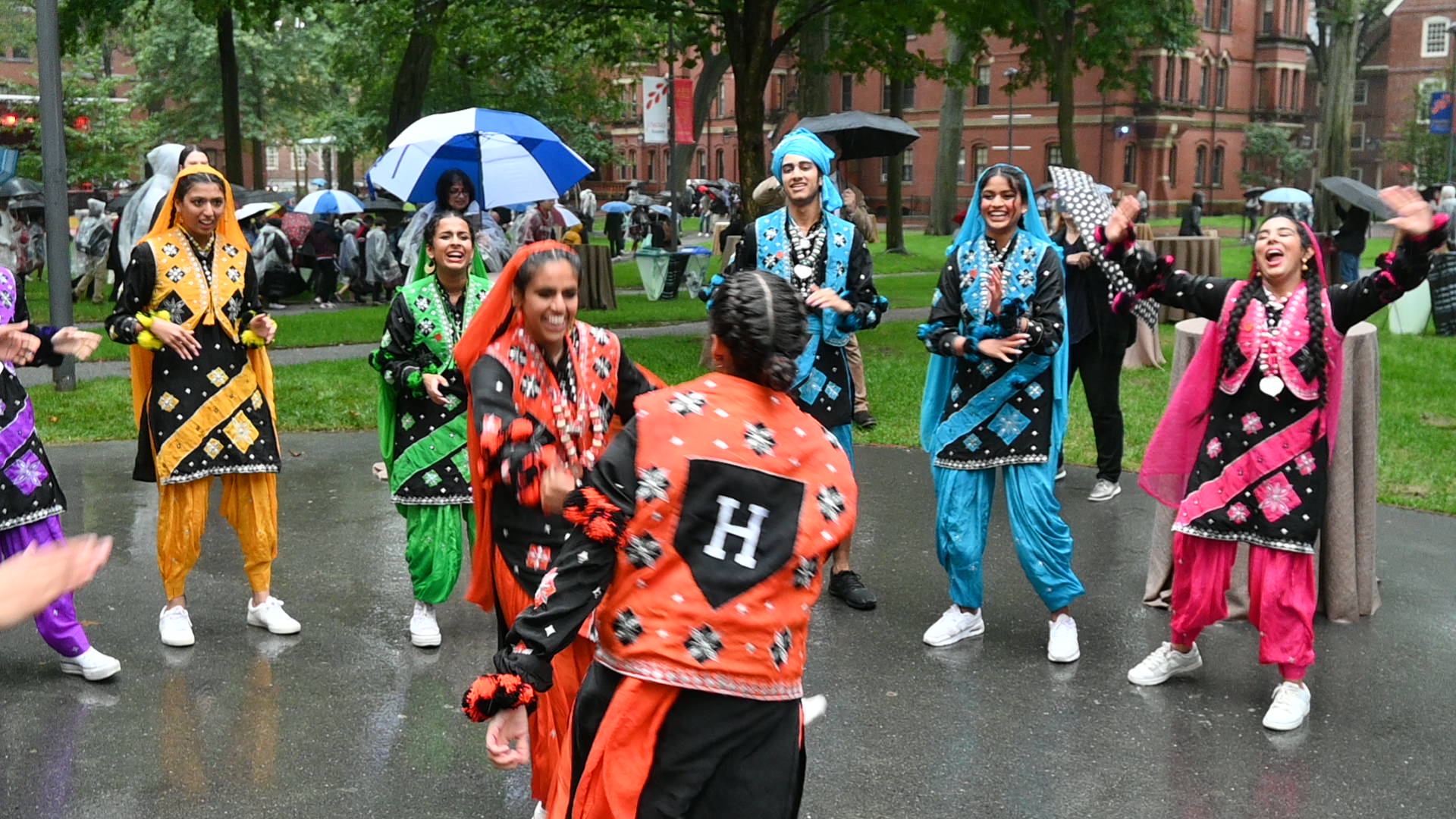 Mittal Institute: Was the inauguration one of the most memorable performances you have had?
Sneha Shenoy: Inauguration was definitely the most memorable—and largest—performance we have had. As the first Black president and second woman to lead the University, we couldn't be more honored to embody the importance of richness, heritage, and diversity through cultural dance at President Gay's Inauguration. In addition to having the honor of sharing Bhangra with thousands of individuals both inside and outside of the Harvard community, the performance itself was a new endeavor for all of us. We usually don't travel long distances while dancing, rarely perform outside with footwear on, and never dance in the pouring rain while wearing full costumes. The Inauguration performance combined all three of these aspects into one performance, really demonstrating how we can challenge ourselves as a team and as creative visionaries.
As the first Black president and second woman to lead the University, we couldn't be more honored to embody the importance of richness, heritage, and diversity through cultural dance at President Gay's Inauguration.
Mittal Institute: How long have you yourself been dancing, and what sparked your interest in first joining and then leading the Bhangra group?
Sneha Shenoy: I have been dancing since I was 5 years old. I am classically trained in both Bharatanatyam and Kathak, and both dance forms were integral parts of my childhood and adolescence. As much as I love classical dance, I knew I wanted to try something new when I entered college. With Bhangra being the only competitive South Asian dance team at Harvard, it was a no-brainer for me to try out for the team my first year. I am so grateful that I did, because the Bhangra family, or "Bhamily," as we have lovingly called ourselves, has become my home away from home, safe space, and creative outlet on campus. I truly love every person on our team and believe in the potential and growth we hold. Ultimately, that is what drove me to want to become one of the captains of this incredible group.
​Mittal Institute: You recently held tryouts – how many members do you have this year, and what does your competition season look like?
Sneha Shenoy: We have a team of 24 performing members and a few additional social members. Our first showcase of the year, Raunak, is coming up on October 21 and we are super excited to perform our competitive set for the first time this year! Raunak is also special, because it is an intercollegiate program hosted by our team and directed by last year's captains, seniors Parita Shah, Priya Thelapurath, and Tarina Ahuja. We will soon be in the process of applying to other competitions and showcases and hope to perform throughout the Northeast next semester!
​Mittal Institute: What has been your favorite aspect of performing on the Bhangra team?
Sneha Shenoy: I love seeing our team grow each year. When I joined Bhangra my first year, the team was still in its rebuilding phase post-Covid. Since then, it has been incredible to see the new talent and progress that have emerged over the past two years and I cannot wait to see how much more this team grows. Through our three practices a week and many performances throughout the year, this team has become a very tight knit group and I am lucky to call them some of my best friends on campus.