The Program for Scientifically-Inspired Leadership, funded in part and administered by the Mittal Institute, pairs Harvard undergraduates and Osmania university students with high school students from public high schools in Telangana for a cross-cultural learning experience built on the scientific process and focused on the liberal arts and sciences philosophy. By interacting together, all three groups gain a deeper understanding of teaching and learning. The program is the brainchild of Dominic Mao, Assistant Director of Undergraduate Studies for two of Harvard's life science concentrations and a lecturer in the Department of Molecular and Cellular Biology at Harvard. We spoke with him for more on the program, and what the teacher/student interaction is like.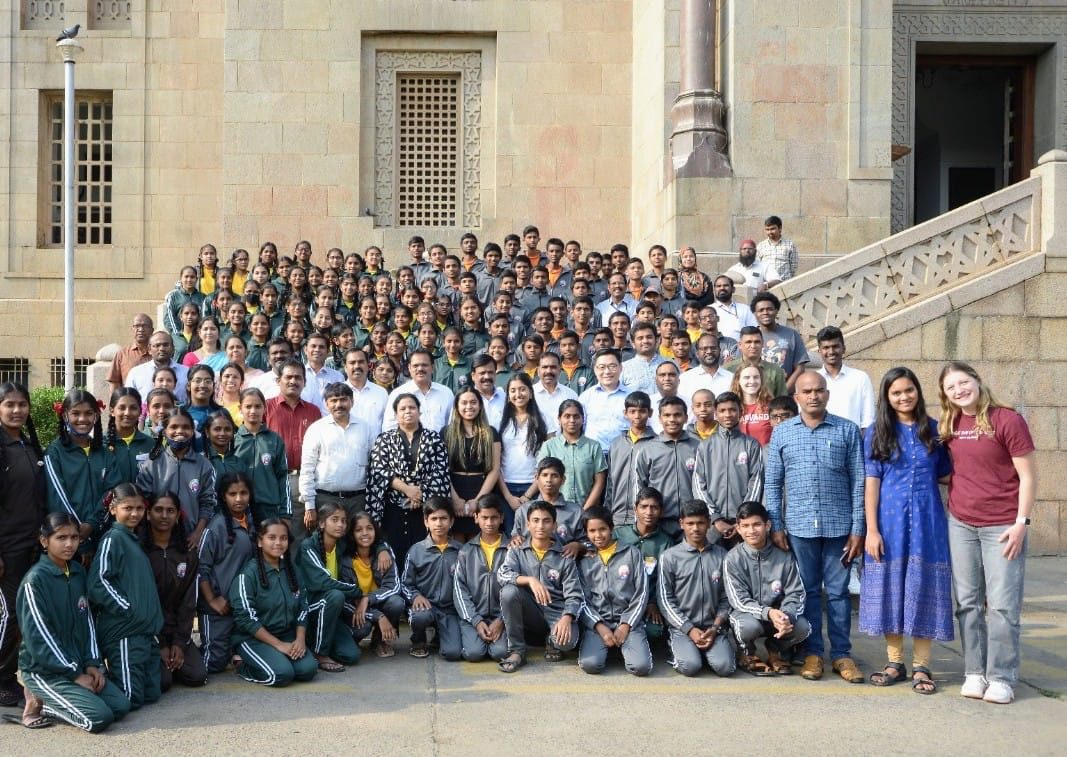 The PSIL 2023 cohort: 5 Harvard Undergraduates, 5 Osmania University students, 108 Telangana BC welfare high school students.
Mittal Institute: Dominic, you developed PSIL in 2019 – where did the idea come from?
Dominic Mao: Having gone through the Indian education system from K-Masters, I was able to identify areas for improvement where I could directly apply my scientific training and experiences as a Harvard Lecturer. I reached out to my peers who are now parents and teachers to fine tune different aspects of the program.
Mittal Institute: What learning gaps does the PSIL program address?
Dominic Mao: PSIL is a platform that brings three groups of students together. The high school students get exposed to a curriculum based on the liberal arts and science philosophy. This is extremely important because in India students typically pick a "stream" – science, arts, or commerce – after their 10th grade and there are very limited opportunities for students to receive formal education on topics that are outside their stream. We build the curriculum focusing on skills and knowledge they would not normally get in their classrooms.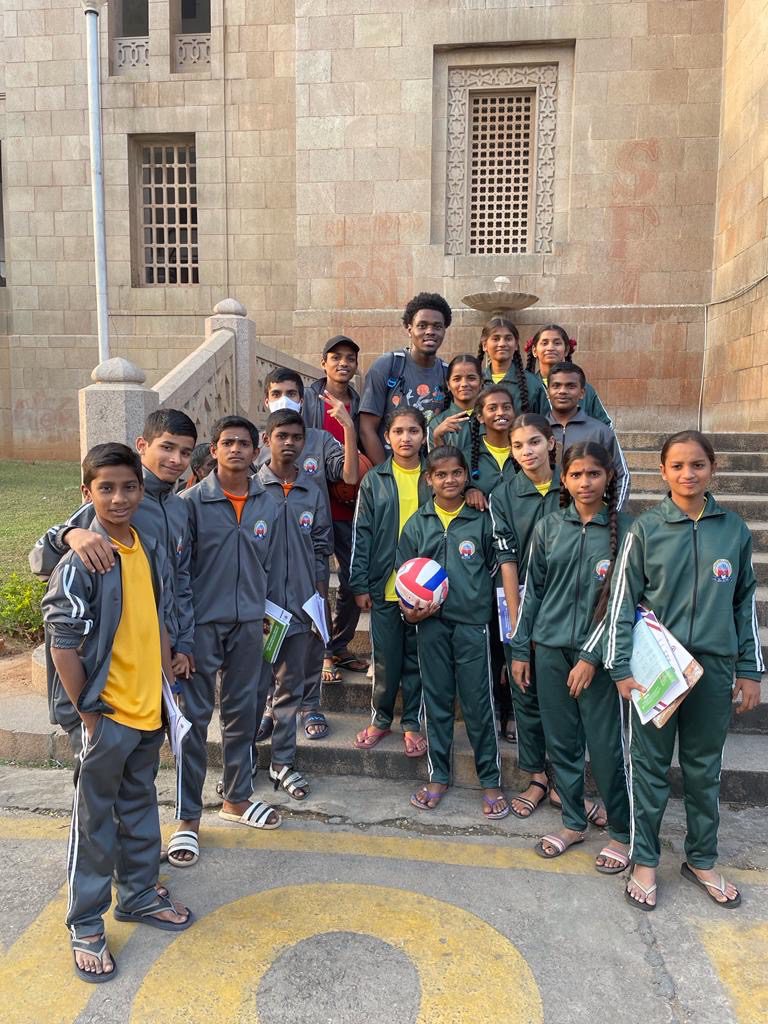 Jaylen (Hist and Lit concentrator) with his students.
Mittal Institute: You just concluded the application season for the next session, after an MOU for the next iteration of the program was signed. Can you give us a look at what it took to sign that first MOU – how did you initially connect the three entities and what did it take to develop the program?
Dominic Mao: Before the first MOU was a lot of groundwork to demonstrate proof of concept. LMSAI and Harvard provided the seed funding to pilot, explore, and experiment. We were successful in running and optimizing the program for two years in Manipur because of internal support. Two bureaucrats from Telangana came across the PSIL webpage while they were at Harvard, liked the work we were doing, and connected me to key people within their network that made the first (and the current!) MOU possible. Many have said this before: do the work and do it well, make sure the work is visible and eventually you will find like-minded people who can take it to new levels. 
Mittal Institute: All three groups – undergraduates and high school students – interact closely. Can you talk about their interactions and what you envision each gain from the other?
Dominic Mao: There is a lot of information transfer and expansion of world views! The Harvard students dispel a lot of myths for both groups of Indian students. For example, there is a popular myth that only privileged individuals attend Harvard. Learning about the funding opportunities at Harvard and that the college meets 100% of demonstrated financial need comes as a huge surprise to everyone! 
Harvard students learn about jugaad in a real-world setting and get a meaningful service opportunity; through PSIL, the Harvard team gets to step outside the Harvard bubble and comes back always more appreciative of the resources we have available.
Among other things, Harvard students learn about jugaad in a real-world setting and get a meaningful service opportunity; through PSIL, the Harvard team gets to step outside the Harvard bubble and comes back always more appreciative of the resources we have available.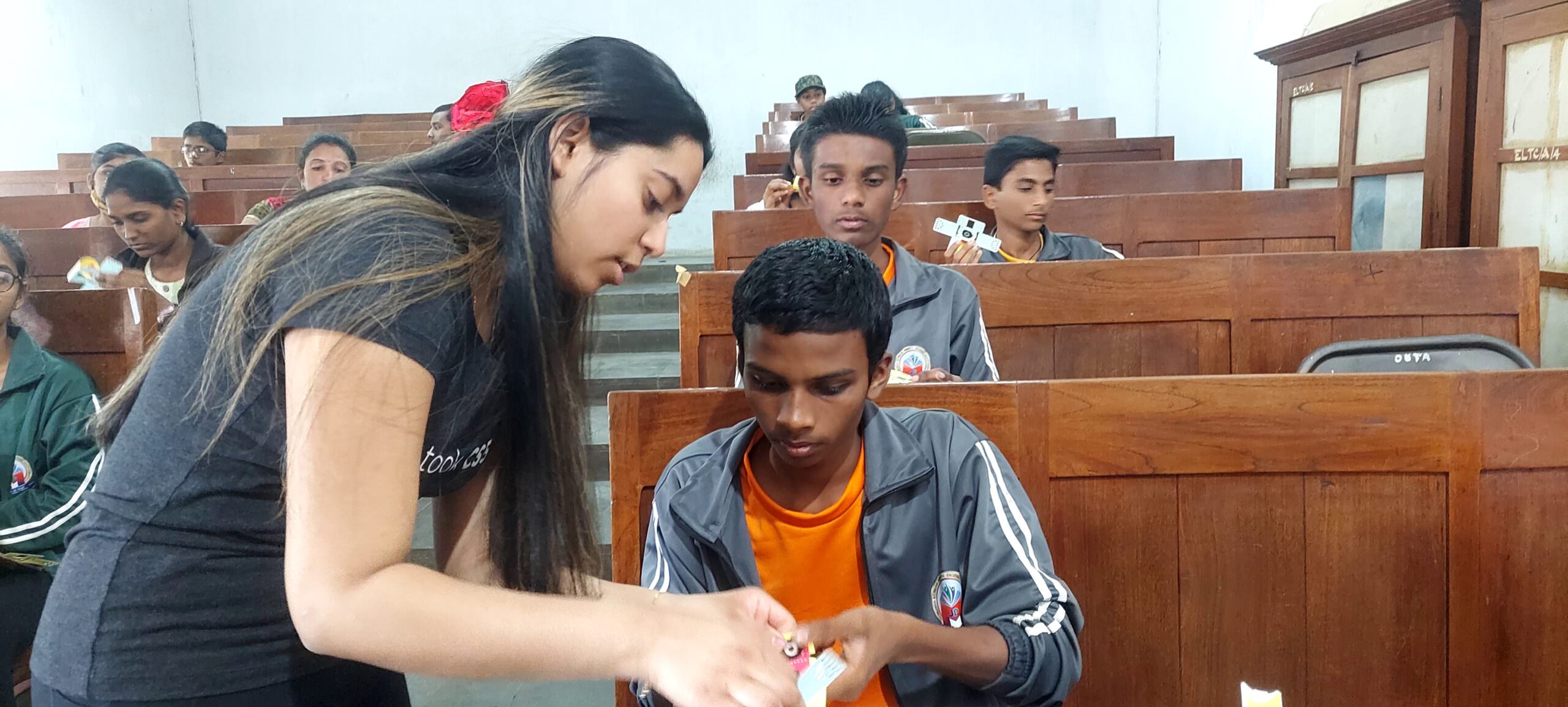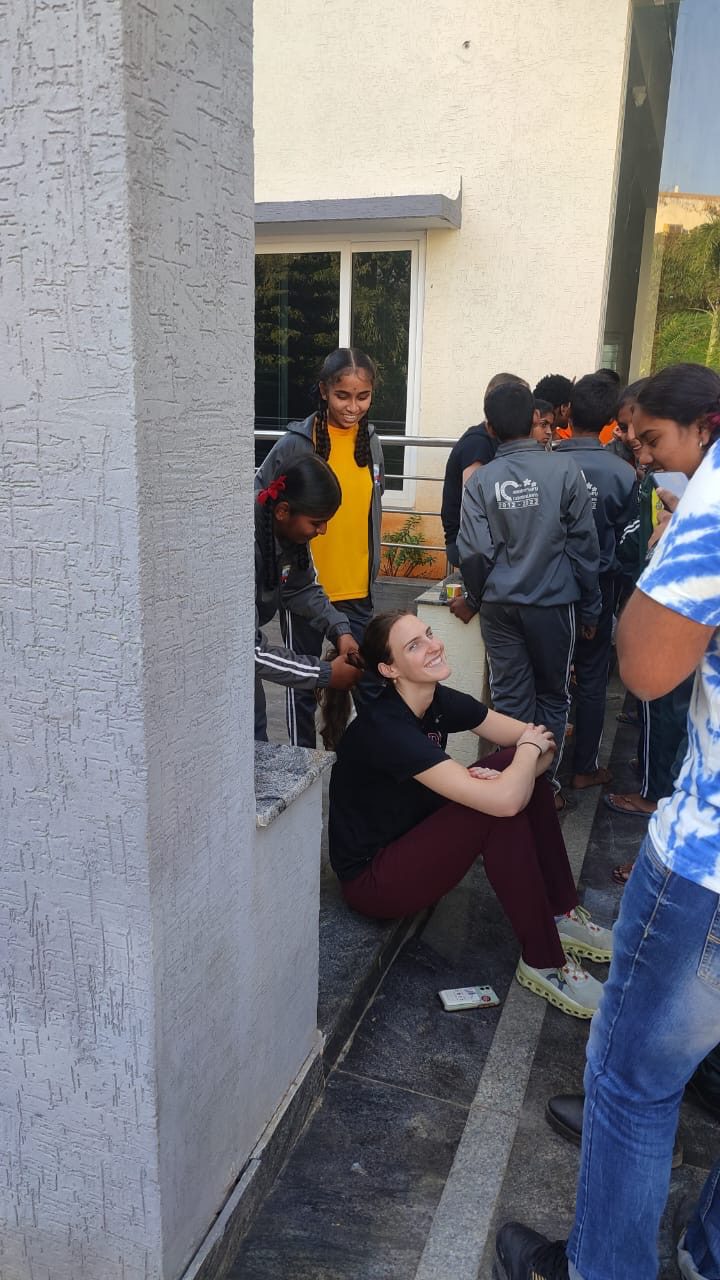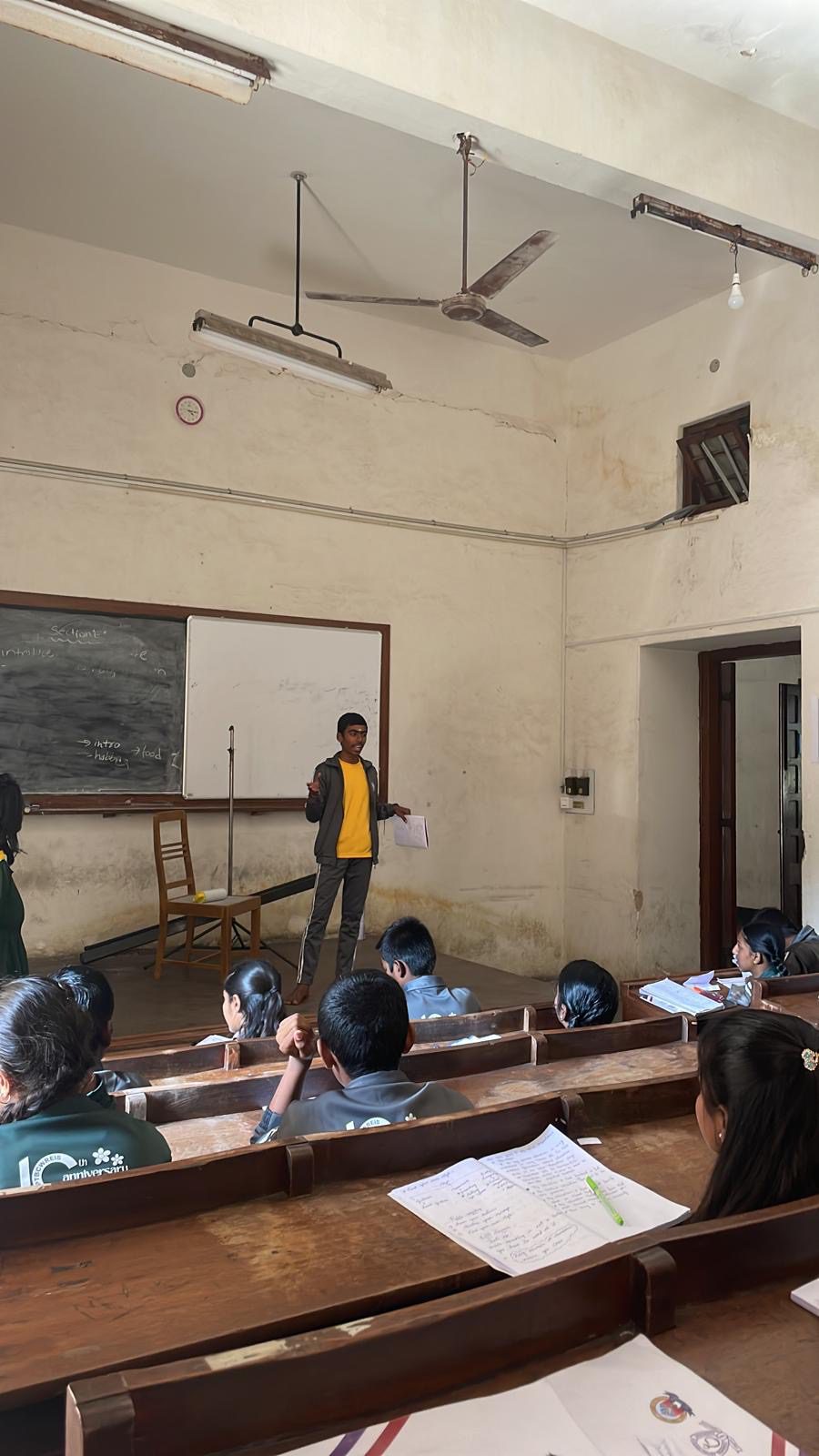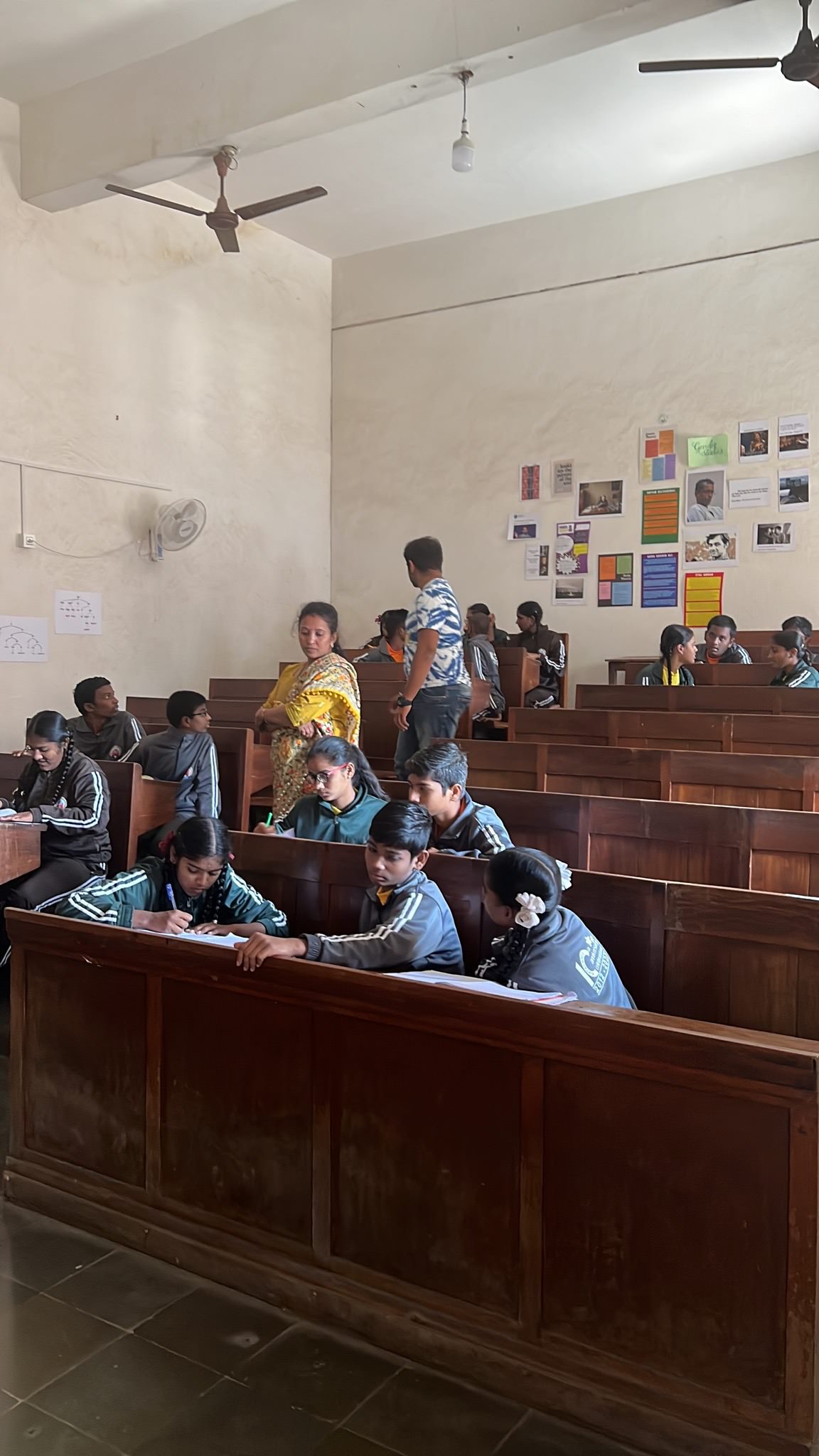 Images, clockwise from top: Foldscope, a microscope for every student; BC welfare teachers and students; students perfect public speaking; a Harvard student gets her hair braided.
Mittal Institute: What do you look for when choosing your instructors/instructor fellows?
Dominic Mao: I screen for well-rounded scholars who are passionate about teaching and equitable quality education. I also look for adaptability, creativity, resourcefulness, and individuals who welcome the challenge of teaching outside their comfort zone. Since I am a molecular biologist, we use the scientific process (questions, hypotheses, evidence, communication, etc.) as the backbone of the program. That said, I look for breadth in our curriculum when selecting candidates.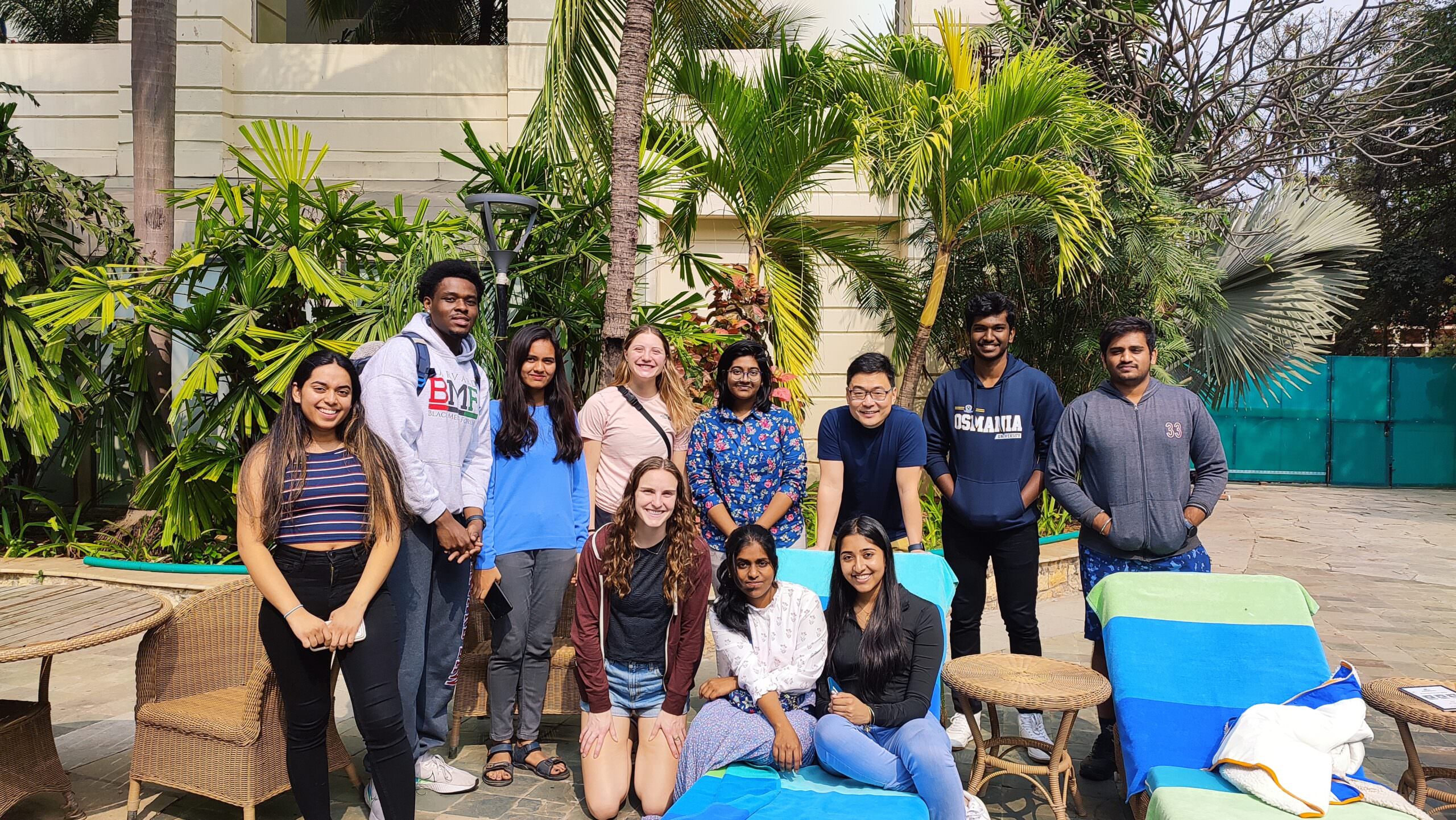 Mittal Institute: Topically, the classes are diverse, ranging from the "Art of Communication" to "Scientific Racism." How do you design the subject matter?
Dominic Mao: One of the questions in the application form is "Members of the Harvard PSIL instructor team may develop a lecture topic and an associated "lab". If selected, what topic+lab would you contribute towards the program's curriculum?" While selecting the team, we look at the ideas presented by applicants (going back to the aforementioned creativity) for synergy and complementarity, keeping an eye on the whole curriculum throughout. We like it when applicants use their interest and expertise area to come up with interesting activities that are within the grasp of high school students. For example, we had a psychology student develop a module on social psychology. Jaylen is a Hist and Lit student at Harvard and I liked the Scientific Racism idea he presented as it is a very relevant topic for the underprivileged high school students in India. The PSIL curriculum is enriched for topics and activities that they would not normally get in their classrooms.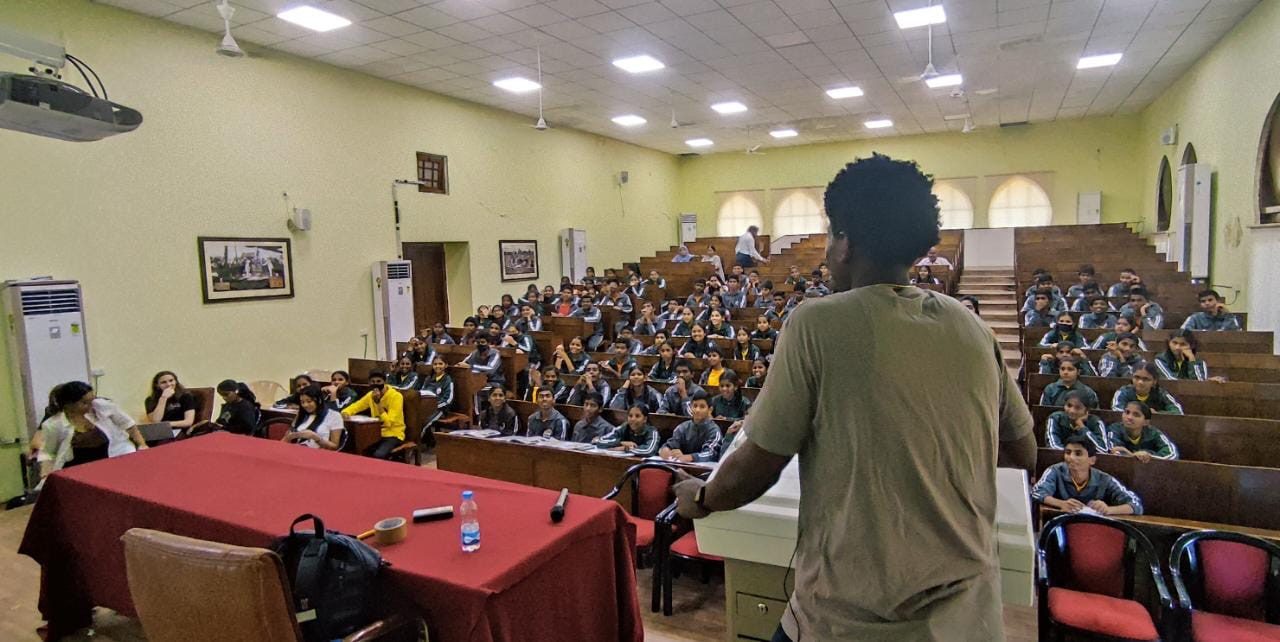 Jaylen teaches his module on scientific racism.
Mittal Institute: You also offer a host of extracurricular activities: volleyball, rugby, dance, debate. Why are these courses also important to offer?
Dominic Mao: You are right, extra-curriculars are a part of our curriculum! Everybody at Harvard knows that our students learn just as much outside the classroom as they do inside, if not more. Aside from the natural benefits of decompression, extracurriculars are a fun way to hone skills and apply classroom learning to other activities.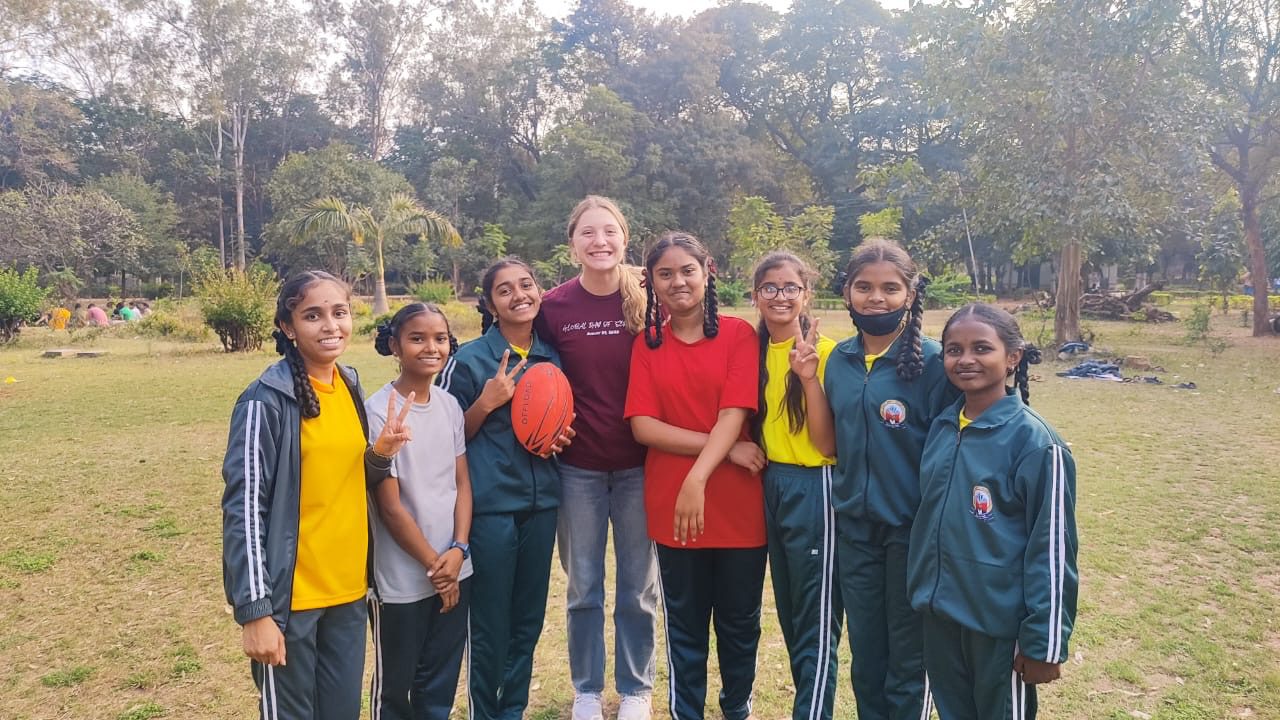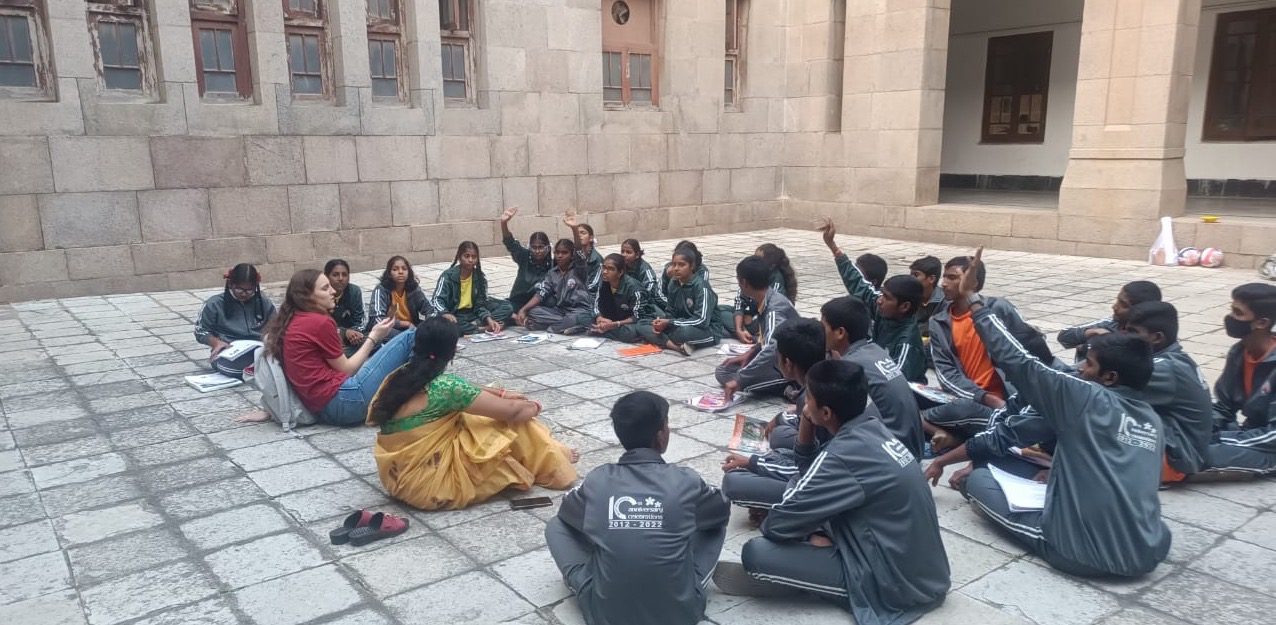 Image above: PK (MCB concentrator) with her students; Image below: Kate's section.
Mittal Institute: Is there anything new in this next program iteration that you want to share with our community?
Dominic Mao: I am very excited to say my friend and colleague, Andi Wright, who is the Resident Dean of Elliot house and a lecturer on Anthropology, will be joining us. While the Harvard students are with the Indian students, Andi and I will run a pedagogy workshop for the high school teachers. This will ensure the impact of the program extends beyond our time there and the pedagogy tools we use in the program becomes a staple in their classrooms.