What role does engineering education play in our modern society? According to Venkatesh Narayanamurti, Benjamin Peirce Professor of Technology and Public Policy at the Harvard School of Engineering and Applied Sciences and Belfer Center for Science and International Affairs, Harvard Kennedy School, engineering is crucial to a well-rounded society.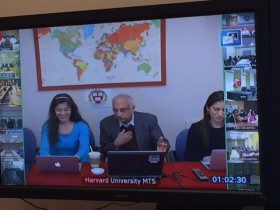 On Thursday, February 27, SAI hosted its first webinar of the semester, titled 'Societal Grand Challenges and the role of Engineering Education in the 21st Century' with Professor Narayanamurti, who described engineering as "the ultimate liberal art" because of its role as a linking discipline.
Using videoconference software provided by the Higher Education Commission of Pakistan (HEC), 15 sites in South Asia were able to participate live and interact with Narayanamurti. Viewers were also able to watch the webinar live on SAI's website, and submit questions via Facebook and Twitter.
Narayanamurti started by describing the importance of engineering at leading universities like Harvard, saying that "we want renaissance engineers who not only know how things work, but how the world works." He explained that all of the major accomplishments throughout history have happened because of engineering, and the economic impact of engineering is huge. "Engineering underpins the economy," he said.
Explaining the role of engineering as a linking discipline, Narayanamurti said, "engineering is not applied science; it is science that is applied engineering." He made a strong case for a well-rounded education in all fields, and said that we must encourage students to learn the creativity and innovation of entrepreneurship.
Another 'grand challenge' of engineering education is getting women involved, which Narayanamurti explained is vital for societies. He explained that women's access to science education is more of a challenge in the developing world, but not one that cannot be overcome. Having women leaders in all fields is an important step: "Can women be renaissance engineers? Yes!" he said. "We need more women role models so that it is an accepted reality."
Narayanamurti spent time explaining what skills are vital to engineering education. From teaching his own class, he has learned that creativity, as well as analytic and problem-solving skills, are essential. Since Harvard has a strong global presence, it can serve to be a leader for this sort of education.
Throughout his presentation, Narayanamurti emphasized the importance of merging the study of engineering with biology, by combining the perfection of biology with the creativity of engineering, because "nature perfected how human beings and the living world were created." Technology is evolving to become more human-like, which means merging biology with engineering is more important than ever.
After his presentation, Narayanamurti took questions from students and education leaders at the participating sites, as well as questions on social media from viewers in Pakistan, India, and Australia.
The universities participating live were: Bahria University Islamabad, Bahria University, Karachi, Comsats Institute of Information Technology, Attack, Dadabhoy Institute of Higher Education, Fatima Jinnah Women's University, Rawalpindi,  Institute of Space and Technology Islamabad, Kinnaird College For Women, Lahore College of Women University, Lahore, Lahore University of Management Sciences, Lahore, NED University of Engineering and Technology, Pakistan Institute of Engineering and Applied Sciences Islamabad, University of Engineering and Technology (UET), Lahore, University of Malakand, and University Of Sargodah, Sargodah.
Mariam Chughtai, Ed.D. Candidate, Harvard Graduate School of Education, moderated the discussion, and Meena Hewett, Executive Director of SAI gave an introduction. Erum Sattar, SJD Candidate, Harvard Law School, tracked the discussion on social media.
Click here to view all tweets from the discussion on Twitter.
Click here to view a recording of the whole webinar.
Click here to learn more about SAI's upcoming webinars.
SAI's webinars are made possible with the support of the Higher Education Commission of Pakistan (HEC).