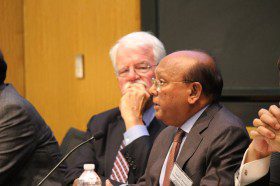 On Saturday, June 14, SAI co-sponsored an event titled Globalization and Sustainability of Bangladesh Garment Industry, the first conference held at Harvard on this topic. The event was co-sponsored by the Harvard College Students for Bangladesh, the International Sustainable Development Institute in addition to the Harvard Center for Environment and the Harvard University Edmond J. Safra Center for Ethics.
The day-long conference had over thirty speakers, ranging from politicians to representatives from the garment industry. There was representation from organizations such as BRAC, the United Nations, and the Bangladesh Garment Manufacturers and Exporters Association. Over the course of six sessions, the speakers focused on different issues and topics relating to the garment industry.
The conference began by highlighting the current state of the industry and then discussed globalization, safety concerns, workers' rights, labor standards, and trade and investment cooperation.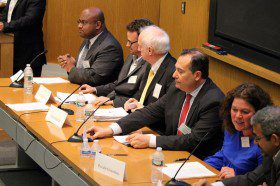 Among the speakers were members of the Bangladeshi parliament, including Tofail Ahmed, MP, the Commerce Minister of Bangladesh, and Meher Afroze Chumki, the State Minister for Women's Affairs. Representatives from the American government included Congressman George Miller, the senior democrat on the House Education and Workforce Committee, and Dan W. Mozena, the former US Ambassador to Bangladesh.
The sessions include 'State of Bangladesh Garment Industry,' 'Globalization and Labor Standards,' 'Trade and Investment Cooperation – Worker rights and Safety,' 'Working Condition, Fire and Building Safety Challenges,'' Responsible and Sustainable Sourcing,' and 'The Role of International Development Partners.'
Speakers discussed important issues relating to the industry that have recently come to public spotlight because of tragedies such as the Rana Plaza building collapse and the Tazreen Fashions fire. Though these two incidents occurred fairly recently, these issues within the garment industry have been a topic of discussion for much longer.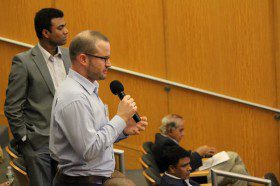 The conference urged further discussion on crucial topics and presented a multitude of different views on the issues. After speakers each session, the audience engaged with the speakers in Q&As. This format of discussion allowed for many different opinions to be heard and highlighted the complexity of the issues surrounding the garment industry.
At times, the discussion sessions became healthy debates, and the audience was able to hear opposing viewpoints. These debates also highlighted the need to find solutions that could serve the many different groups and individuals involved in the industry.
During the course of the conference, criticisms of the industry were raised by many speakers. The industry was also supported and praised for the initiatives taken by different organizations and the government to improve conditions. This conference opened the discussion on this incredibly important topic and will hopefully inspire the continuation of dialogue.
-By Aniqa Hassan, Harvard College '16
View more photos from the event.