'Shopping week' at Harvard is underway, meaning eager Harvard students have the opportunity to try out courses for one week before they commit to taking them for the whole semester. Despite the chaos that this week can bring, Tarun Khanna, Director of SAI and Jorge Paulo Lemann Professor, Harvard Business School, had a full house for 'Contemporary South Asia: Entrepreneurial Solutions to Intractable Social and Economic Problems,' which is now entering its fourth year.
Over 120 students 'shopped' the class, which is open to both undergraduates and graduate students from all schools at the university and fulfills the General Education requirement. Calling it an "experiment for the entire university," Professor Khanna explained that this is an innovative teaching idea that cuts across disciplines to examine how entrepreneurship can tackle social and economic problems in South Asia, and furthermore, in developing countries across the world.
Students from the College, Kennedy School, Graduate School of Arts and Science, Graduate School of Design, Business School, Divinity School, Graduate School of Education, Law School, and School of Public Health were all present. Professor Khanna emphasized rather than a particular academic background, the common thread among all these students is a desire for creativity and an eagerness to come up with innovative solutions.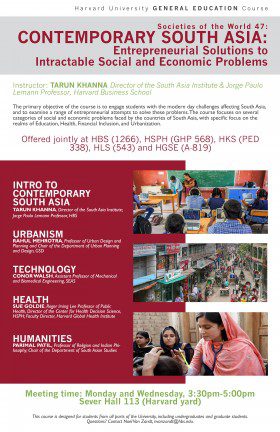 Professor Khanna noted that entrepreneurship is becoming increasingly popular at Harvard, especially within the College, and innovative solutions to social problems are needed now more than ever.
The course will be taught in a series of modules, with each lasting two to three weeks and taught by a different faculty member affiliated with SAI. Professor Khanna explained that each will "use the lens of entrepreneurship" to explore how problems in their disciplines can be solved creatively.
Rahul Mehrotra, GSD, SAI Steering Committee Member, will lead the Urbanism module; Sue Goldie, HSPH, Harvard Global Health Institute, SAI Steering Committee Member, will lead the Health module; Conor Walsh, SEAS, will lead the Technology module; and Parimal Patil, Department of South Asian Studies, SAI Steering Committee Member, will lead the module on Arts and Humanities.
As part of the course, students will have the opportunity to form groups and propose their own business plan targeting a specific economic or social problem that can be tacked by an entrepreneurial intervention.
Successful projects have included an academy dedicated to bringing creativity and liberal education into Pakistani high schools, a mobile-phone based triage mechanism to allocate scarce medical resources in rural India, and a funding mechanism for financing vocational education all over South Asia.
Offered jointly at HBS (1266), HSPH (GHP 568), HKS (PED-338), HLS (543) and HGSE (A-819).
Meeting time: Fall 2014, Monday and Wednesday, 3:30-5, and a weekly section to be arranged.
Location: Sever Hall 113 (Harvard Yard)