By Payal Narain, Program Consultant, SAI Delhi Office
On January 9, 2015, the Harvard South Asia Institute (SAI), Harvard FXB Center for Health and Human Rights, and the Population Foundation of India (PFI) co-hosted a day-long seminar on "Addressing Gender Norms through Education: Developing and Implementing Adolescent Curriculum" in New Delhi.
The aim of the seminar was to formulate a research agenda and constitute a group of partners representing government, researchers, non-government organizations and academicians. Held at the PFI office, the seminar was well attended by representatives from the state and central government, civil society and the academic community. In all, there were 28 invited participants, including two who Skyped in from Boston.
Education is crucial to re-orienting gender stereotypes and traditional gender roles, and has the potential to address gender based discrimination and violence by altering patriarchal and repressive mindsets. Though there have been many attempts to create educational frameworks that address gender norms, a comprehensive nationwide program is yet to be implemented.
There is a need for a framework that promotes healthy attitudes about gender and sexual health, empowers young people with accurate, age appropriate and culturally relevant information that is accessible and engaging, and develops skills to enable them to respond to situations in a gender-sensitive manner.
The seminar explored these needs in three separate sessions, new developments and the implementation of middle school, high school and college curriculum. The fifth and final session of the seminar was devoted to discussions for the creation of a three-year action plan to develop and implement educational curriculum for adolescents to address gender norms.
The first session started with a welcome address by Meena Hewett, SAI Executive Director, followed by an introduction and background to the Harvard Gender Violence Project by Jacqueline Bhabha, FXB Director of Research; Professor of the Practice of Health and Human Rights, Harvard School of Public Health; Jeremiah Smith, Jr. Lecturer in Law, Harvard Law School; Adjunct Lecturer, Harvard Kennedy School. Akshay Mangla, Assistant Professor, Harvard Business School, presented an overview of the current state of gender-relevant curriculum in middle school, high school, and college.
The first session ended with a presentation by Poonam Muttreja, Executive Director, Population Foundation of India on the organization's innovative developments in communicating gender roles and changing stereotypes.  
During the conference, SAI reinforced its commitment to supporting faculty-lead programs to address gender issues, both in-region and at Harvard. Professor Bhabha outlined the history of the Harvard Gender Violence Project that came into being in the wake of the brutal rape that took place in Delhi in December 2012, which sent shock waves throughout the world. South Asian students influenced Harvard faculty to convene to discuss this issue.
In India, the three-member Justice Verma committee was set up to report on the case, and suggest amendments to the law to prevent and punish sexual offences. The committee reached out to Professor Diane Rosenfeld, Gender Violence Program, Harvard Law School, for her viewpoint and inputs on criminal laws on sexual assault.
Subsequently, SAI became involved, and in July 2013 the organized an interdisciplinary conference on 'Gender Justice and Criminal Law Reform' in Delhi which was attended by leading law-makers, including the two surviving members of the Verma committee, police officials, education specialists, researchers and gender activists. Professor Akshay Mangla  of Harvard Business School also joined the Harvard Gender Violence team. A seminar was held at the Radcliffe Institute in August 2014 and a webinar on tackling gender based violence was held by Professor Bhabha in November 2013.
During the first session, Professor Mangla gave a brief overview of his research and other available data on the current state of gender-relevant curriculum in middle school, high school and college. Survey results showed that while there was a wide gap in the policy and delivery of sex education, there was a clear demand – not only from women, but from men, who also thought that sex education was necessary.
Professor Mangla presented statistical data regarding the appropriate age to initiate gender based education, and who should impart it: parents or teachers. However, due to deep-seated taboos on the subject, parent-child and teacher-child communication is often poor, so often awareness is lacking. Clearly, innovation is needed to address this issue.
Poonam Muttreja, Executive Director, PFI, outlined the work of PFI, and highlighted the 2013 introduction of PFI's very successful and innovative tool, entertainment education, in the form of a transmedia serial – Main Kuch Bhi Kar Sakti Hoon (I, a Woman can Achieve Anything) to communicate gender roles and implement behaviour change. The success of the program in its first season was based on feedback from viewers, which showed that this medium could reach out to the masses on a large scale, both in urban and in rural India.
The second session, facilitated by Akshay Mangla, addressed Middle School Curriculum Development and obstacles to implementation.The panelists included Maninder Kaur Dwivedi, Executive Director (Transport), Food Corporation of India (FCI), Shantha Sinha, Professor, Former Chair, National Commission for Protection of Child Rights, Hyderabad and Prabha Nagaraja, Executive Director, Talking about Reproductive Health and Sexual Issues (TARSHI).
Government policy and adolescent education materiel in textbooks were also discussed. It was stated that much of the materiel available does not communicate the required gender values. While a number of government programs under the Sarva Shiksha Abhiyan (SSA), like the Kasturba Gandhi Balika Vidyalaya Program (KGBV), and the Mahila Samakhya Scheme (MS), focus on encouraging education for the girl child, some Indian states were currently showing a drop in enrollment of boys. Therefore, state policy should be formulated taking local concerns into account. Many girls in school are exposed to gender-based violence – from mental to actual physical assault.
The need to scale up good pilot projects was stressed during the session, since the schemes launched were not achieving the necessary targets. Programs for scholarships and residential spaces for girls need expansion. There was further discussion regarding a change in nomenclature – Comprehensive Sexuality Education (CSE), instead of sex education, since many are apt to misinterpret this. It was also thought that CSE should start at the kindergarten level, to teach children about their body parts and sensitize them regarding 'good touch' and 'bad touch'.
Session III of the event discussed the development of, and obstacles to implementation of Curriculum at the High School level and innovative practices. Jacqueline Bhabha facilitated the session with panelists Gurjot Kaur, Additional Chief Secretary and Principal Secretary, Women and Child Development, Rajasthan, Kanchan Mathur and Shobhita Rajagopal, Institute of Development Studies, and Ravi Verma, Director, International Center for Research on Women.
The panel discussed a male-centric approach to understanding the concept of masculinity through the Gender Equality Movement in Schools (GEMS) mainly related to HIV-AIDS awareness. This GEMS diary was inculcated into the school curriculum and provided a platform for parent-child interaction on gender sensitive issues. The Rashtriya Madhyamik Shiksha Abhiyan (RMSA) and the Kishori Shakti Yojana (KSJ) are government schemes that focus on secondary education and their relevance was discussed. The KSJ seeks to empower adolescent girls through nutrition and informal education, through a girl-to-girl approach. Girls wanting to go for more advanced studies face several obstacles that cause them to quit, in spite of their aspirations. Therefore, it is important to highlight success stories.
Session IV discussed College Curriculum, with Akshay Mangla facilitating. Panelists included Keshav Desiraju, Secretary, Consumer Affairs, Government of India, Mary E. John, Professor and Senior Fellow, Centre for Women's Development Studies, and Aparajita Gogoi, Executive Director, Centre for Catalyzing Change.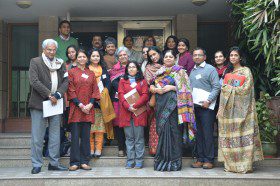 The University Grants Commission (UGC) Saksham Report on steps taken for women's safety and gender sensitisation in colleges and its depressing results were discussed. Either the minimum, or none, of the safety requirements were in place. Reform in teacher curriculum was urgently required – primary and secondary school teachers had some training related to gender issues, whereas this was completely lacking at the college level. Some participants recommended that the curriculum be developed in tandem with parents and teachers.
The panel also perceived greater scope for safe residential spaces for girl students so that they can be distanced from the negative impact of the home, since even the home is not a particularly safe zone for young women. Parallels were also drawn between incidents of sexual violence in Indian colleges and those that took place on campuses overseas.
The final session discussed the Next Steps for addressing gender norms in education, facilitated by Professor Bhabha. The key recommendations were that interventions by key stakeholders, family, schools, government, and non- governmental interventions were necessary to formulate and implement curriculum for adolescent education. SAI is ideally placed to convene such programs and scale up partnerships moving forward.
Photo gallery: