The South Asia Institute's 2015 Annual Symposium, 'South Asia: Local Solutions with Global Impact' was held at the Loeb House on April 16 and 17, 2015. The conference brought together scholars and practitioners for a series of workshops on SAI's ongoing research projects.
See a summary of the workshops below. Check back on our website for more in-depth summaries and videos of each panel.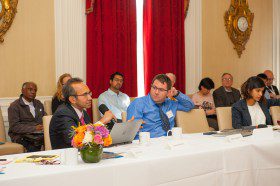 Mobile Technology to Access Healthcare Services: Case Studies from the Global South
This panel showcased three real-world case studies of unique applications of technology in the field of healthcare. Several organizations were discussed that focus on validation of medicines purchased through unique serialization, and using technology to bridge operational gaps and introduce strong monitoring mechanisms for non-profit organizations. The health infrastructures of Cambridge, Massachusetts and the Kumbh Mela, a mega temporary city in Allahabad, India, were compared.
Next steps for the project: Harvard students will spend time in India to map the use of mobile technology across three dimensions: producers, regulators, investors, and end users of the technology. The research aims to explore the expansion of the use of mobile technology to provide services to a vast population, and find linkages and opportunities for transferability of interventions across various services.
Satchit Balsari, Harvard Humanitarian Initiative; Cornell Weill Medical Center; Tarun Khanna, South Asia Institute, Harvard Business School; Jill Shah, Associate Consultant, Vera Solutions; Nathan Sigworth, Director, PharmaSecure
Read more about this workshop.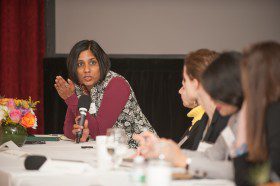 Role of South Asian Arts in Education
This panel argued that it is important for spaces that display art in India, especially museums, to engage their audiences more intentionally because they are responsible for generating and institutionalizing the conventions of artistic evaluation and value that determine tastes and consumption among consumers, as well as society, more broadly. The participants discussed the need for creating an ecosystem in South Asia comprised of public institutions, such as state museums and private firms such as corporations, to not merely foster a market for art, but also to further the vibrancy of civil society. The panelists showcased ways in which the art worlds that have existed through history can be brought to exist in the current context through an intentional interaction and intersection of civil society and the art worlds.
Next steps for the project: Through a rich set of symposia, exhibitions, and lectures by artists from South Asia, SAI will provide a platform for South Asian artists to contextualize, exhibit, and discuss their work with the Harvard community and with South Asia museum administrators and executives in the region. SAI will also develop training programs with partners in South Asia to focus on the management of art and culture of South Asia.
Jinah Kim, Faculty of Arts and Sciences; Mukti Khaire, Harvard Business School; Megan Panzano, Harvard Graduate School of Design; Stephanie E. Rozman, Harvard Art Museums; Doris Sommer, Faculty of Arts and Sciences
Read more about this workshop.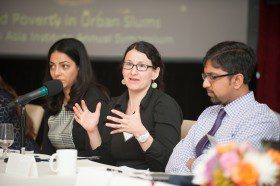 Water and Poverty in Urban Slums
This panel focused on the intersection of access to water and urban slum communities through research and case studies. Common barriers to the water and poverty in urban slums include a deep history seeded in the social and political landscape of these communities that greatly affects sanitation and access to water; legal barriers that exist in slum communities; and negative effects due to lack of access to water that affects the capability of children and families living in the urban slums.
The difficulty of solving water problems lies within the challenge that no one can clearly identify the problem and no one can agree upon one solution. An intervention highlighted by Water.org, an organization based in the US, has already developed a "Water credit" program, a partnership with microfinance organizations that allows individuals to purchase water as they need it.
Next steps for the project: An interdisciplinary team at SAI is addressing water problems in South Asia as human rights issue. Research on the ground by the team will continue to address how to diagnose, characterize, and develop solutions to address water poverty in urban slums.
Heather Arney, Water.org; Shafiqul Islam, Director, The Fletcher School of Law and Diplomacy, Tufts University; Sharmila Murthy, Suffolk University, Harvard Kennedy School; Ramnath Subbaraman, Brigham and Women's Hospital; Liza Weinstein, Northeastern University
Read more about this workshop.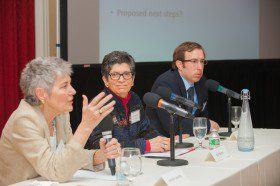 Mental Health and Disaster Management
This panel focused on the challenges of treating mental health patients in disaster settings in South Asia, which is vulnerable to disasters such as floodings, earthquakes, and terrorist attacks. In global disaster psychiatry, it is important to understand that Western concepts may or may not fit in to certain cultures. Proper training for first responders and family members who care for victims is important, as mental health trauma is something that is not always prioritized following a disaster. There is growing research about the role of mobile phones in treating mental health in disaster settings, which can help with depression, PTSD, substance abuse, and anxiety. However, phones cannot replace the personal contact that remains an important intervention for mental health treatment.
Next steps for the project: With support from the Aman Foundation, the project will continue to conduct trainings at hospitals in Karachi, Pakistan for emergency rooms and hospital workers, with a special focus on how to treat mental trauma in disasters. Lessons from the Karachi trainings will help inform practices across South Asia and other emerging economies.
Ruth Barron, Harvard Medical School; Jennifer Leaning, Harvard T.H. Chan School of Public Health, Harvard Medical School; John Torous, Brigham and Women's and Beth Israel Deaconess Medical Center
Read more about this workshop.
Click here to read about the Kumbh Mela: Mapping the Ephemeral City book and exhibit launch.