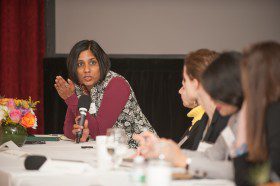 This is the fourth and last article in a series highlighting SAI's ongoing research projects that were featured at SAI's Annual Symposium 'South Asia: Local Solutions with Global Impact' in April.
By Abhishek Raman, MDiv Candidate, Harvard Divinity School; SAI Student Coordinator
There is a need to create an ecosystem in South Asia comprised of public institutions, such as state museums and private firms, such as corporations, to not merely foster a market for art, but also to further the vibrancy of civil society, according to panelists at SAI's Annual Symposium on April 16. The panelists included Jinah Kim, Assistant Professor of History of Art and Architecture at Harvard FAS; Megan Panzano, Design Critic in Architecture at Harvard GSD; Stephanie E. Rozman, Calderwood Curatorial Fellow, Harvard Art Museums; Doris Sommer, Ira Jewell Williams, Jr. Professor of Romance Languages and Literature at Harvard FAS; and Mukti Khaire, Associate Professor of Business Administration, HBS, who chaired the discussion.
Doris Sommer shared insights from her experience working in Latin America, where she found that art is being used as a vehicle for education in all subjects. According to Sommer, "Art is a medium for exploring the world – not merely expressing it." For example, this idea can be seen in action in Bogotá, Colombia, where the city's mayor fired twenty corrupt police officers and replaced them with circus clowns in order to direct traffic. In Sommer's opinion, such methods of engaging people through pleasure create a virtuous cycle.
Jinah Kim addressed the assumption that art matters because it produces good citizens, who are in turn needed to produce a vibrant civil society. Although some Indian museums were started in 1840 to serve the purpose of jadugari, or wonderment, according to Kim, they have not been well-organized. Kim argued that with the help of private donations, change is happening slowly at large public institutions. For example, 'Path Pradarshak,' a 90-minute tour of the National Museum in Delhi has been introduced to more robustly engage visitors. There is an increasing number of visitors to these museums, which makes Kim hopeful about the emerging positive demand for culture and leisure in India.
Similarly, Megan Panzano shared insights from the recent cutting-edge renovation of the Mumbai City Museum, which showcases how the art worlds that have existed through history can be brought to exist in the current context through an intentional interaction and intersection of civil society and the art worlds. Stephanie Rozman provided the art institution perspective. According to her, it is important to think about the entire arts ecosystem in the context of education.
The panelists argued that it is important for spaces that display art in India, especially museums, to engage their audiences more intentionally because they are responsible for generating and institutionalizing the conventions of artistic evaluation and value that determine tastes and consumption among consumers, as well as society, more broadly. Kim suggested that in order to improve audience engagement, museums should study the demographics of the visitors and survey their experiences to understand what they learn and want from these spaces.
Furthermore, the panelists discussed the need to create an ecosystem in South Asia comprised of public institutions, such as state museums, and private firms, such as corporations, to not merely foster a market for art but also for furthering the vibrancy of civil society. Diana Eck, Professor of Comparative Religion and Indian Studies remarked, "Educating people to learn to see things differently is very important. There is so much art in India and it is essential to form a visual vocabulary to comprehend what one is seeing. The use of this expression is pervasive."
Next steps for this research project: Through a rich set of symposia, exhibitions, and lectures by artists from South Asia, SAI will provide a platform for South Asian artists to contextualize, exhibit, and discuss their work with the Harvard community and with South Asia museum administrators and executives in the region. SAI will also develop training programs with partners in South Asia to focus on the management of art and culture of South Asia.
Read more about SAI's South Asian Arts Project.
Editor's note: An earlier version of this article failed to mention that Stephanie E. Rozman, Harvard Art Museums, was a panel member.