This is part a series of profiles of Harvard alumni who are young entrepreneurs in South Asia.
By Soujanya Ganig, Ed. M Candidate, Harvard Graduate School of Education; SAI Student Coordinator
Peter Lauenstein-Denjongpa is putting his Master's degree from the Harvard Graduate School of Education to good use. He is the founder and principal of the Taktse International School, a not-for-profit coeducational school located in the foothills of the Indian Himalayas, near Gangtok, Sikkim, India. The school encourages creativity and innovation among students, with a goal of "producing the compassionate and ethical leaders that developing societies so desperately need."
The Taktse school is one of SAI's internship site partners for Harvard students.
SAI recently spoke to Peter, who grew up in the US and has relatives in Sikkim, about why he founded the school and what it is like to be a young entrepreneur in India.
SAI: Where did the idea of Taktse International School come from?
Peter Lauenstein-Denjongpa: The story of Takste is connected to my story. My mom taught me that we must give more to the world than we take. [Growing up,] I kept visiting Sikkim and saw cousins who were so intelligent but they really did not enjoy school in the same way as I did. So all this laid the foundation for the school. So a few years after college I came back and started this project!
SAI: What was it like when you first started? Was there an entrepreneur-friendly environment in Sikkim?
Peter: Because we had a pretty awesome team on the ground, we did not have many challenges. Originally I was doing more fundraising because we needed capital. We started with amazing idealistic energy. Looking back on it, we did things really fast and the great part about it was the momentum.
The biggest challenge we had to face was skepticism. We're not a big metropolitan city and there was a lot of skepticism about kids coming to school and enjoying their time here. If kids have a fever and still want to come to school, that was seen as a red flag initially. The perception was that kids must be having too much fun over there and not learning enough. Bringing a new model was the toughest challenge.
In terms of red tape and bureaucracy we're really lucky. We didn't face any troubles because Sikkim is such a small state. So it is a very small world and that makes it a little bit easier to get things done.
SAI: How difficult is it to build a new model of schooling, in terms of having stakeholders like students, parents, teachers, and community members come together?
Peter: We just focused on education and we focused on having a legitimate, well-researched model. We focused on training teachers.  We did a few open houses with parents. But mostly we just concentrated on the work of educating students well.
Over the course of ten years the trend is that our kids are confident and they tend to be a little more innocent especially now when we are facing issues like drugs and suicide in Sikkim. Our kids are a little more protected. We have small classes, we know what's going on and we address issues quickly.  All of that leads to a different kind of kid and the word spreads according to that.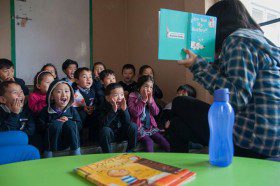 SAI: How did your experience at the Harvard Graduate School of Education help you develop Taktse and this new model for education?
Peter: One of the classes that was really impactful was Universal Design for Learning, which focused on the pedagogical side of things. Another course I took was Networking and Partnerships with Lee Teitel, which was very helpful for someone involved in social change.
At the very core of Takste, we are trying to change the way teaching and learning happen and that's more than just teacher training and more than teaching people different techniques. It is more of a paradigm shift. Even to go from memorization to problem solving is a very hard thing to do. So my job at Taktse was basically to bring together a group of people who could connect with each other to innovate, to look at themselves and to see how they have to change in order to offer something different to our kids.
I took a course at the Business School called Knowledge Based Strategy where I learned the theory about how knowledge goes from being tacit to explicit and this is something I have revisited again and again. This is incredibly useful in the cultural context that I am working where historically so much is unspoken; it's a quiet Himalayan culture. We have repositories of knowledge and wisdom here but they are not obvious or explicit, so one of the things we want our kids to be able to do is to learn in non-obvious ways and to see value in the people in their lives who don' t speak English, are not literate, and yet have knowledge.
I also took an awesome class at the Kennedy School called Sparking Social Change where we went through a bunch of case studies. That was inspiring and gave me crazy ideas that I've implemented. The biggest influence is the idea that culture is everything. At a school you can have systems, you can have rules, but culture is what trumps.  How we relate to each other and the norms in the community are much more powerful and guides our behavior more than anything else. So I see my primary job at Taktse as jumpstarting the right kind of culture.
SAI: You've said you want to create a model school and community capable of producing compassionate leaders.  What do you see as the future of Taktse?
Peter: My vision is to start a teacher training college that is embedded in the school. In order to create compassionate leaders we need to be compassionate leaders. Outside of the family, the child interacts primarily with the school. As a shaper of the child, having teachers who are compassionate leaders is more important than the curriculum. We need teachers who inspire the kids. Whatever we are, our children will become.