From January 28 to 30, the Harvard University South Asia Institute (SAI) and the Tata Trusts hosted a capacity building workshop on women's empowerment that brought together 50 organizations from 13 states across India at The Retreat Convention Center in Mumbai. These organizations have been doing groundbreaking work on issues like improving access to secondary education for young girls, addressing gender-based violence, promoting gender equitable norms, and economic empowerment through home-based industries.
The three day residential workshop was designed with inputs from knowledge partners and advisory board members to provide functional training, evolve strategies, showcase best practices, discuss scaling, deepen and maximize impact of these organizations, and formulate possible next steps they can take together as an alliance of organizations.
The overarching themes of the workshop based on the needs of the participating organizations were:
'Empowering Urban Home-Based Workers: Infrastructure Services, Marketing Support and Appropriate Policies,' led by Faculty Co-Chair Martha Chen, Lecturer in Public Policy at the Harvard Kennedy School
'The Role of Research and Strategy in Advancing Gender Empowerment: Define Program Goals, Measure Impact, and Strengthen Strategic Thinking about Social Change,' led by Faculty Co-Chair, Jacqueline Bhabha, FXB Director of Research, Professor of the Practice of Health and Human Rights at the Harvard T. H. Chan School of Public Health.
The first day of the workshop started with a joint opening session. Meena Hewett, Executive Director, Harvard South Asia Institute, gave an overview of SAI activities in the USA and in the region. Dr. Shashank Shah, Project Director, SAI, gave a detailed overview of the project Livelihood Creation in India through Social Entrepreneurship and Skill Development that has been funded by the Tata Trusts. He elaborated on the success of the first workshop conducted at Gandhinagar that focused on Rural Livelihood Creation in the Indian Crafts Sector.
Sessions part of the Urban Livelihoods track focused on the constraints and challenges of the participating organizations: lack of basic infrastructure, services at home/workplace, low capacity for product design and marketing, and an inappropriate policy environment. This was followed by a session on strategies, solutions, and technical resources facilitated by Shalini Sinha from WIEGO Network and Firoza Mehrotra from HomeNet South Asia.
Sessions part of the Social and Educational Empowerment tracks focused on program design and building a 'Theory of Change' where they discussed defining a baseline, possible strategies for action and intervention; and what would count as success or progress. This session, led by Jacqueline Bhabha, also mapped the relationship between action, impact, and goals.
The next session was on 'Building a Knowledge Base' and incorporating data collection and systematic research into daily work, with presentations by Dr. Anita Patil-Deshmukh, Executive Director, Partners for Urban Knowledge Action and Research (PUKAR), and Dr. Nayreen Daruwalla, Director, Program on Prevention of Violence against Women, SNEHA.
The day ended with a panel titled 'From Data to Research: Impact Assessment, Evaluation and Scale' led by Madhurima Malladeb, Programme Manager – Policy and Advocacy Cell, Naandi Foundation; and Safeena Husain, Founder and CEO, Educate Girls. They discussed routine synthesis of data, linking input to output and scaling up and deepening interventions. Time was also spent discussing ethical issues in collecting data like protecting privacy and maintaining confidentiality.
Day two of the Urban Livelihoods track focused on Product Forecasting and Design, where Villoo Mirza, Founder, Design Deals, discussed common pitfalls and best practice solutions. The next session was on Marketing/Business Models with a presentation of SEWA's Ruab Model, on its evolution, structure and challenges. This was followed by a session by Bijal Bhatt, Director, SEWA Mahila Housing Trust, who discussed 'Home-as-Workplace: Tenure and Infrastructure Services,' with recommended strategies for policy advocacy to leverage infrastructure services from government or NGOs. The final session of the day was a discussion on collective bargaining and negotiations led by Sanjay Kumar, Director, SEWA Bharat.
The Social and Educational Empowerment track began the day focused on documenting impact and knowledge with a brief recap on types of research skills by Dr. Priti Prabhughate, Senior Technical Specialist, Research on Women's (ICRW), Asia Regional Office. This was followed by a panel by Naghma Mulla, CEO, Edelgive Foundation; and Sutapa Banerjee from Harvard University discussing what funders look for when they see proposals. Dr. Shashank Shah who chaired this, session highlighted the salient features of the Corporate Social Responsibility regulation under the New Companies Act of 2013 and how NGOs working in this space can benefit from its provisions, which include contributions to causes connected with women's empowerment.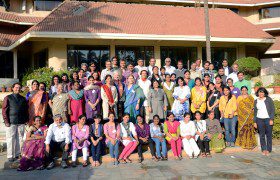 The next session was a panel with Ritesh Mehta, Head of Economic Growth Initiatives, India & South Asia, Facebook, and Mahima Kaul, Public Policy Lead, Twitter, who explained how organizations can use social media for advocacy and creating awareness, and communicating the impact of their work.
The final session of the day was a round-table discussion on applying the Theory of Change and leveraging an organization's activity to create change in the community. The session had presentations by Suparna Gupta, Founder, Aangan Trust, Vineeth Iyer, CEO, Muktangan, and Nausheen Yousuf from Majlis Legal Centre.
On the final day, the Urban Livelihoods track held a session on 'National, Regional and Global Networking and Advocacy' where they discussed the global movement of Home-based Workers facilitated, by Martha Chen. The Social and Educational Empowerment Track had a following session with Kalpana Sharma, a noted journalist and author, on working with the media on reporting gender related issues.
This was followed by a joint closing session where the organizations discussed what next steps they could take as a group to bring about change in policy. This workshop provided an opportunity for organizations to build an alliance to share resources and overcome challenges.