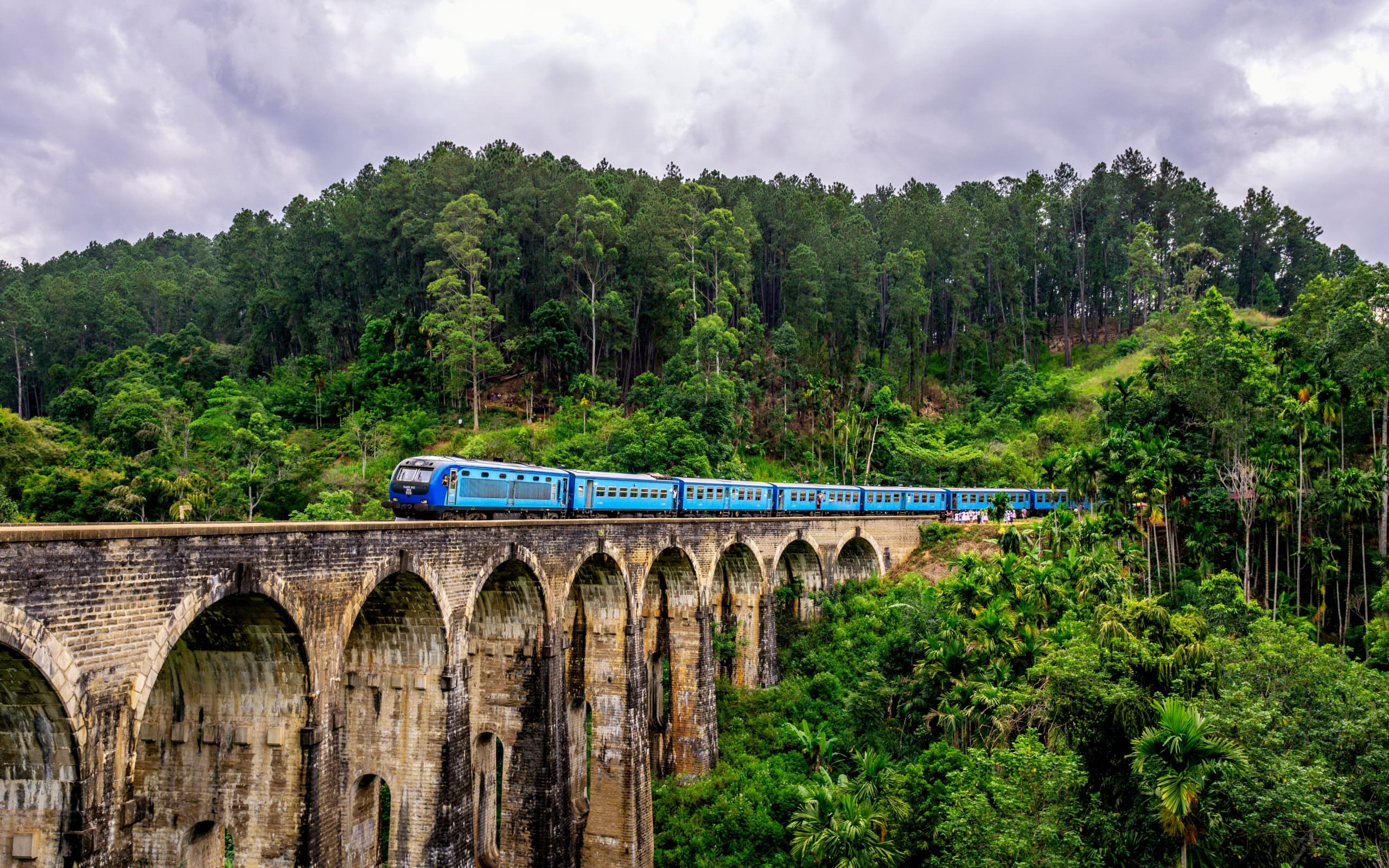 A train travels across Nine Arches Bridge in Ella, Sri Lanka. Photo by Hendrik Cornelissen.
READ THE MITTAL INSTITUTE'S NEW 2019-2020 ANNUAL REPORT HERE.
This past year, the Mittal Institute has worked to deepen the research and understanding of South Asia's arts, sciences, humanities, and more, partnering with faculty, students, and affiliates. You can read all about our latest research and programs in our 2019-2020 Year In Review, now available digitally, by clicking here. For a preview, read the report's opening "Letter From the Director" by Tarun Khanna, Jorge Paulo Lemann Professor at Harvard Business School and Director of the Mittal Institute, below.
Letter From the Director
Another big year for the Mittal Institute has sped by, bringing with it new interdisciplinary programming and renewed partnerships with students, faculty, and groups across campus in the spirit of "One Harvard."
Yet, we have recently been faced with an unprecedented challenge that has deeply affected the way the Institute, Harvard, and the broader community operate. The outcome of the COVID-19 pandemic is unpredictable, but our team has responded with gusto and creativity, remaining steadfast in our efforts to expand the understanding of and interest in South Asia across all of Harvard's schools.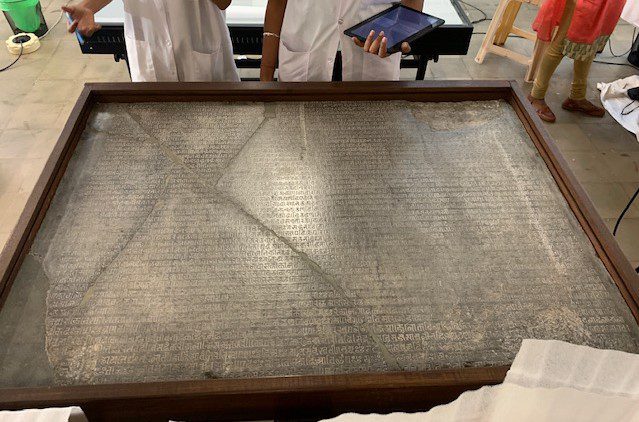 Artifact restoration in progress at the CSMVS Museum. Photo by Meena Hewett.
Continuing our dedication to building expertise around the preservation of heritage sites throughout South Asia, a workshop in Mumbai brought together faculty and experts from numerous nations to consider the museum's cultural importance not only in preserving the past, but in its potential to serve as a societal hub for local citizenry. Throughout the year, our faculty and staff represented the Mittal Institute in South Asia, visiting Colombo, Sri Lanka; Delhi, India; Dhaka, Bangladesh; Lahore, Pakistan; and Kathmandu, Nepal.
Here in Cambridge, we hosted a conference to highlight Bangladesh's emergence as an economic and cultural giant, convening 27 speakers from Harvard, peer institutions, and governing bodies and organizations across Bangladesh to discuss the nation's economy, history, public health, and more. Just a few months ago, we partnered with another Harvard institute to bring together policy stakeholders, business leaders, and scholars to discuss Pakistan's financial reforms and policies.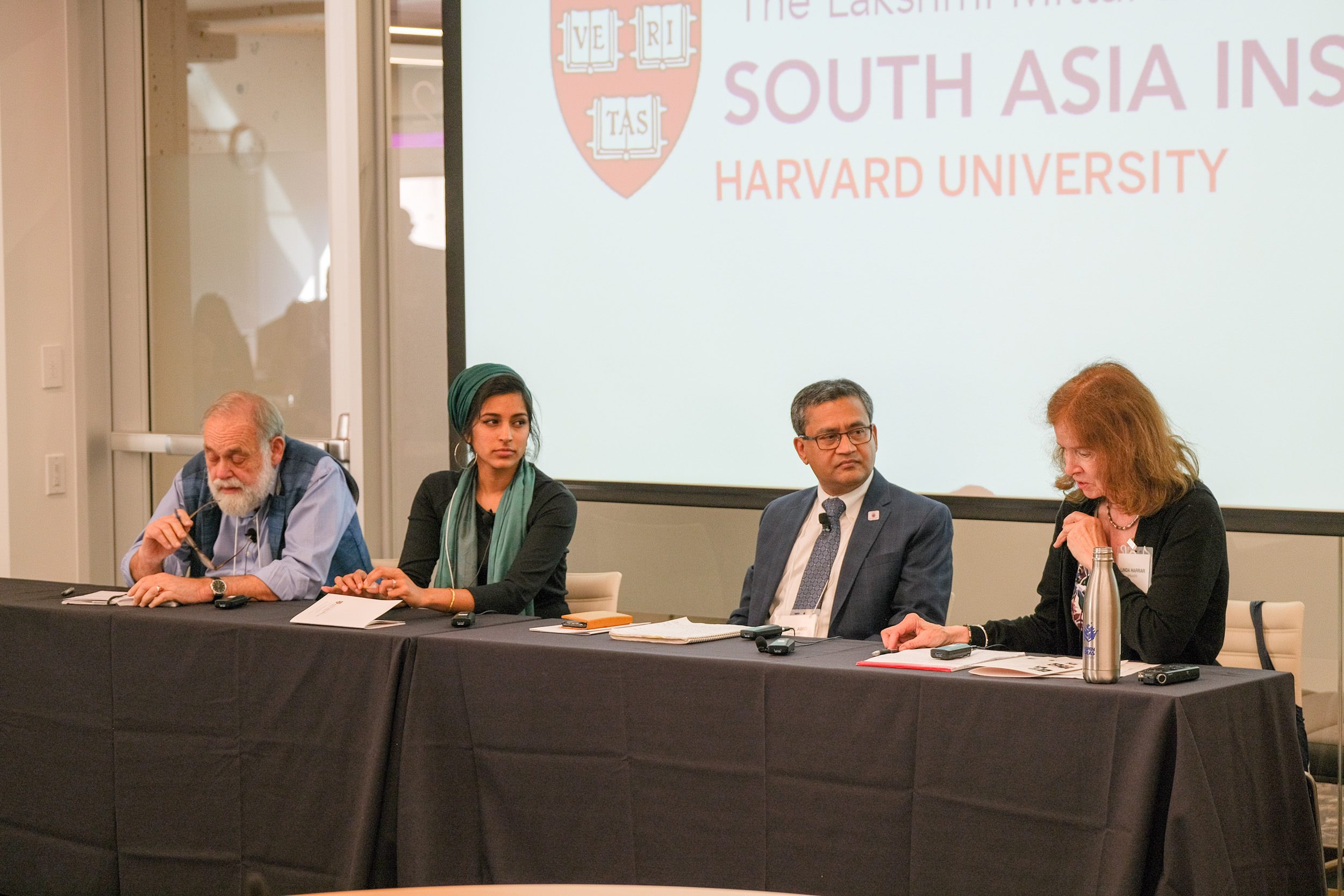 From left to right: Professor Richard Cash, Professor Reshmaan Hussam, Professor Ruhul Abid, and Linda Harrar speak at the Bangladesh Rising Conference. Photo by Selmon Rafey.
In the fall, we rolled out a Current Event lecture series, providing our audience with thoughtful and engaging discussions between faculty and fellows on topics ranging from the rise of nationalist and populist leadership to various social and political crises. During the winter recess, several Mittal Institute affiliates and grant-funded students traveled to Bangladesh to perform research in Rohingya refugee camps, seeking avenues to build community and hope for the future by improving architectural design and understanding the challenges of employment and income for refugees.
The manuscripts for our 1947 Partition of British India project and our project on Meritocracy in China and India are now being collated into edited volumes for publication. These are the fruits of two extensive multi-faculty and multi-institution collaborations that have been led by the Mittal Institute or co-led in partnership with groups across Harvard and peer universities.
In January, our New Delhi office helped local scientists and academics develop the first India Science Festival, a platform in Pune that emphasized the user-friendliness of science. Thousands of guests traveled from all over the country to listen to debates presented by scientists from Harvard, peer universities throughout the US, and local institutions. Audience members engaged with scientific exhibits and demonstrations of technological marvels over the course of the two-day event.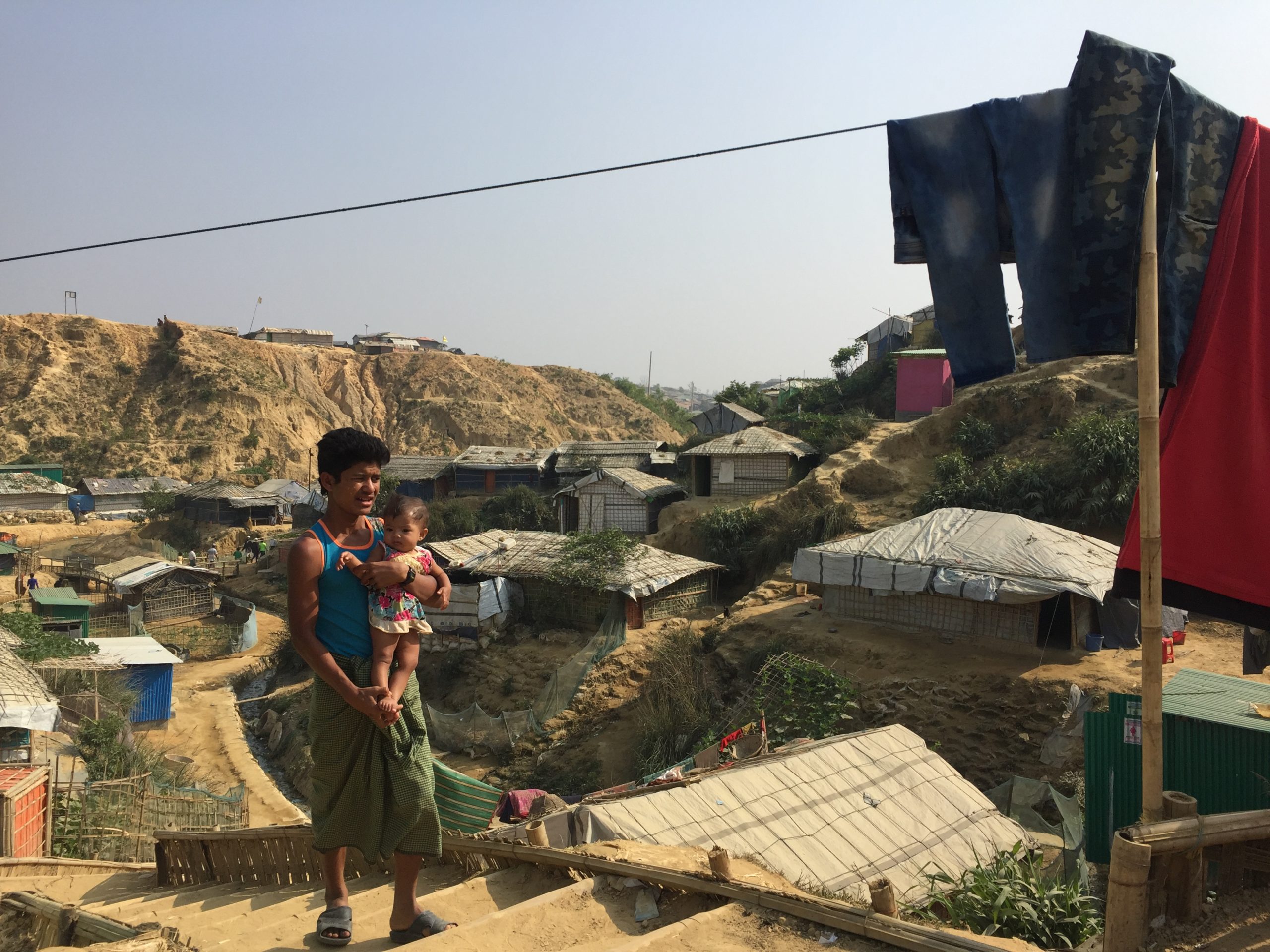 A boy stands on a staircase overlooking a Rohingya refugee camp in Bangladesh. Photo by Fatima Zahra.
In the past, our events have mainly relied on in-person meetings and live audiences to drive discussion. Moving forward, we have adapted to the current environment by embracing remote communication technologies in the service of our mission: to better understand the opportunities offered by South Asia and the challenges in accessing these.
This spring, we have brought a series of informative COVID-19 webinars into the homes of our audience, hosting prominent speakers from a variety of disciplines and locations and welcoming viewers in both the Eastern and Western Hemispheres. In a webinar centered on South Asia's response to COVID-19, hundreds of viewers joined us to learn from researchers at Harvard Medical School, Harvard T.H. Chan School of Public Health, BRAC University, and the Public Health Foundation of India. Speakers addressed the varied in-region policy responses to the virus, their efficacy, and their impact on the health system and social sector.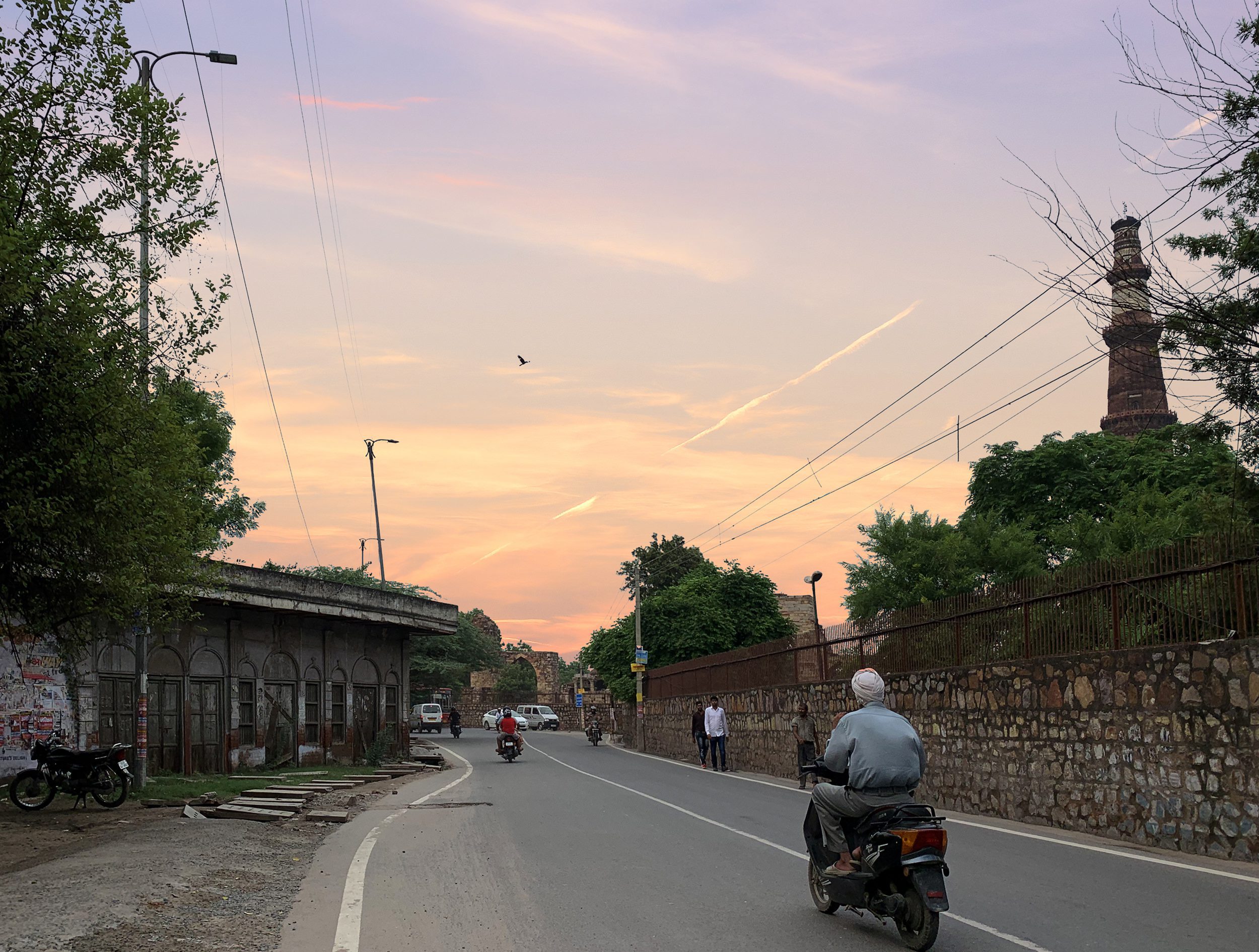 A man rides a scooter down the street in India at sunset. Photo by Karan Saharya, Master in Design Studies '20, Harvard University Graduate School of Design.
We continue to work with students, faculty, and affiliates remotely to drive research and highlight the diverse and significant work of our community. In early May, we convened virtually for our Annual Cambridge Symposium. This event brought together our donors and Harvard faculty to discuss COVID-19's impact on the arts and science of South Asia, as well as the notion of unpreparedness that the international community faces as global ties fray and national issues cross borders.
I want to reassure our faculty, students, and greater community that we will continue to support them in their endeavors to highlight and expand the wealth of knowledge that can be found throughout South Asia. Currently, we are strengthening both our physical presence in Delhi and our institutional relationships in Bangladesh to expand our network and connect scholars, students, and regional experts to build intellectual capital around the issues that matter most to South Asia. Our community has proven to be a resilient one, and together we can adapt to these unplanned circumstances, hopefully emerging even stronger in its aftermath.
Tarun Khanna
Director, Lakshmi Mittal and Family South Asia Institute;
Jorge Paulo Lemann Professor, Harvard Business School