A video excerpt of the "Studio Language" course taught by Professor Nora Schultz to our 2020-2021 Visiting Artist Fellows. Click here for a transcript of the video.
Each year, the Mittal Institute brings four mid-career visual artists to Harvard's campus in Cambridge to engage with Harvard faculty and students, to participate in art exhibitions, and to perform research using Harvard's intellectual resources to further their art practice. Due to COVID-related programming changes this year, our 2020–2021 Visiting Artist Fellowship was reimagined, bringing 13 of the top applicants from India, Bangladesh, Pakistan, and Nepal to the virtual world for a series of four online seminars curated to support the artists' long-term practice.
In these courses, the artists participate in thought-provoking discussions with their peers and the faculty member facilitating the class, centering on art history, creative writing, urban design, and more. Nora Schultz, Assistant Professor of Art, Film, and Visual Studies at Harvard, is a German artist who creates sculptural installations involving methods of archaeology, anthropology, and linguistics. In November, Professor Schultz taught the first virtual seminar for the Mittal Institute's 13 current Visiting Artist Fellows on "Studio Language," bringing the artists together to learn more about the intersection of text, language, and visual work in art.
"[One of the] best parts of this session was the group of artists from diverse cultural and religious backgrounds sharing their insights. It engaged the participants from different lingual backgrounds, and most of us were participating in a foreign language rather than our mother tongue," said Javaria Ahmad, a mixed media artist from Pakistan.
Throughout the lecture, Professor Shultz and the Fellows explored the use of different forms of language in artwork. Language is a crucial part of art production and perception, even in its missing ability to thoroughly reflect sensual, visual, and conceptual experiences. But as much as language can be a productive medium in art, it may have a restrictive or overbearing effect on art. It can also challenge unspoken, undefined expression and reflect on or link to the surrounding contexts of contemporary art production.
"I found it quite interesting that whenever we talk about language, more often than not, the conversation steers toward written and spoken languages. We don't discuss the visual language. That being said, I am cognizant of the fact that written and spoken languages are a part of the visual language, too," said Bunu Dhungana, a photographer from Nepal.
"The lecture has definitely expanded my understanding of what art can be. And this is bound to impact my own practice in some way or the other. It made me think about my own work and the language that I use to express, explore, and question. I mainly use photography and written words, though I am also experimenting with audio and video mediums. There are certain things that I want to talk about, and I am quite deliberate. I am wondering what will happen if I remove the text and just use the photographs? Would it mean the same thing? My writer friends tell me to stop thinking of words and images as competitors and to start thinking of them as allies. Maybe I should let go!" Dhungana continued.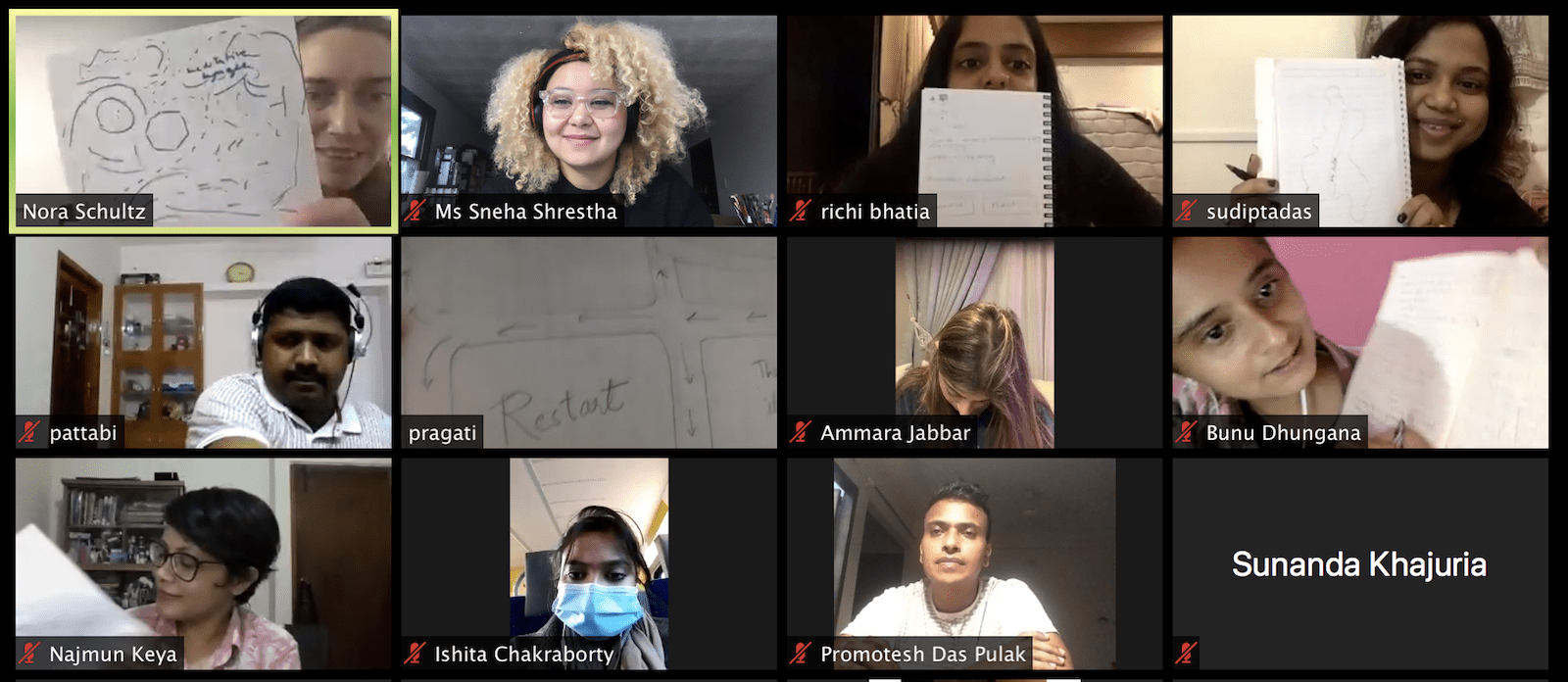 The artists and Professor Schultz share the images of maps they drew during the seminar with one another via Zoom.
The artists considered various questions throughout the seminar: How can an artwork be created through critique or conversation? How does language change when the artwork enters an educational space, or is mediated through text and language? What are the specific potentials the artwork offers to the artist to explain itself in a situation of translation, exhibition, or critique? Through exploring these questions, the artists learned how to articulate their work, how to think about their work, and were able to participate in an open discussion with Professor Schultz. "Art influences us by demanding our opinions, reflecting values, and translating our collective experiences," said Sunanda Khajuria, a painter from India.
Professor Schultz taught the Fellows that multiple languages can form a new structure, and the personal interpretation of language and identity will shape how an artist's work emerges over time. The artists engaged with Professor Schultz, asking questions in the context of their own work — from photography, sculpture, painting, and more. Throughout the class, it became evident that the artists were learning from one another just as much as they were learning from Professor Schultz.
"In spite of the fact that the Visiting Artist Fellows come from different geographical, political, and cultural backgrounds, I discovered that we are aligned in having a stronger vocabulary and thinking about its potential impact on our individual art practices. Everyone felt intensely responsible for how their art proactively shapes society, and vice versa," said Pragati Jain, a photographer and videographer from India.
The artists explored work by Aki Sasamoto and Ralph Lemon through the framework of interaction between language and art, considering the different layers of language in both artists' work and how their different voices create the work and communicate the viewer's experience of the artwork. As the class came to a close, the artists shared maps that they drew of experiences related to them, based on the work Stanley Brouwn in "This Way Brouwn," and wrote a takeaway or word they remembered from the day's lecture in their map.
"In today's world, where everything is interconnected and has multiple layers, it raised a very interesting point how art and language are intertwined. During the lecture, I understood the responsibility of art-making and its connection with politics and cultural context. When it comes to politics of image, one also thinks about the politics and power of words. Even a single statement or word contains multiple layers one can interpret it in many ways, and for that, one should be open to interpretation," said Maheen Niazi, a sculptor and painter from Pakistan.
Gallery of the Artists' Maps
Click here for a transcript of the video featured in this article.