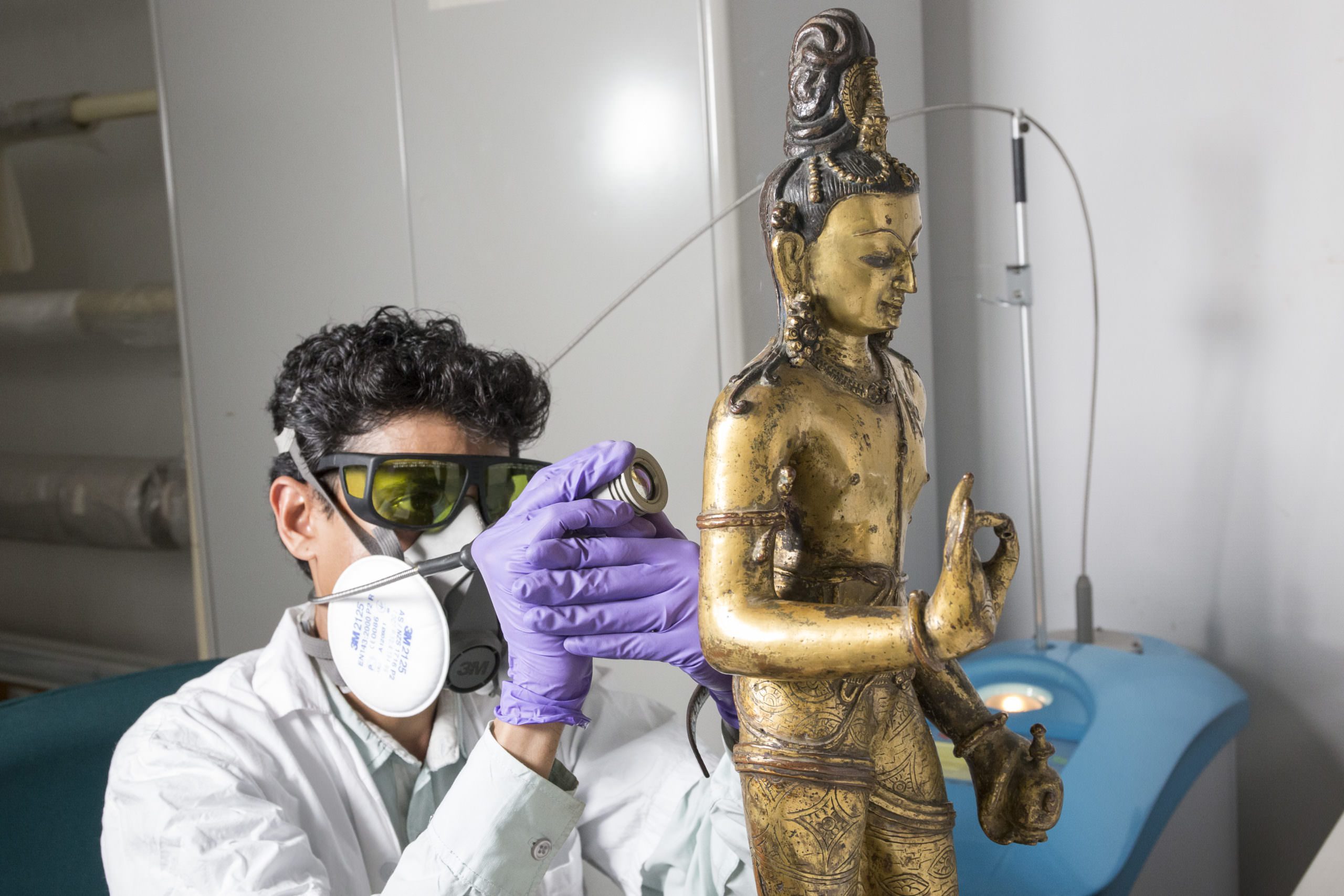 A conservation scientist at CSMVS works on the restoration of an artifact. Image courtesy of CSMVS Conservation Lab.
The Mittal Institute's Program for Conservation of Culture (PCC) aims to promote a climate for cultural conservation in South Asia. Its overarching goal will be to bring the global values of conservation practices in conversation with local needs and the existing know-how of materials, resources, climate, legal parameters, and history to build a stronger foundation for present and future safekeeping and conservation of South Asia's heritage.
As a part of the PCC, the Mittal Institute hosted two panel discussions on recent developments in science and the impact of these developments on the field of art conservation globally and in South Asia (watch here: Part 1 and Part 2).
These events launched a three-year program, Conservation Science Training and Research Program (CoSTAR), in partnership with the Chhatrapati Shivaji Maharaj Vastu Sangrahalaya, Mumbai (CSMVS).
This unique art conservation training program aims to engage scientists and art historians in South Asia in order to strengthen the employment of science in cultural heritage conservation.
Exploring the Art and Science of Heritage Conservation
The virtual panels in December 2020 drew more than 700 visitors. Meena Hewett, Executive Director of the Mittal Institute, opened the conversation, noting the intent to build a knowledge hub related to conservation practice in South Asia through the PCC and CoSTAR initiatives.
Sabyasachi Mukherjee, Director General of CSMVS, continued the conversation to explore how culture gives us hope and resilience, especially in trying times, giving the preservation of culture great significance. Interaction with cultural heritage is good for the mental health and well-being of individuals and communities.
Throughout the program, we will learn how scientists can best work with non-scientists, and how the custodians of cultural heritage can effectively communicate the grandeur of heritage through a scientific lens. A people-centered approach to conservation has become essential, keeping the values and needs of the public in mind during the creation of cultural policy about conservation. As such, conservation science should include not only an understanding of materiality, but also incorporate the social sciences and health sciences.
An Interdisciplinary Approach to Cultural Heritage
How can science unlock the meaning and significance of heritage? How can it help us understand art and how it is made? How to acquire good works of art through a scientific understanding of them?
These questions are not just for scientists and art historians, but for the general public as well. Heritage science is a wider concept that views heritage through an interdisciplinary lens, encompassing both conservation science and technical art history. Through the panel discussions, it became clear that conservators and scientists must work together to uncover complex information from these historical objects and explain it simply for curators, who can then help the public understand and put things into context.
Above all, a culture of respect and communication between curators, scientists, and conservators is essential. Concrete examples of using science to recreate paintings through non-invasive methods — such as the restoration of the Rothko paintings — show how these collaborations can work day-to-day, breaking down complex information for curators and giving context to the object.
Ultimately, this enables a greater understanding of the whole, creating a holistic view of the object and its history by extracting and interpreting information buried in the object — showing how important it is for institutions to promote collaborations between the sciences and humanities in their missions.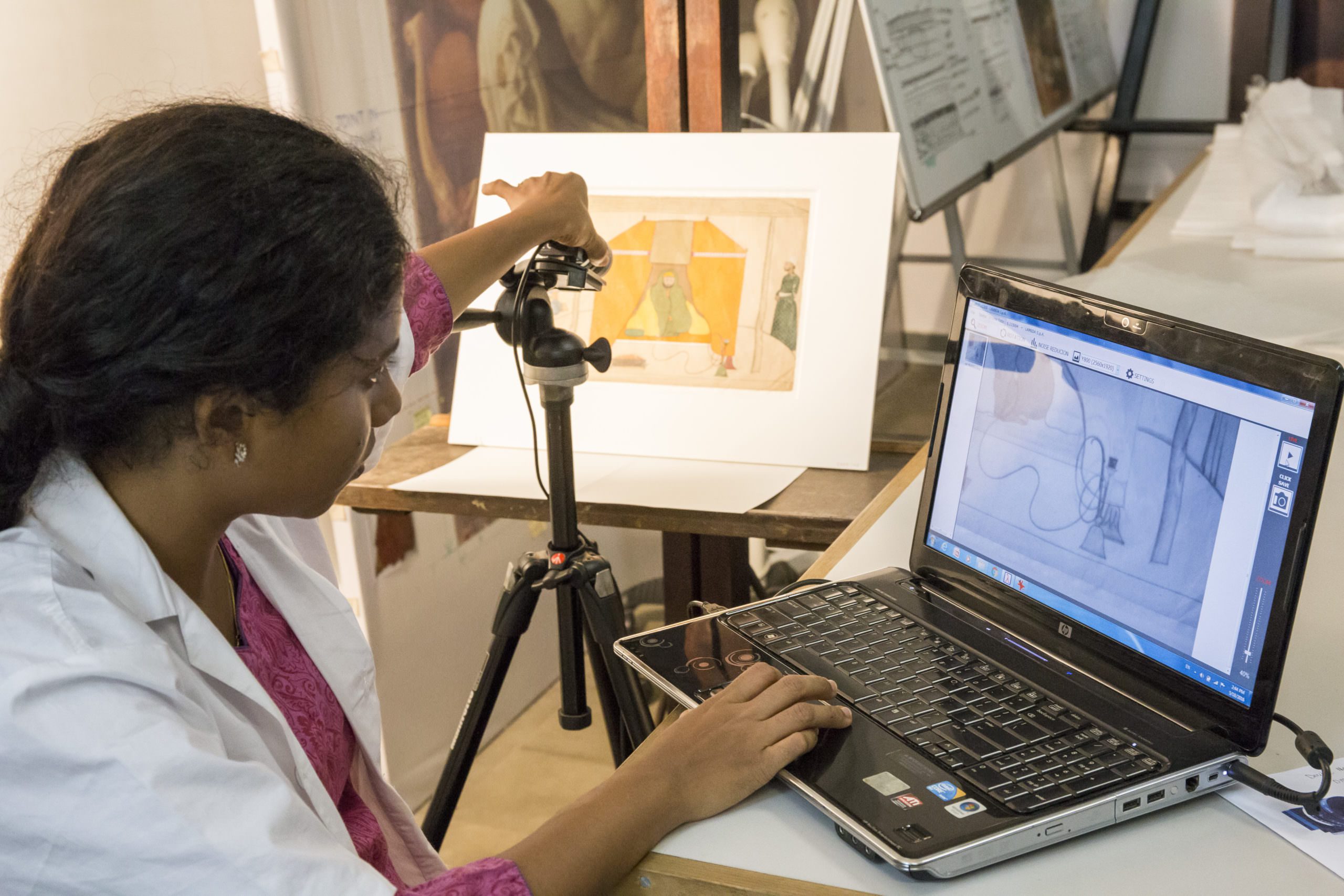 A conservation scientist at CSMVS uses technology to look closely at a work of art. Image courtesy of CSMVS Conservation Lab.
Reorienting the Strategy of Conservation Science in Developing Economies
Together, the panelists agreed that the development of conservation facilities will help fill infrastructural and programmatic gaps in cultural institutions, such as museums — highlighting the need for a broader strategy in conservation science.
How much of a place for art conservation is there in South Asia and other regions, when these economies are still coming to terms with struggling economic growth? On the ground in South Asia, major natural disasters often push the preservation of art to the background. Regardless, the mindful conservation and study of the past is conceptually, ideologically, and philosophically important for communities.
With this understanding of the state of affairs of art conservation in South Asian countries, the panel of experts discussed best practices in art conservation and explored various methodologies that will improve the pedagogy and practical training for art conservators and scientists.
Priorities for Conservation Training in South Asia
Conservation as a professional field is still developing in South Asia and its neighboring countries, making it a priority to establish conservation as a viable and respected profession. Together, the panelists discussed how scientists must be recruited to be part of conservation — and must be trained to provide outcomes that are useful for the care of collections.
Non-scientists and scientists must engage in order to arrive at the desired answers to conservation questions, and avenues must be created to allow interaction between heritage conservation, art history, and conservation science so these subjects can mutually benefit from one another. Additionally, the creation of interesting flagship projects can help bring the field into the limelight.
Enhancing Scientific and Conservation Research
The panelists agreed that there is a need for greater involvement of conservators in research, and the impetus for research starts with an understanding of what is needed. Conservation cannot be based simply on one case, but must look at the bigger picture to understand the overarching implications from a historical perspective. It is important to identify and establish specific topics for research, with inputs from different institutions in a given region or cultural context.
When asked if conservation science, research, and practical conservation are becoming increasingly divergent, the panelists felt that the rift can be filled by dissemination of knowledge on the ground. By talking to people on the ground, including indigenous and native custodians, conservators can learn about traditions and collate bits and pieces of field information that feeds into the overall results.
An important part of being a conservation scientist is being able to talk to anybody and understand their stories. Thus, imparting the tools to students of art conservation that will allow them to develop a basic scientific temper was flagged as a basic need to address.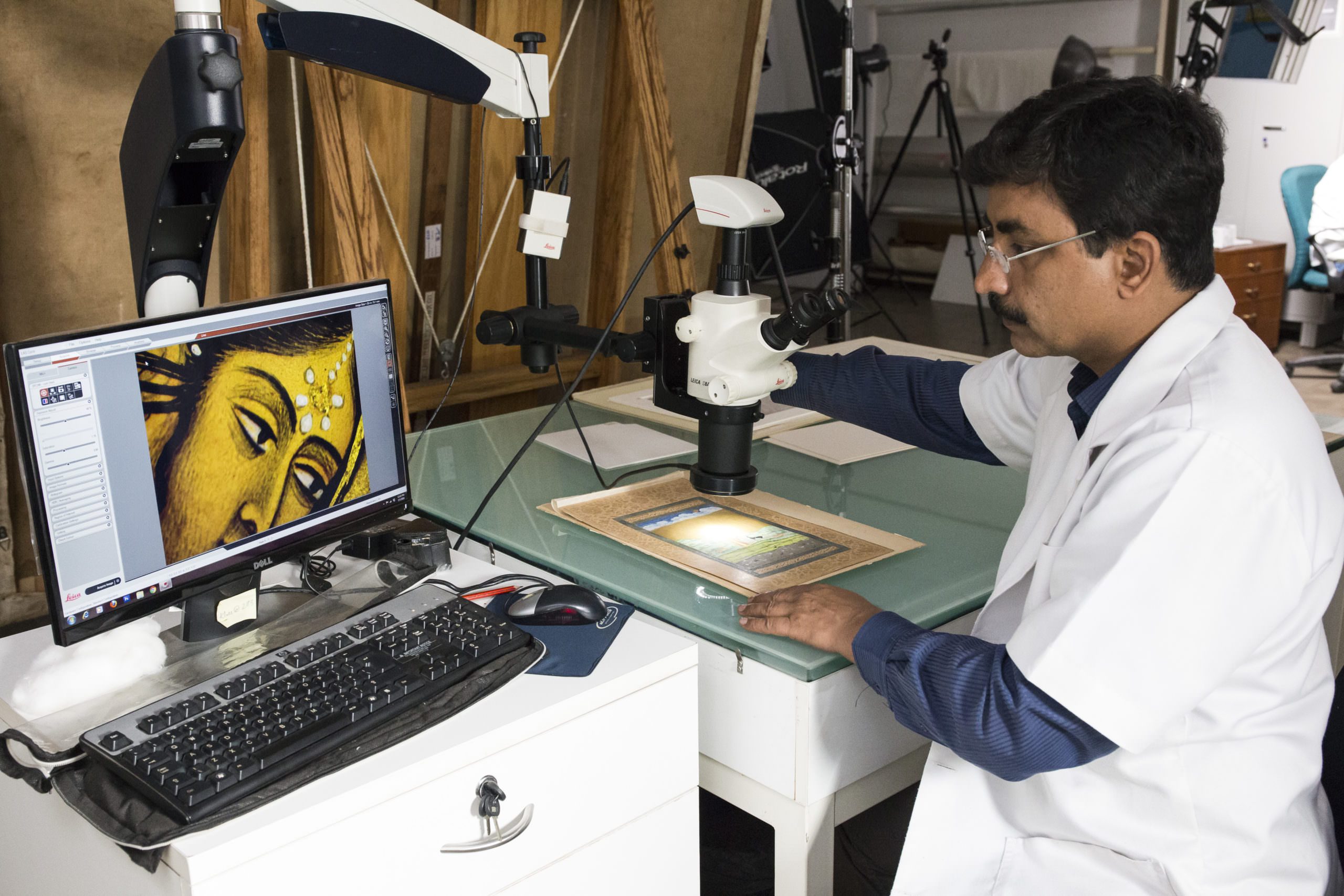 A conservation scientist at CSMVS uses technology to look closer at a work of art. Image courtesy of CSMVS Conservation Lab.
The Psychology of Collaboration
While much of heritage conservation in South Asia is done in private studios, advanced research equipment is available only in universities — and there is little collaboration between these two worlds. At the same time, major conservation practices are resource-intensive, and simply maintaining those facilities requires substantial financing. With these constraints, it is important to develop partnerships with the educational institutions that possess this equipment, and build an understanding with premier scientific institutions about the needs of the heritage sector.
Beyond these efforts, the creation of mobile technical studies labs would be a practical step to provide facilities where there are few or none. While pooling existing resources comes with its own set of problems, there are pedagogical strategies that a conservation program can utilize.
At the same time, the psychology of collaboration — especially when one is working in a multidisciplinary environment — was touched upon, as the panelists highlighted the importance of converging intellectual resources. Actors in a multidisciplinary environment must go beyond their disciplinary comfort zones and move past the fear of sharing knowledge, even if unfinished. The practice of good collaboration can be incorporated into training programs, bringing scientists and conservators together.
Making Field Research Accessible
Given the living traditions and embodied knowledge in Asian and other countries, the panelists felt that there is a golden opportunity to simultaneously work with the past, present, and the future. In all hands-on field training, there is a vital need to create an understanding of the concepts, living traditions, and terminologies in the vernacular of those who created these.
To then make this research more widely available to practitioners, it is important to break down barriers between disciplines. Interdisciplinary research means making one's research understandable to an expert from another discipline.
Although publishing articles about the advancements in conservation science takes time, good research does not necessarily need to be contained solely in high-ranking journals. Even unpublished data and conference papers have become very important to the field, and should be made available for sharing among practitioners. We also need a way to disseminate knowledge beyond the academic walls.
The Way Forward in South Asia
It may take up to a decade for South Asia to develop its art conservation systems, from researching and reviving its rich ancient preservation traditions to improving upon the latest modern developments.
First and foremost, a training program must be created to instill a scientific attitude in research and practice, while promoting interest in the historical context of artifacts. The way forward will be through sustained interdisciplinary collaborations, requiring conservation students to be trained in diverse disciplinary backgrounds and interests.
Undergraduate internships can be created with a focus on projects that combine science and art, which would give young students the chance to learn and hone their interests early on in their education. Any training program in South Asia should take advantage of the region's rich, intangible heritage of generations of embodied knowledge. Through these stories, students will learn about the creation of and materials used in artworks, building their vocabularies based on these existing knowledge systems.
For the practical aspects of conservation, the panelists suggested a few ways forward:
Partner with educational institutions that have advanced conservation equipment
Larger institutions with better financial and technical resources should mentor smaller institutions
A mobile lab with basic conservation equipment can travel to destinations for research, minimizing the difficulties related to moving often-fragile objects from collections
Conservation is seen as a high-tech resource, but it is important to also use inexpensive, readily available resources that allow work to progress
In a world still suffering from the COVID-19 pandemic, the panelists concluded by exploring how conservation science and research can be taught through an online medium. Together they agreed that though it is difficult to teach certain aspects of conservation online, a great amount of learning can be done through new technologies.
The value and effectiveness of practical work in education cannot be replaced, yet there is space for both to coexist, and the CoSTAR program will work to bridge online learning, hands-on research, and the interdisciplinarity of conservation science and art history.