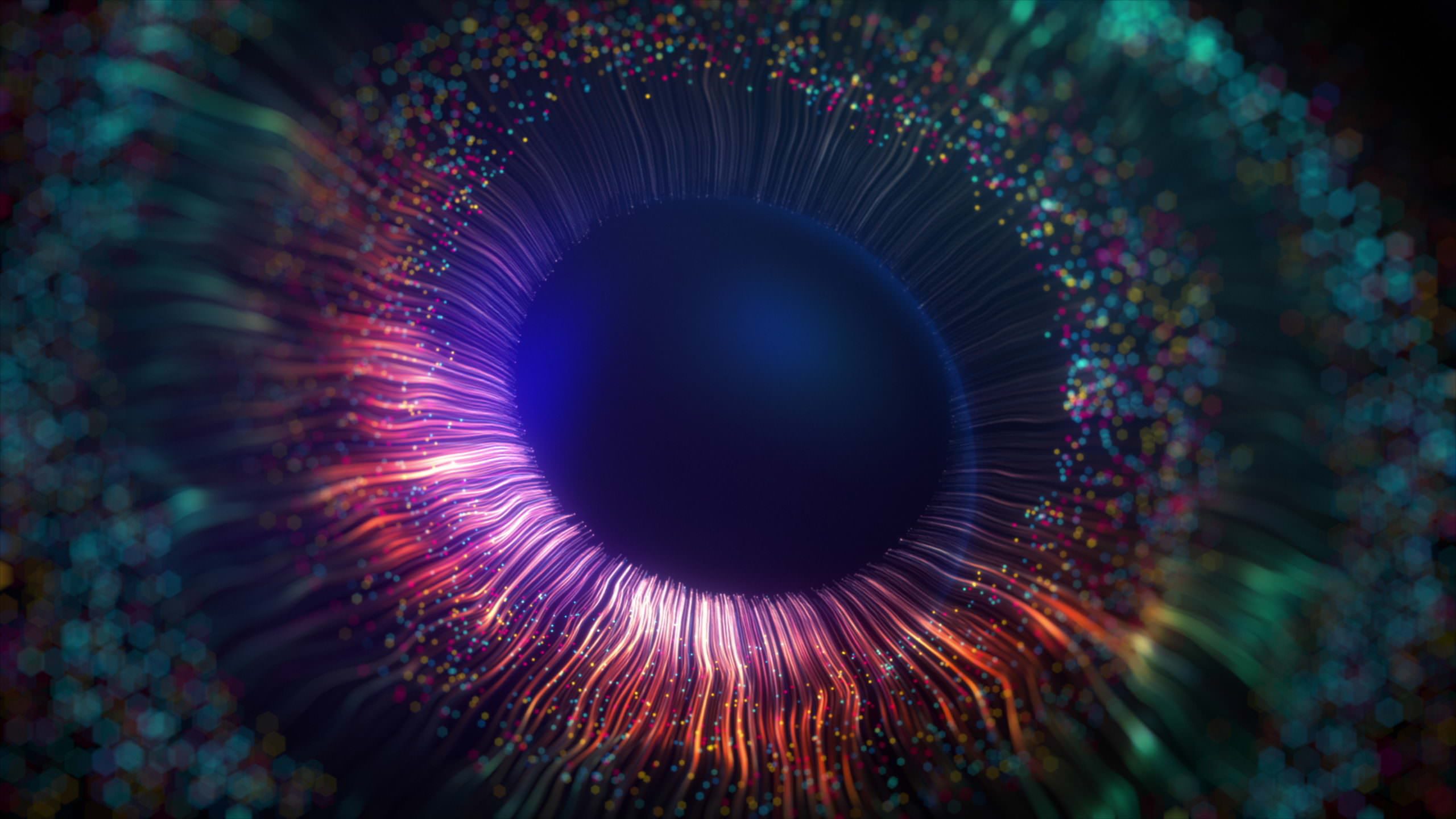 A 3D rendering of a human iris. Adobe Photo.
The Global Alliance for Medical Innovation, a group of students and faculty based at Harvard University working to increase access to healthcare via engineering and advocacy, was awarded a Mittal Institute Seed for Change grant in summer 2020. Their proposal explored the development of low-cost, scalable technologies to allow point-of-care diagnosis of common eye disorders in under-resourced regions of the globe. The group works closely with Dr. Uddaraju at the Sri Kiran Institute of Ophthalmology and physicians at the LV Prasad Eye Institute, two of the largest eye hospitals in South India. Their Harvard advisors include Dr. Ula Jurkunas, director of the Cornea Center at Massachusetts Eye and Ear (MEE), and Dr. Deborah Jacobs, director of the Ocular Surface Imaging Center at MEE.
The following piece by Harvard undergraduate Jay Chandra '22 reflects on their progress, which has continued to grow despite the pandemic's challenges. Through the Seed for Change program, Jay and his counterparts—Sreekar Mantena '22, Andrew Zhang '22, and Annie Miall '23—were able to make progress on two medical technology projects in India. Read on to learn more about their work. 
---
Our undergraduate organization at Harvard College, Global Alliance for Medical Innovation, takes on medical technology projects around the globe. However, most of our projects are centered in India. We have found that India is a global leader in developing low-cost medical technologies that improve healthcare outcomes in some of the most disadvantaged communities. 
While the Global Alliance for Medical Innovation was not able to travel to India this past winter due to COVID-19 restrictions, our team was able to make significant progress in the development and deployment of our low-cost corneal imaging platforms. Our previous trip to India and our ongoing relationships that we have made in India would not have been possible without the support from the Mittal Institute.
This past winter (2019-2020), we ran a clinical pilot of our prototype with 30 patients at the Sri Kiran Institute of Ophthalmology in Kakinada, India. We developed a novel smartphone-based platform that enables fully-automated imaging and analysis of the corneal endothelium for rapid diagnosis of corneal diseases. The physician simply opens our companion app and follows the on-screen directions, which provide detailed guidance on how to capture images of the endothelial cell layer. After image acquisition, our software leverages a directional filtering and neural network approach to automatically analyze the image and provide clinically actionable insights. This study demonstrated that our device is capable of results concordant with those of a traditional $30,000 specular microscope, and was a significant milestone that proved the feasibility of our platform. Since then, we have continued to test the device at Sri Kiran and used patient and physician feedback to improve the design and accuracy of the technology. Recently, we published our work in the academic journal Translational Vision Science & Technology. We have also begun to test our technology in two of the largest eye care systems in India: LV Prasad Eye Institute and Aravind Eye Care. 
While we have made significant progress on our cornea platforms, we are even more proud of growth in newer projects. During our winter trip to India, we met with leadership at St. John's Research Institute in Bangalore to discuss healthcare needs in India that could be solved with technology. We were introduced to Dr. Prashanth, a senior professor at St. John's Research Institute in Bangalore, who was interested in developing a rapid, accurate, and non-invasive method to read blood hemoglobin levels. This would allow doctors to easily diagnose anemia, a condition characterized by a low hemoglobin content, which is highly prevalent in rural India. With our device, the healthcare worker simply has to take a picture of the patient's nail bed using a low-cost smartphone, and our algorithm will calculate the blood hemoglobin concentration. We have continued to work with Dr. Prashanth to develop this technology , signing a formal MOU between the two groups, and are beginning to test our method at St. John's Hospital and the surrounding area.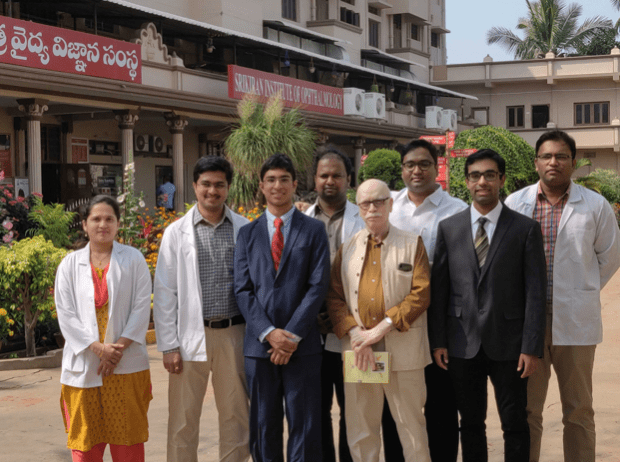 Jay Chandra '22 (second from right) and Sreekar Mantena '22 (third from left) with the physicians and founder of the Sri Kiran Institute of Ophthalmology. Adobe Photo.
Another exciting collaboration in the space of medical technology resulted from our visit to a tertiary care facility that specializes in cancer treatment in Bangalore. We conversed with two physicians who were deeply interested in the medical technology space. They had actually developed a wildly successful voice prosthesis for throat cancer patients. In the past few weeks, we have reconnected with these physicians in an effort to improve breast cancer self examinations. Currently, though self-examination is essential in identifying potentially dangerous nodules under the skin, this is often done poorly or neglected altogether. We are working with the physicians in Bangalore to identify a low-cost solution that will improve accuracy of self-examination and frequency at which the self-examination is done.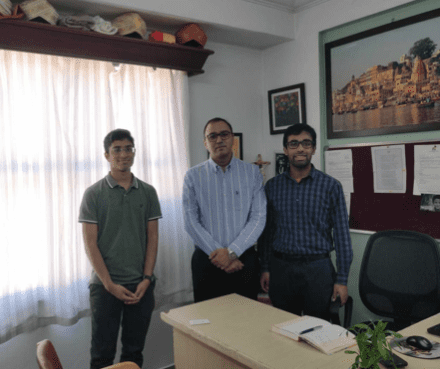 Jay, far right, and Sreekar, left, meet with Dr. Rao, creator of a voice prosthesis for throat cancer patients, in Bangalore.