Nosher Ali Khan, Harvard College '23, is committed to promoting the language, music and culture of his native Hunza valley, located in the towering mountains of the Karakoram in Pakistan. Rich in history and tradition, music has always had an enormous influence on daily life in the region, says Nosher. Yet, while working on a music preservation project, sponsored by LMSAI, Nosher realized that fluency in his local language, Burushaski, is rapidly declining – and subsequently, Burushaski music and literature are greatly threatened. Nosher applied for an LMSAI Summer Grant to fund his summer experience, which included earning a Guinness World Record for the "Highest Altitude Dance Party on Land" and creating a "Burushaski Literature Digital Portal" to preserve existing Burushaski literature. Read more about his experience, in his own words.
Khimor – Music in the Mountains

By Nosher Ali Khan
Burushaski
is the local language spoken primarily in Gilgit-Baltistan, Pakistan. Owing to its unknown roots, it remains an enigma for linguists worldwide, who have described it as a
linguistic isolate
, i.e., a language that is not related to any other known language in the world. Historically, the remote location within the valleys of the Himalayas and the Karakorams have limited the reach of
Burushaski
. With greater means of mobility, more people have moved to bigger cities. As a result, they shift to using Urdu as their primary language. Thus, imperfect knowledge of the language is common, and fluency in
Burushaski
among speakers of the upcoming generations is rapidly declining.
With younger speakers, like myself, Burushaski music and literature are greatly threatened. I was exposed to the severity of the problem relating to my mother tongue in 2020 while working on Khimor-e-Maraka, a web series documenting traditional Burushaski music and poetry funded by the Lakshmi Mittal South Asia Institute at Harvard. The goal of the project was to document and preserve the folk music of Northern Pakistan in its truest essence. Read more about Nosher's previous grant report here.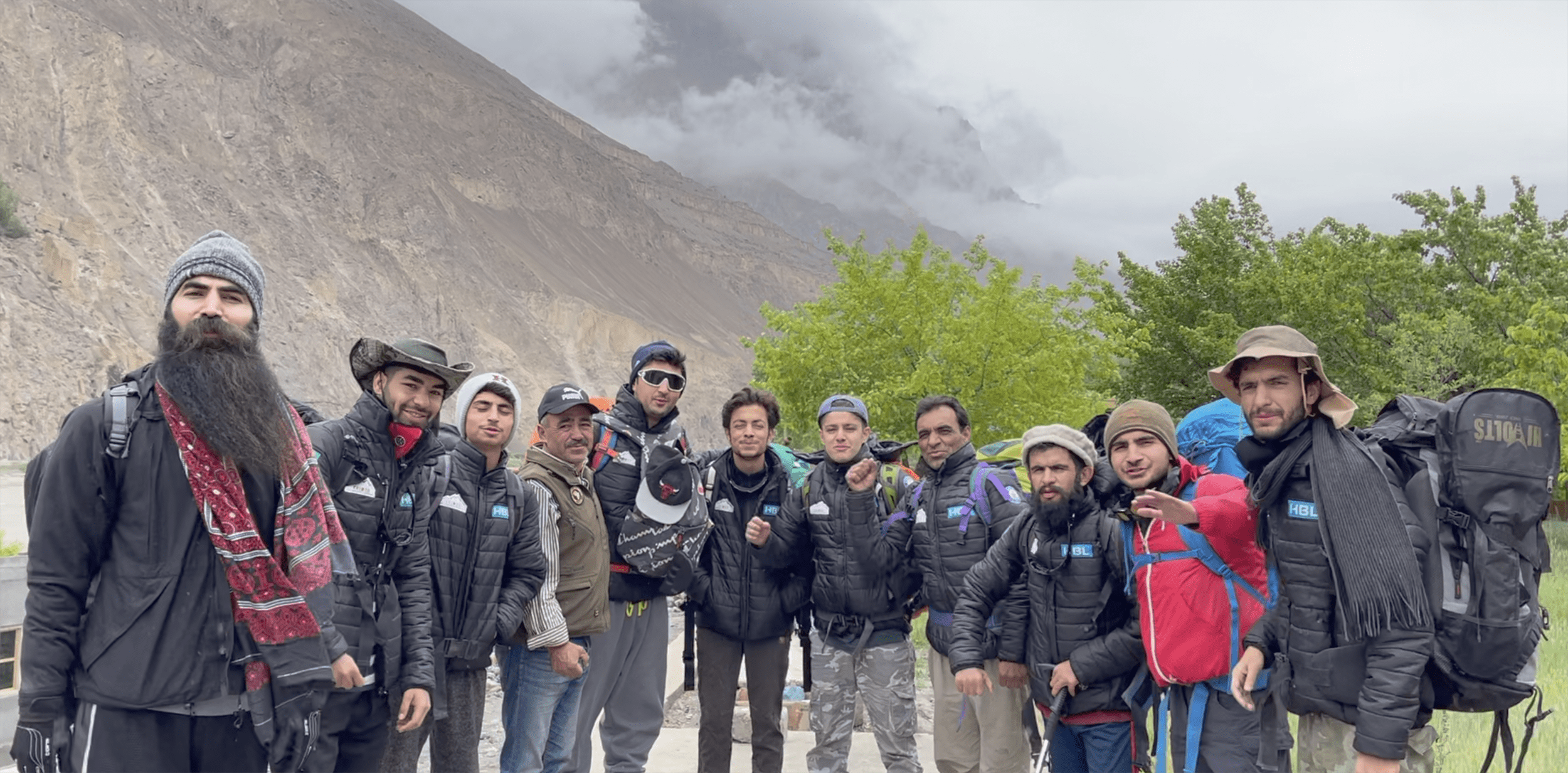 The mountaineering group. Photo courtesy of Nosher Ali Khan.
CREATING THE CONCEPT: MUSIC & MOUNTAINEERING
A significant proportion of Hunza's economy is driven by tourism, in particular extreme mountaineering tourism. And as I studied music and literature in the region, I came to realize how significantly having some of the world's highest and harshest mountains around has influenced literature and music. In one of our bazmi sessions with some of the artists, the idea of music and mountaineering came up. As the conversation progressed, we concluded that we wanted to break a Guinness World Record that would involve music and mountaineering. After research and corresponding with officials at the Guinness World Records office, we decided to break the World Record for the Highest Altitude Dance Party on Land. So gathered a team of 11 members ranging from artists to Khimor. The team included Mr. Ali Musa (Expedition Leader), Saad Ata Barcha (Expedition Manager), Nosher Ali Khan (Team Lead), Zulqarnain Saleem (Filmmaker), Mohsin Kamal (Filmmaker), Hasnain Salim (Filmmaker), DJ Ghasuray, Noman Asmet, Rameez Qara, Junaid Alam (All Artists), and Misyab Zapoo (Logistics Coordinator). Our goal for the expedition, along with promoting local culture and music, was to raise funds for the Shimshal Mountaineering School (one of the only adventure schools in Pakistan). After countless meetings with potential sponsors, we partnered with Habib Bank Limited to raise funds for the school and future promotion of local music and culture.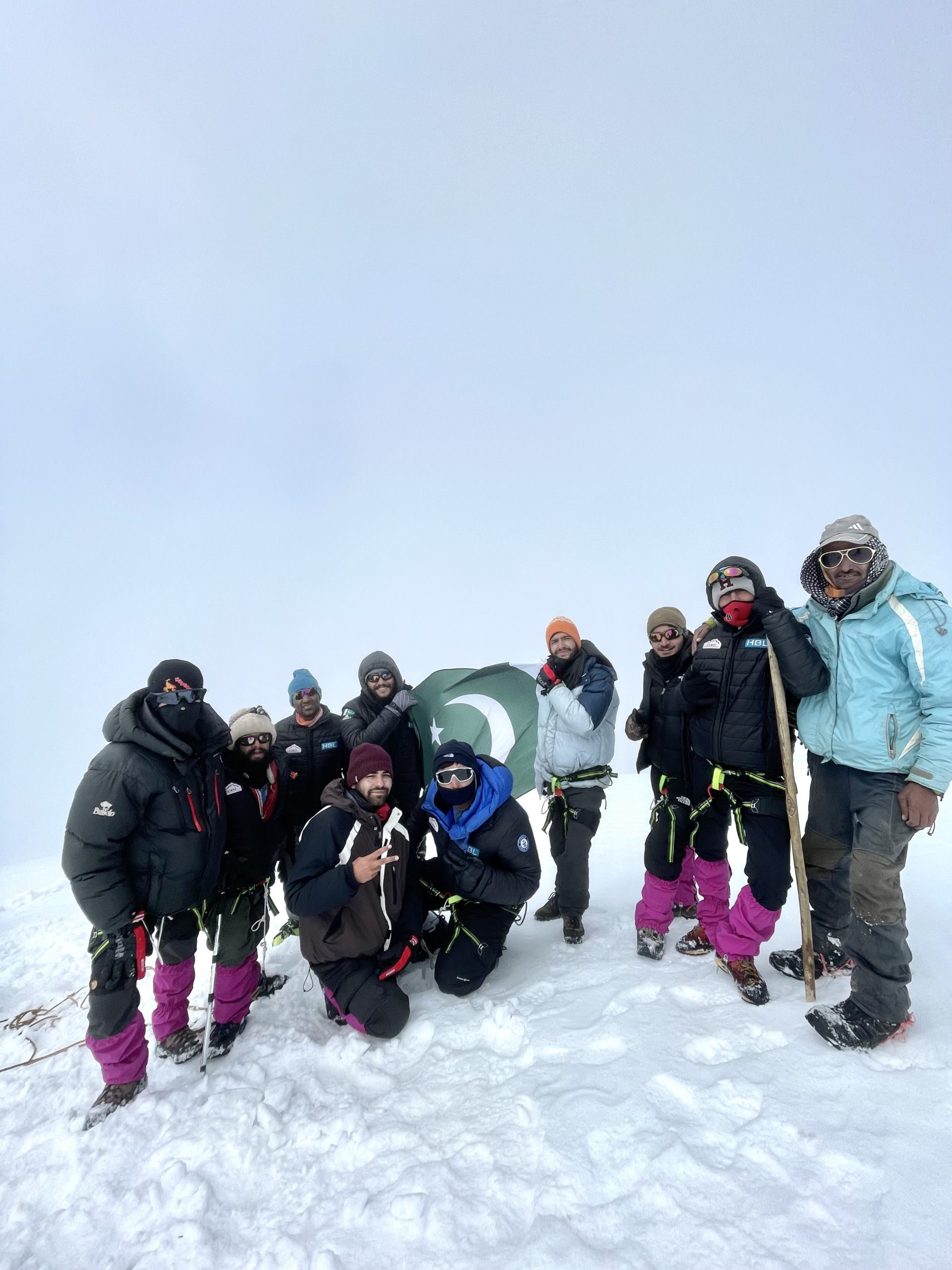 The group at the summit of Minglik Sar. Photo courtesy of Nosher Ali Khan.
OUR MANGLIK SAR JOURNEY
Our mission was to climb and perform at the summit Manglik Sar (6,050 meters) to break the former world record which was made on the summit of Mt. Kilimanjaro (5,892 meters). We started our journey at the beginning of July and traversed through Shimshal Pass to enter Pamir, often referred to as the roof of the world. On 25th July, we pushed for the summit and performed on the top, hence breaking the Guinness World Record for the Highest Dance Party. The performance on the top was led by DJ Ghasuray, a young artist who fuses the genres of folk Burushaski music and EDM, creating a fused genre of folk trance. Accompanying him were, Noman Asmet, Rameez Qara, and Junayde Alam, all young musicians from Hunza. Upon our return to Hunza, our achievement was celebrated by the entire community. National and international news outlets covered our achievement and for the first time, Burushaski and its music were being recognized on mainstream media. 
THE FUTURE OF BURUSHASKI
Our efforts have had an instant impact as people want to learn more about Burushaski and the literature. Many people reached out to us sharing their enthusiasm to be involved in the promotion and preservation of Burushaski. So we build on our efforts to create an open-source 'Burushaski Literature Digital Portal' to preserve existing Burushaski literature and create a platform for upcoming writers to showcase their talent. We have collected over a thousand pieces of literature and plan to collect as much content as possible via experts, poets, and researchers. We are simultaneously working with experts to transcribe, transliterate and translate the content before publishing it online in the form of a library. Finally, the open-source nature of the portal will allow anyone to share their collections of Burushaski literature online, which will then be reviewed by a moderator, and if qualifies a certain standard will be added to the library. Essentially, what we plan to do with the project is to create a hub of Burushaski literature that is accessible to everyone.
My journey exploring music and mountaineering has been the highlight of my year. The long-term goal of this project is to inspire the young generation to connect with their culture and roots and have a platform to promote local music and literature. It has introduced me to amazing people working on the development of culture and has helped me broaden my horizons about music and its impact on my community. Thanks to the Lakshmi Mittal and Family South Asia Institute, my fellow artists, and everyone involved with the expedition for making such a once-in-a-lifetime experience possible for me.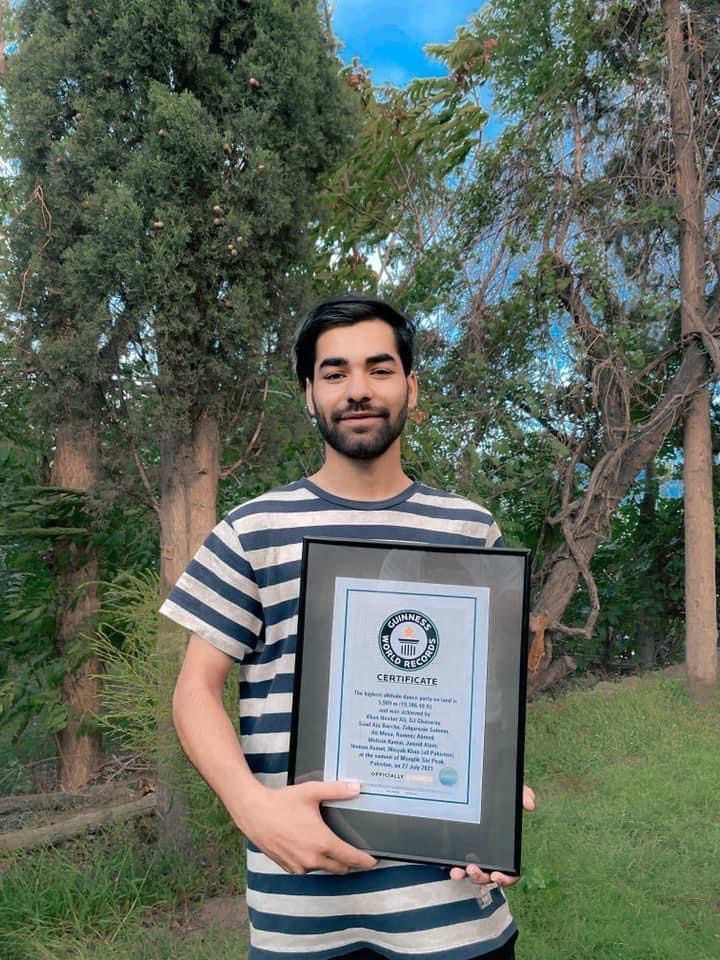 Posing with the Guinness World Record certificate. Photo courtesy of Nosher Ali Khan.