The Mittal Institute maintains a presence in countries across South Asia, including India, Pakistan and Nepal. This series of "dispatches from the region" will showcase the ways in which these outposts strengthen engagement, host visiting scholars and researchers, and provide places for important discussions and exchanges.
This week we spotlight our New Delhi office, a hub in the region with a thriving physical space in the heart of the city. The past few months have brought a flurry of activity to the space, including events, visiting scholars and new additions to a growing team.
Photo Slideshow: New Delhi Office
Scenes from inside and outside the Delhi office.
Recent Happenings
One Harvard Young Harvard: In-person networking event in Delhi
The Harvard Club of India—in collaboration with the Lakshmi Mittal and Family South Asia Institute—organized the "One Harvard Young Harvard" event to welcome new Harvard admits and recent graduates. The event was attended by almost a hundred guests and welcome speeches were given by Sanjay Kumar, President, Harvard Club Of India and renowned Indian author Gurcharan Das, who spoke about his journey to Harvard.
In July, the Delhi office hosted a webinar on the topic "Tackling Misinformation: The future of fact checking in a polarized India." The panel featured Pranav Dixit, 2022 Nieman Fellow; Shivnath Thukral, WhatsApp India's Public Policy Director; Maya Mirchandani, the head of Media Studies at Ashoka University; and H.R. Venkatesh, Director, Training and Research, BOOM FactCheck. The panel discussed challenges facing the fight against dis/misinformation in India; the role that newsrooms, social media giants and tech companies can play in facilitating fact-checking efforts; and the future of fact-checking in a country witnessing increased social polarization. Watch the webinar.
On August 4, the New Delhi office hosted a mixer for the Harvard community in India, including current students, incoming students, and alumni. The event was held at the India International Centre and was full of stimulating conversation. Guests learned about the Mittal Institute's programs and listened to students and alumni share personal accounts of their experiences at Harvard.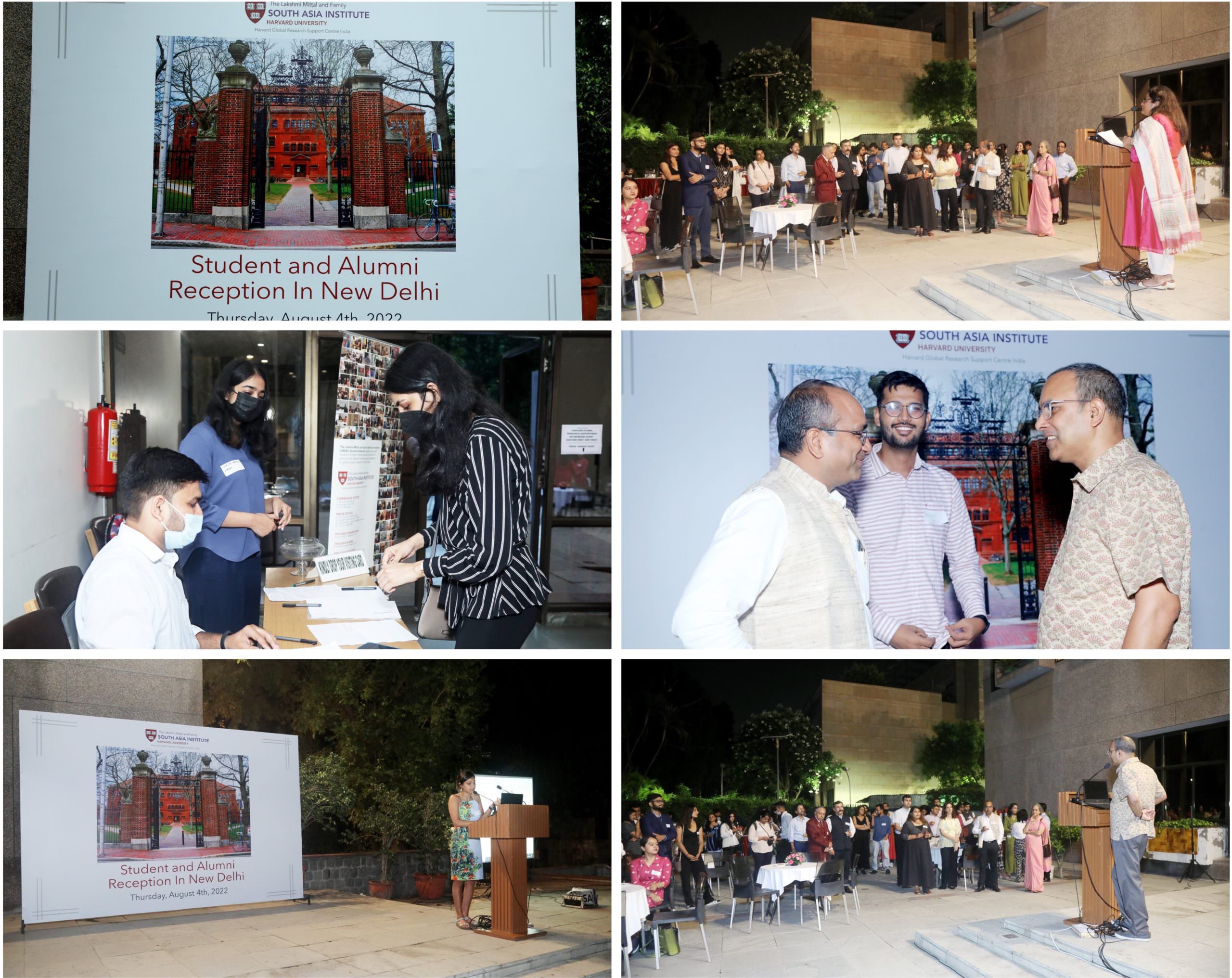 Faculty, Fellows and Graduate Student Associates
In August, Graduate Student Associate Akshay Dixit visited the New Delhi office while conducting field research. Akshay is a Ph.D. student of Political Economy and Government and is the recipient of the prestigious Amartya Sen Fellowship for Students from India. His work focuses on youth civic engagement and the policy of public goods provision. Akshay was previously a Research Fellow at Harvard Kennedy School where he worked on projects studying accountability in governance. In July, Professor S.V. Subu visited the Delhi office for meetings with Mittal Fellow Mayanka Ambade; conducted field work; and took part in meetings for his India Policy Insights project, including meeting with NITI Aayog. Sunanda Khajuria, the 2021-2022 Visiting Artist Fellow at the Mittal Institute, also stopped by the New Delhi office and spoke about her work. Professor Emmerich Davies of the Harvard Graduate School of Education also visited for a month during his field work across the country. Professor Emmerich specializes in education policy and politics, the political economy of development, and the politics of service provision, with a regional focus on South Asia. Shubhangi Bhadada, Mittal Institute Fellow and Project Director of the Lancet Citizens' Commission on Reimagining India's Health System, also spent a month in the office.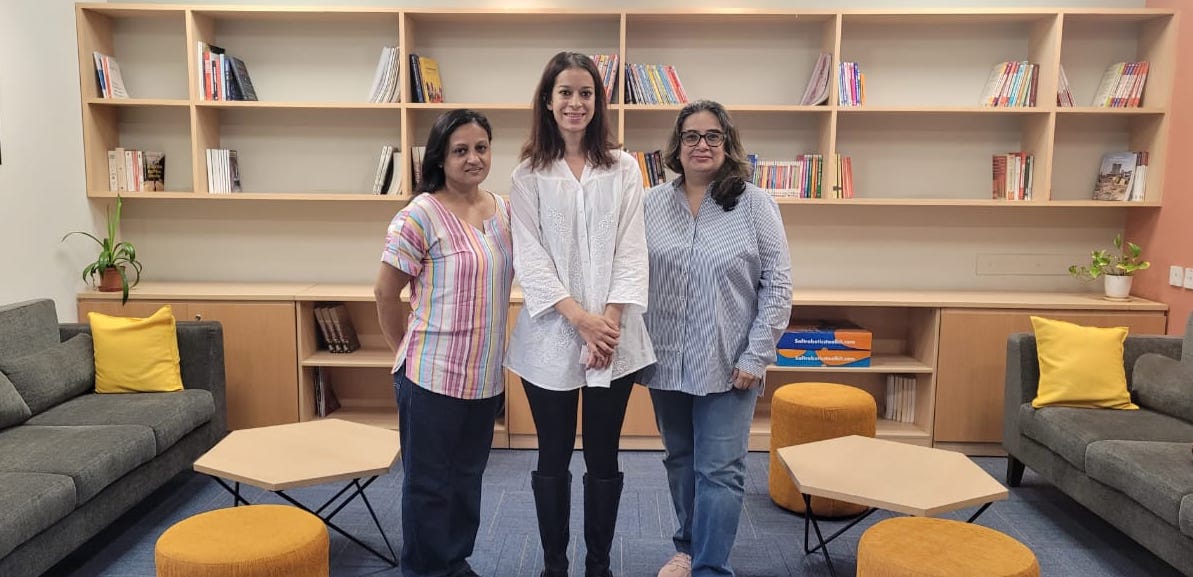 HBS India Research Center's Rachna Tahilyani, Senior Associate Director (right) and Anthea DSouza, Associate Director Financial and Business Administration (left) visit with LMSAI's Delhi Communications Manager Taamra Segal (center).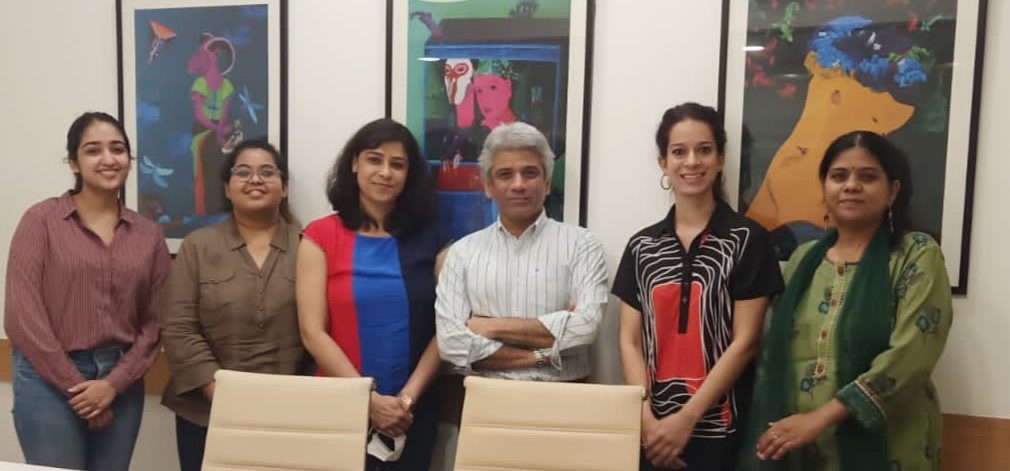 Professor S.V. Subu (center) and Sunanda Khajuria, former Visiting Artist Fellow (third from left) visited the Delhi office and posed with Delhi office staff.
New Team Members
The new Administrative & HR Coordinator Amit Chaudhary started at the Mittal Institute in July, and his first day coincided with a visit by Tarun Khanna, Faculty Director of the Mittal Institute.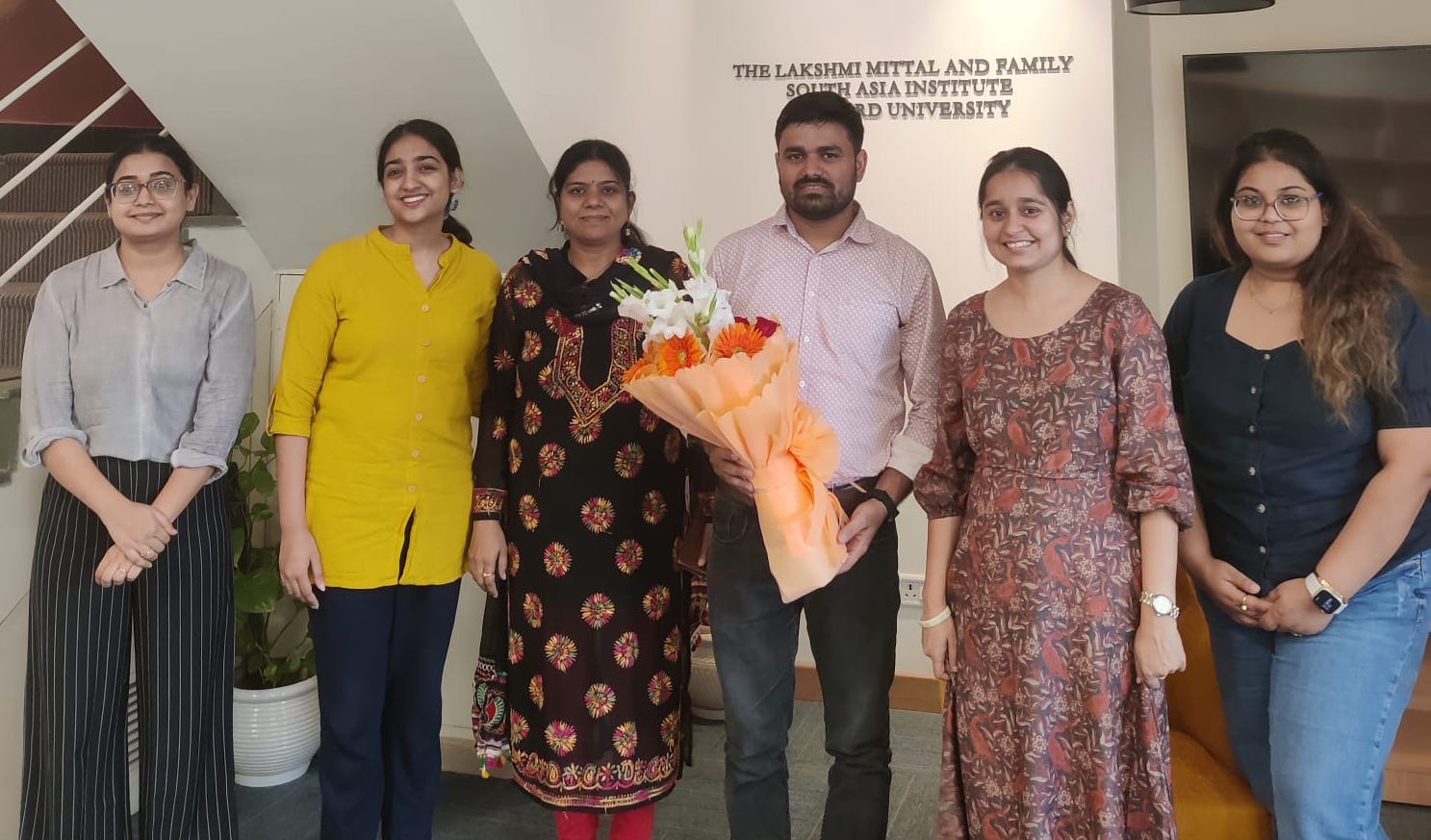 Administrative & HR Coordinator Amit Chaudhary (center) started at the LMSAI Delhi office in July.